Japan has just entered its hottest, most humid time of the year. Despite the weather, a major upside to this is the many matsuri (Japanese festivals) that pop up during the weekends over the summer months. With so much to see, do and eat, visiting a matsuri is a must-do summer activity in Japan.
Seeing as a matsuri is probably the best place for some cheap eats during the summer, here's a list of some foods that you will see, and definitely have to try, at any matsuri in Japan.
1. Yakisoba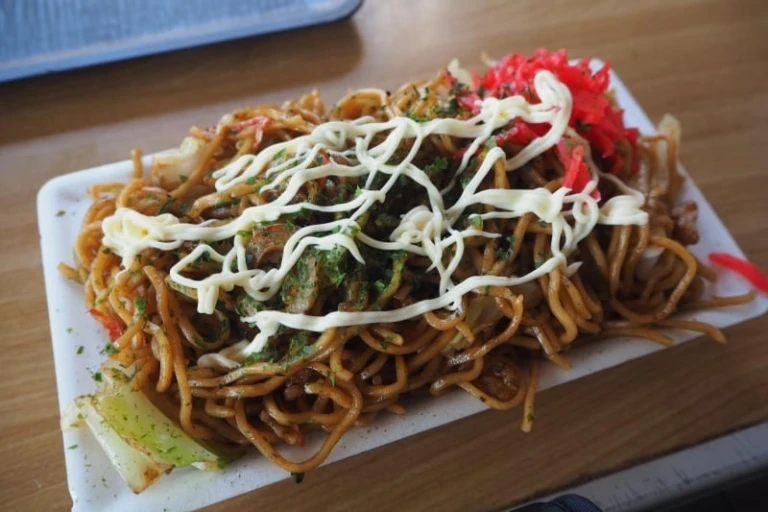 Yakisoba is readily available from the many yatai (food carts) around at any matsuri. Stir-fried with savoury Worcestershire sauce and topped with thin slices of pork belly and cabbage, yakisoba should be on your list if you're looking for something filling.
Special yakisoba varieties (seafood yakisoba, omelette yakisoba etc.) can also be found in different yatai, so look around for one that suits your fancy. Despite their wide availability, yakisoba is an intricate dish to get right, so you might want to ask around for recommendations before making your pick. My personal favourite is the omelette yakisoba (omu-soba). It definitely beats an omurice any time!
2. Okonomiyaki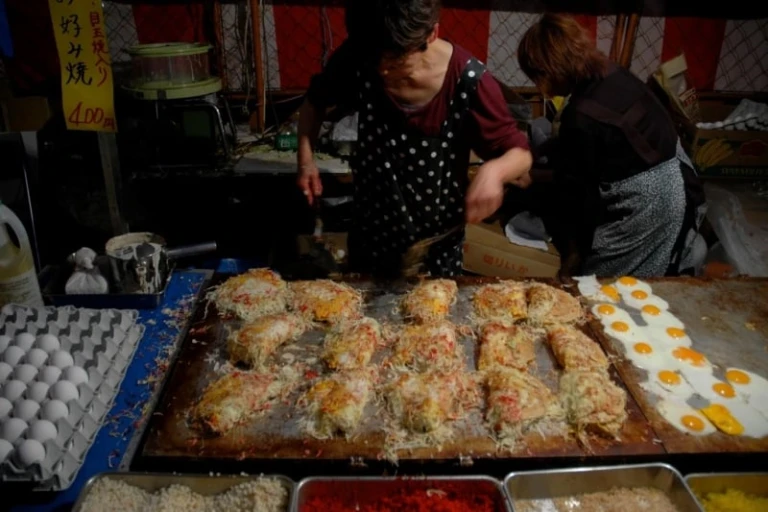 Image credit: Yuki Yaginuma
Usually found alongside at the same yatai selling yakisoba, okonomiyaki is the usual partner-in-crime of Japan's well-loved noodle dish. Okonomiyaki is a wholesome pancake made with dashi-infused flour and pan-fried with fillings ranging from cabbage, pork, eggs and even bacon!
Okonomiyaki is also in itself a complete meal. Ingredients can also differ depending on which style they are cooked in. Hiroshima okonomiyaki, for example, is cooked with yakisoba noodles and is quite commonly found at most matsuri in Japan.
3. Chicken Steak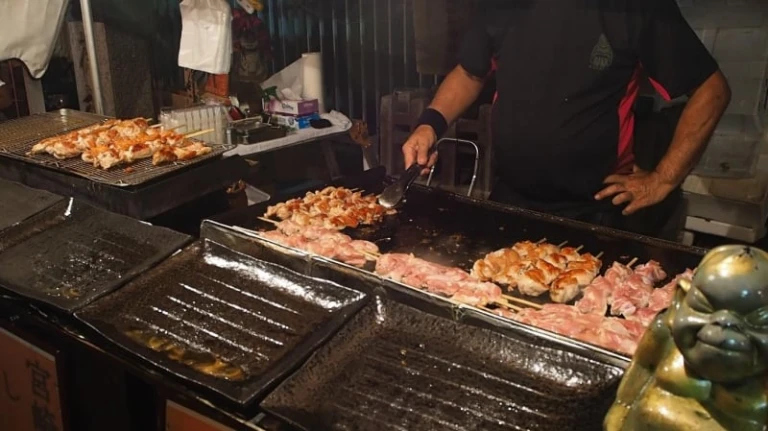 You'll most definitely smell this a mile away. While there's nothing special about this matsuri food (it's simply seasoned chicken thigh grilled over a hot girdle), its smell alone is enough to attract anyone's attention. You'll have no regrets getting it of course – who doesn't love a smoky, juicy chicken thigh that's just hot off the grill?
4. Kushiyaki
Another yatai classic, kushiyaki are grilled meat skewers ranging from beef to pork and chicken. If you're up for it, you can even try out the chicken liver and chicken skin (yes, this is a thing) among other quirky cuts of meat – make sure you have Google Translate nearby just in case you need to know what you're ordering beforehand!
5. Ikayaki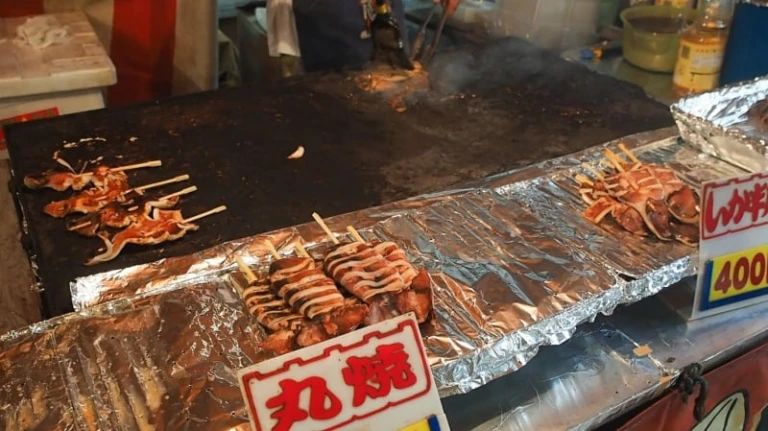 A whole squid, marinated then grilled or pan-fried. That is ikayaki. You can choose what to marinate it with but it is usually done with soy sauce. The smell of this one is quite strong, so not everyone will be a fan of it. Prepare for a messy (but delicious) treat.
6. Ayu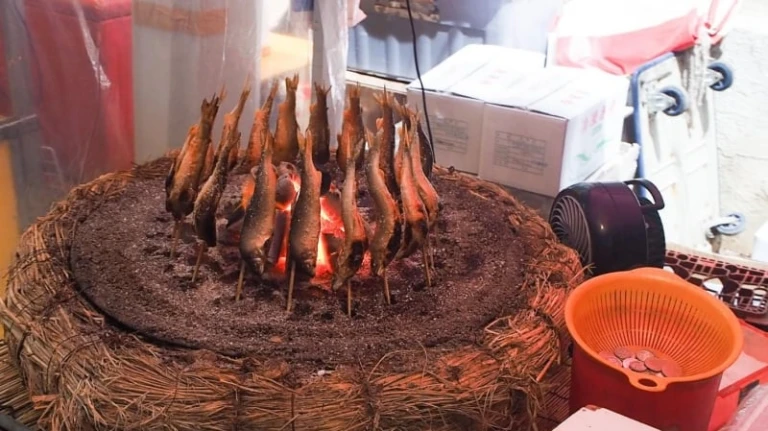 If you love fish, this is something you'll want to try out. Ayu, or 'sweetfish', is a small skewered fish that's roasted with salt over a charcoal stove (a cooking style known as shioyaki). So named for its sweet flesh, the fish is skewered in a particular way so that it appears to be swimming. The fish can be eaten in its entirety, making it a convenient snack to have while walking around.
7. Karaage
It's classic fried popcorn chicken and as we all know, sometimes, simple is best. Karaage is typically served in a paper cup, with two serving sizes to choose from. Add a dash of mayonnaise and you're good to go! Many yatai will be selling these, so trust in your sense of smell as well as the crowds lining up to decide which one to buy from!
8. Takoyaki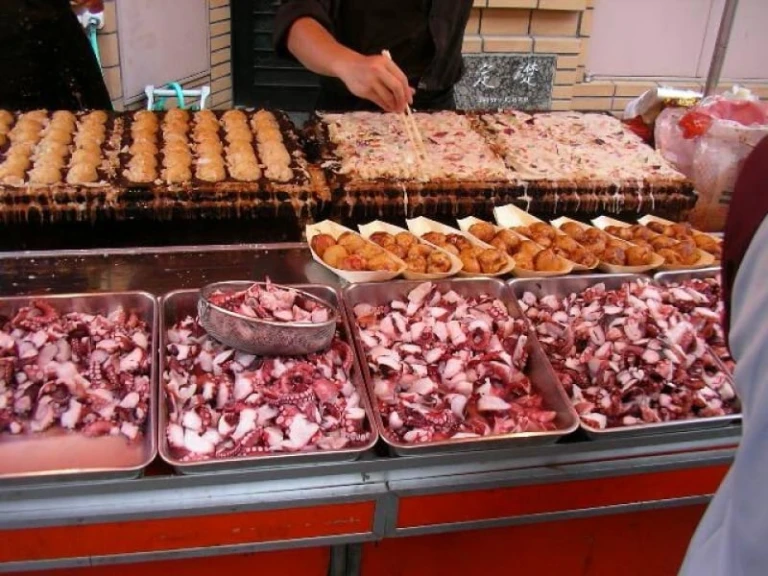 Image credit: Hajime NAKANO
If you're unable to get to the Kansai region for this iconic street food, don't fret as matsuri yatai will also be selling them! Takoyaki sold in Japan usually only have octopus in them and are topped with condiments such as pickled ginger. Despite the simple ingredients, the taste alone is to die for.
9. Jaga-bata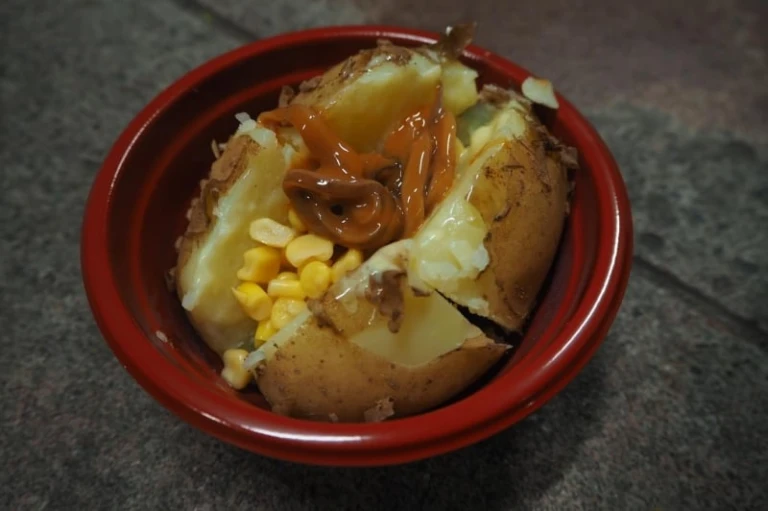 Cooked to fluffy perfection before being served n a bowl, jaga-bata is another matsuri dish that is going to fill your stomach. You get to put as much butter as you want on the potato (though it would be good not to put too much), as well as other toppings such as corn.
10. Yaki-Tomorokoshi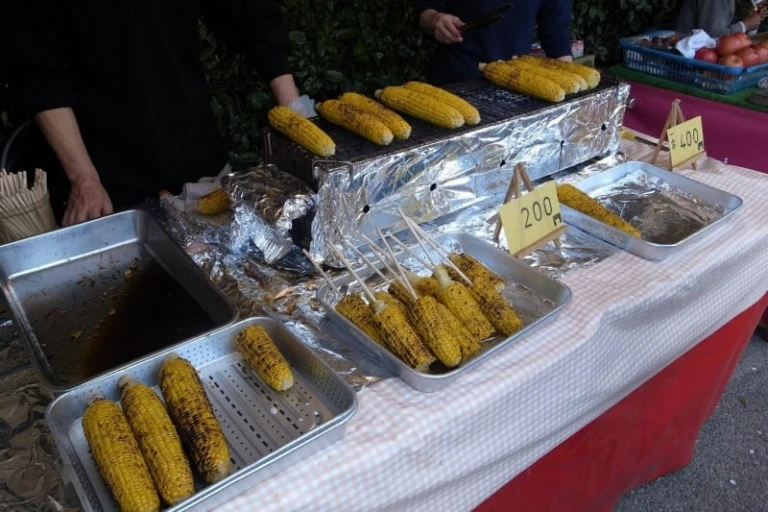 Image credit: Lisa Pinehill
If chowing down on a whole potato isn't your thing, there's always yaki-tomorokoshi, which is char-grilled corn glazed with soy sauce. The result is a snack that's both sweet and savoury at the same time, and with Japan being known for great corn, this is definitely something you'll not want to miss.
11. Kyuri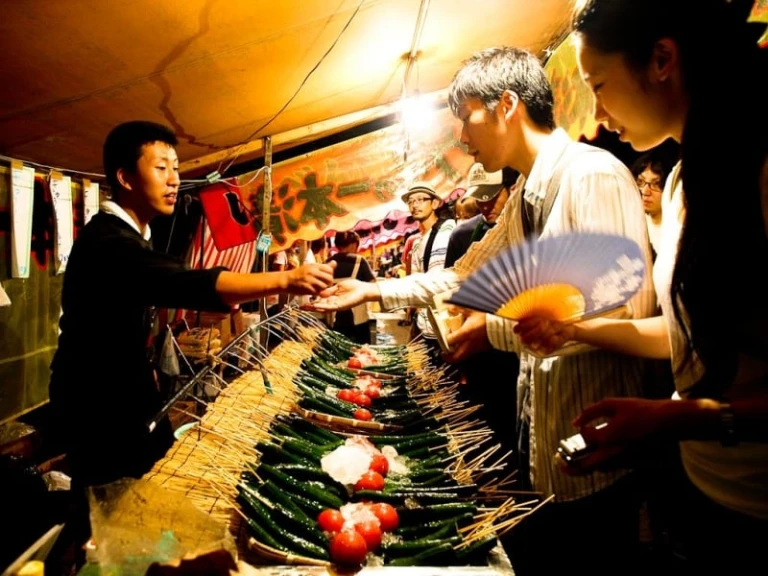 Image credit: Robert Swier
Sure, kyuri may just be a cucumber on a stick but when you have experienced the full extent of the summer heat in Japan, you'll want to get your hands on anything that can help cool you down. Kept in a bucket of ice-cold salt water, this summertime snack provides some much-needed relief from the thirst. Plus, no matter it's practicality, it's kind of a novel thing to buy and munch on.
12. Yaki Mochi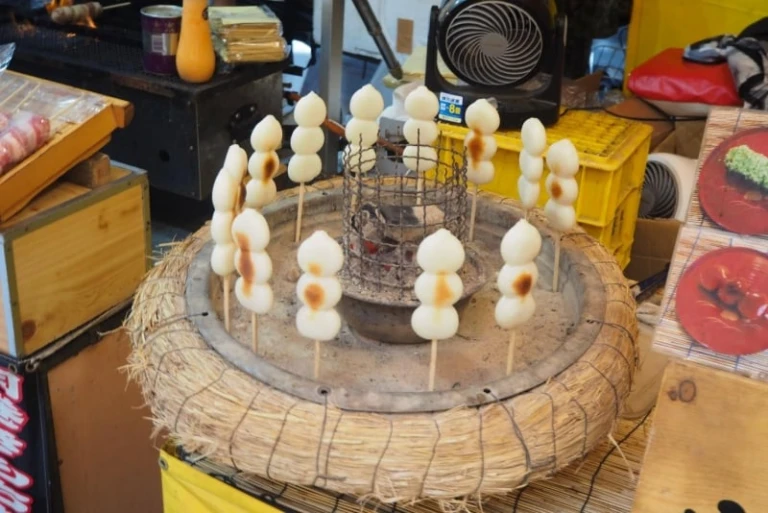 These will catch your eye when you walk past them. Yaki mochi is skewered rice cakes grilled upright around a traditional charcoal fire. This chewy, savoury-sweet snack will definitely keep you coming back for more as you walk around the matsuri.
13. Ramune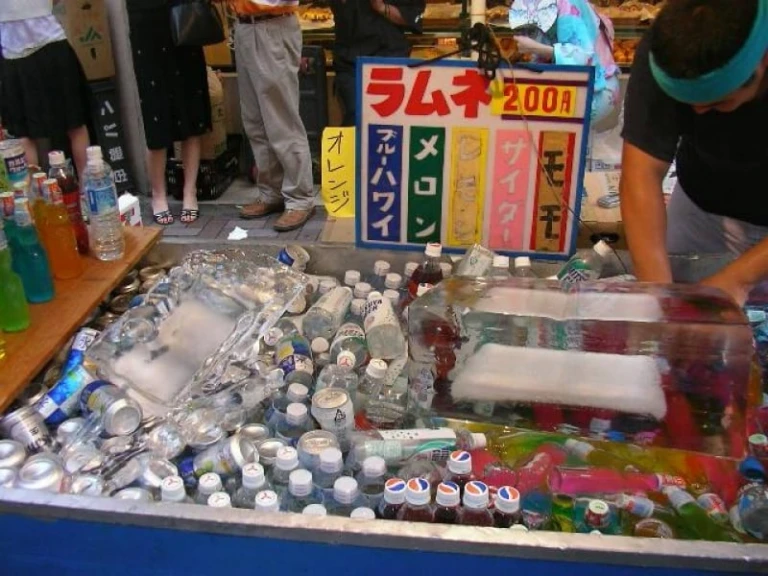 Image credit: Hajime NAKANO 
A unique and instantly-recognisable Japanese summer drink, Ramune offers a refreshing reprieve from the heat. The thick glass bottle of this carbonated drink is called a Codd-neck bottle and was designed in 1872 by Hiram Codd, a British soft-drink maker.
While Codd-neck bottles were used widely in the past, Ramune is now one of the only few drinks around the world that still utilises this classic design. The marble helps retain carbonated air in the bottle as it is held against a rubber seal which needs to be broken with a plastic stopper.
Besides providing refreshment against the heat and a unique experience when opening them (which takes skill), the ramune bottle makes for a cool souvenir from your time at the matsuri too. While yatai stalls tend to sell more conventional flavours, you can get unique flavours such as curry flavour in novelty gift shops if you're looking for something quirky.
14. Kakigori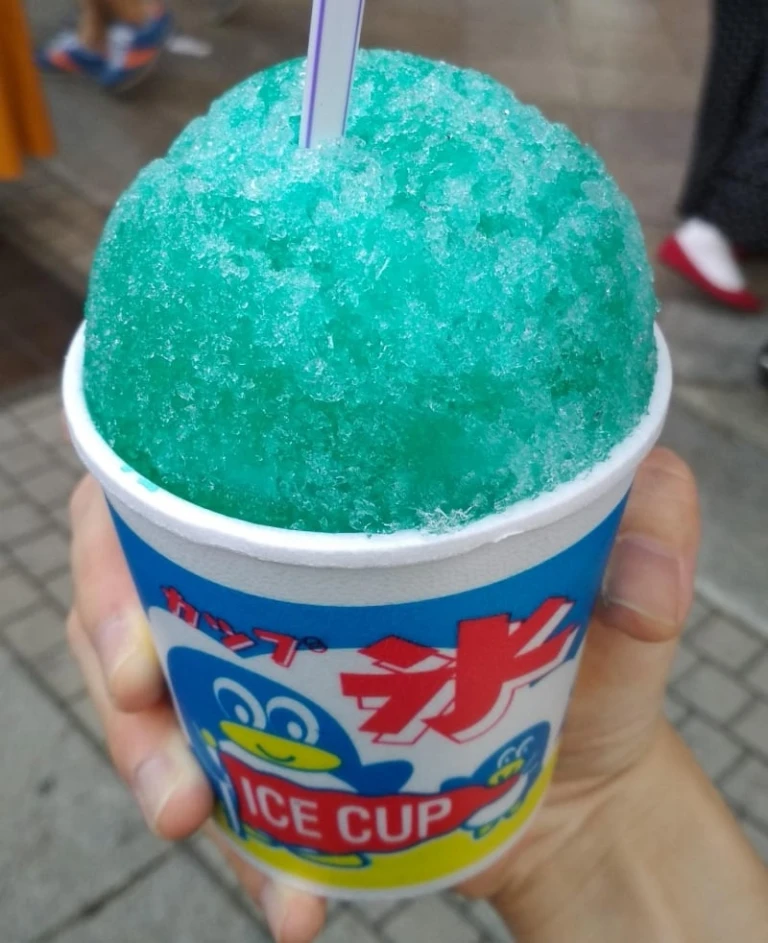 Another good treat to beat the heat, kakigori is coarse shaved ice served with flavoured syrup, milk, or fruit puree. While you can get kakigori in plastic or styrofoam cups, some yatai also offer them in special 'flower-tip' cups that can also be a nice keepsake. You get to choose the flavour of your kakigori. While some yatai let you put as many flavours and as much syrup as you like, you should go easy on that sweet stuff. I speak from experience. Don't ask.
15. Light Bulb/Baby Bottle drinks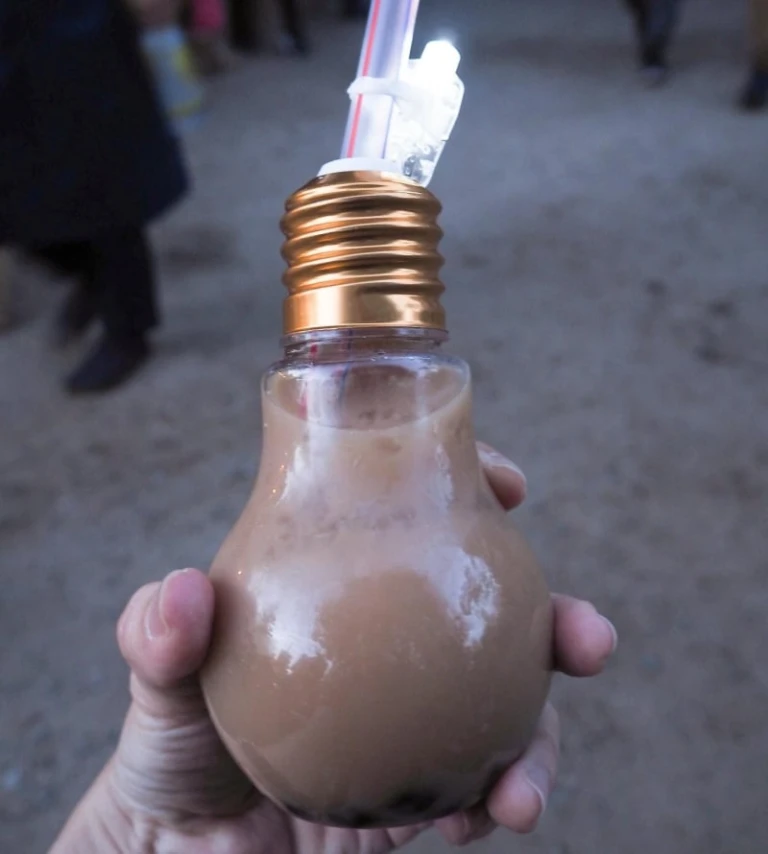 A more recent fad that screams quirky is the light bulb drink. It's not hard to find yatai selling these. Basically, light bulbs are filled with soda or other soft drinks (you can even get bubble tea) and served as a novelty drink.
I recommend the light bulb cup over the baby bottle though – the flickering light at the base of the bottle is quite entertaining, and if they come with a light attached to the straw, you've got yourself a nifty little torchlight.
16. Choco-banana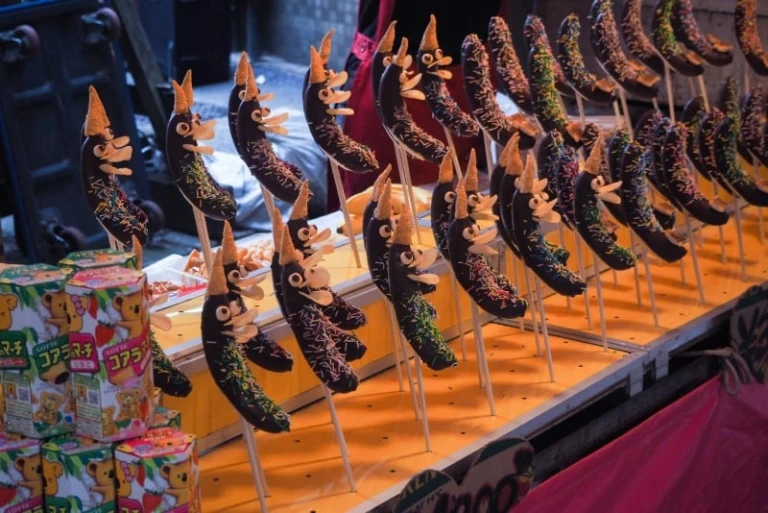 As the name implies, choco-banana is banana coated in a chocolate dip and decorated with anything from sprinkles to gummy candy. If your sweet tooth is yearning for something, this is the snack to look out for.
17. Amezaiku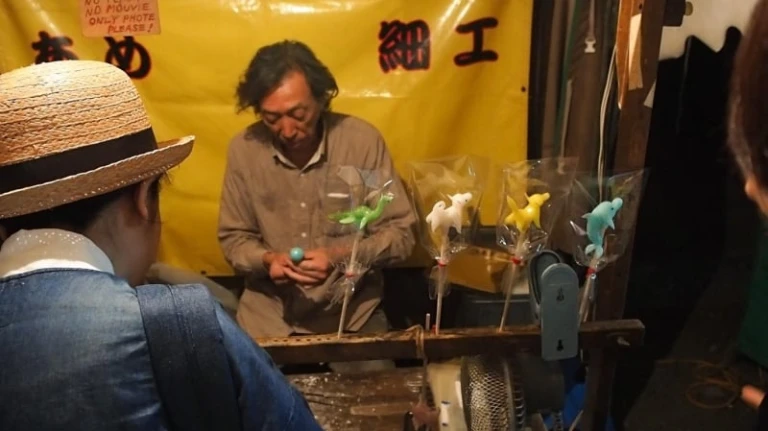 Amezaiku is Japanese candy craft or glass art sweets. There's something about watching a skilled craftsman twist taffy with his hands and various tools into edible pieces of art. Sculpted and dyed to look like various animals, amezaiku are sweet treats that are almost too pretty to eat.
18. Candy fruit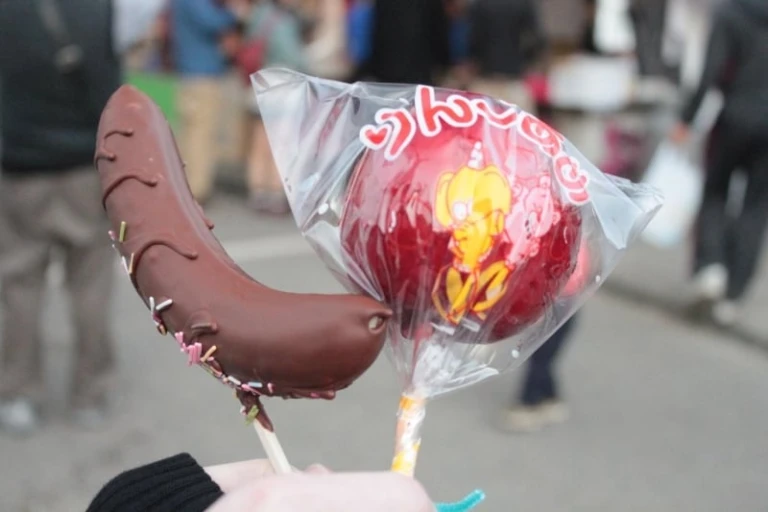 Image credit: UI International Programs
An apple coated with a layer of sugar candy on a stick looks good and tastes sweet. That is the only logic that matters. Eating it is much tougher than it looks though! The candy can be quite hard to bite into, so you might have to start licking it like a giant lollipop instead!
This list is by no means exhaustive, as there are no limits to what kinds of food you can get at a matsuri. But you can probably guess that going to one on an empty stomach would be a good idea – after all, it's going to be a pity seeing all that food and not being able to eat them. So, get to planning your visit to a matsuri today and savour the best street food Japan has to offer!