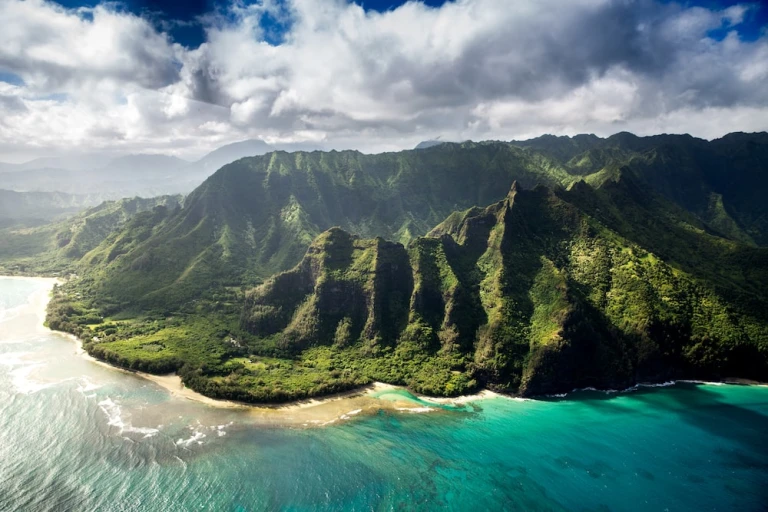 Hawaii is an incredible holiday location, with dazzling oceans, lovely sand beaches, waterfalls, volcanoes, and more. To make the most of your stay in Hawaii, study and organize your schedule ahead of time.
There are several things to choose from, such as snorkeling or scuba diving to explore the abundant marine life and climb the gorgeous paths. Furthermore, immerse yourself in the rich Hawaiian culture by attending traditional luaus and sampling native foods like poke and poi.
The area has a rich history, culture, vegetation, and animals. Not to mention the countless sporting activities you may participate in here. This location draws a sizable number of Indian visitors each year due to its natural landscape, quantity of public beaches, maritime surroundings, and mild tropical environment.
Can I travel to Hawaii from India?
Yes, Hawaii is fully open to Indian travelers, both tourists and business travelers.
Visa Requirements for Indian Travelers to Hawaii
You wouldn't need a visa if you were going to Hawaii for no longer than 90 days.
There are a few requirements that must be fulfilled, and they are as follows:
Qualifying requirements for the Visa Waiver Program (VWP)
ESTA (the Electric System for Travel Authorization) "Travel Authorization" is required.

Hawaii is included in the required 90-day stay requirement for the United States.

You must be a citizen of the VWP participant country and possess a current passport, which India is, so tourists with an Indian passport are eligible for the required authorization.

The following must apply to the trip's objectives: sightseeing, business, short-term training, contract negotiations, visiting friends or acquaintances, taking part in an event or contest without receiving payment, or just getting from A to B.

When entering the United States by boat or air, you must have a round-trip ticket or one for your next destination.

For e-tickets, it is advised to travel with a physical copy of the itinerary.
Also read: Top 15 Visa-Free Destinations from India to explore new destinations without the hassle of obtaining a visa.
COVID Info and Vaccination Requirements for Hawaii
There is no need for quarantine or a COVID test while entering the Hawaii. To guarantee a smooth entry into the country, it is suggested to obtain a valid COVID-19 vaccination certificate or confirmation of a negative test result before visiting.
Flights details to Hawaii from India
What international airports are there in Hawaii
The Daniel K. Inouye International Airport (HNL) is the state's major airport, located in Honolulu on the island of O'ahu.
other common airline options (1 connection)
There are currently no direct flights between India and Hawaii. Most routes have one or more stops.

The one-stop flights depart from New Delhi Airport Terminal 1 and 2
Airlines:
Air Canada

Air India

ANA (All Nippon Airways)

British Airways

Cathay Pacific

Delta

Emirates

Indigo

Japan Airlines

Korean Air

Lufthansa

Qatar Airways

Singapore Airlines

Spice Jet

Virgin Atlantic

Vistara
Seasonal Guide to Hawaii
The greatest times to visit Hawaii for the finest overall weather, the lowest statewide rates, and the fewest visitors on-island are often April and May in the spring and September and October in the autumn.
Summer will undoubtedly be busier, so early June is ideal, and winter, albeit often wetter, we recommend January, especially if you want to view the humpback whales.
The weather in Hawaii is typically good in April and May, with temperate temperatures and no rain, making it ideal for outdoor activities like hiking and enjoying the beaches.
Furthermore, these months provide an excellent opportunity to enjoy local culture and festivities without the big crowds that are common during peak tourist season.
Additionally, the temperate weather during these months allows for a comfortable exploration of the city's famous landmarks and attractions.
Things to do in Hawaii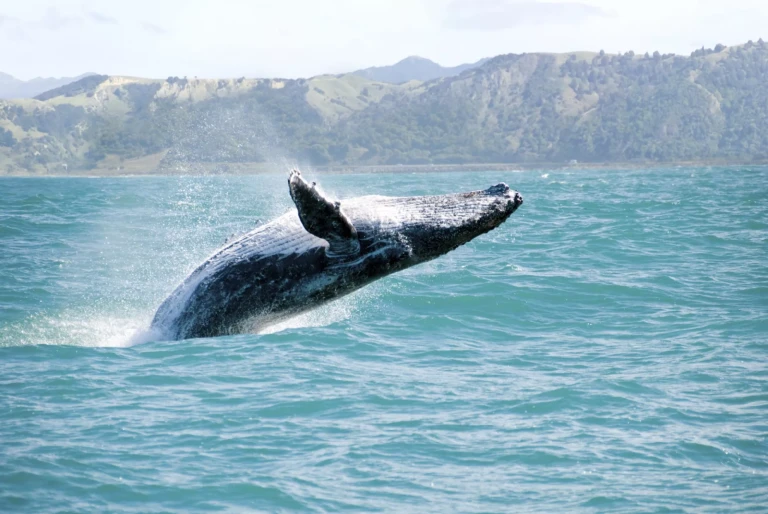 Whale watching: Late December is typically the ideal time to go whale watching in Hawaii. In the early months of April, you might be able to observe several humpback whale pods.
These months coincide with humpback whales' yearly migration from Alaska to Hawaii's warm waters. The whales engage in numerous activities like as breaching and tail slapping at this period, giving a wonderful display for whale watchers.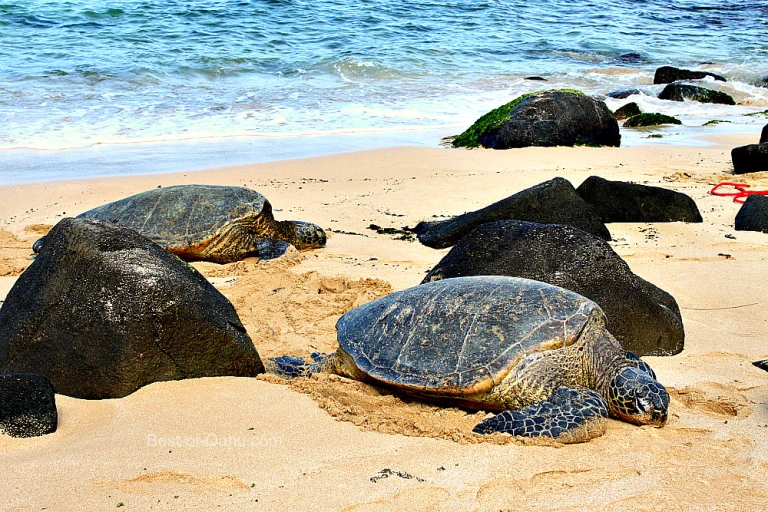 Turtle sightings are common in Hawaii throughout the year. However, they become more visible in the summer months when they enter their nesting cycle. You may even witness the wonderful sight of young turtles hatching and making their way to the ocean at this time.
It is critical to keep a respectful distance and not disturb these lovely birds during their breeding season.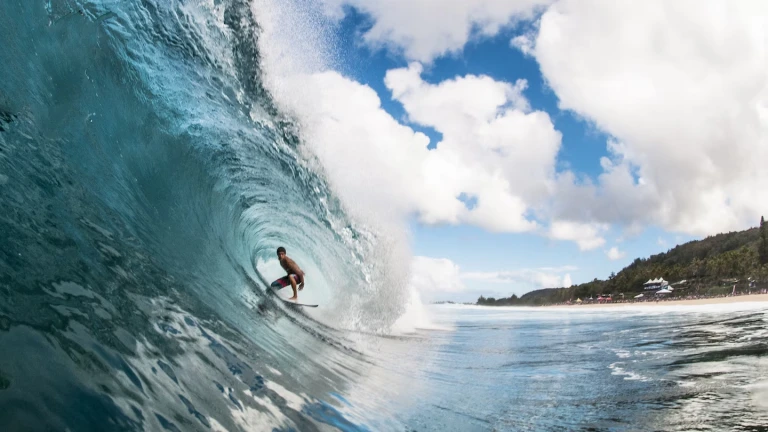 Surfing: Hawaii provides a diversified surfing experience, with large swells in winter, ideal for experienced surfers in the northern islands, and gentler waves in the south. Hawaii is a fantastic location for year-round surfing since during the summer the reverse is true.
Winter waves are preferred by experienced surfers, while those seeking a more leisurely experience can travel south. Because of its varied conditions, Hawaii is a surfers' paradise for all abilities.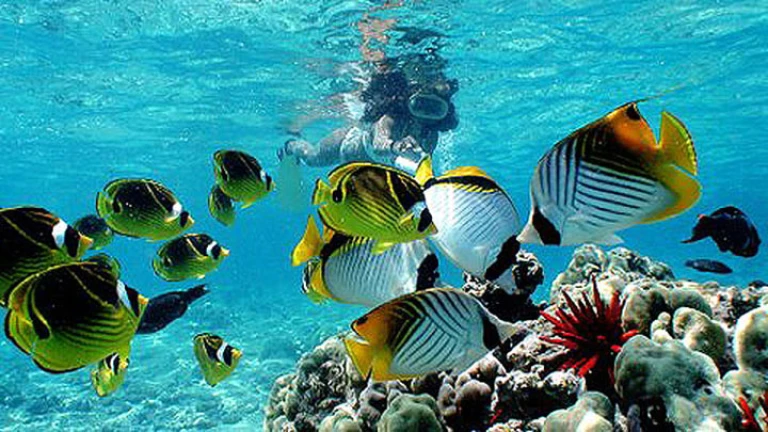 Snorkeling: The summer months in Hawaii provide calmer waters, greater opportunity to see marine life, and moderate waves. Snorkeling becomes much more pleasurable when the water temperature rises.
Whether you're a novice or a seasoned diver, Hawaii's summer conditions are ideal for exploring the colorful undersea world.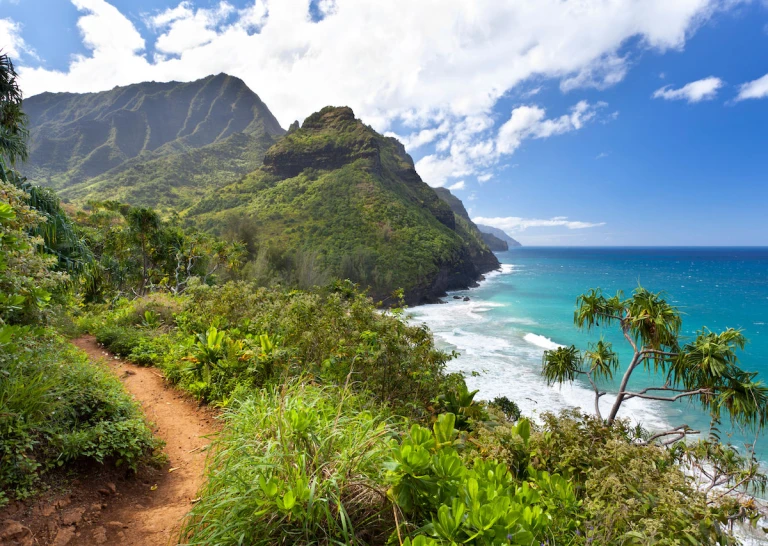 Hiking: During the warmer seasons, Hawaii is preferable since it is cooler and dryer, providing for a more comfortable and delightful experience. The mild temperatures and lack of rain allow for uninterrupted walking, allowing you to fully appreciate Hawaii's breathtaking scenery.
This time of year allows you to fully enjoy the beautiful pathways without feeling hot or underdressed.
Currency Information of Hawaii
Hawaii uses the U.S. Dollar (USD) as its official unit of exchange because it is an American state. The dollar sign ($) serves as a symbol for this.
Where can I stay in Hawaii?
There are a ton of places to stay in Hawaii. You may always find accommodations to fit your tastes and your budget, ranging from luxurious hotels and resorts to mid-priced and inexpensive motels and vacation rentals.
Hawaii provides a wide variety of accommodations for any kind of tourist, whether you want an opulent beachside resort with all-inclusive services or a quaint vacation cottage set in the beautiful highlands.
Finding the ideal spot to stay in Hawaii will improve your whole experience and help you make priceless memories because of the breathtaking views, first-rate service, and convenient access to the island's attractions.
Getting around in Hawaii
Hawaii has simple transportation alternatives, such as rental automobiles and public transit, including local bus lines in O'ahu and Maui.
Central sections can be explored on foot or by bicycle for people without a car. Hawaii offers a variety of practical transportation alternatives, including ride-sharing services like Uber and Lyft, in addition to public transportation and rental automobiles.
Additionally, visitors may benefit from scheduled excursions and shuttle services that are tailored to major tourist spots on the islands.
All main islands may be reached via Hawaiian Airlines' flights, as well as trips between Maui, the Big Island, and O'ahu. Although timetables may be constrained, ferry services offer picturesque and pleasant inter-island travel.
It is thus advisable to verify timetables in advance.
For those with a spread of islands, Hawaiian Airlines flies to all major islands and offers inter-island flights.
Choose your Island
In the center of the Pacific Ocean are the islands that make up Hawaii. It is renowned for its breathtakingly beautiful natural surroundings, varied ecosystems, and distinctive culture. The following islands should not be overlooked while traveling to Hawaii.
Kauai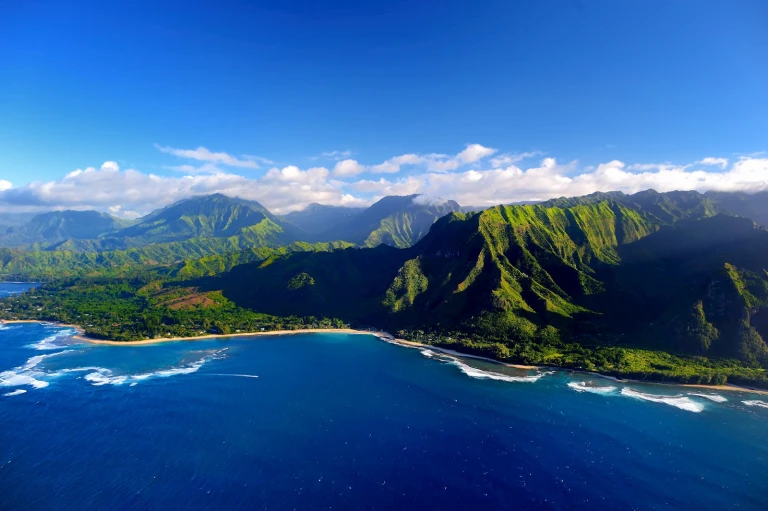 Northwest Hawaii's Kauai is well known for its breathtaking scenery and unspoiled beauty. With its verdant woods, flowing waterfalls, and isolated beaches, it offers a tranquil hideaway for nature lovers and honeymooners.
Adventure seekers will love the island's variety of outdoor pursuits, which include hiking along the Napali Coast and discovering Waimea Canyon.
Maui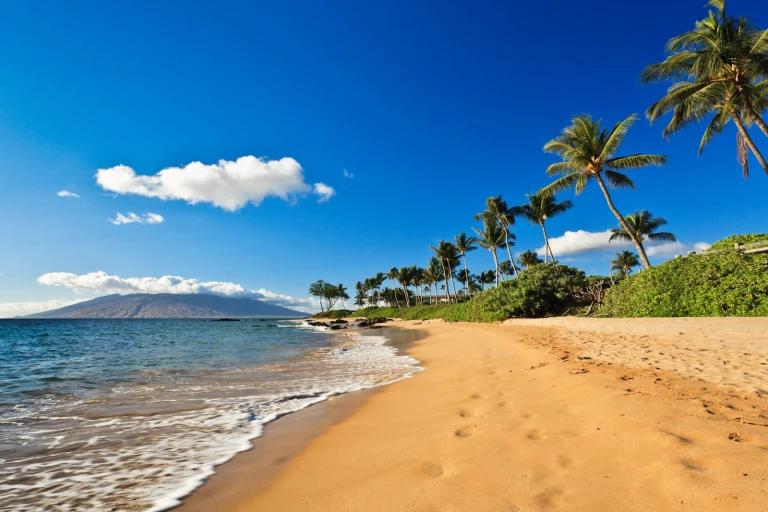 With all-inclusive vacation packages and upscale lodging options, Maui is a well-liked visitor destination. Maui provides a wide range of outdoor activities including snorkeling, hiking, and pool lazing and has magnificent beaches and scenery.
Maui offers travelers an exceptional holiday experience that will make them want to come back again and again thanks to its rich culture and kind welcome.
O'ahu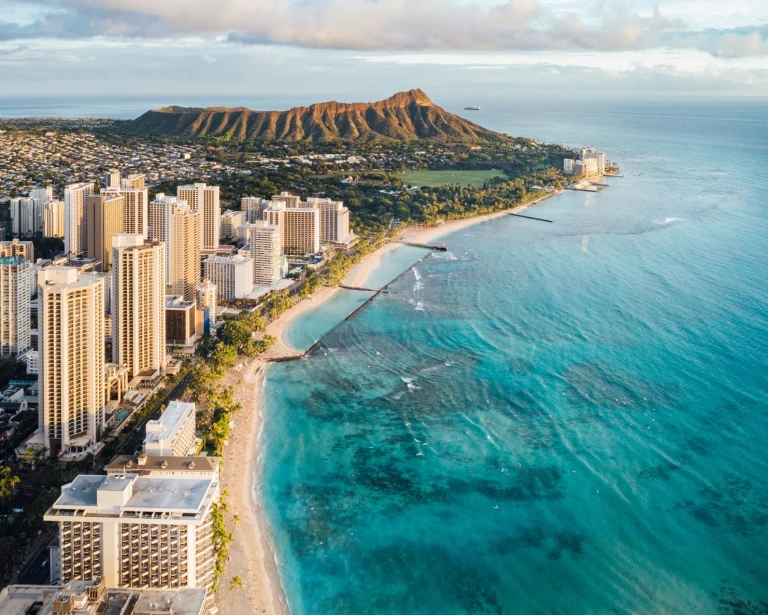 For younger tourists and history aficionados looking for a mix of city life and island escape, O'ahu is the perfect place. Honolulu is a dynamic city with hip districts, a wide variety of culinary pleasures, and an active nightlife.
Visitors may learn about the rich cultural legacy of the island by visiting well-known sights like Pearl Harbor and the historic sites in downtown Honolulu.
Moloka'i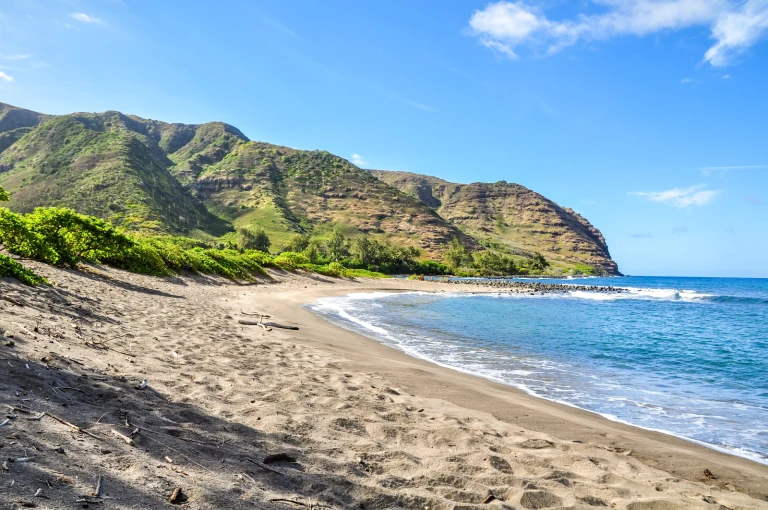 For couples and families looking for a genuine Hawaii vacation, Moloka'i, a slower-paced island in Hawaii, is the perfect choice since it provides a laid-back ambiance and rural appeal.
Its unspoiled natural beauty, breathtaking scenery, and immaculate beaches are less crowded than those of other well-liked locations. Along with outdoor pursuits like hiking, snorkeling, and touring historic Hawaiian sites, Moloka'i also provides guests with the opportunity to commune with nature and fully experience Hawaii's rich cultural legacy.
Lanai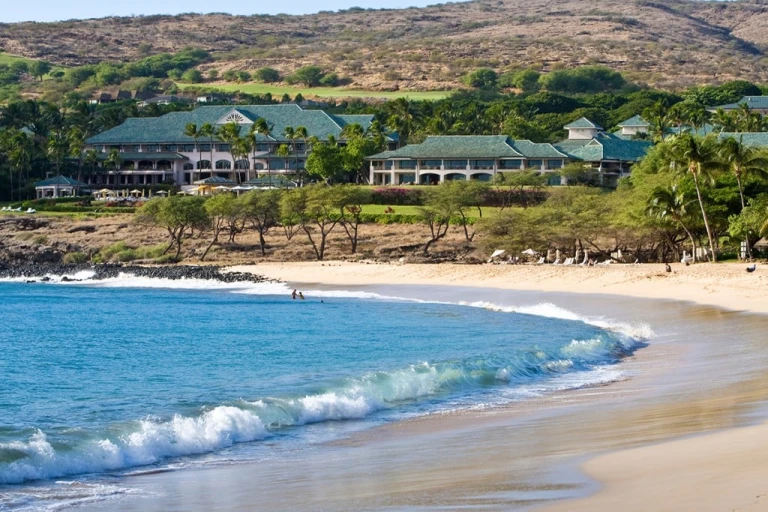 For nature enthusiasts and adrenaline seekers, the luxury hotel-dotted island of Lanai offers a range of outdoor pursuits. The island of Lanai provides exhilarating adventures, including as trekking through jungles and swimming in pristine seas.
The island's varied topography also makes it a great place to see wildlife, like dolphins playing in the water and unique bird species.
Hawaii Island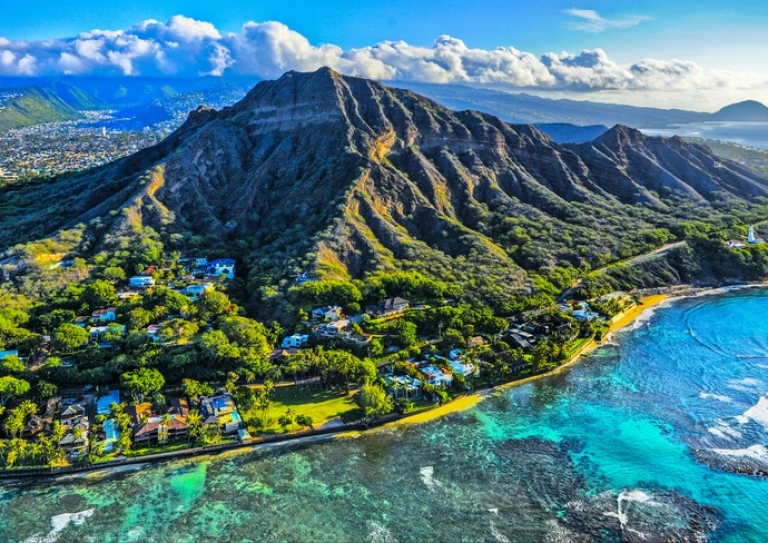 Hawaii Island, often known as the Big Island, has activities and attractions for people of all ages. Visitors may visit Hawaii Volcanoes National Park, which contains active volcanoes as well as gorgeous beaches.
Because of the island's unique geology, it has a wide range of temperatures and landscapes, making it a perfect location for those seeking adventure and natural beauty.
Cultural events on Hawaii Island include seeing historic Hawaiian temples and learning about the island's indigenous culture through traditional hula performances and storytelling. These interactive experiences enrich the island's history and add new depth to each visit.

What to Eat in Hawaii
Hawaiian food is a cultural melting pot that differs from traditional American fare. It is the key reason why many people prefer Hawaiian food since it has a distinct flavor character.
Hawaiian foods, which are influenced by Polynesian, Asian, and European cuisines, frequently include fresh fish, tropical fruits, and traditional cooking techniques such as imu (subterranean oven). The marriage of these disparate culinary traditions results in a genuinely lovely and unique eating experience.
Poi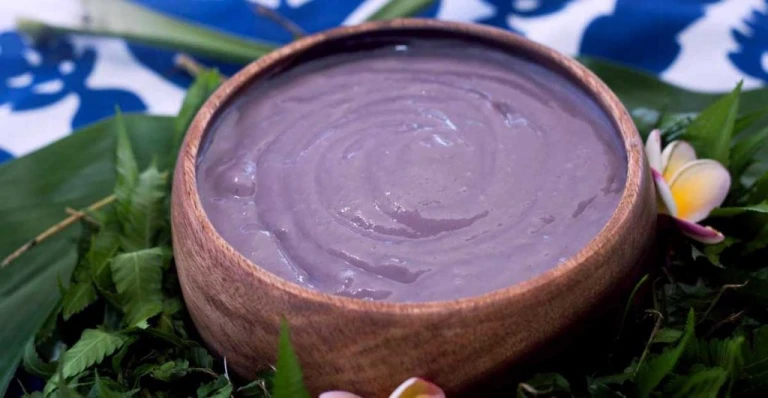 Poi, a classic Hawaiian cuisine, is a starch dish produced by crushing boiling taro roots and combining with water until smooth. It has a somewhat sour flavor and is generally characterized as a purple or grey paste.
Poi is culturally significant in Hawaiian cuisine and is frequently served alongside other meals such as kalua pig or lomi fish during traditional feasts and festivities.
Saimin
Hawaii's favorite noodle soup is saimin! This meal is made with wheat and egg noodles and a dashi-based broth, and it has several fantastic toppings including spam, egg, kamaboko, and green onions. Saimin is not only a popular dish in Hawaii, but it also reflects the islands' numerous culinary traditions.
Its origins may be traced back to the plantation era, when immigrants from China, Japan, and the Philippines brought their own noodle soup recipes, resulting in a distinctive flavor combination. Saimin remains a hallmark of Hawaii's rich cuisine culture, whether consumed as a soothing dinner or a local favorite.
Manapua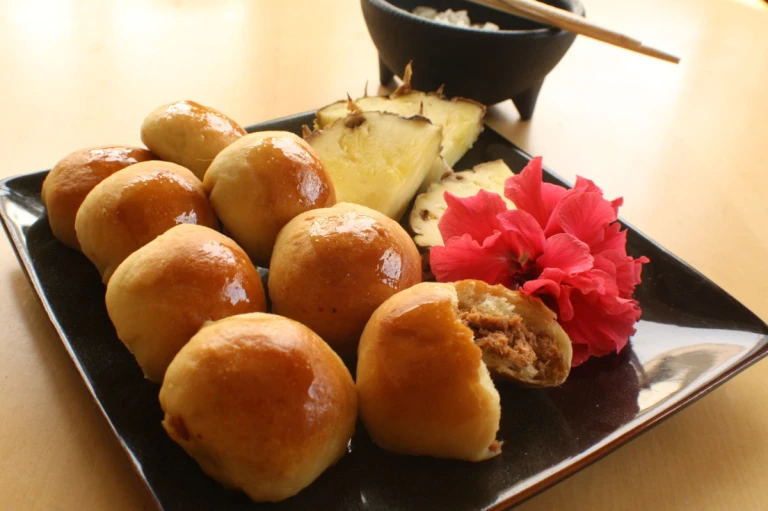 Manapua is a Hawaiian take on Char siu bao, a Cantonese delicacy packed with grilled pork. It is a popular snack or supper option in Hawaii due to its highly tasty and spicy pig stuffing.
The name Manapua is derived from the Hawaiian words "mana" (power or spirit) and "pua" (flower), and it reflects its delightful and gratifying quality. Manapua is available in a variety of tastes such as chicken, veggie, or sweet with fillings such as coconut or chocolate to suit a variety of taste preferences.
Poke
Small chunks of raw fish are marinated and served with veggies, rice, and other ingredients in the Hawaiian cuisine known as poke. Due to its flavorful, colorful, and fresh ingredients, poke is a well-known meal.
Although salmon or ahi tuna are the most usual ingredients, other kinds of seafood are also frequently used in variants. The fish is given a flavor boost during the marinating phase, while the veggies and rice give the meal structure and balance.
Soy sauce, sesame oil, green onions, seaweed, and chili peppers are some common components in poke. In conclusion, poke delivers a delicious fusion of flavors and textures that
Malasada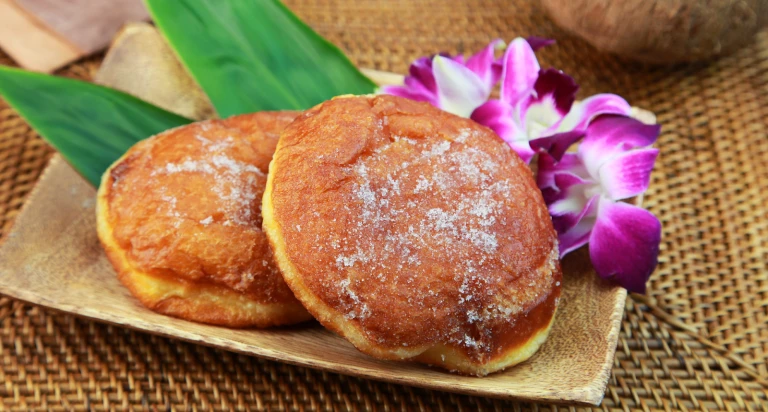 Malasadas are sweet treats that are similar to doughnuts but may even be better. They are created with yeast dough, which is frequently eggier and contains milk. They are coated in granulated sugar, deep-fried till golden brown, and have a crunchy surface and soft interior.
The addition of eggs and milk gives malasadas a creamier texture and a deeper, more decadent flavor. The flavor profile is elevated by this special blend, producing a decadent dessert experience.
Lau Lau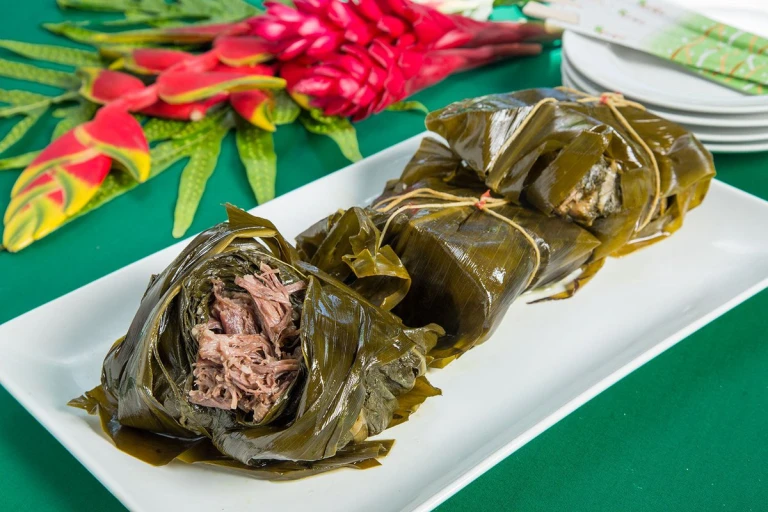 Lau Lau is a Hawaiian dish made of fatty pork and salted butterfish wrapped in lu'au and ti leaves. Cooked in an underground oven called an imu, it has a unique smoky flavor. The combination of tender pork, butterfish, and earthy leaves creates a satisfying meal enjoyed by locals and visitors.
The wrapped lau lau package is steamed for hours, allowing flavors to meld and the pork to become tender. It's served alongside rice and other Hawaiian dishes like poi and lomi lomi salmon.
To conclude.
Hawaii is a paradise with stunning beaches, oceans, jungles, and breathtaking vistas. It offers adventure, leisure, and cultural immersion, with its rich Polynesian heritage and vibrant local culture.
Visitors can learn about the island's history and traditions through traditional luaus and exploring ancient Hawaiian temples. Hawaii's diverse landscapes provide endless outdoor activities like hiking, surfing, and beach lounging. Hawaii promises an unforgettable vacation that leaves visitors yearning for more.