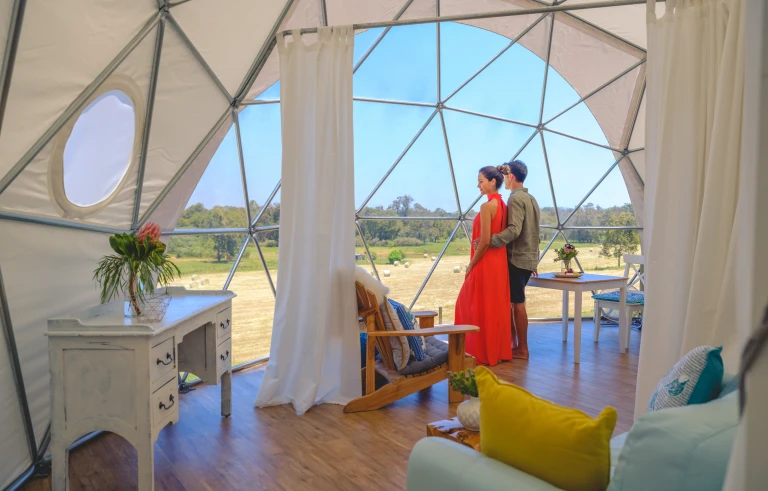 Image credit: Tourism Western Australia
Western Australia's diverse landscapes, pristine beaches, vibrant cities like Perth and Fremantle, and unique wildlife experiences make it an increasingly appealing destination for Indian travelers. From the Pinnacles Desert to encounters with kangaroos and quokkas on Rottnest Island, Western Australia offers a captivating blend of natural beauty and cultural richness, making it a must-visit spot for Desi travelers seeking an unforgettable videsi adventure.
When you've had your fill of ordinary hotels and crave a unique place to lay your head, Western Australia beckons with a treasure trove of extraordinary dream getaways. Imagine spending your nights in cozy tiny cabins, vintage train carriages, charming houseboats, rustic farm homesteads, or even a converted plane! Your dreams take flight as you slumber in some of the most Instagram-worthy accommodations Down Under. Take this wonderful journey to the land of endless exploration, Western Australia offers Indians a plethora of memorable accommodation choices that you will find in a class of its own.

1) Relive the golden age of travel in a converted rail carriage
If train travel in India fascinates you, then staying in a converted rail carriage at Dunsborough Rail Carriages & Farm Cottages is a dream come true. Picture yourself reliving the splendid days of meandering through picturesque countryside from the comfort of a cozy carriage. This unique accommodation is located in the Margaret River Region, about three hours south of Perth. It also has a farmhouse that can host large groups of family or friends. Nestled within a serene and scenic 100-acre farm, it is conveniently close to both Dunsborough town center and the beach. Imagine waking up to the melodious songs of birds and embarking on an egg-collecting adventure right on the farm. Enjoy a delightful breakfast on the verandah while observing the graceful hops of kangaroos passing by.
2) Set your own pace on a houseboat holiday
Have you ever been on the traditional Indian House boats? If you haven't and planning to experience this beautiful experience When you embark on an adventure with Mandurah Houseboats, you'll effortlessly drift along the serene Peel Inlet and Murray River, just an hour away from Perth. This area is one of the most pristine marine environments in the world, where stress melts away and nature surrounds you. You don't need a boat license to captain a houseboat and you can choose your own scenery every day. This is the epitome of tranquility, offering you the opportunity to uncover secluded beaches, spot playful dolphins, catch your dinner, and access remote destinations inaccessible by road. You can also visit local cafes, restaurants, and hotels along the way, and moor overnight at public moorings.
The houseboat fleet accommodates groups ranging from 4 to 10 people, each vessel equipped with a fully stocked galley, spacious living areas, a bathroom, and outdoor seating. While you are in the area, make sure to go ashore to check out internationally renowned Danish artist Thomas Dambo's Australian-first exhibition the 'Giants of Mandurah'. Arguably one of his most ambitious projects to date, this is an outdoor exhibition and game of self-discovery that celebrates and champions the protection of the Peel region's extraordinary natural environment.
3) Go off-grid glamping
Experience the booming trend of glamping, where eco-conscious travelers are forging a deeper connection with nature, right here in Australia's largest state. Welcome to Serenity Gully, an exquisite five-star glamping haven nestled in Kangaroo Gully, a mere three-hour scenic drive from the vibrant city of Perth. Picture this: you'll find yourself amidst the grandeur of towering forests, with three impeccably designed tents discreetly tucked away. Imagine luxuriating under a blanket of stars in your very own outdoor stone bath, sinking into sumptuous bedding within your designer tent, all while being serenaded by the natural beauty surrounding you.
The commitment to sustainability shines as each tent is entirely off-grid, drawing its power from solar energy. Inside, you'll discover the charm of a romantic fireplace, an ensuite shower, and even a proper flushing toilet. As you venture out onto our sprawling 478-acre property, you'll be greeted by the majesty of jarrah forests and rolling fields. Here, it's just you, the melodic birdsong, the occasional kangaroo, sheep, and even an emu or two. You can also pamper yourself with in-tent massages, dine under the stars, or roast marshmallows over your private fire pit. In the morning, Wake up to the soothing sounds of the birds and enjoy the peace and beauty of your surroundings.
4) Join the Tiny revolution
As our world embarks on a journey towards a sustainable future, the idea of embracing a simpler, more sustainable lifestyle has captured everyone's imagination. Heyscape Tiny Cabins, a truly one-of-a-kind accommodation concept that beckons you to experience the charm of snug, tucked-away cabins nestled in off-the-grid havens surrounded by the wonders of nature. Adding to the current offering of two person cabins, a new family-sized cabin has recently come online near the town of Toodyay, nestled within Perth's picturesque Avon Valley.
And that's just the beginning! Look forward to the launch of Heyscape luxurious cabins in the enchanting Perth Hills and at the stunning Whicher Ridge Winery in the heart of the Margaret River Region. Heyscape has cabins in rural locations with stunning views and Esperance is the next destination on the list.
5) The Eco Retreat with an Aboriginal Spa
Willow Wood Glamping Retreat, situated in the peaceful rural hinterland just a 15-minute drive from Busselton Margaret River Airport. This is an adults-only retreat in Ambergate and offers the quintessence of tranquility, making it an ideal destination.
Nestled privately within a vast 100-acre farm, Willow Wood boasts ten luxurious eco-tents, each featuring its own outdoor deck. These accommodations are artfully styled in three distinct themes: Boho Coastal, Farm Luxe, and Stylish Safari, ensuring a distinctive experience for every guest. Guests can unwind on plush bedding, walk on timber floors, and enjoy the convenience of ensuite bathrooms and kitchenettes, allowing them to commune with nature while enjoying the comforts of home.
Visitors to Willow Wood have the privilege of exclusive access to Larn'wa Australia's healing spa treatments, designed to provide rejuvenation and relaxation. These treatments draw inspiration from traditional Aboriginal ingredients, ancient Indigenous plant wisdom, and holistic knowledge, creating a profound connection to the world's oldest living culture through holistic spa experiences.
6) Make a dome your home
Only a short 15-minute jaunt away from Margaret River, Mile End Glamping offers an extraordinary experience in our charming self-contained domes, tailor-made for two. Inside, you'll discover a dreamy four-poster canopy bed, a luxurious private bathroom featuring a soothing rainfall shower, an elevated deck equipped with a barbecue, and a relaxing spa area, all adorned with chic Hamptons-inspired décor.
And that's not all! At Mile End Glamping, we go the extra mile to ensure your stay is truly special. We're here to pamper you with options like ordering gourmet hampers or mouthwatering meals, arranging for your very own private chef, indulging in soothing massage treatments, or even getting your blood pumping with personal training sessions. It's your escape from the everyday hustle and bustle. These domes are architecturally designed, energy-efficient domes blend harmoniously with nature, you can relax and enjoy your surroundings while knowing your footprint on this pristine natural environment is minimal.

7) Sleep amongst the Olive Groves
If you're yearning for a reconnect with nature, there's nothing quite like the enchanting lakeside glamping experience at Olio Bello Lakeside Glamping in the heart of Margaret River. Here, six safari-style bungalows await you, nestled beside a pristine lake amidst a sprawling olive grove of 8000 trees. The bungalows have been designed to blend into the landscape and are environmentally friendly, providing luxurious bedding, private ensuite bathrooms, kitchenettes, minibars, and spacious decks from which can enjoy the sunset.
But the magic doesn't end there. Guests can wander through the enchanting olive groves, savor a leisurely lunch at the charming café, indulge in tastings of their exquisite olives and olive oils, or pamper yourself with organic beauty products. And, of course, you can simply relax and soak in the serenity of this idyllic retreat.

8) The off-road camper
Love exploring the muddy village roads in India? Then you must explore Western Australia's breathtaking natural wonders with Australia's finest 4WD campers and touring vehicles from Redsands Campers! When you crave the freedom to bring your accommodations with you into the wild, go Redsands Campers. With convenient depots in both Perth and Broome, Redsands Campers ensures you have the flexibility to embark on your adventure of a lifetime.
But that's not all! When you choose Redsands Campers, you're not just renting a vehicle; you're getting a complete experience. They provide invaluable itinerary advice to make your trip a breeze. Plus, their comprehensive vehicle demonstrations ensure you're fully equipped to handle your adventure. Safety and peace of mind are their top priorities too. Redsands Campers offers 24-hour roadside assistance, so you can explore the vast treasures of Western Australia with confidence.
9) Camping with Custodians
Aboriginal culture is the oldest living culture in the world, dating back 60,000 years and the traditional owners of the land welcome you to learn their traditions and stories with a range of Aboriginal Campsites through the Camping with the Custodians program.
Prepare yourself for an unforgettable adventure where you'll have the opportunity to immerse yourself in some of Western Australia's most pristine and secluded landscapes. Picture yourself sitting beside a crackling campfire beneath a canopy of stars, enveloped in the captivating narratives shared by your gracious Aboriginal hosts.
With six remarkable campsite locations to choose from, including The Kimberley (Djarindjin) and the Pilbara (Peedamulla), you'll have the chance to create lasting memories and forge meaningful connections with the rich cultural heritage of Australia's indigenous people.
10) Float your cares away at a Floating Hotel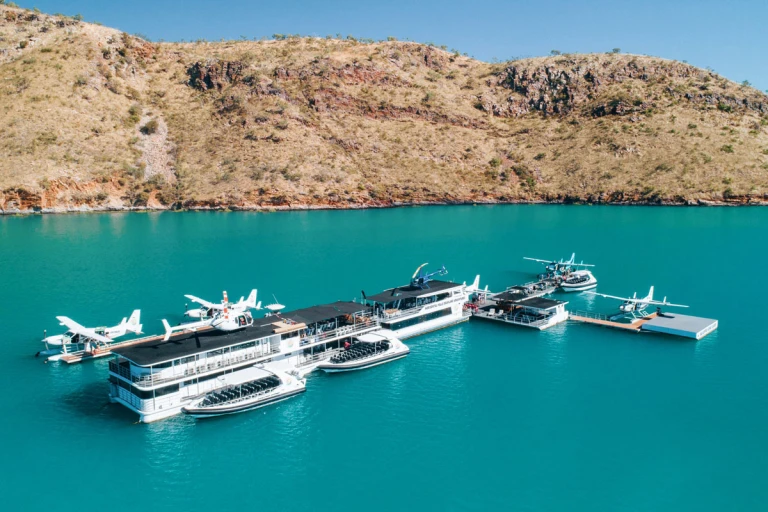 Stay in a floating hotel, complete with seaplane rides over the Horizontal Falls at Jetwave Pearl
Imagine yourself on the Jetwave Pearl, a remarkable 'floating hotel' brought to you by Journey Beyond. It's your ticket to a truly unforgettable adventure, where you and up to 20 fellow guests can bask in 24 hours of non-stop excitement.
Picture this: helicopter flights that let you soar high above stunning landscapes, exhilarating power boat rides, leisurely cruises, and thrilling guided fishing charters, all part of the Horizontal Falls Seaplane Adventures package.
Horizontal Falls, situated in the North West just 270 kilometers from Broome (a short 2 hours and 30 minutes flight from Perth), has earned the prestigious title of "one of the greatest natural wonders of the world," as proclaimed by the legendary Sir David Attenborough. These breathtaking falls are the result of colossal tidal movements, where immense volumes of water squeeze through narrow cliff passages, creating a mesmerizing sideways waterfall effect. It's truly a sight that must be witnessed to be fully appreciated.