Mauritius is a dream destination for many travelers who want to enjoy the tropical sun, the turquoise sea, and the diverse culture of this island nation. But where to stay in Mauritius? If you are looking for a more authentic and personal experience, you might want to consider booking an Airbnbs in mauritius instead of a hotel. Whether you are traveling solo, as a couple, or with a family or friends, you will find an Airbnb that suits your needs and budget. So, let's explore the best Airbnbs in Mauritius for travelers!
Stay in a Cozy and Convenient Apartment Close to the Beach and the Magenta Walking Path
If you are looking for a unique and tranquil getaway in Mauritius, you might want to check out this beautiful airbnb residence in Flic en Flac. This place offers privacy, security, and a relaxing atmosphere away from the busy tourist area. You can enjoy the modern and functional apartment, which has a comfortable bed, a kitchenette, a balcony, and a private bathroom. You can also explore the nearby Magenta walking path1, which is next to Middlesex University and offers a scenic view of nature.
For your convenience, there are many amenities close by, such as restaurants, shops, supermarkets, fuel station, money exchange, and excursion center. If you want to do some shopping, you can visit the Cascavelle mall2, which is a unique shopping arcade that is only 5 minutes drive away. This place has everything you need to make you feel at home and enjoy a peaceful and hassle-free stay in Mauritius.
Listing name: Royal Creek Residence
Listing type: Entire Rental Unit 
Max. no. of guests: 5 Guests
No. of bedrooms: 2
Relax in a Comfortable and Well-Equipped Studio Close to the Sea and the Kitesurf Spot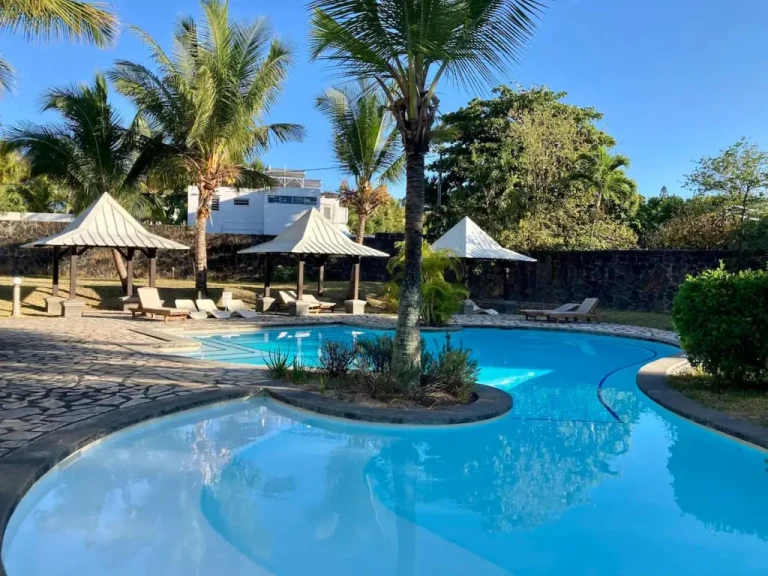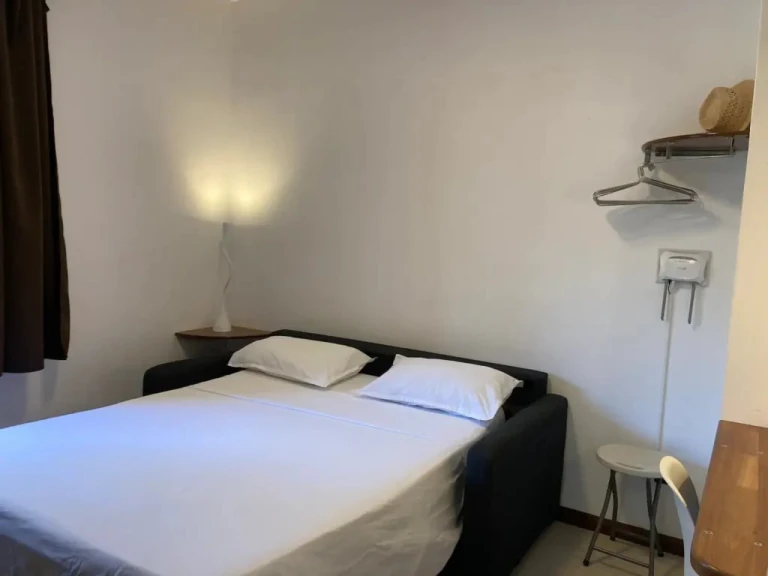 This cozy studio is situated on the first floor of a secure residential complex that features a swimming pool. It is only a few meters away from the public Bain Boeuf beach, where you can enjoy the sun and the sea. You can also have some fun and adventure at the Kitesurf Anse La Raie location, which is a quick five minute drive from the studio. The studio is spacious and comfortable, with a queen-size bed, a sofa bed, a kitchenette, a bathroom, and a balcony.
The studio also has a nearby bus stop that allows you to explore other attractions on the island easily and affordably. You can visit the lively Grand Baie, the charming Cap Malheureux, or the historical Pamplemousses. This studio is perfect for solo travelers, couples, or small groups who want to experience the beauty and culture of Mauritius.
Listing name: Studio in a residence close to the beach
Listing type: Entire apartment
Max. no. of guests: 2 Guests
No. of bedrooms: 1
Experience the Beauty and Culture of Mauritius in a Designer Villa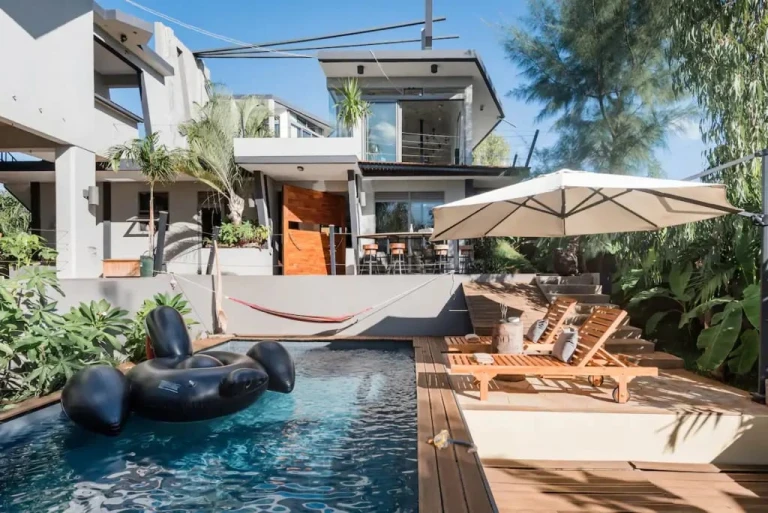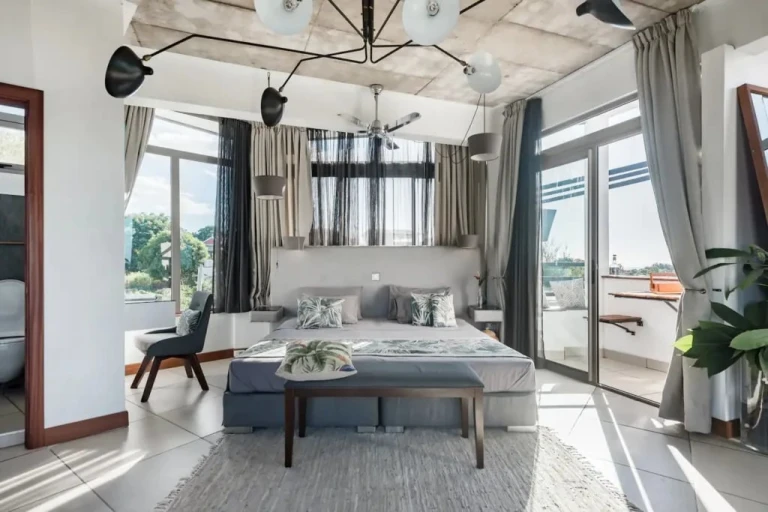 Discover a unique Airbnb retreat in a designer villa. You will have a private suite with a rare in-floor bathtub that showcases panoramic views of the sea, the city, and the mountains. You will also have access to a tranquil tropical garden where you can start your days with fresh air and birdsong. The suite's interior blends global travel inspiration and local Mauritian touches, such as colorful fabrics, wooden artworks, and exotic souvenirs.
It also features custom-made furniture that adds style and comfort to your stay. You can also access fully-equipped kitchens, a modern gym, a sparkling pool, and spacious terraces that are shared with other guests. The villa is located in Pointe aux Sables, a charming village that offers an authentic local experience. You can immerse yourself in the culture and lifestyle of Mauritius while exploring its beaches, markets, restaurants, and museums.
Listing name: Incredible Designer Studio in villa+pool+jacuzzi
Listing type: Entire apartment
Max. no. of guests: 2 Guests
No. of bedrooms: 1
Stay in a Traditional Home with a Saltwater Infinity Pool and a Lush Garden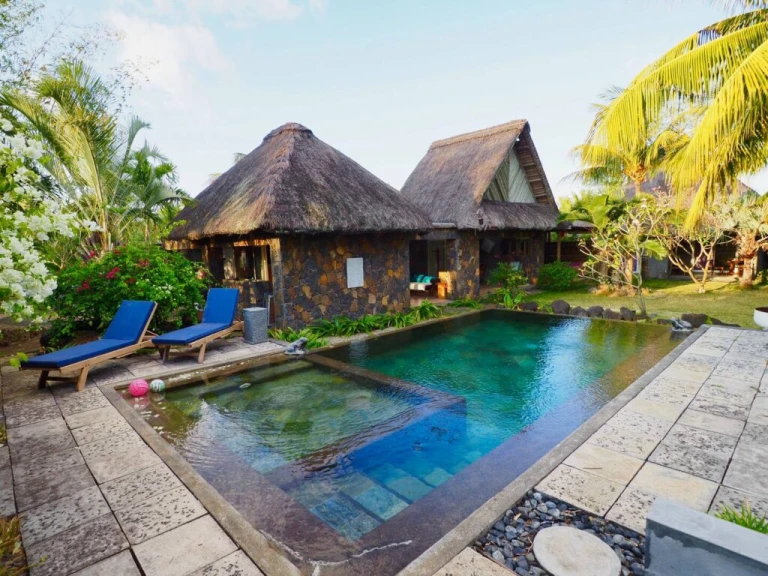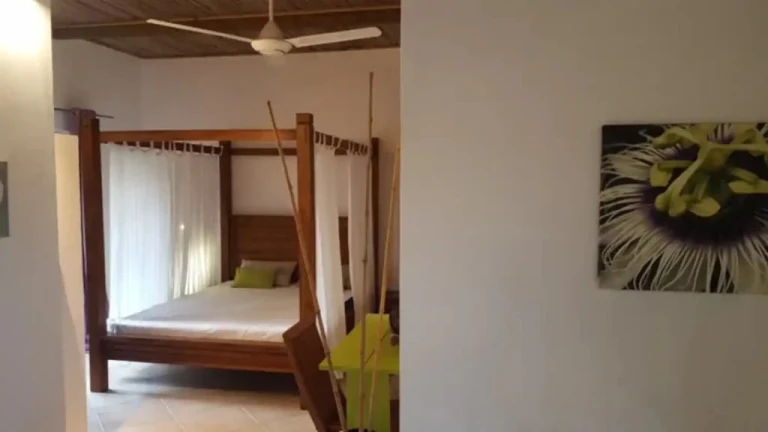 Experience the enchantment of Mauritian living at Brahman Hut. This captivating Airbnb stay is nestled in the northern part of the island, close to the vibrant village of Perebere. You will stay in a thatched roof traditional home that exudes rustic authenticity and luxurious comfort. You will also have access to a saltwater infinity pool and secluded huts that create an idyllic retreat. Wake up to a wholesome Mauritian breakfast made from locally sourced ingredients. You will savor every bite while admiring the flowers, birds, and butterflies in the lush garden.
 Discover the nearby northern islands, such as Coin de Mire, Flat Island, or Round Island. Relax in cozy and comfortable huts that offer serene garden views. You can enjoy your own slice of paradise while listening to the sounds of nature. Whether seeking adventure, romance, or solace, Brahman Hut's unique blend of nature, luxury, and cultural authenticity offers an unforgettable experience.
Listing name: Brahmanhut
Listing type: Room
Max. no. of guests: 2 Guests
No. of bedrooms: 1
Stay in a Spacious and Modern Airbnb Stay with a Stunning View of the Bay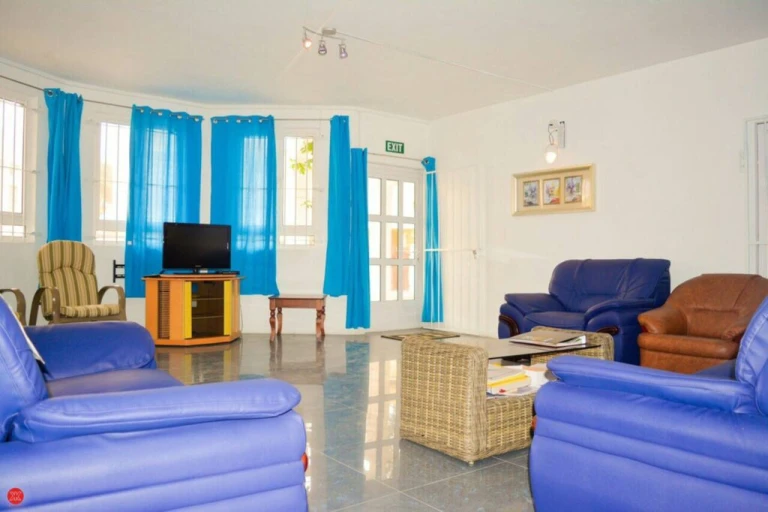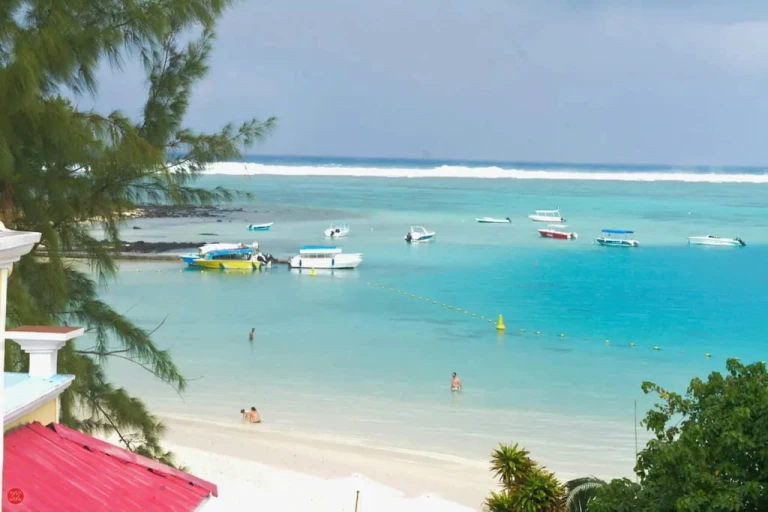 Discover an exceptional Airbnb stay near the airport. This property is nestled by the tranquil Blue Bay Beach, just 10 minutes from the airport. It boasts a prime location in a friendly neighborhood that offers easy access to shops and restaurants. You will also appreciate its relaxing atmosphere with friendly locals. Guests will enjoy its close proximity to the beach and the serene surroundings. The spacious layout encompasses a well-equipped living room, bedroom, shower, bathroom with a washing machine, and a functional kitchen downstairs.
The rooftop balcony presents stunning panoramic views of the bay, providing an idyllic setting to unwind and savor drinks. You can also enjoy swimming, boating, fishing, or simply admiring the scenery in the bay. With the added allure of being just a few steps away from one of the island's famous beaches, this Airbnb stay offers a unique blend of convenience, comfort, and coastal beauty.
Listing name: Bluebay Bungalow
Listing type: Entire Bungalow
Max. no. of guests: 8 Guests
No. of bedrooms: 4 Bedrooms
Relax in a Spacious and Modern Apartment with a Garden and an Infinity Pool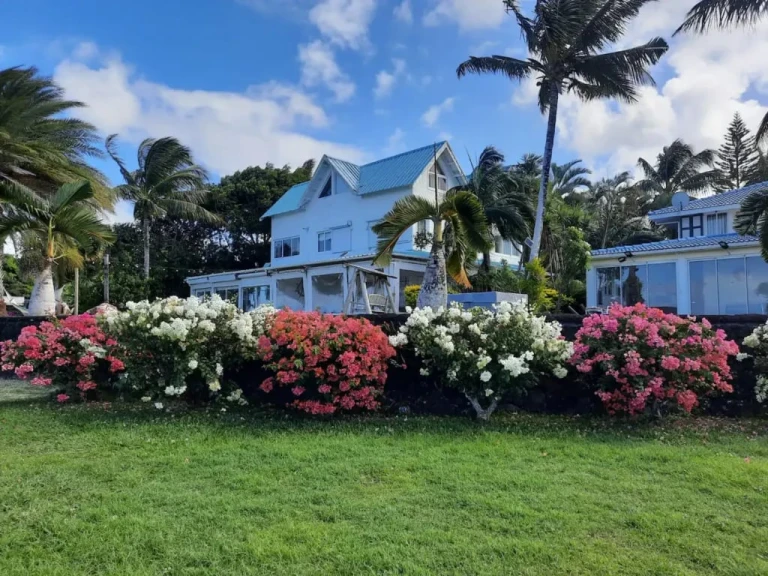 Indulge in luxury at this charming coastal apartment. This property is located in Trou d'Eau Douce village, just 1.5 kilometers from the vibrant City Centre and Market Place. It offers both convenience and tranquility for your stay. You will have a spacious ground floor apartment with a master ensuite and two sea-view bedrooms. You will also have a fully-equipped modern kitchen, a sea-view lounge, and a dining area for your comfort.
The garden invites you to unwind in the hammocks and sun loungers as you admire the captivating sea view. You can also enjoy boat trips to Ile aux Aigrettes that offer snorkeling, diving, fishing, or simply admiring the scenery. You will also have access to an amazing infinity pool that offers a sparkling view of the sea. This apartment offers a unique blend of classic charm and modernity with a peerless sea and boat view.
Listing name: Boutique villa on the rocks (Sea, Pool, Garden) 1
Listing type: Entire Bungalow
Max. no. of guests: 6 Guests
No. of bedrooms: 3 Bedrooms
Stay in this Charming Safari Tent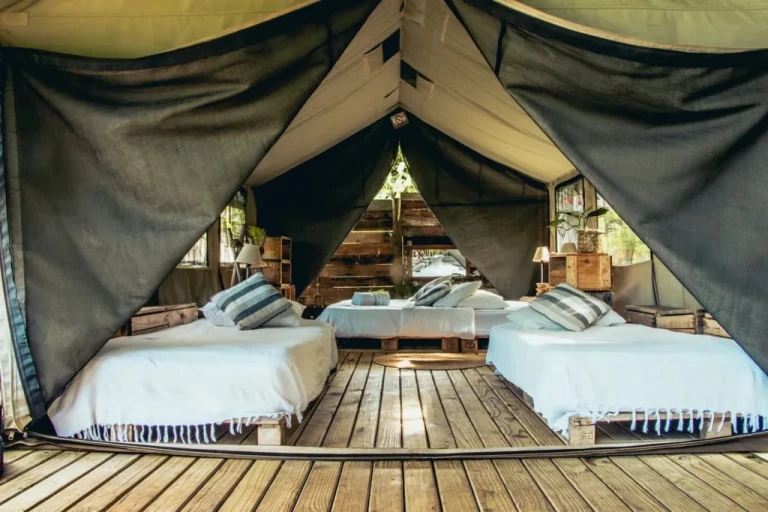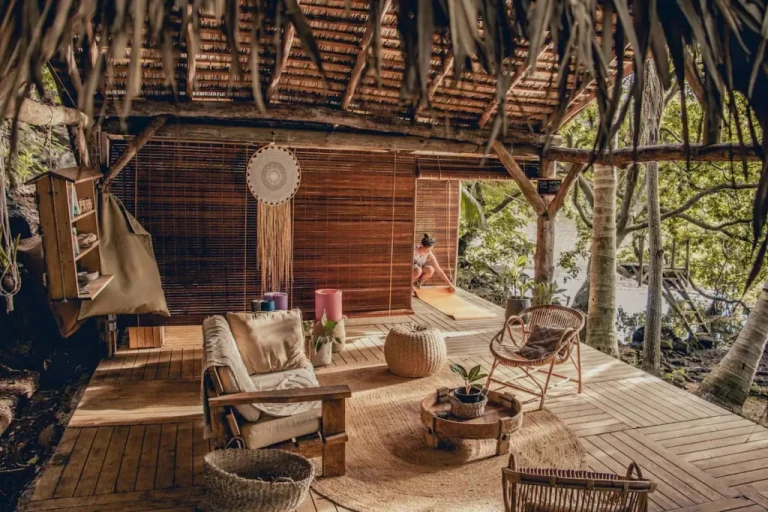 Experience a one-of-a-kind stay at the first eco lodge of its kind in Mauritius. You will stay in a charming safari tent that is built with natural materials and decorated with African motifs. The lodge is nestled at the confluence of a scenic river that offers a peaceful and relaxing atmosphere that invites you to enjoy the beauty of nature. You will also be close to the stunning Eau Bleue waterfall and the crystal-clear water of Ile aux Cerfs, where you can admire their beauty, cleanliness, and facilities. Experience the thrill of adventure with activities like kayaking on the river, riding an ATV through the forest, or hiking on the hills.
You can discover wildlife, flora, and views that will amaze you. You will also savor the delicious and authentic dishes of Mauritius prepared with fresh and local ingredients in a traditional Creole kitchen. This stay gives you a chance to escape from the hustle and bustle of urban life and immerse yourself in a serene oasis. You will feel refreshed, rejuvenated, and inspired by this unique and eco-friendly stay. This is one of the most unique Airbnbs in Mauritius
Listing name: Otentic, eco tent experience
Listing type: Tent
Max. no. of guests: 4 Guests
No. of bedrooms: 1 Bedrooms
Enjoy a Cozy and Convenient Flat Near the Beach and the Garden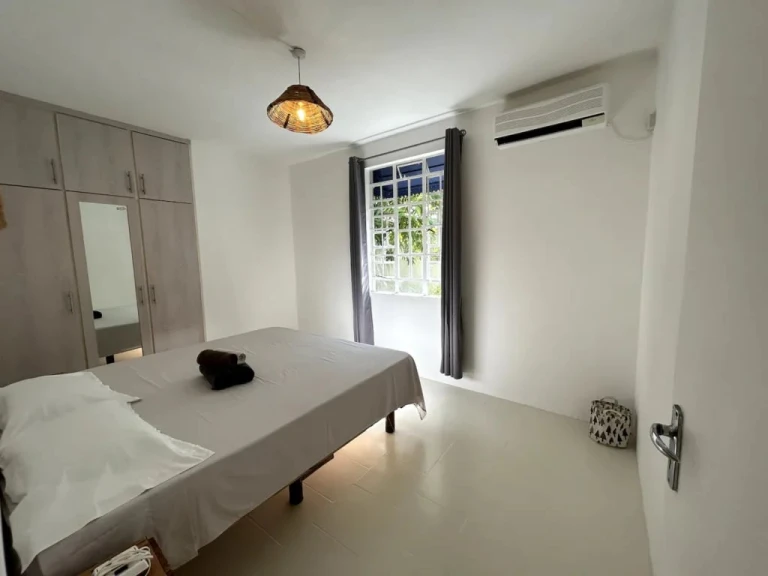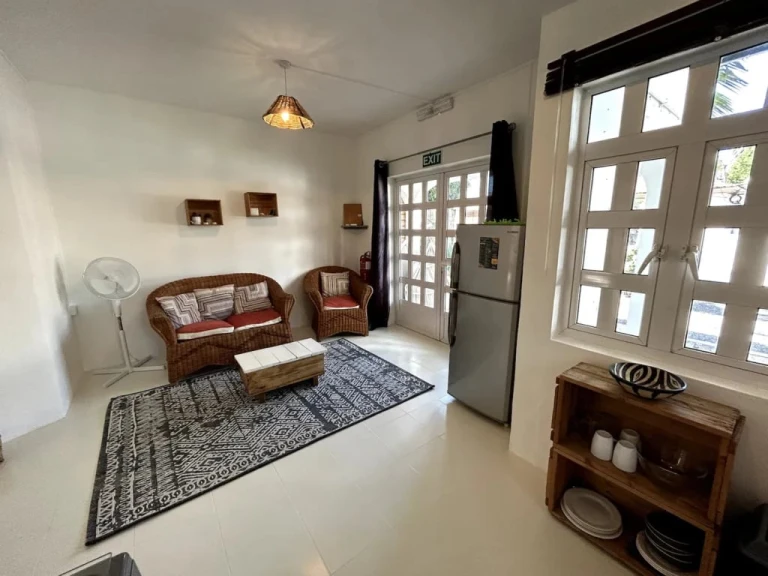 This property is tucked away in a serene area, only a short two minute walk from the beautiful beach and an easy 5-minute stroll to the nearby shop. It offers both convenience and tranquility for your stay. You will have a fully equipped flat that features modern amenities like an oven, gas cooker, washing machine, refrigerator, microwave, and kettle. You will also have the freedom to experience the authentic local life while savoring fresh fruits from the garden like mangoes, coconuts, and pomegranates.
The space has air conditioning to keep you cool and comfortable. You will also have access to the entire flat, including a spacious living room and kitchen, a clean bathroom, a comfortable bedroom, and a cozy small room ideal for dining.
Listing name: Villa Amarilla 2 (2min walk from the beach)
Listing type: Entire rental unit
Max. no. of guests: 4 Guests
No. of bedrooms: 1 Bedrooms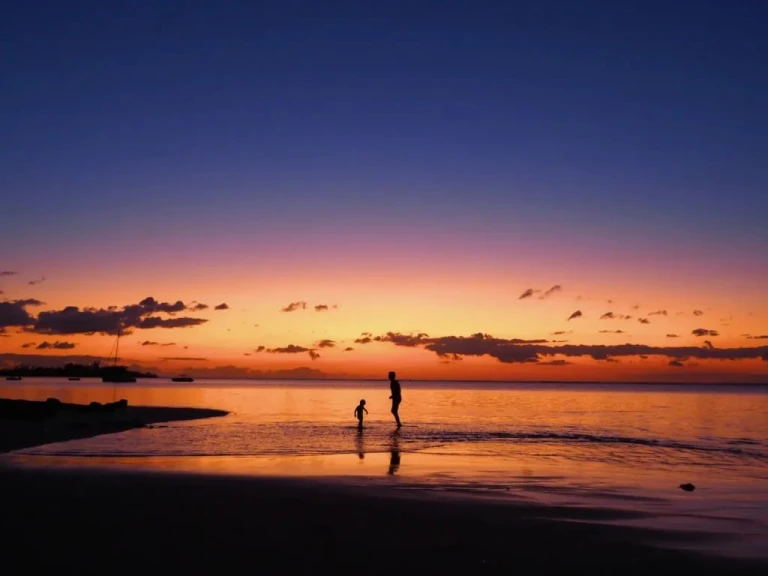 So, what are you waiting for? Book your Airbnbs in Mauritius today and get ready for an unforgettable trip. You will not regret it! Make sure to check out the amenities and other information about the Airbnbs before booking. See you on your next trip!