Public markets are an immersive tradition and a cultural experience "as old as cities themselves," according to Helen Tangires in her book titled Public Markets. For thousands of years, the world's farmers and merchants have gathered at public markets to exchange goods and supply food to their communities. Today, the public market can usually be found in a town square or a cluster of stalls, from open-air marketplaces to glass-covered arcades. They're right at the heart of the city, where the locals like to eat.
By supporting small businesses and providing opportunities for budding entrepreneurs, these markets feature some of finest local produce in town. Not sure where to start with public markets around the world? Don't worry, we've done the legwork for you: Hit the streets for some of the best food markets!
Tip: At these sprawling public markets, be sure to bring the cash and small change in the local currency. 
1. Mercato Centrale in Florence, Italy
The iron-and-glass facade of Mercato Centrale in Florence, Italy. | Image credit: gionnixxx via Canva Pro
As you're strolling through the historic streets of Florence, why not stop for a Tuscan meal at the Mercato Centrale? Dating back to 1874, the city's oldest food market in San Lorenzo is located inside a building with a glass ceiling and a cast-iron structure designed by the architect Giuseppe Mengoni. Explore a maze of shops at the two-level marketplace, which offers local produce, seafood, poultry, meats, olive oils, cheeses (fresh mozzarella, anyone?), artisanal breads, homemade pastas, truffle mushrooms, and ready-to-eat food on the ground floor.
Additionally, the upper floor of Florence's Mercato Centrale also boasts of a modern Italian food court. Don't miss out on specialities of the region such as tripe sandwiches, tagliolini with black truffles, high-quality prosciutto and cold cuts, and of course, pizza.
Address: Piazza del Mercato Centrale, Via dell'Ariento, 50123 Florence, Italy 
2. Toyosu Fish Market in Tokyo, Japan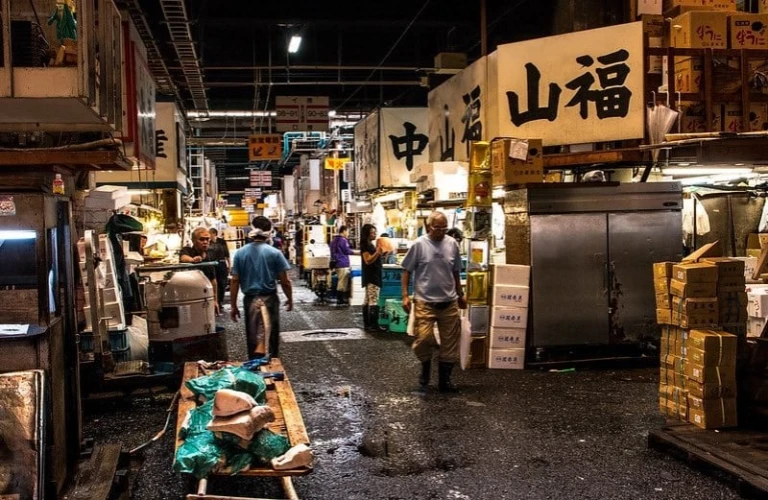 The inner seafood market of Tsukiji Fish Market in its former location in Tokyo, Japan. | Image credit: Aussie Assault
Considered the largest fish and seafood market in the world and formerly known as the Tsukiji Fish Market, the Toyosu Fish Market is a must-visit for travellers in Tokyo. Early risers who can make a beeline to this wholesale fish market near Shijomae Station will be rewarded with its most highly awaited event: the tuna auction. Taking place from 5.30am to 6.30am, the auction is a popular activity for tourists to watch from a dedicated viewing platform, as Japanese fishermen examine the freshest catch of the day.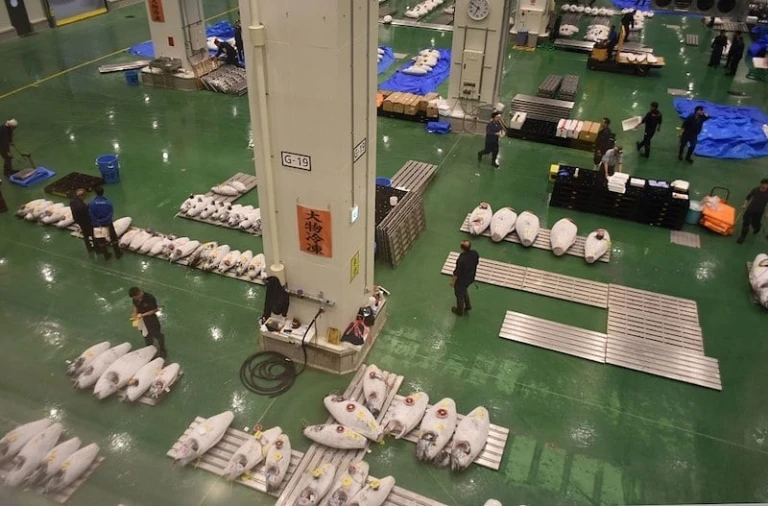 Tuna auction at Toyosu Fish Market in Tokyo, Japan. | Image credit: 江戸村のとくぞう
Apart from fish and seafood, the market also sells fruits, vegetables, and flowers. Some tourists have observed that the Toyosu's stalls create a more organised but sterile experience, lacking the lively and charming wet market atmosphere of Tsukiji. However, it is almost twice the size of the original market.
For your lunch, be sure to check out the handful of Japanese restaurants that can serve up everything from sashimi and uni sandwiches to tempura and udon bowls.
Address: 6 Chome-6-1 Toyosu, Koto City, Tokyo 135-0061, Japan
3. La Boqueria in Barcelona, Spain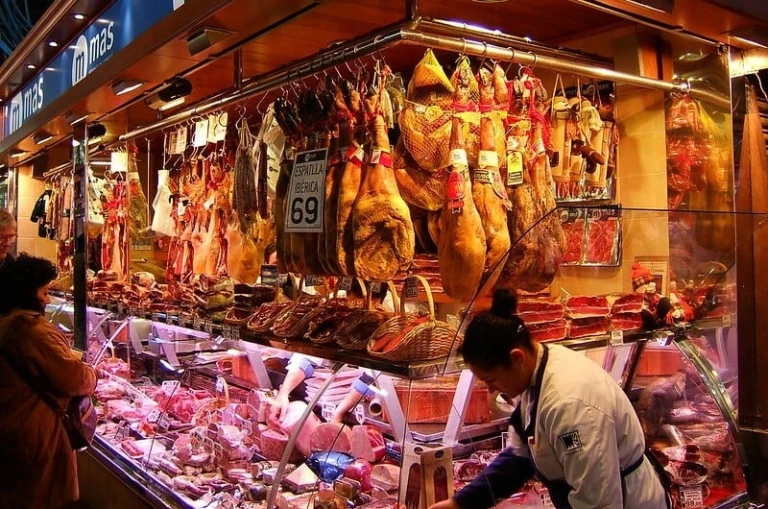 Iberico ham at La Boqueria in Barcelona, Spain. | Image credit: WordRidden
Surely, no travelling foodie can end a trip to Barcelona without visiting La Boqueria, the most celebrated public market in the city. With Modernist arches and a stained-glass awning at the La Rambla entrance, this food market in the Ciudad Vieja district began as an open-air cluster of meat stalls in 1217. Now, it's the beating heart of the city.
Once you arrive at the back of the market, you'll stumble upon the speciality shops where the locals buy their fish, seafood, olives, spices, candies, cheeses, and cured meats. Keep an eye out for Spanish ham or jamón on display, from the giant flanks to the hooves. Don't forget to sample a few slices of the famous jamón iberico, or head to Pinotxo Bar for some of the best tapas in Catalonia's capital.
Address: La Rambla, 91, 08001 Barcelona, Spain
4. Torvehallerne Market in Copenhagen, Denmark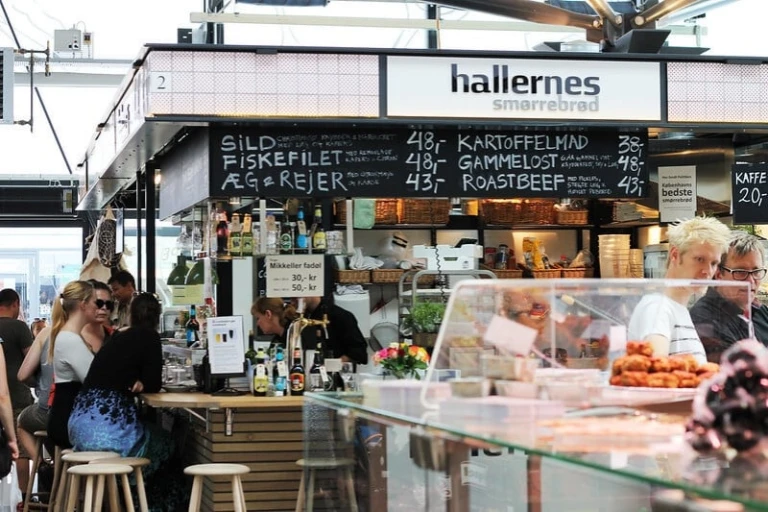 A smørrebrød stall at Torvehallerne Market in Copenhagen, Denmark. | Image credit: Heather Sperling
If you can't grab a seat at René Redzepi's perpetually booked Michelin star restaurant Noma, all is not lost; you can still have an enriching culinary experience in Denmark without breaking the bank. Just drop by Torvehallerne Market, the most popular fresh food market at the heart of Copenhagen.
At this glass-covered marketplace near Nørreport Station, you can find more than 80 stalls selling fresh produce, coffee beans, pastries, organic meats, flowers, gourmet food, alcoholic beverages, olive oil, and more. It's the perfect place to try local specialities such as smørrebrød or Danish open-faced sandwiches, or bring home dessert pairings like chocolates and wine.
Address: Frederiksborggade 21, København 1362, Denmark 
5. Ferry Plaza Farmers' Market in San Francisco, United States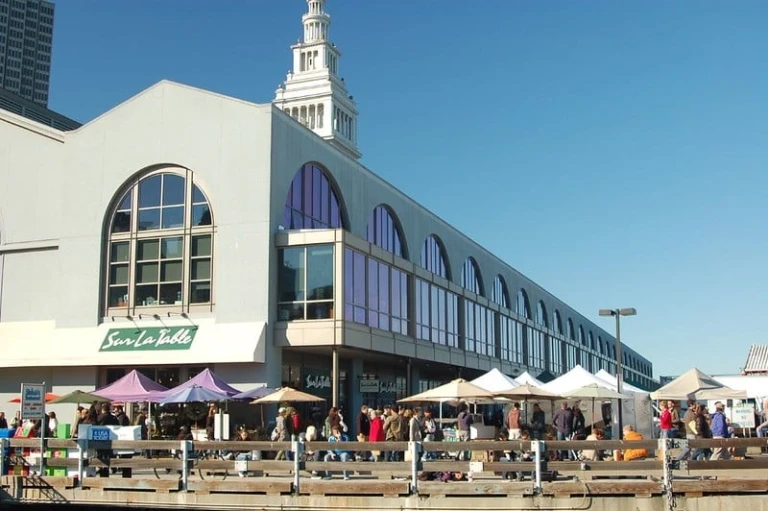 Tents at the Ferry Plaza Farmers' Market in San Francisco, United States. | Image credit: Donna Sutton
Searching for a food lover's haven in the Bay Area in California? Plenty of tourists gather at the Ferry Plaza Farmers' Market in San Francisco, which is committed to preparing good-quality food and promoting diversity in its culinary offerings. After all, it's one of the most renowned farmers' markets in the world.
Take your pick from the different tents of farmers, chefs, bakers, and cheesemakers appearing outside the Ferry Building. Or simply take your time exploring the area, a wonderful place to take in the laid-back atmosphere of the city. Better yet, step inside the building to wander around the kiosks selling tacos, sourdough sandwiches, oysters, coffee, pizza, organic honey, and more.
Address: 1 Ferry Building, San Francisco, CA 94111, United States
6. Borough Market in London, England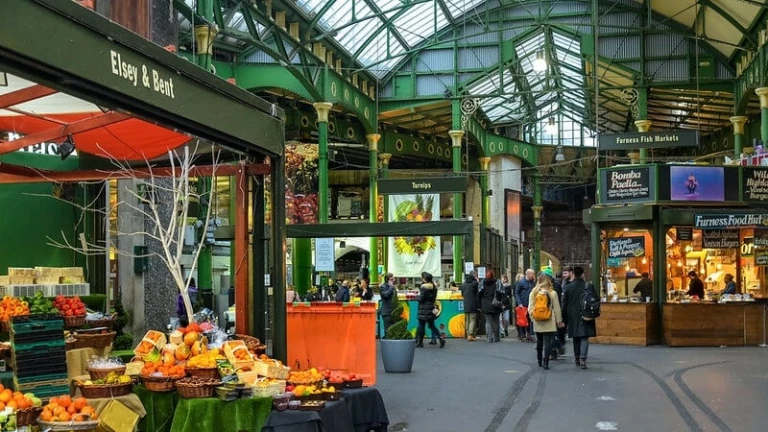 Fresh produce at Borough Market in London, England. | Image credit: Jorge Franganillo
Looking for delicious food in London? If you think the British culinary scene ends with bangers and mash, you're in for a surprise. From its humble beginnings in the 11th century, Borough Market has grown into a vibrant marketplace with more than 70 merchants and artisan vendors. Today, you can expect a smorgasbord of international cuisines at this thriving food market in Southwark, from Indian street food to Swiss raclettes.
Some of the must-try culinary fare include the freshly baked pastries at Bread Ahead, Scotch eggs at Scotchtails, chorizo at Brindisa Spanish Foods, and high-quality espresso at Monmouth Coffee, just to name a few.
Address: 8 Southwark St, London SE1 1TL, United Kingdom 
7. Or Tor Market in Bangkok, Thailand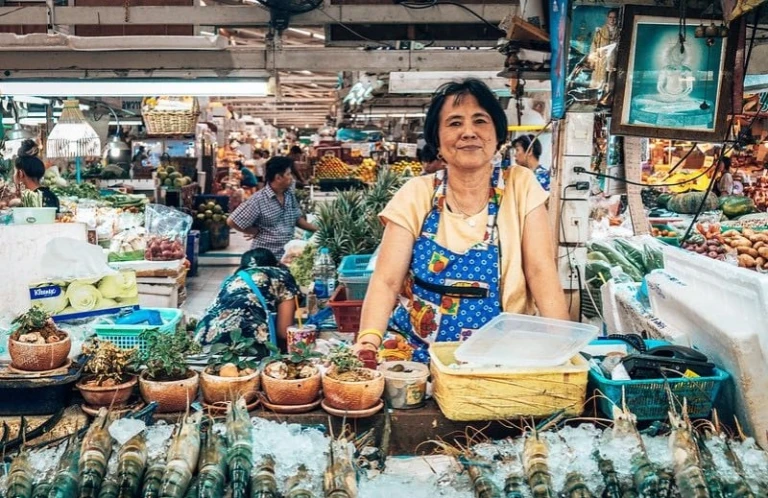 A Thai vendor selling seafood at Or Tor Market in Bangkok, Thailand. | Image credit: Lee Nelson (The Travel Scribes)
When in Bangkok, it's only fitting to pay a visit to the bustling Or Tor Market, one of the oldest food markets in Thailand's capital. While it may be less of a tourist magnet than Chatuchak Market, Or Tor Market is an indoor marketplace where many locals like to shop for the best seafood, meat, vegetables, herbs, chilli sauces, sweets, and local fruits. Have you ever tried mangosteens or rambutan from Thailand? You can find some of the sweetest, juiciest ones right here.
At the cooked food section of the market, you can also dig into mouth-watering Thai food. Think pad thai, grilled coconut pancakes, braised duck noodles, fried oyster pancakes, steamed fish, coconut crepes, stir-fried noodles, Thai curries, sticky rice desserts, and more.
Address: 101 Kamphaeng Phet Rd, Chatuchak, Bangkok 10900, Thailand
8. Baguio City Public Market in Baguio, Philippines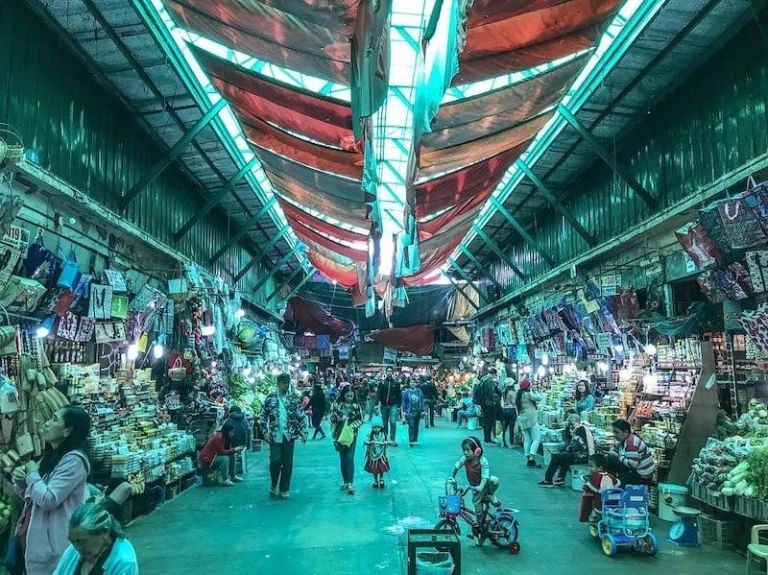 Inside the Baguio City Public Market in Baguio, Philippines. | Image credit: jg.vitug
Heading to the Summer Capital of the Philippines? Besides the cooler temperatures and flower festivals, Baguio City is also famous for the Baguio City Public Market. This public market in the City of Pines is a maze of stalls offering a wealth of organic fruits and vegetables, as well as traditional handicrafts that you can bring home to your friends and family.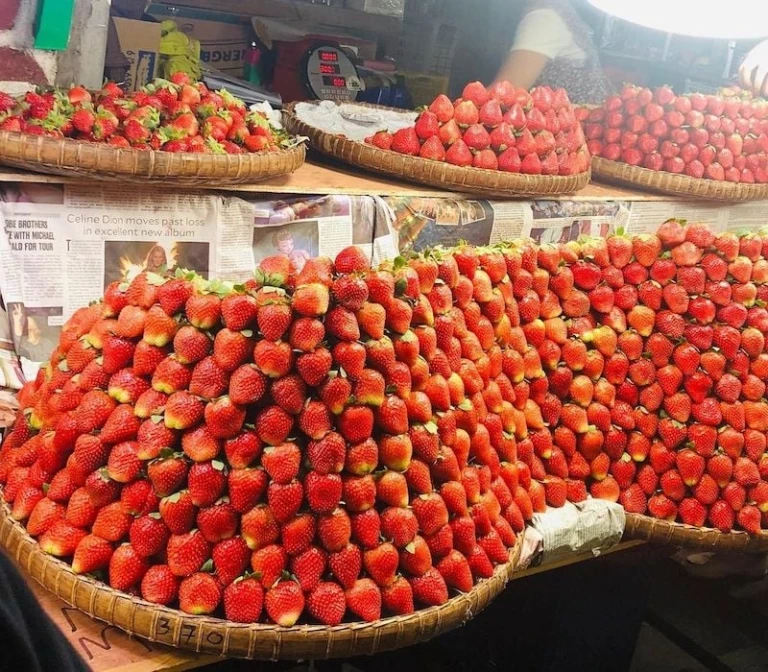 Strawberries at the Baguio City Public Market in Baguio, Philippines. | Image credit: inhinyerino
Some of Baguio's delicacies include ube jam, peanut brittle, strawberries, and different varieties of Philippine coffee beans. Meanwhile, the vendors also sell wood carvings, baskets, silvercrafts, handwoven products, and other locally made handicrafts at affordable prices. Suffice to say, you'll have no shortage of pasalubong or Philippine souvenirs to choose from.
Address: Magsaysay Ave, Baguio, Benguet 2600, Philippines 
9. Grand Bazaar in Istanbul, Turkey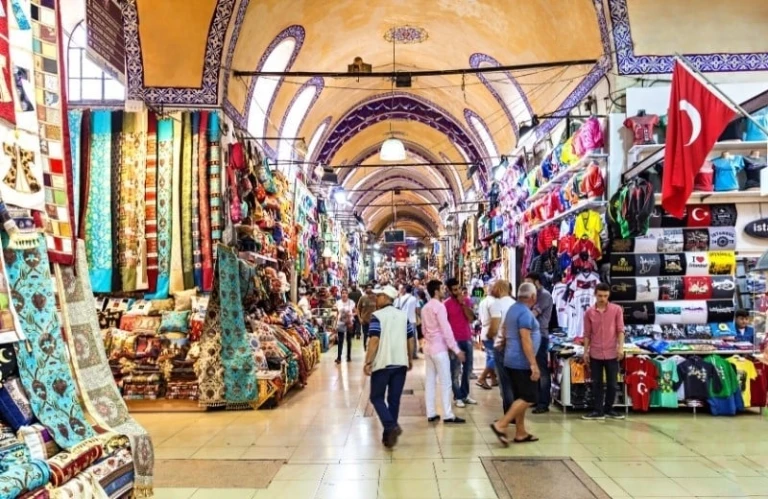 Turkish souvenirs at the Grand Bazaar in Istanbul, Turkey. | Image credit: Andrey Khrobostov via Canva Pro
Any trip to Istanbul calls for a special visit to the Grand Bazaar, one of the largest covered public markets in the world. Thousands of visitors regularly flock to this marketplace that dates all the way back to 1461. Over 4,000 shops cover the streets at approximately 30,700sqm in a sprawling open-air courtyard. Certainly, it can feel a little like a sensory overload for first-time visitors. But on the flipside, you won't find a better opportunity to brush up on your haggling skills.
Istanbul's Grand Bazaar is known for its dizzying array of jewellery, mosaic lamps, carpets, traditional teas, dates, spices, baklava, textiles, ceramics, and all kinds of unique Turkish souvenirs. As far as public markets go, trust that this visual feast is worth the hype.
Address: Beyazıt Mh., Kalpakçılar Cd. No:22, 34126 Fatih/İstanbul, Turkey
10. Pike Place Market in Seattle, United States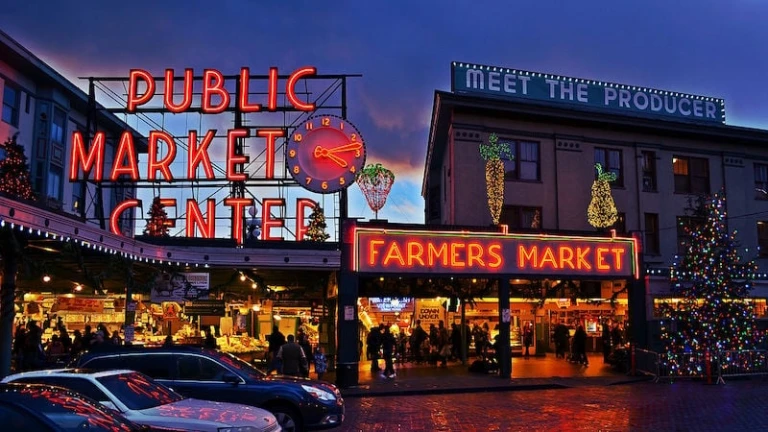 Night outside Pike Place Market in Seattle, United States. | Image credit: Mtaylor444
Found in the heart of Seattle's downtown area, Pike Place Market is a public market that continues to be a beloved institution to city residents. Originally, the market began as a way to connect farmers and food producers directly with the local community. Setting up a public market would allow people to purchase fresh produce directly from the farmers; moreover, it eliminates the middlemen and allowing the farmers to appreciate the returns of their labour.
Expect organic food stalls, butchers, flower shops, bakeries, dairy vendors, and restaurants that are open year-round on this nine-acre historic district overlooking Elliott Bay.
Did you know this is also where the first-ever Starbucks branch opened in 1971? Full of charm and history, this public market has a little something for everyone!
Address: 85 Pike St Room 500, Seattle, WA 98101, United States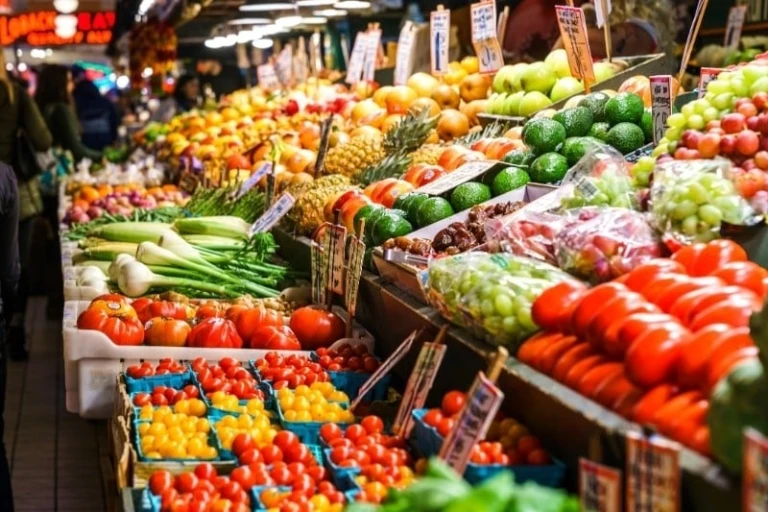 Fruits and vegetables at Pike Place Market in Seattle, United States. | Image credit: MADImagingSF via Canva Pro
More than places to shop and eat, these public markets are an entry point into the local culture. Not only do they support entrepreneurs, farmers, and small businesses, but they also give many cities their unique character.