"What is there to do?"
The question swam around my mind as I sat onboard the plane to Sri Lanka. That was the question I was often asked when I told my friends that I was going to the country dubbed "Teardrop of India". Sri Lanka is well-known for its export of delicious tea leaves and its mud crabs, a national dish in Singapore.
Sri Lanka might be known for its delicious exported commodities, but my local contact assured me that there was more to this island than just mud crabs. And so there I was, taking my first deep breath of Sri Lankan air. I tightened my backpack and stepped out of the plane, ready to face anything that this country might throw my way.
Day One: Colombo
Landing in Colombo in the morning would be the ideal start on your adventurous Sri Lankan trip. Labelled the gateway to the wonders of Sri Lanka, Colombo is far from what one would imagine it to be. Surprisingly modern, this cosmopolitan city offers tourists a rich historical experience together with the convenience of modernisation.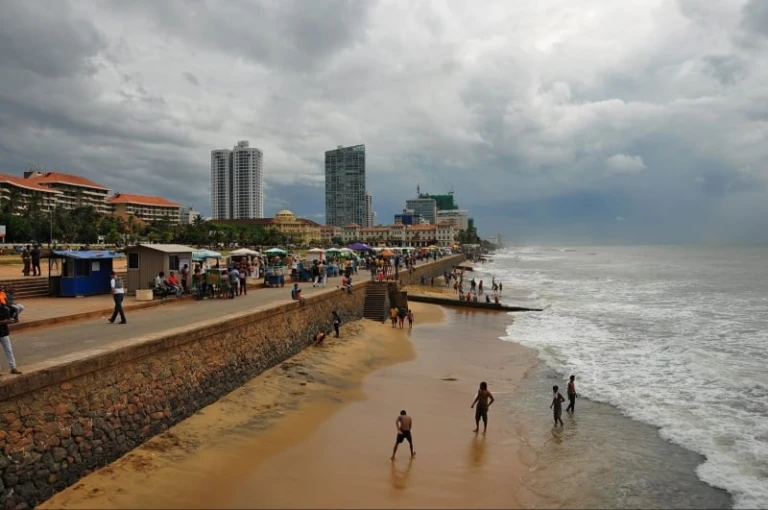 Image credit: Nicholas Olesen
Take a walk down the scenic Galle Face Green, a stretch that is filled with shops selling souvenirs and delicious food. This is the perfect place to climatise to the local culture.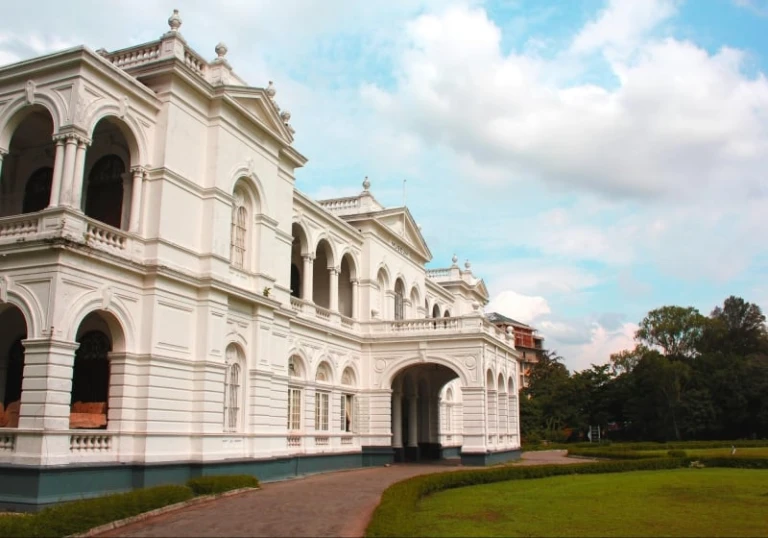 Image credit: Kanchana Mallawathantri
Want to get to know Sri Lanka better? Head over to the Colombo National Museum for some experiential learning about the country and its civil war.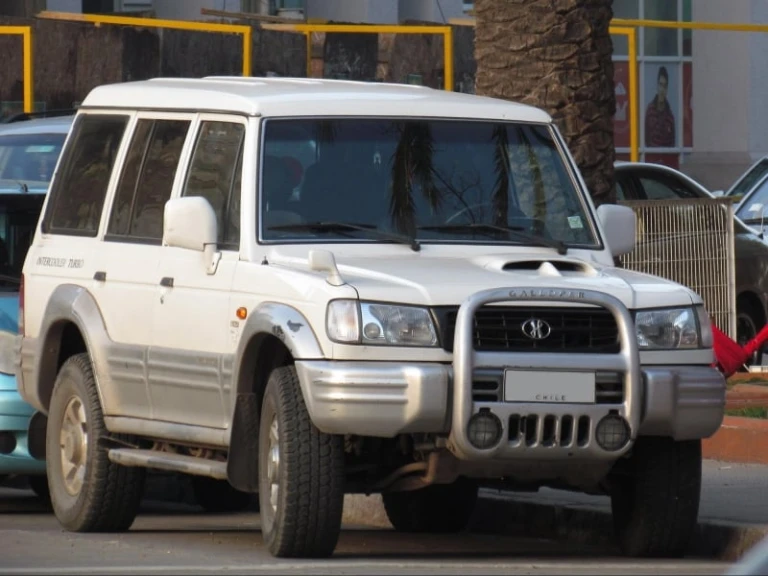 Image credit: Juan Nelo
Book a van with a driver for the rest of your trip as this would be the quicker and more comfortable way to travel around the country. After all, what's a road trip without a vehicle?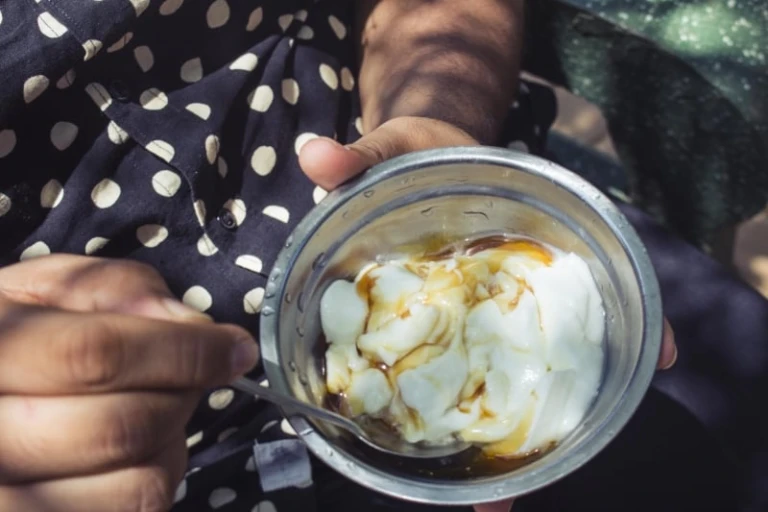 Treat yourself to a bowl of Kiri Pani, which is buffalo curd with treacle. It's a local delicacy enjoyed during tea time.
After catching a glimpse of the modern life in Colombo, you can unwind in the van as you travel towards Nuwara Eliya. This gives you enough time to recover from your long flight.
Day Two: Nuwara Eliya
Wake up to the crisp sound of birds chirping as they dance amidst the misty mountains of Nuwara Eliya. Being an elevated geographical point of the country, Nuwara Eliya's temperatures dip to as low as 10 degrees Celcius. Sip your cup of tea as you take in the hills that surround you. It's amazing to think that these very hills are the tea plantations from which your tea leaves may be sourced. But don't ponder for too long as you still have a whole day of adventuring to do!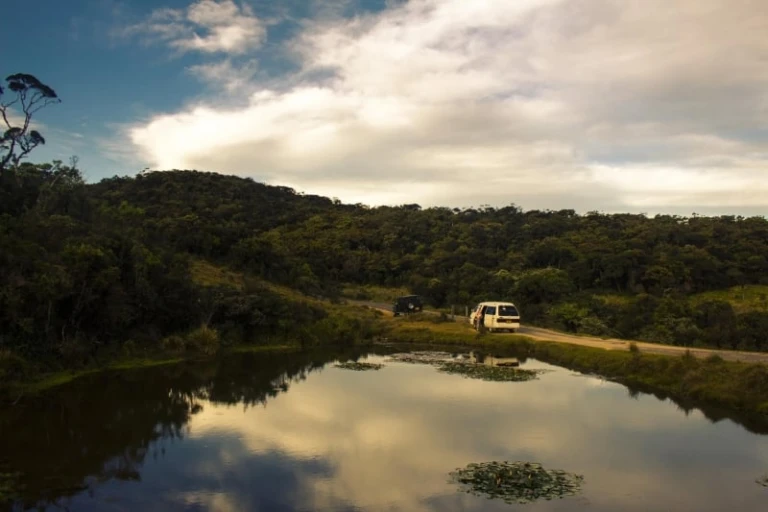 Horton Plains is truly an exceptional park to visit when in Nuwara Eliya. Explore the Plains and make your way through verdant hills and soft streams. Your driver will drop you off at the gates and the rest of the journey continues on foot.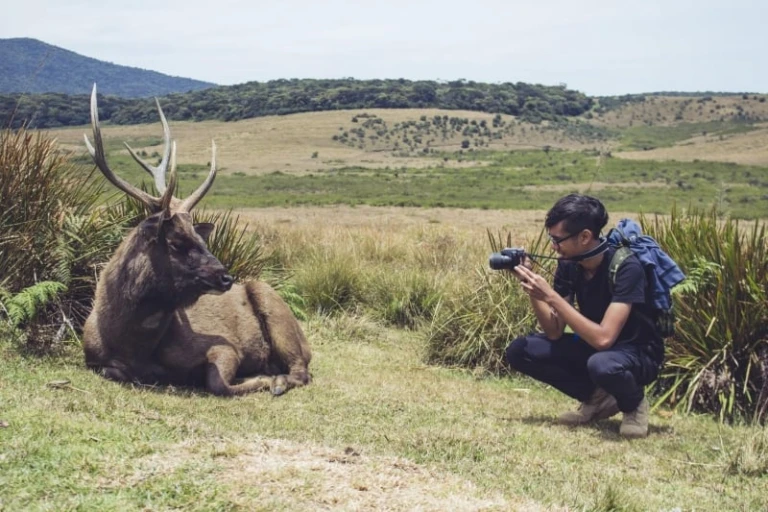 If you're lucky, you might spot some wildlife. The Sambhur aka Sambar Deer is a native of the Plains. Known for being docile, they do not mind getting in a selfie with you.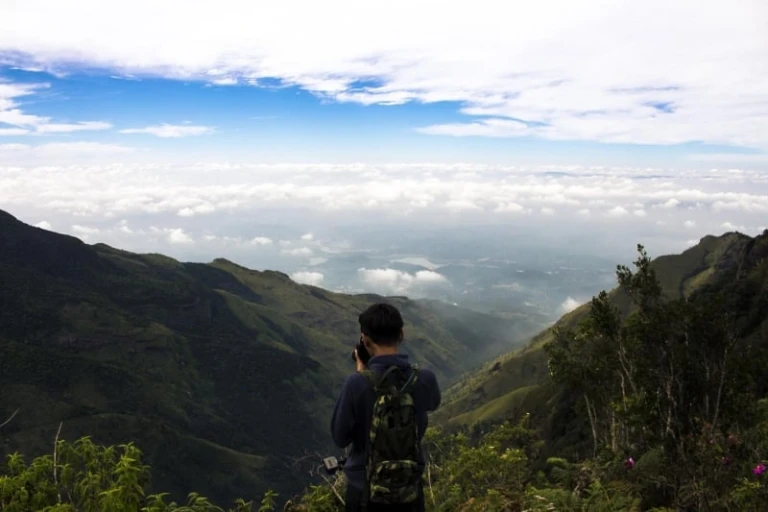 Continue your hike upward and you'll find yourself at World's End. No, it's not really the world's end and yes, the view from the peak is breathtakingly gorgeous. While you're up there taking in the sights, you'll start to understand why the viewpoint is called World's End. It really does feel like you're on top of the world, or at the very edge of it.
Take your time as you wander through this serene landscape, which is far away from civilisation. But we warned, though: Avoid visiting the Plains during a heavy downpour as the path with be dangerously slippery and visibility levels drop exponentially.
Day Three: Arugam Bay
Leave Nuwara Eliya after breakfast and head east towards Arugam Bay, trading the chilly mountains for warm sun-soaked beaches. After a long five-hour drive, stretch your cramped legs and get ready to hit the waves. Sip on some cocktails or coolers by the beach while you're at it. Arugam Bay is regarded as the best surf spot in the country, making it a popular destination.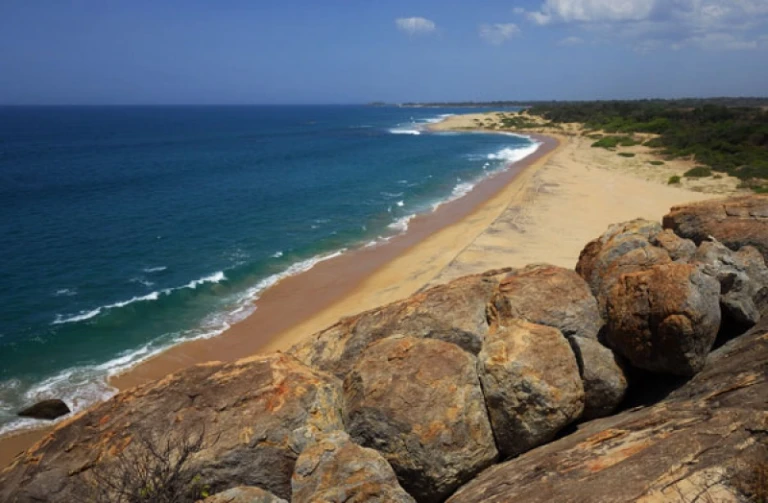 Image credit: Arugam Bay Traveller
You don't need to be a professional rock climber to conquer Elephant Rock! The formation sits at the end of the Bay so it provides an unparalleled view of the area. A little warning: Avoid coming alone early in the morning and late in the afternoon as elephants might pass through the area. It's called Elephant Rock for nothing!
Image credit: Rukmal Gamage
Take a trip to Muhudu Maha Viharaya, a 2000-year-old Buddist temple. Snap pictures of beautiful Buddist sculptures and the big dome. Being near a surfing hotspot, Muhudu Maha Viharaya is convenient to visit.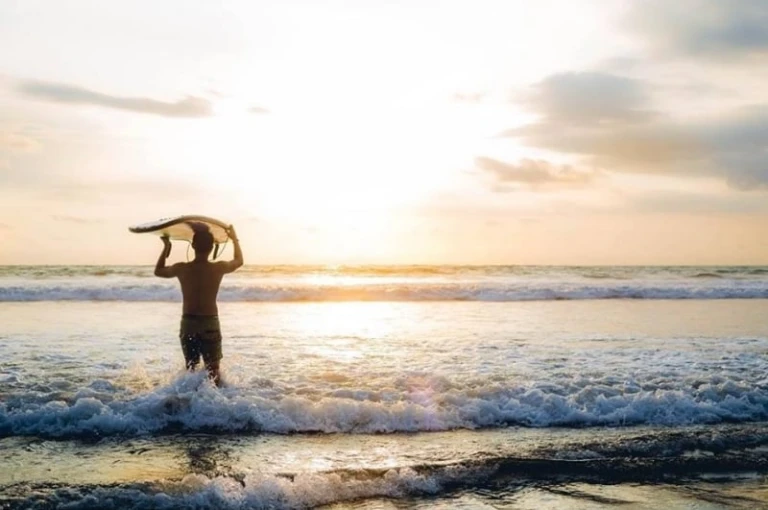 Did someone say surf? Arugam Bay is a tourist hotspot that offers surfers good waves and an opportunity to hop from beach to beach. Some good spots to visit are Main Point, Whiskey Point, and Peanut Farm. These beaches also double as party locations during the popular season. Catch a wave and party away!
End this wet and wild day with a drive to Tissamaharama. Settle down and recharge before another adventure. You'll soon see that staying at Tissamaharama is very convenient for the next day's activities.
Day Four: Yala National Park
What's a visit to Sri Lanka without a trip to one of its famous safaris. A world-renowned safari experience, Yala National Park offers visitors an alternative to the African safari — but cheaper AND closer to home. It's best to hire a driver together with an open Jeep for the full safari experience.
Leave for Yala National Park in the wee hours of the morning as the wildlife are most active then. Plus, you'll enjoy a gorgeous view of the sun rising through the horizon, setting the landscape ablaze in a golden orange light.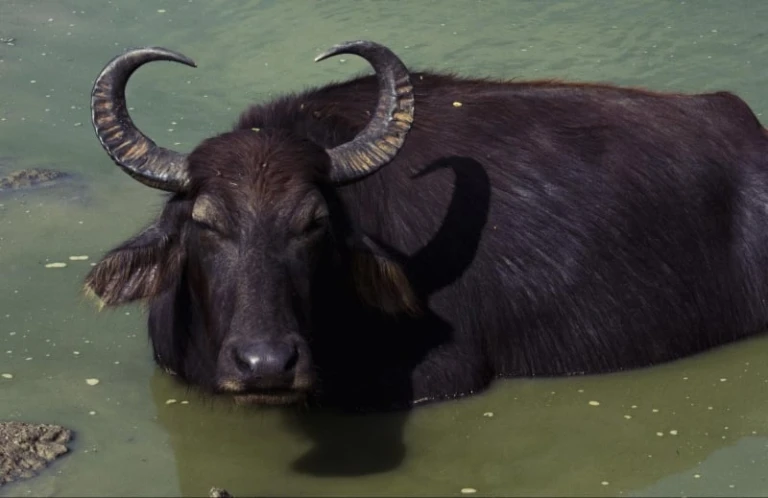 If you're lucky, you might get up close and personal with the wildlife.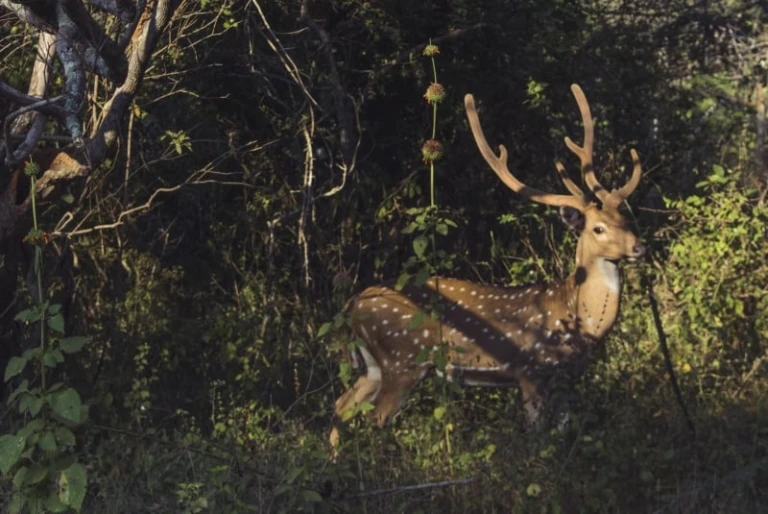 The park is filled with a variety of wildlife, fulfilling your dreams of being a wildlife photographer.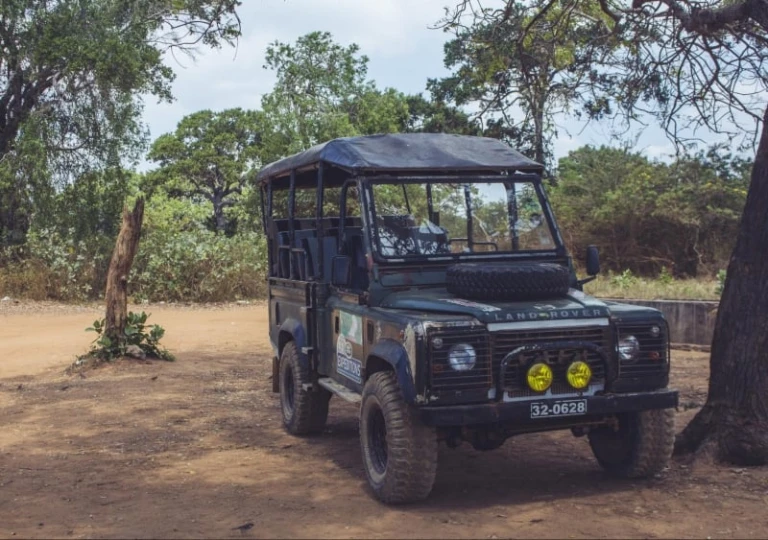 Check out the Land Rover that we rented for the safari.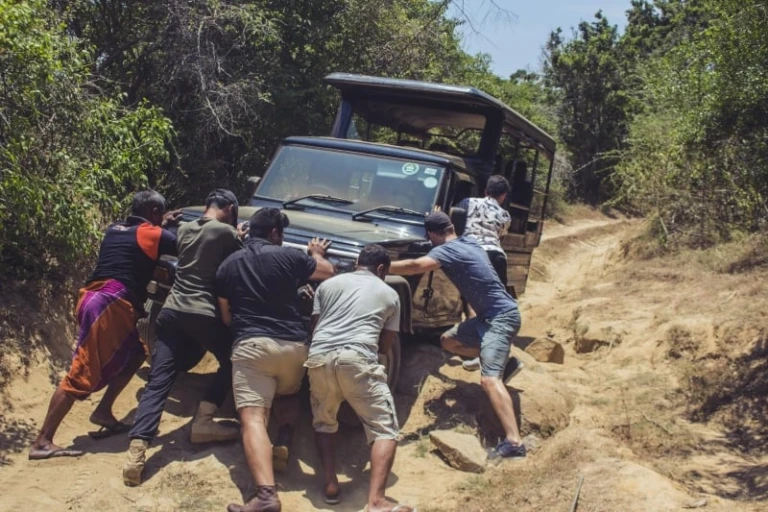 Potholes are a common thing in the National Park; put you back into it when this happens!
There is a hidden beach in the National Park. Ask your driver about it and he might just show you where it is.
Remember the statement "Take nothing but photos, leave nothing but footprints" for the entirety of your visit. The area is protected and it is only fitting that you keep this saying in mind. Leave the park with a satisfied smile across your face (if you spotted all the wildlife) and head back to Tissamaharama for a scrumptious dinner before travelling two hours via car to your next destination, Mirissa.
Day Five: Mirissa
Wake up to the soft sounds of waves crashing and walk out the door of your room, only to be greeted by a phenomenal view of white sand, striking blue waters, and palm trees. Enjoy a cocktail by the pool as you unwind from the past few days of rigorous travelling. Mirissa is popular with European tourists, making it rather uncommon to spot Asian tourists. Due to this, the locals are very well-versed in English.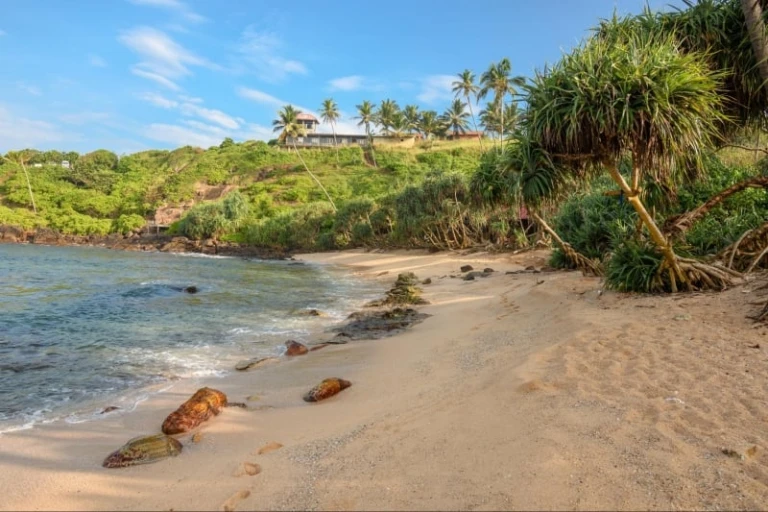 Image credit: Good Fisherman
A hidden gem, Secret Beach is not an easy place to reach but is well worth the effort. Enjoy a splashing good time while sipping on some fresh coconut juice. Since it's one of the area's best-kept secrets, chances are you will be the only ones there. There's no better way to de-stress than to sit back and relax on your own "private" beach.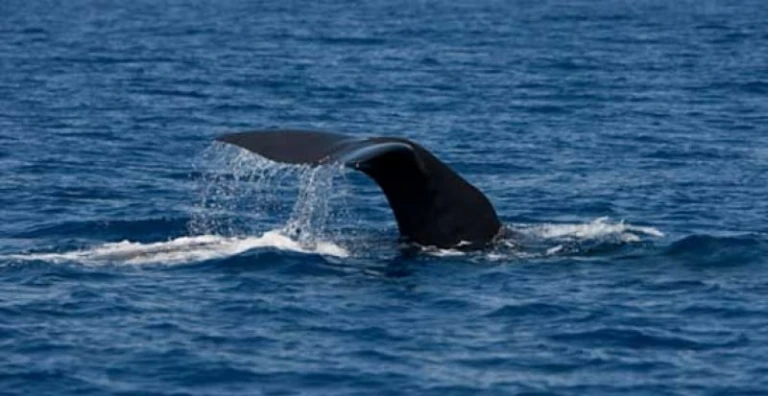 Image credit: SSR Global Tours
The beach offers Whale Watching tours from November to March. This tour brings you out to the Indian Ocean and provides an opportunity to spot whales, dolphins, and even turtles.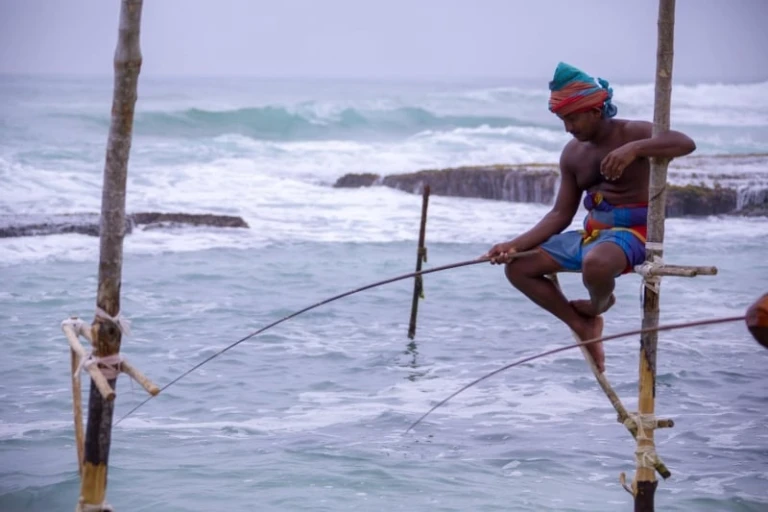 Image credit: James Zhu
Another great spot beside Arugam Bay, Mirissa Beach is home to good surfing spots. Unlike Arugam Bay, Mirissa's waves are much calmer. You can even spot fishermen by the beach fishing on stilts.
Who knew Sri Lanka had beaches as gorgeous as these? Mirissa is steadily picking up on the number of tourists over the years. Be sure to visit this spectacular destination before it becomes crowded.
Day 6: Galle
Just an hour away from Mirissa, Galle is a bay city which used to be the main port city of the country. A UNESCO heritage site, Galle reflects the time when cultures mixed because of old trade routes. A perfect city to explore on foot, Galle is filled with colonial buildings, ancient mosques and churches, museums, and quirky little cafés. You'll never know what you might find as you wander through the historical streets of Galle.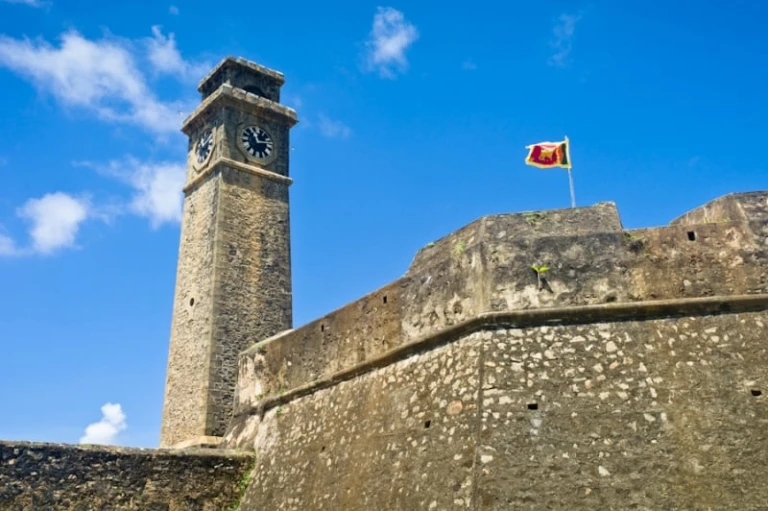 Image credit: Kenneth Dedeu
The first thing you should do is visit Galle Fort, a monument dating back to biblical times. Explore this cobblestoned architectural wonder while learning all about its ancient history.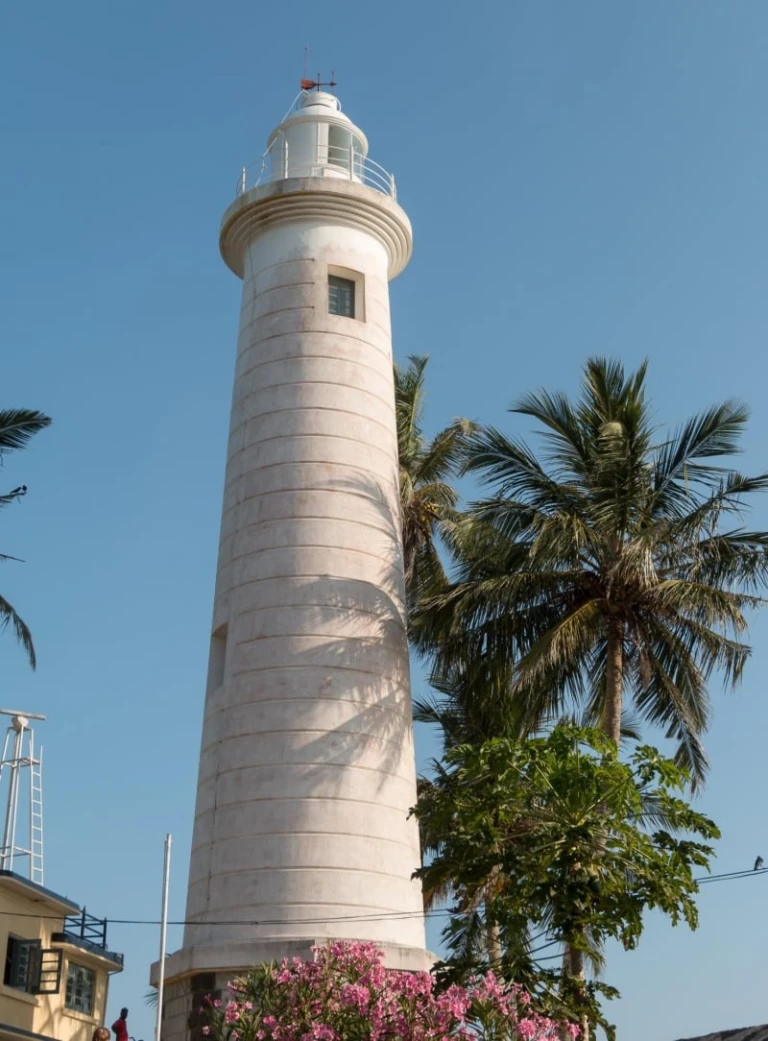 Image credit: Miles Chuter
Being a beacon of hope, the lighthouse will illuminate and provide direction for one who is headed towards danger. Let Galle Fort's Lighthouse illuminate your travels and possibly bring inspiration to keep travelling!
Image credit: BackpackerTrack
Feeling peckish? Enjoy a plate of Kottu Roti, a comfort food for the locals. The dish can be found almost everywhere in the country so you won't have a hard time finding it. Kottu roti is a dish made with bits of roti, vegetables, eggs, chicken, and cheese.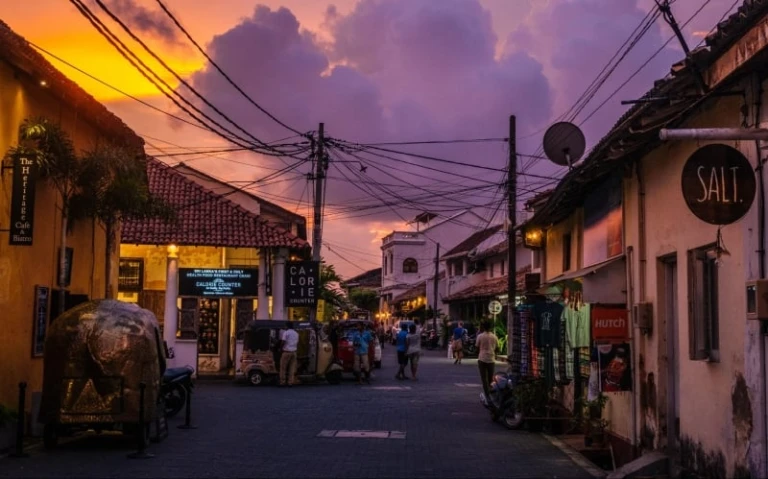 Get some souvenirs for your loved ones back home! There are plenty of quaint little shops found in between boutiques, hotels, and old colonial buildings. The most common item sold are gems, pieces of jewellery, and even handwoven sarong.
With a variety of destinations filled with beautiful landscapes and exotic wildlife, Sri Lanka offers a serene getaway perfect for relaxing and exploring. On the way to the airport in a tuk-tuk, I recollected the moments of my journey in this magnificent country. I couldn't help but smile as I took in the bustling sounds of Colombo while the golden sun enveloped the city in a warm glow. I took one last look at the city as my tuk-tuk headed off to the highway, wondering when my next trip to the "Teardrop of India" would be.
Stay tuned for part two of my travels in Sri Lanka, as I explore the northern part of the country.
Also read: Sri Lanka on a Budget: My 10-Day Itinerary & Cost Breakdown