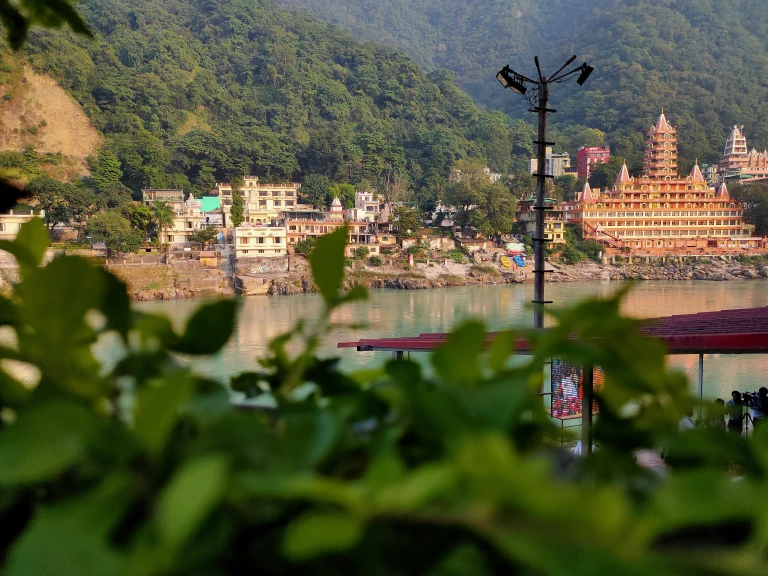 A spiritual town called Rishikesh sometimes referred to as the "place of sagas," is situated at the confluence of the Chandrabhaga and Ganga, 24 kilometers upstream of Haridwar. It is related to Ram and is thought to have materialized in response to Rabhiya Rishi's strict penances. The village serves as the starting point for the Char Dham pilgrimage and is a popular location for those interested in yoga, meditation, and other Hindu practices. Adventurers can begin rafting trips and hiking treks to the Himalayan peaks at Rishikesh.
In February, the city holds International Yoga Week, which draws visitors from all around the world. The area is also home to a large number of historic temples and ashrams where visitors may find spiritual refuge. Rishikesh is also well known for its stunning natural scenery, with the Ganges River flowing through the town and surrounded by lush greenery. The tranquil atmosphere and serene surroundings make it a perfect place for those seeking inner peace and rejuvenation.
1. River Rafting: Battle the Currents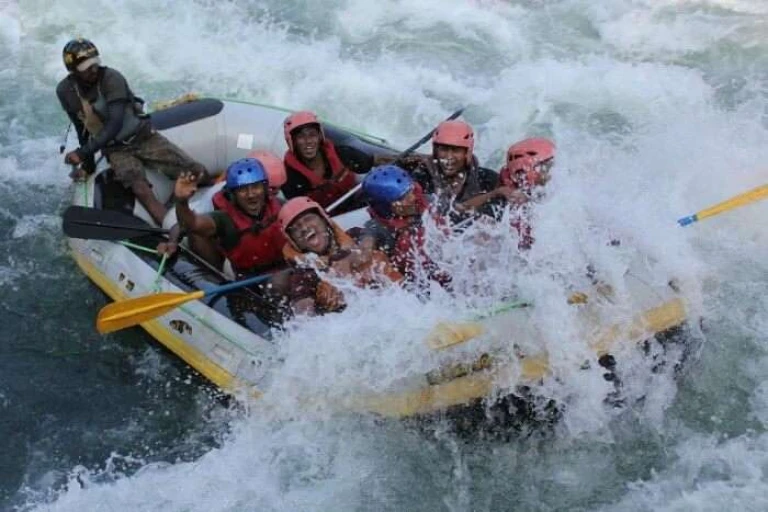 Image credit: Ashton Moss
River rafting and Rishikesh go hand in hand so well that today it is impossible to think of one without the other. If you don't try your hand at river rafting in Rishikesh, your trip will be lacking. It truly is one of Rishikesh's top adventurous activities. If you love to take on new challenges, you should give this a go!
 River rafting in Rishikesh offers an exhilarating experience as you navigate through the gushing rapids of the Ganges River. The stunning natural beauty surrounding the river adds to the thrill, making it a must-try activity for adventure enthusiasts visiting Rishikesh. 
River rafting in Rishikesh is best during non-rainy seasons, specifically October through June. During this time, the water levels are ideal for rafting and the weather is pleasant, allowing for a thrilling and enjoyable experience. Additionally, the non-rainy seasons offer clear skies and breathtaking views of the surrounding Himalayan mountains, enhancing the overall adventure.
Minimum age requirement: 5 years

Weight requirement: 30-100 kg

Timings: 9:00 am to 5:00 pm

Average cost: 1,000
2. Bungee Jumping: Take That Risk!

Image credit: Uta Todd
Bungee jumping, or as we may also refer to it, "adrenaline junkie's fuel," is yet another enjoyable activity to do in Rishikesh in June with friends. At a height of more than 80 meters above the earth, feel your heart race as you kiss gravity and let go of the ground. Rishikesh is unique in that it has India's tallest bungee jumping platform. This is not for the faint of heart, as you plunge into the Ganges River while admiring the surrounding mountains.
The professional and experienced staff ensures your safety, creating an unforgettable adventure that will leave you wanting more. Jumping Heights and Mohanchatti are both worthwhile endeavors.
Where to try: Jumping Heights, Mohanchatti

Best time: January to 15 July and 20 September to January

Weight requirement: 35-110 kg

Timings: 9:30 am to 3:30 pm

Average cost: INR 4,000
3. Lakshman Jhula: A Spiritual Retreat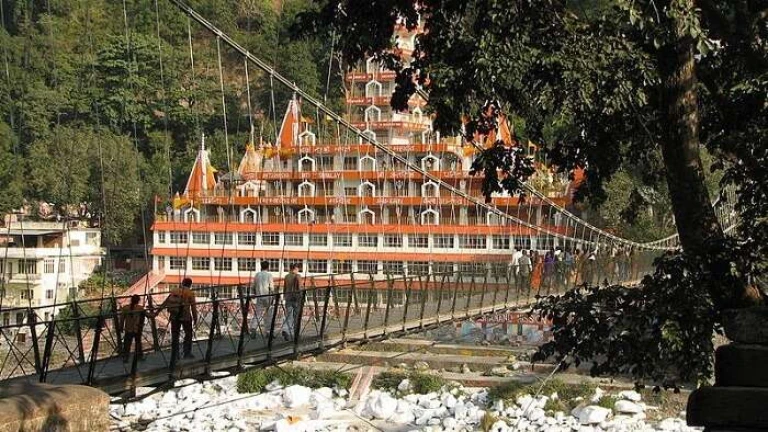 Lakshman Jhula is one of the most recognizable locations and the essence of the town. One of the most fascinating things to do in Rishikesh, India, is to go shopping. You can always find visitors in this area, which is one of the busiest in the city. Around the area, there are a lot of bazaars and local marketplaces where you can shop. These marketplaces sell a broad variety of goods, including handicrafts, jewelry, traditional apparel, and spiritual relics. Shopping in this region is very charming because of the lively ambiance and busy streets.
What makes it unique is that the legend has it that the Hindu god Lakshmana traversed the same way using jute ropes. This legend adds a touch of mystique to the shopping experience in this area, making it even more intriguing for visitors. The presence of such a historical and mythical connection adds to the overall charm and allure of shopping in this region.
Location: Laxman Jhula Road, Rishikesh, Uttarakhand 249201, India

Timings: Open 24 hours

Duration of the visit: 30 minutes

Average cost: None
4. Ganga Aarti at Triveni Ghat
Get fascinated by the mesmerizing ritual of lighting oil lamps and offering prayers to the sacred river Ganges, as devotees gather in large numbers to witness this spiritual spectacle in Rishikesh, India. The rhythmic chants, the aroma of incense, and the sight of floating diyas (lamps) create a serene atmosphere that leaves visitors captivated by the religious fervor and cultural significance of this ancient tradition. Attend the Ganga Aarti in Rishikesh to experience the colorful Hindu culture and customs and get to know this city's other side.
Once the sun has set and the ghats are illuminated by tens of thousands of incense lights, let your spirits become acquainted with the serene side of this action-packed city. In fact, this is among the top activities to do in Rishikesh in a single day. It's an encounter that will wow you. Priests pray and present mesmerizing to the sacred river as part of the captivating Ganga Aarti rite, which creates a dreamlike atmosphere.
You lose yourself in the rhythmic dances and entrancing chants. You can feel a sense of serenity and spirituality washing over you. This captivating experience truly showcases the essence of Rishikesh's spiritual heritage and leaves a lasting impression on visitors.
Rishikesh Ganga aarti timings: 6:00 PM to 7:00 PM

Ganga Aarti in Rishikesh venue: Triveni Ghat
5. Flying Fox: An Outlandish Sport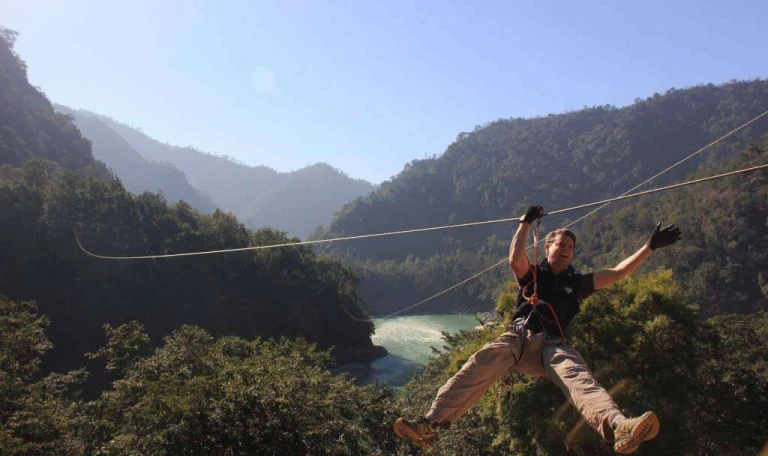 You roll down the wire up to 7 meters above the ground while wearing a harness, moving at a speed of roughly 160 km/h, before rolling back up. Flying fox in Rishikesh is often done by three people working together; however, if one person wants to do it alone, they can do so for an additional fee. It is unquestionably one of the best things to do in Rishikesh with your travelling companions.
It is Asia's longest adventure ride, which makes it unique. As you glide into the air while viewing the surrounding environment, the flying fox in Rishikesh provides an amazing experience. For adventure seekers visiting the region, it is a must-try activity because of the surge of adrenaline and feeling of freedom. The flying fox in Rishikesh offers a thrilling and exhilarating way to appreciate the natural beauty of the area.
With its high speed and breathtaking views, it is sure to leave you with unforgettable memories. Whether you choose to do it alone or with friends, this adventure ride is guaranteed to be a highlight of your trip to Rishikesh.
Where to try: Shivpuri

Best time: Throughout the year, except monsoon

Minimum age requirement: 12 years

Weight requirement: 20-130 kg

Timings: 9:00 am to 7:00 pm

Average cost: INR 1,500
6. Splash Into Cold Waters with Cliff Jumping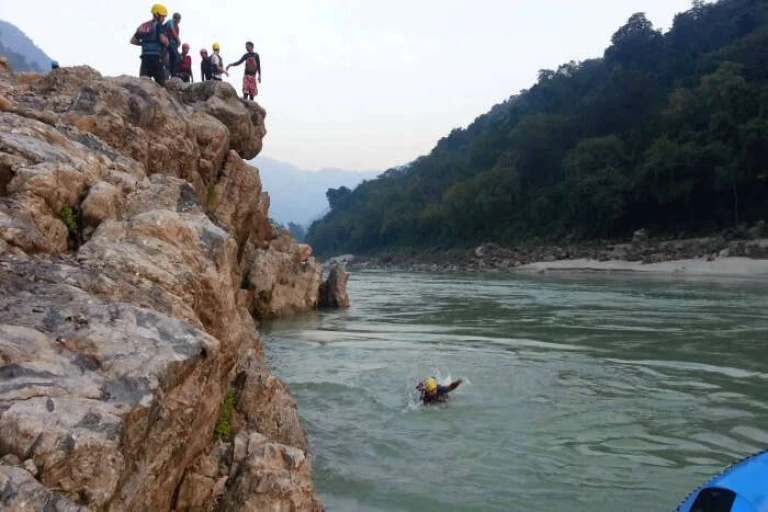 Rishikesh, located in the Shivalik area, is famous for its cliff jumping, an exciting adventure activity that can be enjoyed by both beginners and experienced people. The cliffs in the region, which are bordered by the holy Ganges, provide a range of heights, making it a unique and safe place for cliff jumping. This risky pastime is one of the highlights of Rishikesh's beautiful hill stations.
The average height of cliffs: 20 feet (10 feet if the water level rises)

Where to try: 2 km before Lakshman Jhula from Brahmapuri

Best time: February to Mid-may

Minimum age requirement: 14 years

Weight requirement: 35-110 kg

Timings: 6:00 am to 7:00 pm

Average cost: 3,500
7. Walking in the Wild!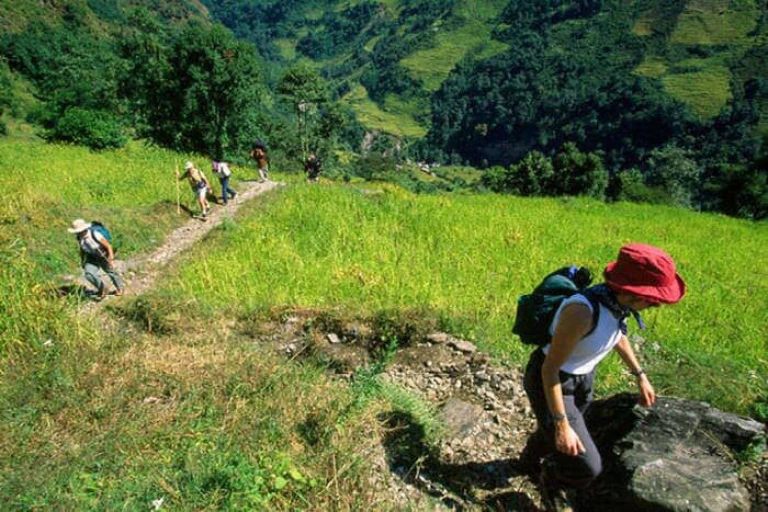 There is a wealth of hiking opportunities in and around Rishikesh. Trekking in Rishikesh is suitable for all levels of experience, from beginner to experienced. A simple waterfall trip may be chosen to appreciate the shimmering waterfall. Trekking near Rishikesh via Rishikesh's forests and nature paths is unquestionably one of the greatest things to do in Rishikesh, Uttarakhand, for nature lovers and trekking aficionados, when compared to other areas in Northern India.
Rishikesh's varied topography provides a variety of hiking possibilities, including hard mountain climbs with stunning vistas of the Himalayas. Trekking in Rishikesh also allows guests to immerse themselves in the tranquil beauty of the surrounding surroundings while discovering hidden jewels along the route.
Best time: Anytime is the best time! Try to avoid the monsoon season.
Best trekking routes: Waterfall trek, Kunjapuri Trek, and Neelkanth Mahadev Trek

Minimum age requirement: 10 years

Weight requirement: 35-110 kg

Timings: 6:00 am to 7:00 pm

Average cost: 3,500
8. Get Stress-Free With Ayurvedic Massage And Treatments
When you are looking for a getaway to decompress and relieve yourself from stress, Rishikesh is the perfect destination for you. This is where your mind and body find utter serenity. Ayurvedic massages in Rishikesh are provided at different budgets. This is one of the best things to do in Rishikesh at night. The soothing touch of Ayurvedic massages in Rishikesh not only relaxes your muscles but also rejuvenates your spirit.
Whether you choose a luxurious spa or a budget-friendly wellness center, the tranquil ambiance of Rishikesh adds an extra layer of bliss to your experience. After a long day of exploring the city's spiritual sites, or getting an adrenaline rush through various adventure activities, indulging in an Ayurvedic massage is the perfect way to unwind and embrace the tranquility of Rishikesh at night.
Best places for Ayurveda therapies and massages: Hemadri Ayurveda Centre, Ayurveda Bhavan, Ananda in the Himalayas, and Braham Yoga and Healing, among others.

Best time: Anytime is the best time to give it a go.

Average cost: INR 1,000
9. The Peace Through Yoga And Meditation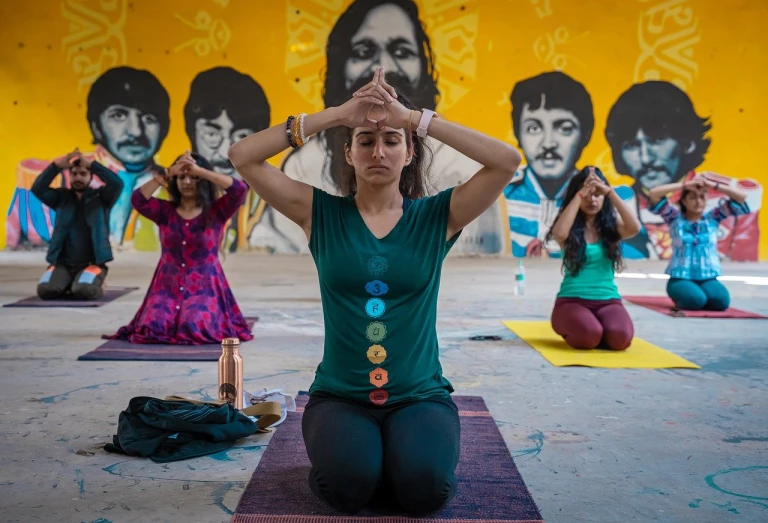 Many people associate Rishikesh with adventure sports, although yoga and meditation are the city's inseparable spirits. Rishikesh has a plethora of yoga and meditation facilities. Simply step in and absorb the peace within. This is without a doubt the ideal approach to revitalising oneself in Rishikesh. Rishikesh's tranquil and gorgeous surroundings are ideal for a transformative yoga and meditation experience. Whether you are a novice or a seasoned practitioner, the qualified instructors at these centres will guide you to inner peace and harmony.
Immerse yourself in ancient yoga and meditation methods, and you'll leave Rishikesh feeling rejuvenated, invigorated, and spiritually awakened. In addition to the serene atmosphere, Rishikesh is also known as the Yoga Capital of the World, attracting yoga enthusiasts from all over the globe. The town offers a wide range of yoga retreats and ashrams, allowing visitors to delve deeper into their practice and connect with like-minded individuals.
Whether you choose to stay for a few days or several weeks, Rishikesh provides an unparalleled opportunity to embark on a transformative journey of self-discovery and personal growth.
Best ashrams in Rishikesh for yoga and meditation: Parmarth Niketan Ashram, Omkarananda Ganga Sadan, Sivananda Ashram, and Shree Mahesh Heritage School are among the top Rishikesh ashrams.

Yoga festivals in Rishikesh: March

Average cost: INR 600
10. Ashram 
Engage in these many ashram pursuits in Rishikesh to live the holy life and pursue spirituality for a thorough soul purification regimen. In Rishikesh, you may practice yoga and Seva at a number of ashrams and meditation facilities. To improve their sadhana and advance their spiritual practice, people should learn about philosophy, spirituality, the practice of yoga, meditation, and almsgiving. Participate in daily yoga and meditation classes conducted by knowledgeable instructors while taking in the tranquil ambiance of Rishikesh.
Take time for meditation and self-reflection while amidst the Himalayas' magnificent natural splendour for a really transforming experience. In addition, individuals can also engage in various spiritual activities such as attending Satsang (spiritual discourses) and participating in kirtans (devotional singing) to deepen their connection with the divine.
Furthermore, exploring the sacred sites and temples scattered throughout Rishikesh can provide a profound sense of spirituality and offer insights into the rich cultural heritage of the region.
Famous Ashrams in Rishikesh: Sivananda Ashram, Parmarth Niketan, Anand Prakash Ashram

Activities to do: Yoga, learn about philosophy, meditation

Average cost: INR 1,000
11. Neelkanth Mahadev Temple: Offer Your Homage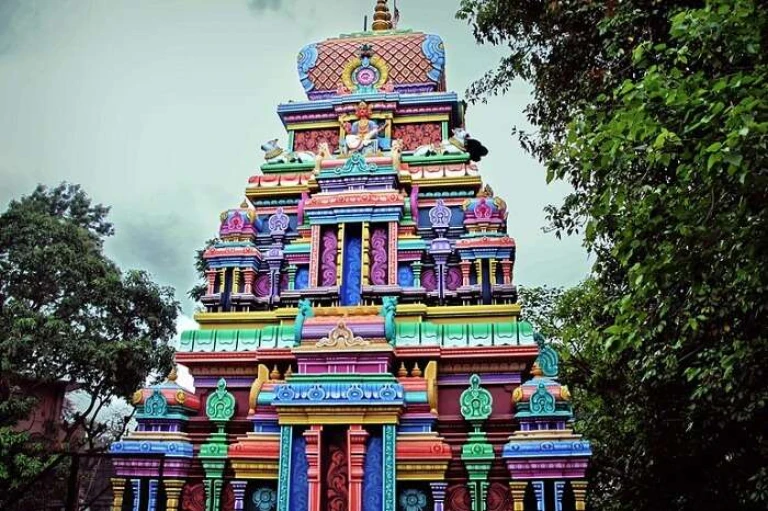 Image credit: The Owner
One of the most revered and famous temples, it is located a little outside of Rishikesh and boasts gorgeous surroundings near to the Nar Narayan Mountain range. It is a well-known pilgrimage place and one of the most prominent Lord Shiva temples.
The shrine, known as the Neelkanth Mahadev shrine, is said to be the location where Lord Shiva ingested the poison that stained his neck blue. Every year, hundreds of devotees visit the temple to seek blessings and admire the stunning beauty of the surrounding mountains.
The Neelkanth Mahadev temple is not only a place of religious significance but also a hub for adventure enthusiasts. The area offers various trekking and hiking trails that attract thrill-seekers from all over the world. Additionally, the temple complex hosts a vibrant annual fair where visitors can immerse themselves in the local culture and traditions.
Location: Kotdwar – Pauri Rd, Kotdwara, Uttarakhand 246149

Timings: 5:00 am to 6:00 pm
Conclusion
A haven for the soul and the spirit of the explorer, Rishikesh is situated where the Chandrabhaga and Ganga rivers converge. It is known as the "place of sagas," the starting point of the Char Dham pilgrimage, and a center for Hindu traditions, yoga, and meditation.
It provides exhilarating activities including cliff leaping, bungee jumping, and river rafting, all while providing professional supervision. Each tourist leaves Rishikesh with unforgettable experiences, life-changing spiritual awakenings, and a permanent stamp on their soul. Rishikesh's fusion of spirituality and adventure produces a fascinating tapestry of encounters.
Also read: 7 Reasons to Visit Rishikesh, India