Thailand, with its beguiling mix of vibrant cities, serene landscapes, and delectable street food, beckons Indian travelers with open arms. This Southeast Asian jewel offers a cultural tapestry woven with ancient traditions and modern experiences. Before you embark on your journey to this captivating country, let's delve into the essentials every Indian traveler should know.
Can I Travel to Thailand from India?
As an Indian traveler, it's crucial to stay informed about any travel advisories related to visiting Thailand. To find the most up-to-date information, consult official sources, such as the Indian government's travel advisory page.
Visa Requirements for Indian Travelers to Thailand
Before packing your bags, ensure you have the necessary visa to enter Thailand. Indian citizens are required to obtain a visa in advance for their visit. The application process and requirements may vary, so it's important to check the latest visa guidelines.
Flights from India to Thailand
Thailand boasts several international airports to welcome travelers. Major airports include Suvarnabhumi Airport (Bangkok), Don Mueang International Airport (Bangkok), and Phuket International Airport (Phuket). Airlines like Air India, Thai Airways, and IndiGo operate direct flights to Thailand, departing from Indian airports such as Indira Gandhi International Airport (Delhi) and Chhatrapati Shivaji International Airport (Mumbai). If you prefer connecting flights, options like Singapore Airlines and Emirates are common choices. Here's a list of flying options from major Indian cities to Thailand with details on airlines that operate direct flights:
From Delhi:
Thai Airways - Direct flights to Bangkok.

IndiGo - Direct flights to Bangkok.

Air India - Direct flights to Bangkok.

SpiceJet - Direct flights to Bangkok.
From Mumbai:
Thai Airways - Direct flights to Bangkok.

IndiGo - Direct flights to Bangkok.

Air India - Direct flights to Bangkok.
From Chennai:
Thai Airways - Direct flights to Bangkok.

IndiGo - Direct flights to Bangkok.
From Bengaluru:
Thai Airways - Direct flights to Bangkok.

IndiGo - Direct flights to Bangkok.

Air India - Direct flights to Bangkok.
When is the best time to Visit Thailand?
Thailand experiences a tropical climate, making it a year-round destination. However, it's essential to choose the right time to visit based on your preferences. The best time to visit Thailand can depend on where you plan to travel within the country, but generally speaking, here are the seasons and the best times to visit:
1. Peak Season (November to February):
Weather: This is the most popular time to visit Thailand. The weather is generally cool and dry, with pleasant temperatures and low humidity. It's ideal for exploring cities, beaches, and cultural attractions.

Festivals: If you visit in November, you can experience the Loy Krathong festival, while December brings the festive atmosphere of Christmas and New Year's celebrations.
2. Shoulder Seasons (March to May and September to October):
Weather: March to May is the hot season, with temperatures soaring in many parts of Thailand. While it's a bit uncomfortable due to the heat, it's a great time to explore northern Thailand, including Chiang Mai and Chiang Rai.

Rains: September and October are considered the wettest months, especially on the west coast (Andaman Sea) and in the north. However, the east coast (Gulf of Thailand) tends to be drier during this period.
3. Off-Season (June to August):
Weather: June to August is the monsoon season in Thailand, characterized by heavy rains and high humidity. Some parts of the country can experience flooding and frequent rainfall.

Advantages: While the weather may not be ideal for outdoor activities and beach vacations, the off-season can offer lower prices on accommodations and fewer crowds at popular tourist destinations.
Stay Options in Thailand
Thailand offers a diverse range of accommodation options to cater to all types of travelers. From luxury resorts with stunning beachfront views to budget-friendly hostels in vibrant city centers, you'll find something to suit your preferences and budget. Additionally, Airbnb is available in many Thai cities and tourist destinations, providing an excellent opportunity to stay in unique and cozy properties, often hosted by friendly locals.
Whether you're planning to explore the bustling streets of Bangkok, relax on the pristine beaches of Phuket, or immerse yourself in the rich culture of Chiang Mai, Thailand's accommodation choices ensure you have a comfortable and memorable stay.
Currency Information in Thailand
The currency in Thailand is the Thai Baht (THB). Currency exchange services are readily available at airports, banks, and exchange booths across the country. Credit and debit cards are widely accepted, but it's advisable to carry some cash for smaller establishments.
Getting Around in Thailand
Navigating Thailand is a breeze, thanks to its well-developed transportation options. Airport transfers, tuk-tuks, taxis, and ride-hailing services are readily available. Trains, buses, and domestic flights offer convenient ways to explore this beautiful country.
Metro Options Near Airports: As of now, Thailand does not have metro options near major airports. However, transportation to and from airports is primarily serviced by buses, taxis, and private airport transfer services.
Cab Rates per Kilometer: Taxi rates in Thailand can vary by city and taxi company. On average, you can expect to pay around 35 to 70 Thai Baht per kilometer (approximately ₹80 to ₹160) in major cities like Bangkok and Phuket.
Renting a Car: Renting a car in Thailand is a convenient option for travelers looking to explore different regions or visit less touristy areas. Many international and local car rental companies operate at major airports and in city centers.
Buses: Thailand has an extensive network of buses that connect cities, towns, and tourist destinations. In major cities like Bangkok and Chiang Mai, you'll find both public and private bus services.
Ride-Hailing Services: Grab is a popular ride-hailing service available in Thailand, similar to Uber. You can use the Grab app to book rides conveniently, and it's widely available in major cities and tourist areas.
Motorcycle Taxis (Motorsai): In cities and towns, you'll often see motorcycle taxis known as "motorsai." They are a quick and convenient way to navigate through traffic, but always ensure that the driver provides a helmet for safety.
Tuk-Tuks: Tuk-tuks are a unique mode of transportation in Thailand, especially in cities like Bangkok and Chiang Mai. While they offer a fun and local experience, it's essential to agree on the fare before the ride, as they often do not use meters.
Tourist Attractions in Thailand
Bangkok: The City of Angels
Bangkok, Thailand's bustling capital, offers a mix of traditional charm and modern allure:
Grand Palace: Explore the opulent grandeur of the Grand Palace, home to the sacred Wat Phra Kaew (Temple of the Emerald Buddha).

Wat Pho: Marvel at the massive reclining Buddha statue and the intricate Thai architecture at Wat Pho.

Chatuchak Weekend Market: Shop for souvenirs, clothing, and delicious street food in one of the world's largest weekend markets.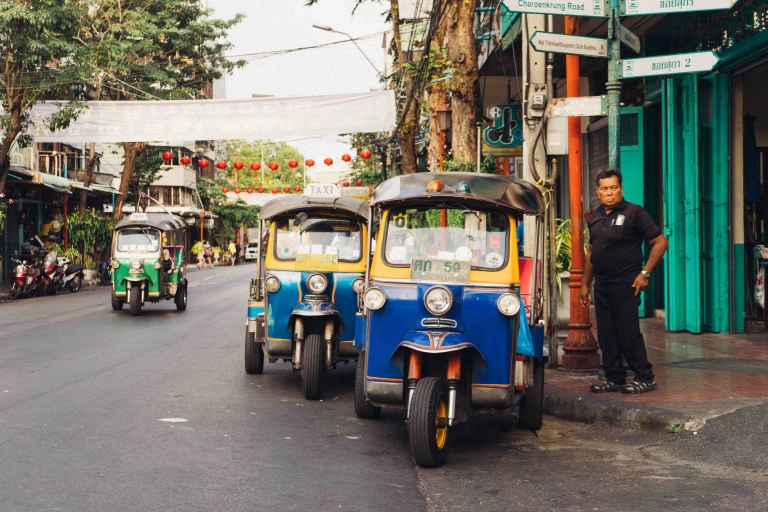 Phuket: Tropical Paradise
Phuket, Thailand's largest island, is known for its stunning beaches and vibrant nightlife:
Patong Beach: Relax on the sandy shores of Patong Beach and explore the bustling Patong nightlife.

Phi Phi Islands: Take a boat tour to the Phi Phi Islands and discover their breathtaking beauty.

Big Buddha: Visit the iconic Big Buddha statue, which offers panoramic views of the island.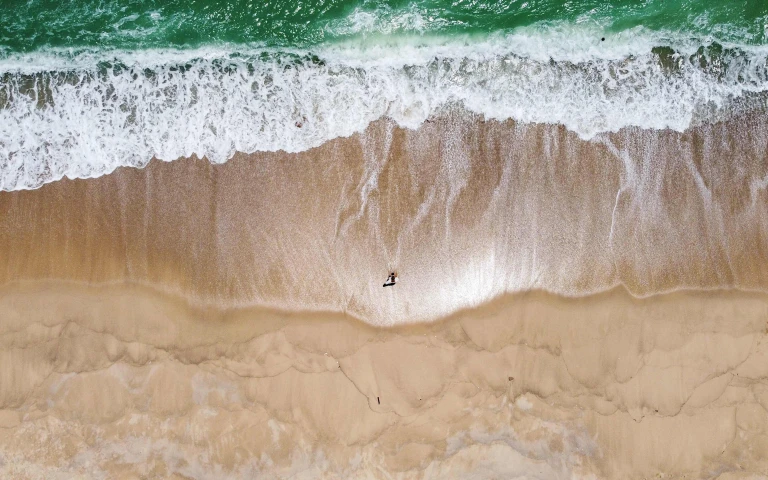 Chiang Mai: Cultural Gem of the North
Chiang Mai, in northern Thailand, is a city steeped in history and tradition:
Doi Suthep Temple: Climb the stairs to reach this hilltop temple with stunning architecture and views of Chiang Mai.

Old City: Explore the ancient walled city with its temples, markets, and historic sites.

Night Bazaars: Shop for handicrafts, local art, and delicious street food at the city's vibrant night bazaars.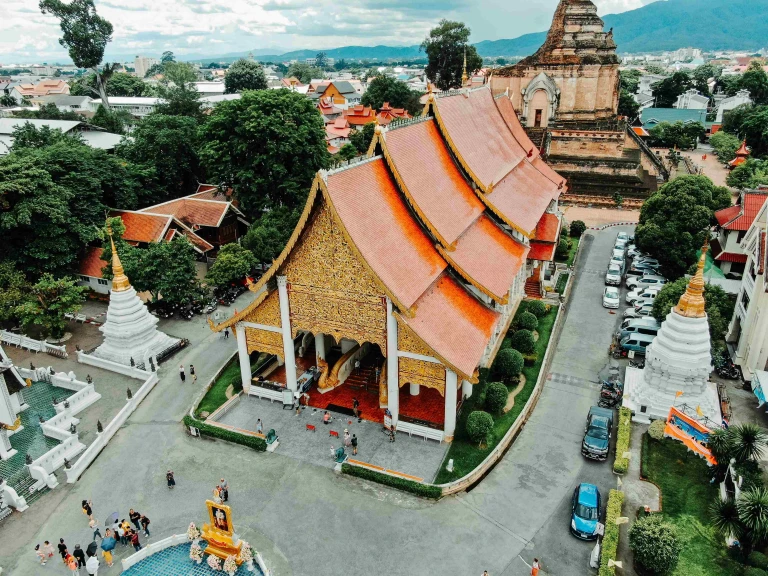 Must-Eat in Thailand!
Thai cuisine is a culinary adventure that every traveler must experience. In addition to the previously mentioned must-try dishes, here are a few more culinary delights to savor:
Tom Yum Goong: A spicy and tangy shrimp soup that's a Thai classic.

Pad Thai: Stir-fried rice noodles with shrimp or chicken, flavored with tamarind and peanuts.

Green Curry: A fragrant and spicy Thai curry with coconut milk and a mix of vegetables and proteins.
Prepare to embark on an enchanting journey as you explore the diverse landscapes, cultural wonders, and delectable cuisine of Thailand. Whether you're wandering through the vibrant streets of Bangkok, lounging on the beautiful beaches of Phuket, or immersing yourself in the rich traditions of Chiang Mai, Thailand promises an adventure that will leave you with lasting memories and a desire to return for more.