Experience the idyllic charm of Koh Tao, a tropical haven in the Gulf of Thailand. Immerse yourself in the leisurely island life on pristine beaches, or explore vibrant coral reefs teeming with marine creatures. Not sure about choosing your stay for this amazing trip? Check-out these amazing airbnbs that we think will make your stay in Koh Tao memorable one!
This Beachfront Boutique Hotel Studio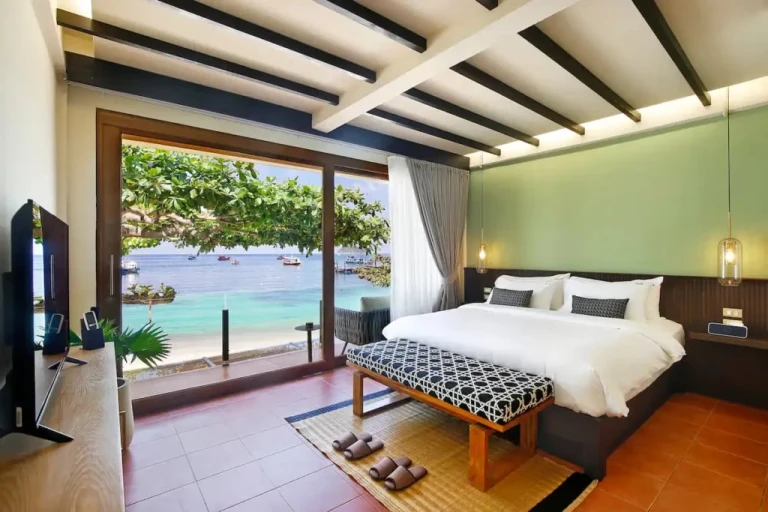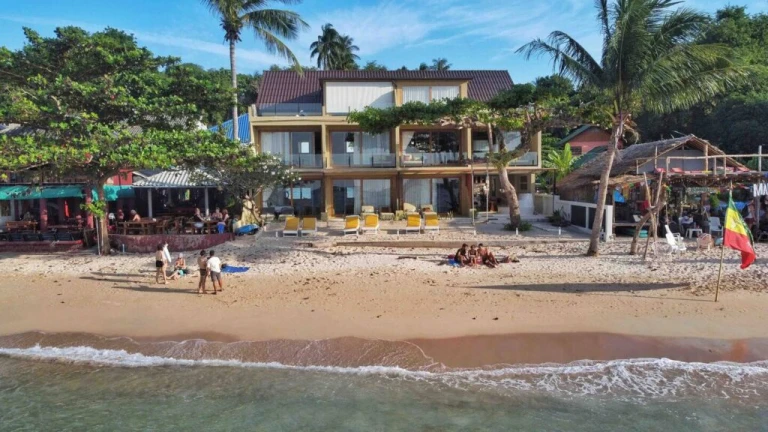 Embrace the allure of the recently revamped boutique hotel on Koh Tao's energetic Maehaad beach. Engage in the bustling atmosphere with eateries, bars & dive schools within reach. This Beautiful Airbnb Stay offers you breathtaking ocean views, a plus king bed, and a private balcony. Indulge in modern comforts, beach access, and complimentary snorkelling gear. Your ultimate island getaway beckons!
Listing name: Boutique Beachfront Studio
Listing type: Boutique Hotel
Max. no. of guests: 2 Guests
No. of bedrooms: 1 Bedroom
This Spacious home for your Family Getaway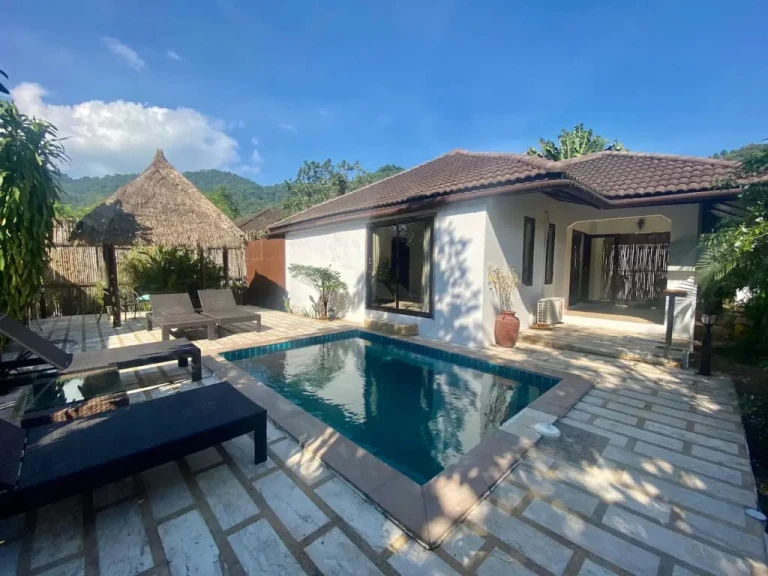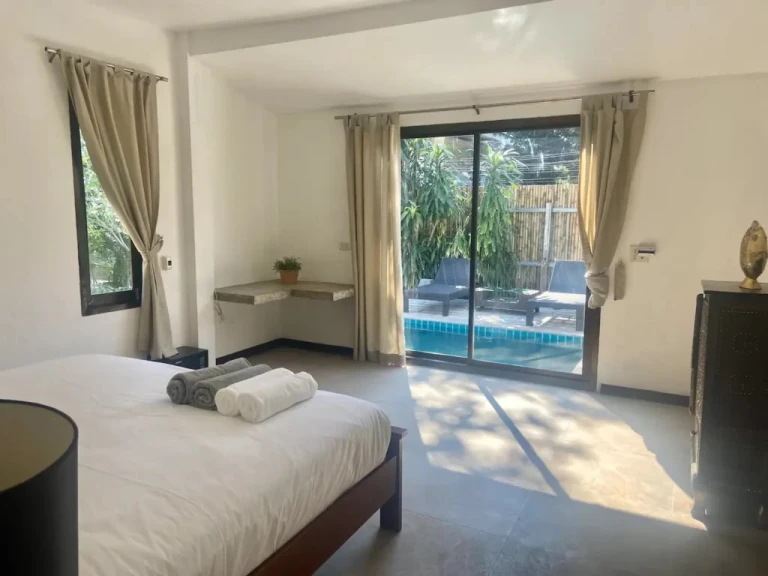 Discover an enchanting tropical getaway in Koh Tao! Nestled near the main beach, this beautiful villa features lush gardens, a private pool, and 100 sqm of indoor/outdoor living. Dive into Sairee Beach's crystal-clear waters, just a short stroll away. Immerse yourself in comfort and modern amenities for the ultimate vacation experience. Your dream holiday starts here!
Listing name: 2 BDR Amazing Value! Bamboo Villa
Listing type: Entire Home
Max. no. of guests: 6 Guests
No. of bedrooms: 2 Bedrooms
This Balinese Inspired Sea Villa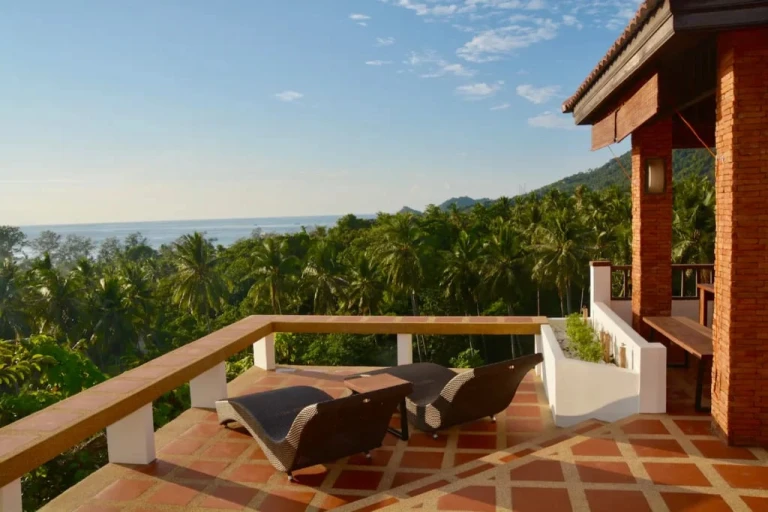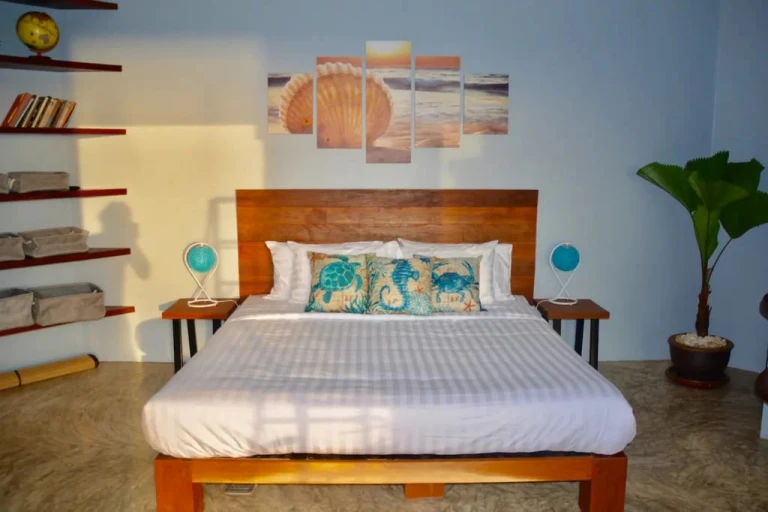 Experience the enchanting Keshin Sala Villa, a Balinese inspired private villa with stunning sunset views on Koh Tao. Nestled near the island's popular beach and vibrant nightlife, it offers tranquillity and comfort just minutes away from restaurants and dive-shops. Enjoy outdoor dining, a serene Koi pond, and a spacious terrace. The villa's fully-equipped kitchenette and proximity to amenities make it a perfect choice for your Koh Tao getaway!
Listing name: Keshin Sala Sunset Sea View Villa, Sairee, 2 bedr.
Listing type: Entire Villa
Max. no. of guests: 4 Guests
No. of bedrooms: 2 Bedrooms
This Bungalow with Amazing Sea View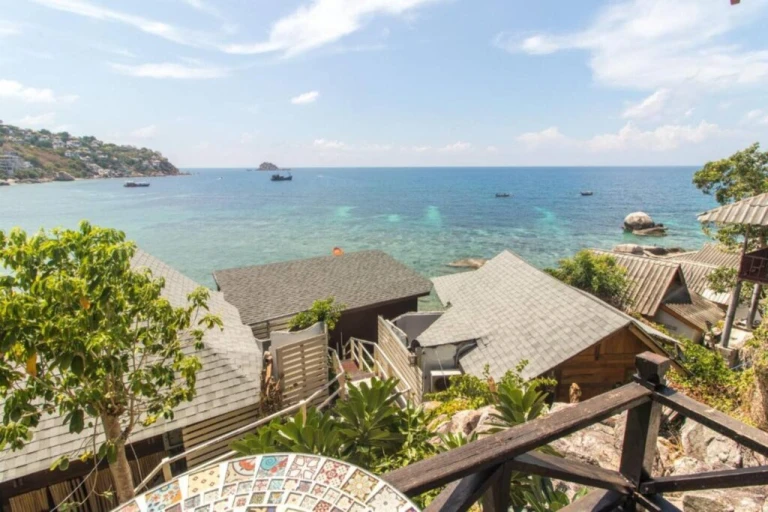 Nestled above Thian Og Bay, this family-run gem offers cosy fan or air-conditioned bungalows boasting stunning sea views. Dive into relaxation with massages or snorkeling as complimentary service with your stay. Immerse yourself in lush surroundings near Chalok Baan Kao, just 1.2 mi from Ao Tian Ok. Enjoy convenience with shuttles, tickets, meetings, and delectable Thai cuisine at the on-site restaurant.
Listing name: Bungalow with Sea View
Listing type: Entire Rental Unit
Max. no. of guests: 4 Guests
No. of bedrooms: 2 Bedrooms
This Cozy Room near Tanote Bay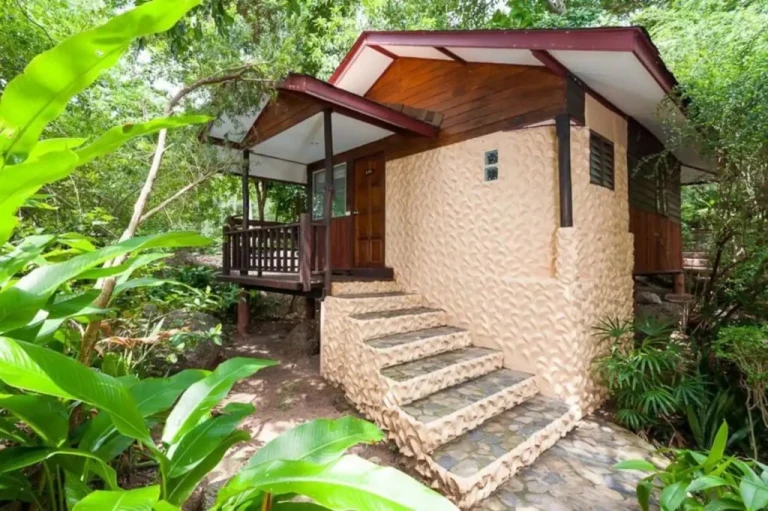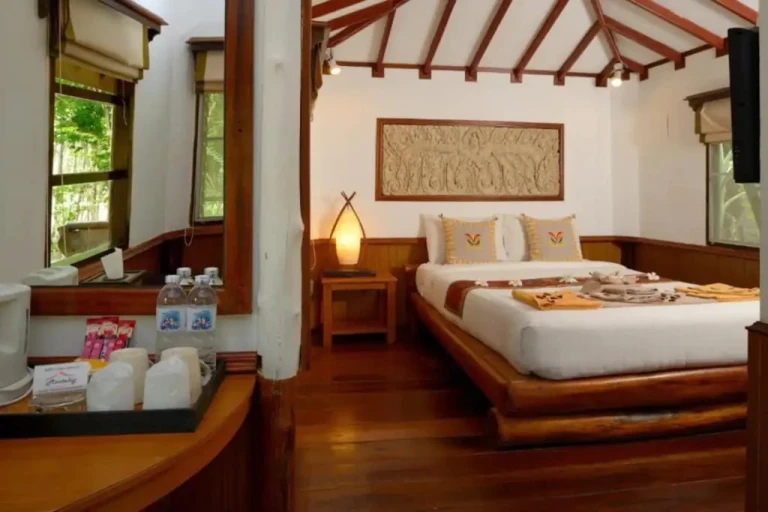 Escape to this idyllic tropical paradise that boasts modern architectural elegance against the stunning backdrop of Tanote Bay's azure waters. Just a short drive from Koh Tao Pier, this enchanting destination offers an inviting outdoor pool and a reputable diving school. Immerse yourself in tastefully adorned rooms, which feature Asian artwork and embrace minimalist design. Indulge in rejuvenating spa treatments, snorkel along the pristine beach, and relish the artistic fusion cuisine at the restaurant, seamlessly blending Thai and Western flavors. Unwind with cocktails and music at Koh Tao Beach Bar for a truly memorable vacation.
Listing name: Tropical Hut garden, 34sqm (A/C)
Listing type: Entire Rental Unit
Max. no. of guests: 3 Guests
No. of bedrooms: 1 Bedroom
This Modern apartment in Gulf of Thailand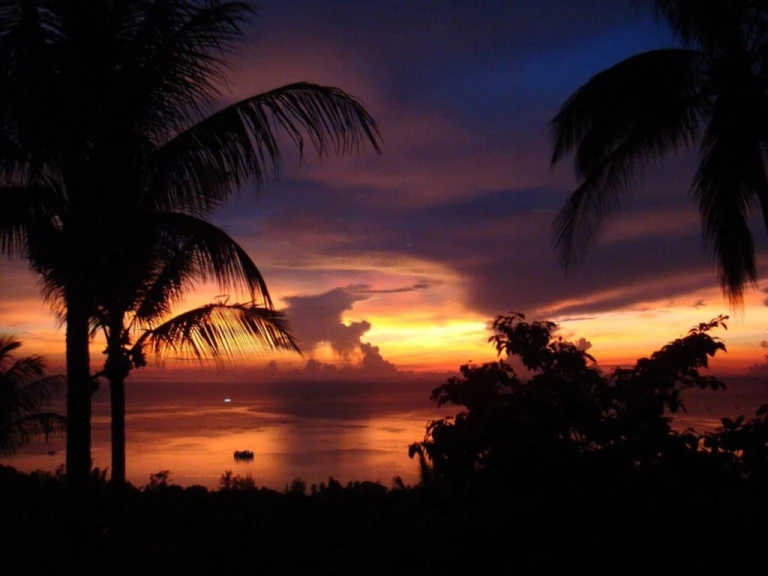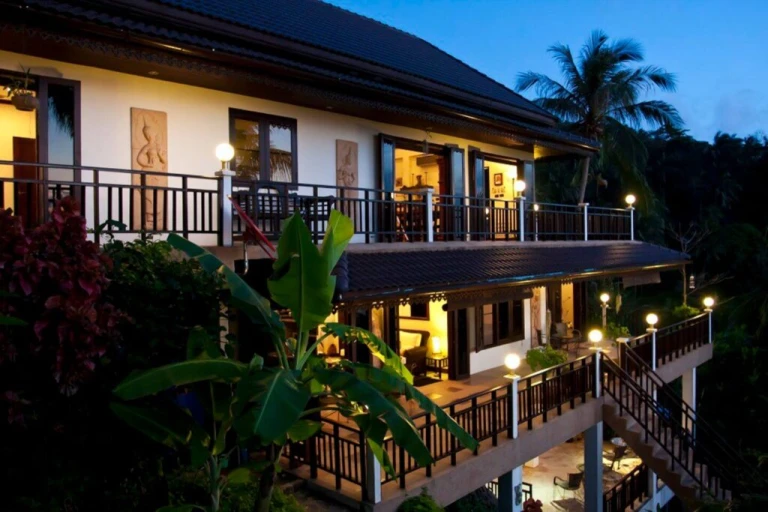 Discover Koh Tao Star Villa, an enchanting modern retreat nestled in lush jungle hills overlooking the stunning Sairee Beach and the Gulf of Thailand. Experience true luxury in our spacious one-bedroom apartments boasting elegant design and a vast west-facing terrace, perfect for witnessing breathtaking sunsets. Immerse yourself in a harmonious blend of Thai architecture and modern comforts. Indulge in panoramic sea and jungle views, enjoy top-notch service, and relish the tranquillity. This is one of the top picks out of all the Airbnbs in Koh Tao for your trip!
Listing name: One-Bedroom Apartment at Star Villa
Listing type: Room in a Serviced apartment
Max. no. of guests: 4 Guests
No. of bedrooms: 1 Bedroom 1 bed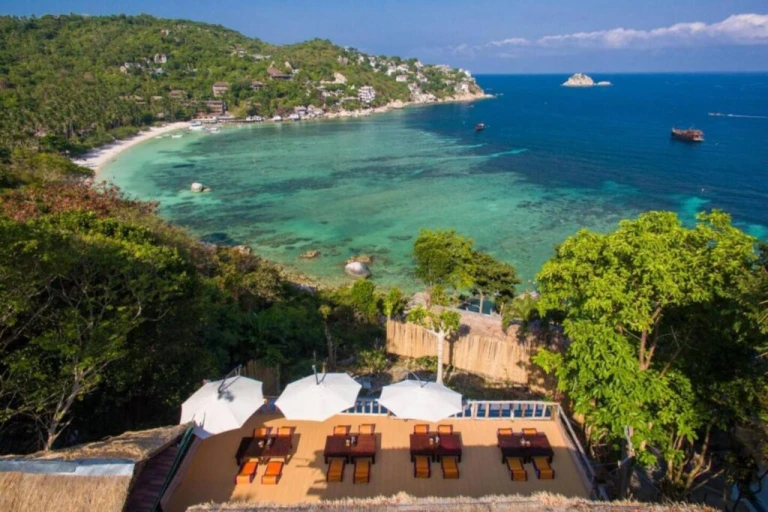 Whether you are staying in a villa or a boutique hotel, these amazing Airbnbs in Koh Tao would make you want to extend your trip for sure! So which one is it gonna be?