Are you ready to escape the mundane and embark on a tropical adventure? Look no further than the radiant jewel of the Indian Ocean - Sri Lanka! In this lively travel guide, we're diving deep into the magic of this island paradise, tailor-made for our Indian friends in 2023.


Why Sri Lanka is the best place to visit in 2023?
Being recognized as one of the top 10 thrilling destinations for 2023, Sri Lanka offers numerous exhilarating experiences to get your adrenaline pumping.
Golden Beaches: Whether it's sinking your toes into the powdery sands of Bentota or Mirissa, Sri Lanka's golden beaches promise relaxation and scenic beauty.

Ancient Ruins: Explore the historical wonders of Sigiriya and Polonnaruwa, offering a glimpse into the country's rich past.

Wildlife Encounters: Embark on thrilling safaris in Yala National Park, where you can come face-to-face with majestic leopards and other exotic wildlife.

Lush Tea Estates: Immerse yourself in the world of world-famous Ceylon tea by visiting stunning tea plantations, surrounded by lush greenery.

Spiritual Retreats: Find inner peace at serene temples such as the Temple of the Tooth in Kandy, where spirituality and culture blend seamlessly.

Adventurous Escapades: For the adventurous soul, there's the option to hike Adam's Peak, a sacred pilgrimage site, or dive into thrilling water sports in Unawatuna.
With the right timing and an array of captivating experiences awaiting you, Sri Lanka in 2023 promises a journey filled with exploration, relaxation, and cultural enrichment.
Is a COVID-19 test necessary for my Sri Lanka visit?
No, there are no COVID restrictions in place. You don't need to provide vaccination proof or undergo testing.
Sri Lanka Visa for Indian Citizens- How to apply
Indians don't receive their Visa until arrival at the airport. You first need to apply for an Electronic Travel Authorization (ETA) online, which takes half an hour to get generated. Keep a printed copy of this ETA along with your passport.
Click here to apply for an online ETA
The Sri Lanka visa on arrival is valid for 30 days from the application date and has a total validity of 6 months. For Indian citizens, it's possible to extend the ETA for tourist purposes, provided you apply for an extension before the initial ETA expires. The ETA costs around roughly around 2200 INR as of September 2023, Check once before you apply for it.
Documentation required for Indians to Visit Sri Lanka
To enter Sri Lanka, you'll need a passport with a minimum of six months' validity beyond your entry date. You must also demonstrate the Proof of sufficient funds and your financial ability to support yourself while in the country. Additionally, Proof of your departure, like a return flight ticket, and documentation outlining the purpose of your visit are required. Keep a printed copy of your ETA before you receive your Visa and a Valid ID with you. Voter ID is preferable than Aadhar card.
Flight options from India to Sri Lanka?
Your journey kicks off with flight bookings. Score the best flight deals for your Sri Lanka journey by booking from Chennai, with rates starting at approximately 6000/- INR. Prices soar as you head to metropolitan hubs like Bangalore, Delhi, and Mumbai. Colombo airport hosts some of the cheapest and most direct flights. Stay flexible with your travel dates, exploring off-peak times, and consider budget airlines like Air India Express, IndiGo, and SpiceJet for pocket-friendly options. Early bookings and weekday flights also help in securing lower fares. But remember, the travel-savvy keep their options open when it comes to dates.

Direct flights from India to Colombo, Sri Lanka:
Bengaluru: Indigo and Srilankan Airlines
Mumbai: Srilankan Airlines and Vistara
Delhi: Air India and Srilankan Airlines
Hyderabad: Srilankan Airlines
Chennai: Srilankan Airlines, Air India and many other Direct Flight Options are available.
As of 2023, These airlines offer direct flight options for travellers going from various cities in India to Colombo, making it convenient to reach your destination. Please note that flight routes and availability may change, so it's advisable to check with the respective airlines for the most up-to-date information and flight schedules.
Do Sri Lankans accept Indian Currency?
No, Indian currency (Indian Rupees, INR) is generally not accepted for transactions in Sri Lanka. It's advisable to exchange your Indian Rupees for Sri Lankan Rupees (LKR) at currency exchange counters, banks, or ATMs upon arrival in Sri Lanka to ensure you can make purchases and payments easily during your visit. As of September 2023, 1 LKR is = approx.0.26 INR, because of which It beats big players on the budget scene, coming in generally cheaper overall than the likes of Thailand, Bali, and even Vietnam.

Currency exchange counters within the airport, often operated by banks or authorized money changers, allow you to convert your foreign currency, like US Dollars, into Sri Lankan Rupees (LKR). Alternatively, there are ATMs available for direct LKR withdrawals from your foreign bank account or credit card. While airport exchange rates might be slightly higher, it's recommended for convenience, especially for securing initial LKR for your first day. Beware of unlicensed street money changers to avoid scams.
Best ways to commute in Sri Lanka for Indian travellers
Commute from the Airport
From Bandaranaike International Airport (BIA) in Colombo, you can choose taxis, tuk-tuks, airport shuttles, ride-sharing apps, buses, trains, or even rent a car. Taxis and ride-sharing are convenient but pricier, tuk-tuks are budget-friendly, and buses and trains offer economy but vary in comfort. Your choice depends on budget and preference.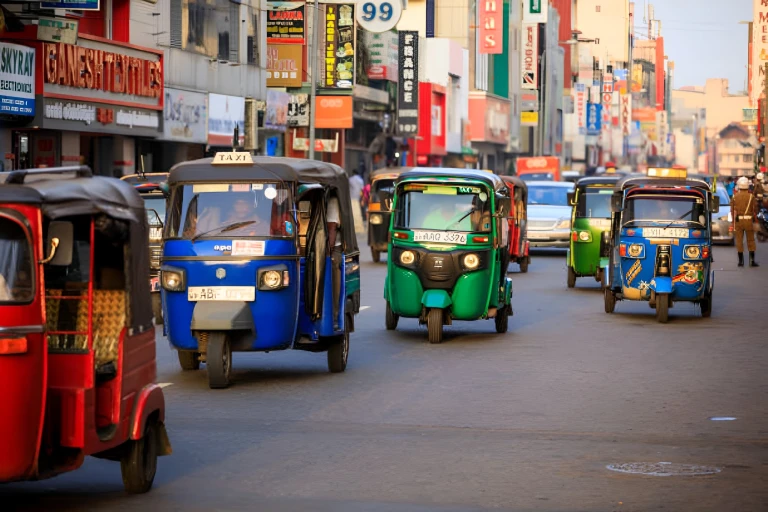 Getting around in Sri Lanka
Sri Lanka offers more modes of transportation than you can shake a coconut at! Those iconic three-wheeled wonders, tuk-tuks, are perfect for zipping around short distances. For those who prefer the scenic route, hop on public buses or trains. If you're all about comfort and privacy, consider renting a cab or a private car for longer journeys. Travel guides also offer commute services which cost 2000 -3000 INR ( including their expenses) to help you get around Sri Lanka.
Where to stay in Sri Lanka for vacation?
Certainly, when it comes to finding your ideal accommodation in Sri Lanka, here are some comfortable options tailored to different traveller preferences:
In Colombo:
- For Families: The Cinnamon Grand Hotel offers luxurious family-friendly accommodations.
- Solo Travelers: Solo adventurers can enjoy the vibrant atmosphere of the Hostel at Galle Face.
- Couples: For a romantic getaway, consider booking a room at The Kingsbury.
In Kandy:
- For Families: Enjoy picturesque views at The Swiss Residence, perfect for families.
- Solo Travelers: Solo travellers seeking a lively atmosphere can find it at Clock Inn Kandy Hostel.
- Honeymooners: Experience a romantic escape at Theva Residency.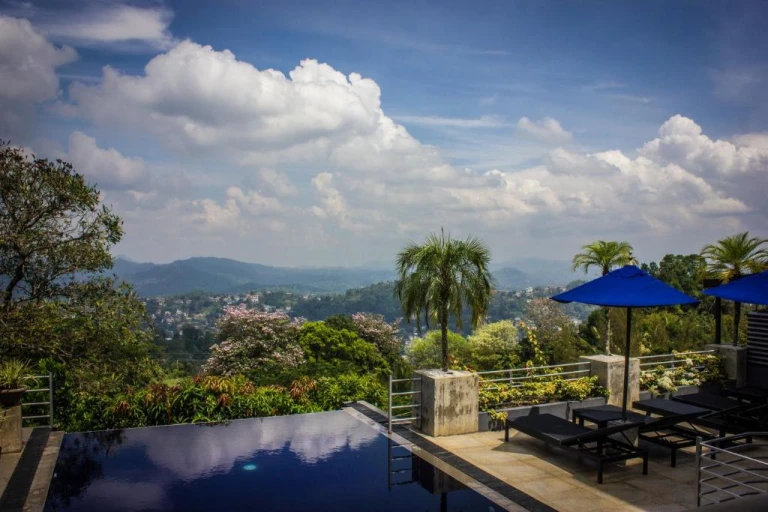 Theva Residency, Kandy, Sri Lanka (Image Source: Booking.com)
In Ella:
- Budget Travelers: The popular Hangover Hostels Ella is a fantastic budget-friendly option for all types of travelers.
- Couples: Couples can relish the stunning scenery at 98 Acres Resort & Spa.
In Unawatuna:
- For Families: The Jungle Beach by Uga Escapes offers a family-friendly environment.
- Solo Travelers: Solo adventurers can socialize at Hangover Hostels Mirissa.
- Couples: Couples seeking privacy and serenity can indulge in a stay at the Cape Weligama.
These accommodation choices cater to a variety of travel styles, ensuring a comfortable and memorable stay in Sri Lanka.
What are the best places to eat in Sri Lanka?
Sri Lanka is a culinary paradise with diverse flavours to explore:
Must-Try Dishes:
1. Seafood Extravaganza at The Ministry of Crab, Colombo: Delight in sumptuous crab dishes with a variety of delectable sauces.
2. Traditional Sri Lankan Fare at The Empire Café, Kandy: Experience the essence of Sri Lankan cuisine with aromatic rice and curry.
3. International Delights at Ella's Café Chill, Ella: Sample a range of international dishes in a serene hill country setting.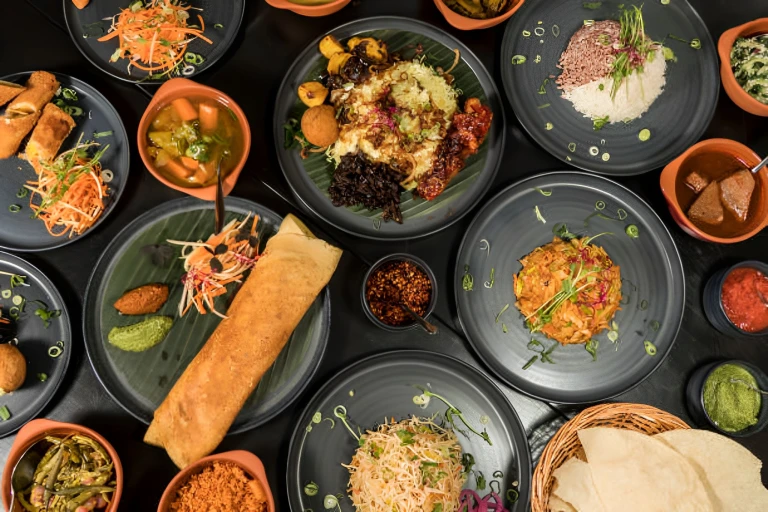 Street Food Delights:
- Egg Hoppers and Kottu Roti: Relish the local favourites served by street vendors, each bursting with authentic flavours.
- Family-Owned Restaurants: Discover hidden gems where traditional Sri Lankan cuisine is prepared with love and care.
Satisfy Your Sweet Tooth:
- Curd and Treacle: Indulge in Sri Lanka's famous dessert, available at numerous locations across the island.

What is the Best time to Visit Sri Lanka?
In planning your Sri Lankan adventure , timing plays a crucial role, ensuring you experience the best of what this vibrant country has to offer:
Peak Season (December to March): This period boasts ideal dry weather, making it perfect for beach enthusiasts and festival lovers. Expect lively festivals and a bustling atmosphere, but be prepared for slightly higher prices.
Shoulder Season (April to September): If you're budget-conscious, this is your time to shine. The crowds thin out, making it easier to explore without the hustle and bustle. However, keep an eye out for occasional rain showers during this season.
Off Season (May to August in the South and West; October to January in the North and East): This is the budget traveller's dream season. With fewer tourists, you'll find rock-bottom prices and unique cultural experiences. Just be sure to pack an umbrella for the occasional monsoon surprise.
Why is Sri Lanka the perfect vacation for Indians ?
Indians would find a trip to Sri Lanka immensely enjoyable for numerous reasons. Firstly, the shared cultural affinities, spanning religion, cuisine, and traditions, create a sense of familiarity within the allure of the new.
Moreover, its proximity to India, just a short flight away, makes it an easily accessible destination. Sri Lanka's compact size belies its geographical diversity, offering everything from pristine beaches to lush tea plantations.
History buffs can explore ancient temples and ruins reminiscent of India's rich heritage. The culinary journey is a delightful fusion of familiar Indian flavors and unique Sri Lankan dishes.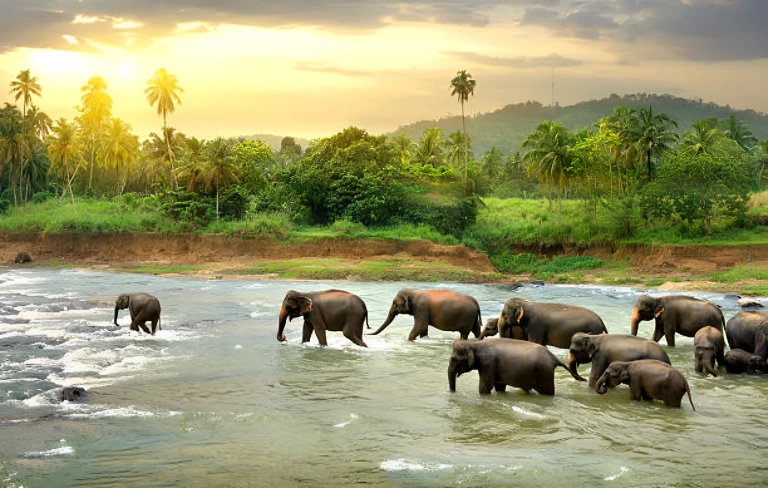 Thrilling wildlife encounters await in its national parks. Warm and welcoming locals enhance the overall experience. English, widely spoken, eases communication.
Affordability is another bonus, with cost-effective accommodations, dining, and transportation options. Lastly, partaking in Sri Lankan festivals like Vesak adds a unique cultural dimension to the visit. In essence, Sri Lanka offers Indian travelers a blend of the familiar and the exotic, promising a memorable adventure.

With this lively guide, you're now equipped to embark on your Sri Lankan adventure in 2023. Whether you're traveling with family, going solo, or seeking romance as a couple, Sri Lanka's natural beauty, rich culture, and warm hospitality await. Get ready to make memories that will last a lifetime!