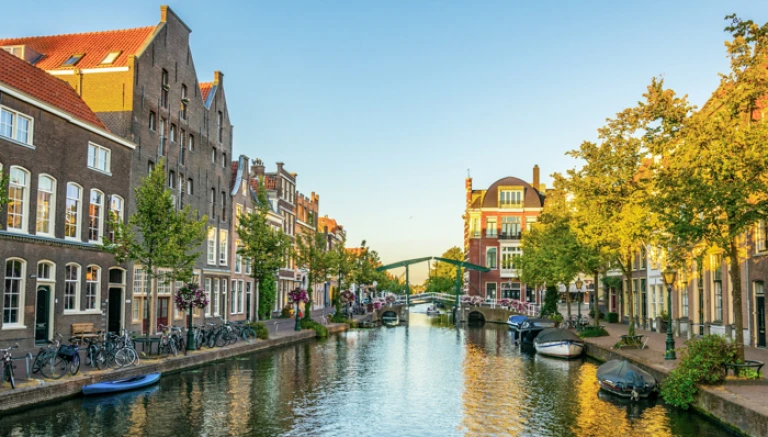 The Netherlands is a stunning nation in Northwestern Europe that is well-known for its museums, unique lodging options, culinary culture, hipster cafes, and historical attractions. The country's mild temperature draws visitors and wildlife, especially bees, and it provides a fusion of history, environment, and culture in an explosive combination of art.
The most well-known city is Amsterdam, but there are many more lovely cities that are worth seeing. These cities include The Hague, which is home to the Dutch government and a number of international organizations, and Rotterdam, which is renowned for its cutting-edge architecture and exciting nightlife.
Also read: Top 10 must do activities in Amsterdam for 2023
The Netherlands is also well-known for its scenic countryside, which is studded with windmills, tulip fields, and quaint villages, making it a wonderful vacation spot for those who enjoy the outdoors and being in nature.
Can I travel to the Netherlands from India?
Yes, the Netherlands is fully open to Indian travelers, both for tourists and business travel.
Visa Requirements for Indian Travelers to the Netherlands
You must submit specific documentation as part of your short-term Dutch visa application. The following are the official Dutch visa requirements:
Dutch visa application form.

Two passport photos. (no older than 3 months from travel, colored and with a black or white background)

Your valid passport

Netherlands Travel Health Insurance

A confirmation that you hold travel health insurance valid for the territory of the Netherlands and the whole Schengen Zone

Proof of accommodation

Proof of civil status

Proof of sufficient financial means for the duration of stay in the Netherlands

A cover letter

A personal letter in which you explain why you are applying to visit the Netherlands, how long you plan to stay when you will leave, and other details
COVID Info and Vaccination Requirements for the
Netherlands
There is no need for quarantine or a COVID test while entering the Netherlands. To guarantee a smooth entry into the country, it is suggested to obtain a valid COVID-19 vaccination certificate or confirmation of a negative test result before visiting.
What international airport is there in the Netherlands?
Amsterdam Schiphol International Airport is the main international airport in the Netherlands.
Which airlines operate direct flights, and from which Indian airports?
Airlines:
Delta,

KLM,

Air France,

Air India,

Singapore Airlines,

China Airlines
Direct flights are from:
Other common airline options (1 connection)
Air India

Air France

British Airways

Cathay Pacific

Emirates

Etihad Airways

IndiGo

Lufthansa

Qatar Airways

Saudia

Singapore Airlines

SWISS
There are many other airline options are also available.
Seasonal Guide to the Netherlands
The most touristy time to visit the Netherlands may be late spring and summer, but if you want quieter places, then consider autumn.
March to April: The spring season is pleasant and continues to warm up. When the average temperature is 12°C, The tulip festival season and parades take place in late April and early May, when they are in full bloom. Because of the magnificent surroundings and fewer tourists, choose spring.

June to August: Summer is a busy period in the Netherlands, with museums packed to capacity, canals clogged with boats, hotels and transport rates skyrocketing, and temperatures ranging from 17 to 20 degrees Celsius.

October through November: The Netherlands' autumn is beautiful, with trees lining the canals turning gleaming gold and scarlet. While vacationers return home, frozen lakes serve as temporary ice skating rinks. All of the tourist attractions are uncrowded for your enjoyment. Backpackers and tourists believe that fall is the best season to visit the Netherlands.
Currency Information of Netherlands
The euro is the official currency of the Netherlands, and as of September 29, 2023, 1 EUR equals 88.139241 INR.
Getting around in the Netherlands

Bicycle: Riding a bicycle like a native is the finest way to navigate the cities of the Netherlands. You may rent them from hotels, rental businesses, shacks outside of parks, or people on the street. Locals frequently rely on this approach since it is convenient and effective.
Boats: Using boats on the canals in Amsterdam or Delft is another lovely way to get around. While traveling, you may take in the charm and beauty of the cities from these canals' unique and attractive perspectives. It's a well-liked method of transportation for both locals and visitors, giving you a unique experience while you're in the Netherlands.
Public Transportation: Using public transit is a practical way to move around the cities of the Netherlands. Access to a variety of locations, including some that may not be conveniently accessible by automobile, is made simple by the wide network of buses, trams, and trains. Additionally, taking public transport gives you the chance to experience the effective and well-connected network that people depend on every day.
Cars: Cars are available for hire, although they cannot travel on all roads due to their narrowness and one-way nature. In addition, parking can be difficult in crowded city centers and may be subject to rules or charges. Having a car, however, might provide you with more freedom and convenience to explore more rural or distant parts of the Netherlands in your own time.
To compare: Unlike in India, Bicycle is a major mode of transportation in the Netherlands
Where to Stay
Here are some of the most unusual places to stay in the Netherlands for a truly unique experience:
A converted plane in Teuge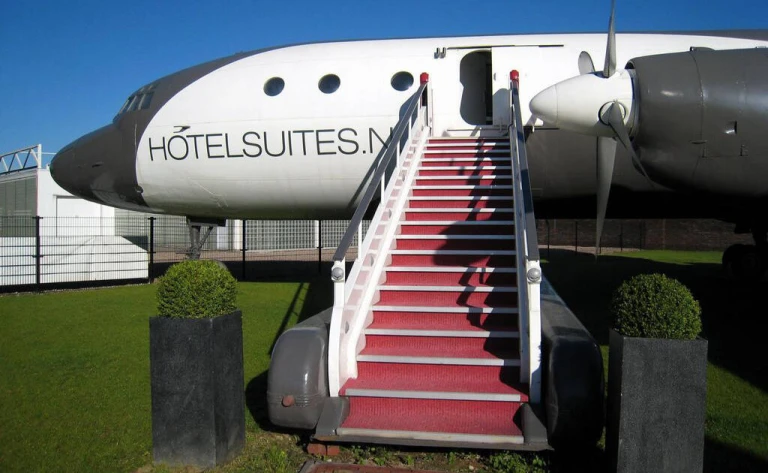 The Vliegtuigsuite is a two-person suite converted from a decommissioned aircraft, comprising a bedroom, kitchenette, sitting area and a magnificent bathroom complete with sauna, shower and spa bath. It also includes an elevated terrace with views of the runway at Teuge Airport. Upon arrival, guests are treated to a delectable meal as well as an in-suite breakfast.
The apartment is near Deventer, Apeldoorn, and Zutphen, and it offers a one-of-a-kind experience for aviation fans and couples looking for a romantic holiday. Its central position allows travelers to see local cities and attractions.
A traditional Dutch houseboat in Amsterdam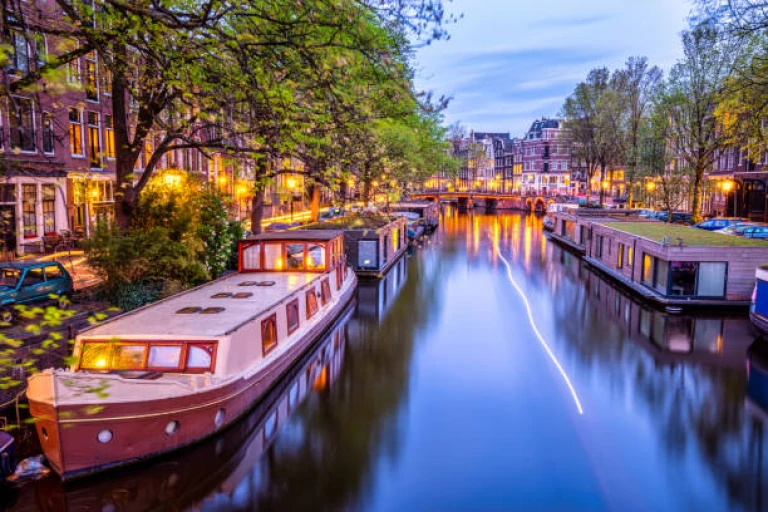 The Prinsenboot, located on Amsterdam's Prinsengracht canal, provides a one-of-a-kind Dutch houseboat experience. The boat has a contemporary bedroom, bathroom, living room and kitchen, making it ideal for small families or couples. It also has two outside spaces: a private balcony off the bedroom and a rooftop patio ideal for observing boats.
The Prisenboot is ideally placed within 1km of Amsterdam's major museums, making it simple to visit well-known destinations such as the Van Gogh Museum and the Rijksmuseum. During the day, guests may enjoy the exciting city life before retiring to their snug floating lodging for a relaxing evening on the lake.
A 13th-century medieval castle in Oostkapelle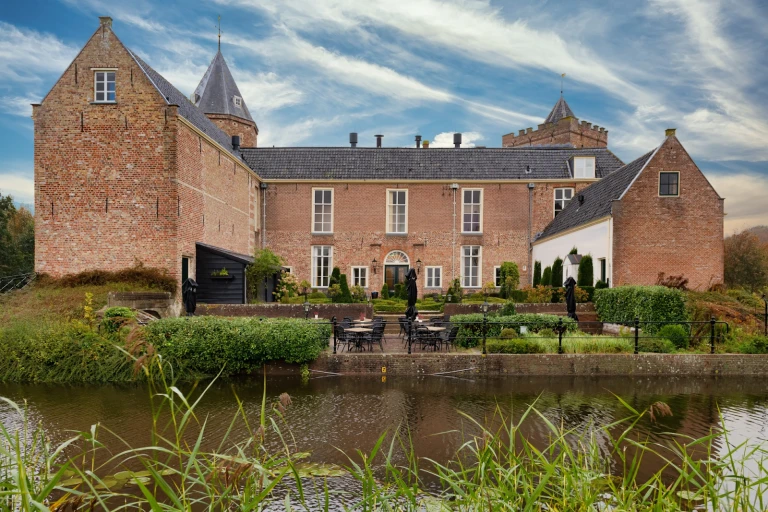 This castle is located just outside Domburg, which is well-known for its artistic community. Step back in time with Stayokay Domburg, a hostel in Kasteel Westhove.
This 13th-century medieval castle with towers and a moat is just a 6-minute walk from the southernmost point of Zeeland's shore - a place famed for enjoying the greatest hours of sunlight in the Netherlands.
The hostel provides a unique and historic lodging experience, with accommodations overlooking the castle grounds and surrounding countryside. Guests may go for tranquil walks in the neighboring nature reserve or take a short walk to Domburg to discover its thriving art scene and lovely streets.
A wooden windmill in Onderdendam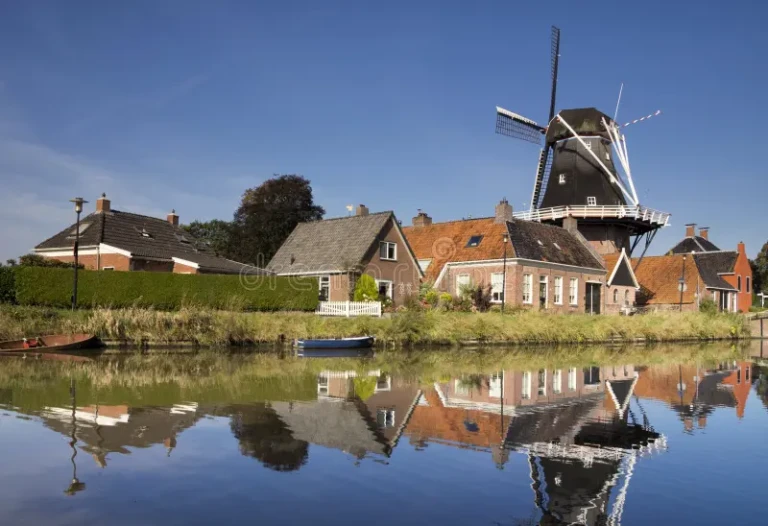 Molen Hunsingo is a Dutch hotel that provides visitors with a one-of-a-kind experience. The remodeled storage space provides contemporary comforts while preserving the windmill's antiquity. The rooms have a king-sized bed, a seating space, an upgraded bathroom and breathtaking views of the canal and village. The ground-floor Restaurant de Molenaar provides French-inspired meals with a surprise menu based on seasonal ingredients.
Guests may take magnificent images of the windmill while staying in comfort and luxury. The hotel also has a restaurant that can accommodate dietary demands and preferences.
Things to Do in Netherlands
Take bicycle Tours:
Bicycle excursions across the towns and cities of the Netherlands are a unique way to discover the country's beauties. Cycling is the most popular means of local transportation, and towns such as Amsterdam, Rotterdam, The Hague, and the North Sea Coast have dedicated bike lanes for guided or self-led tours. These trips give guests an amazing and unique experience, allowing them to immerse themselves in local culture and view breathtaking scenery up close.
Explore Amsterdam's Art Scene: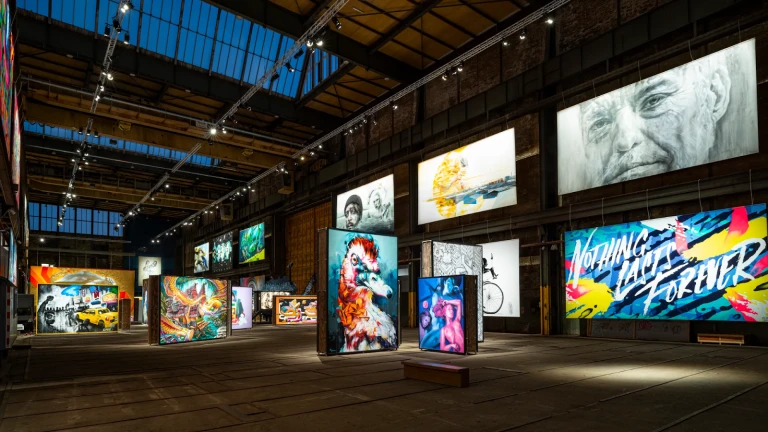 Museum Square in Amsterdam is home to several notable museums, including works by Rembrandt, Vermeer, and Van Gogh. Visitors may discover rising artists and current works by exploring the city's lively street art, which includes vivid murals and graffiti, as well as attending local art festivals and exhibitions.
The Rijksmuseum is a must-see, as it features Rembrandt's The Night Watch. The city's art culture also includes vivid street art in addition to regular galleries.
Visit a canal by boat: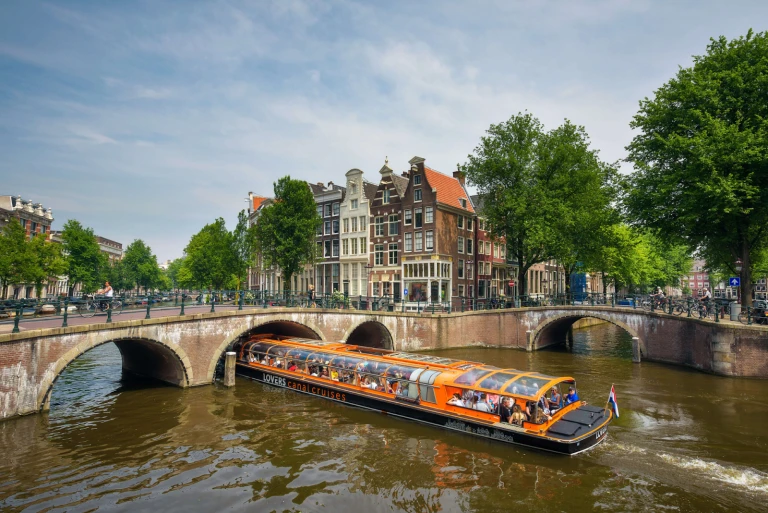 A canal tour is another popular way to view the villages and cities in this region. These canals were built over 300 years ago to transport goods up and down, and they still serve as an important link for communities to travel and live.
People will live on houseboats and sell their wares. The best boat excursions are located in Amsterdam's Canal Ring and in Delft, where you will sail through old cobblestone streets and buildings. Canal cruises provide a unique viewpoint on the region's rich history and architectural splendor.
You'll be able to observe gorgeous 17th-century buildings and picturesque bridges that have withstood the test of time as you glide over the lake. Don't forget to bring your camera to record these wonderful moments.
Check Out the Tulip Bloom: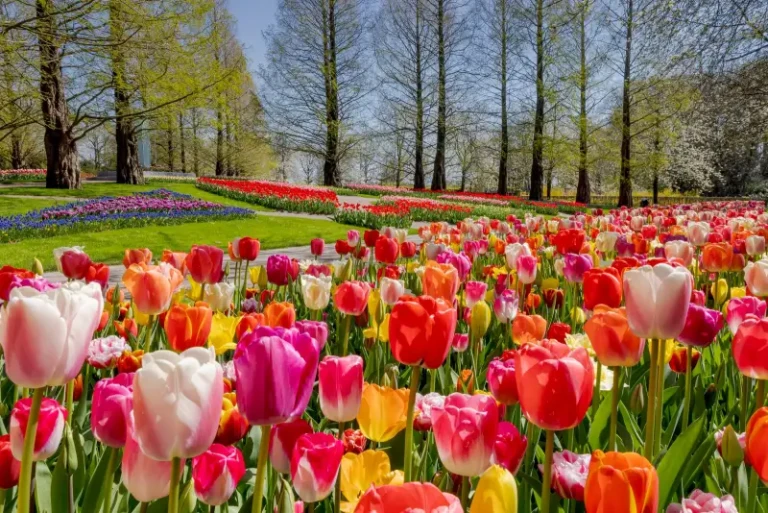 Due to the Netherlands' reputation as a bulb-growing country, tulips, daffodils, and other flower farms may be seen beside most main roadways. especially during the months of April and May, when these bulbs blossom and herald the arrival of spring.
In May, head to Amsterdam for tulip parades and museums, Keukenhof for the breathtaking tulip fields, Noordoorstpolder for more farms, and other places. The best seasons to do these things are in the spring, in the months of April and May. The vibrant colors and seductive aromas of the Dutch tulip fields combine to create a really stunning spectacle.
Visiting these farms is a unique experience, whether you decide to meander around the endless rows of blossoming flowers or take breathtaking pictures. Don't pass up the chance to spend this captivating time surrounded by nature's splendor.
Amusement parks to enjoy: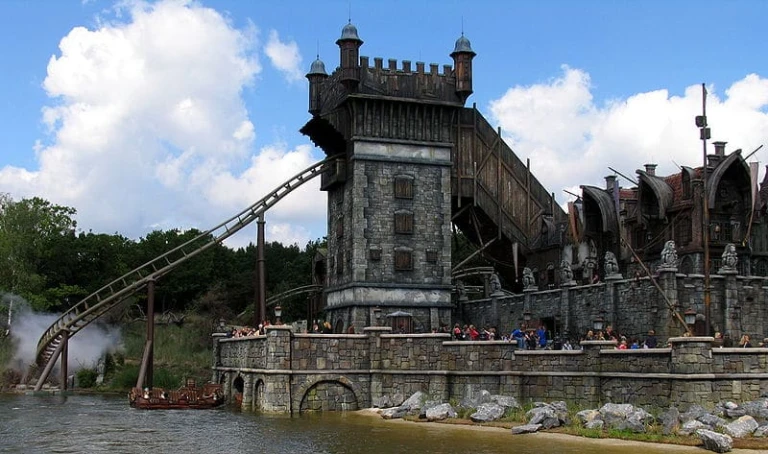 You'll have a blast visiting some of the theme parks in the Netherlands. From Madurodam in The Hague, a little Dutch hamlet with all the trimmings - canals, cafés, museums, landmarks - to Efteling near Amsterdam, the largest and oldest amusement park in the Netherlands, to Efteling near Amsterdam, you will be in for a treat. With its charming fairy tale forest and exciting roller coasters, Efteling provides a fantastic experience. Walibi Holland, noted for its adrenaline-pumping thrills and spectacular water activities, is also a must-see. These amusement parks provide guests of all ages with an amazing encounter.
What to Eat

in Netherlands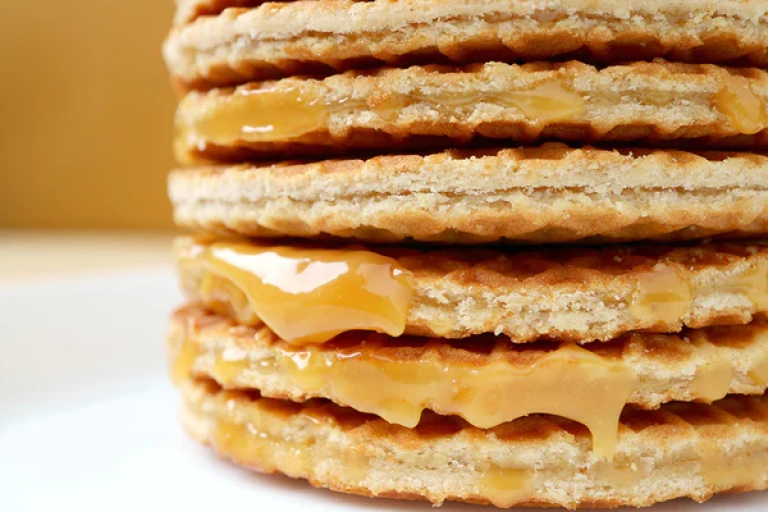 Try the stroopwafel, a sweet waffle that is popular in bakeries and cafes in the Netherlands, as a take-home treat.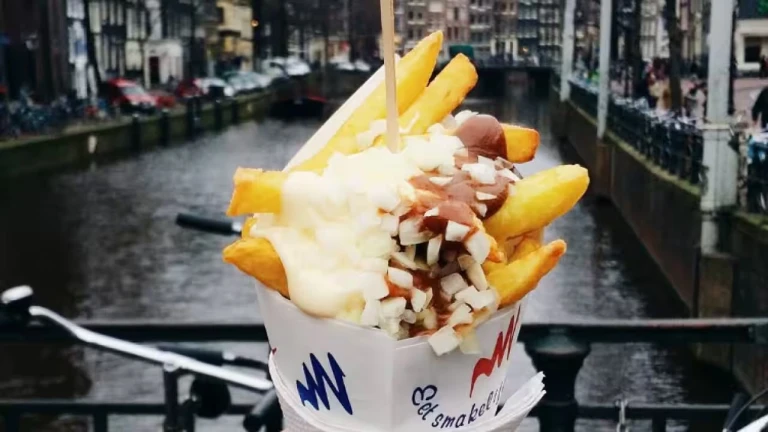 Try thick Dutch fries with different sauces and onions for lunch or raw herring.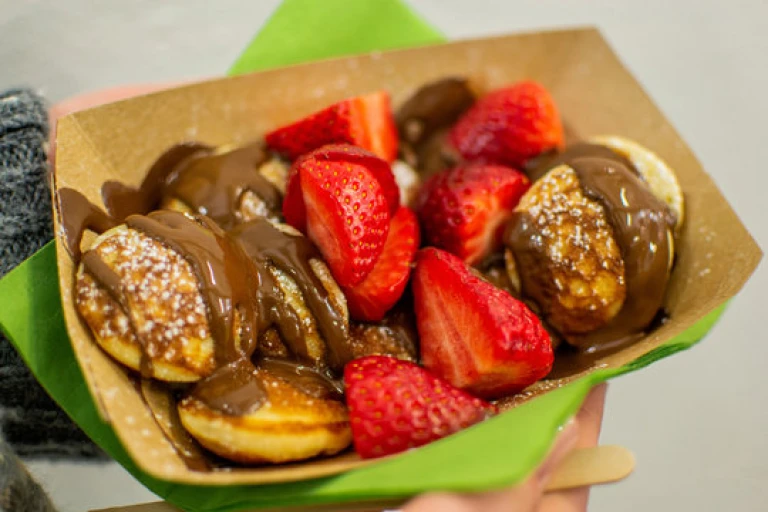 Try melt-in-your-mouth poffertjes sold at pancake restaurants.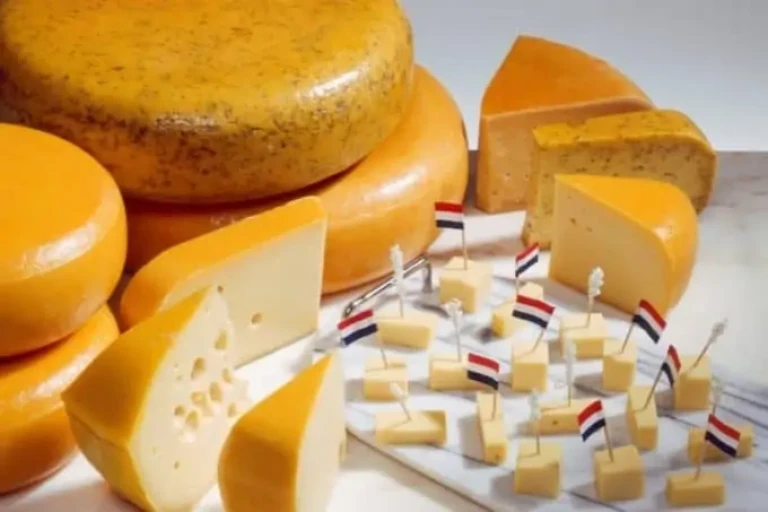 Dutch cheeses, including the well-known Gouda, and licorice are abundant in the markets.
Other well-known Dutch foods include stamppot, a hearty dish made with mashed potatoes and vegetables, and bitterballen, deep-fried meatballs with mustard.
Enjoy typical Dutch delicacies like stroopwafels and apple tart, and tour nearby breweries to fully experience the country's thriving beer culture.
To conclude
Take a canal cruise through Amsterdam, see the biggest flower march in the world in Zundert, go surfing at Scheveningen Beach in Den Haag, or indulge in some cheese at a real cheese market in Woerden. There are countless experiences available to you everywhere you go.
The Netherlands has a wide variety of activities, from touring the historic windmills of Kinderdijk to cycling through the charming tulip fields in Lisse. Get lost in Amsterdam's lively culture, explore world-class attractions like the Van Gogh Museum, or savor delectable Dutch fare at neighborhood eateries. Every tourist can expect a memorable experience in the Netherlands, with its attractive cities and stunning scenery.