Nestled in the lap of the Himalayas, Nepal offers a mesmerizing escape for Indian tourists seeking adventure, spirituality, and stunning natural beauty. With its shared border and cultural ties, Nepal is a favored destination for many Indian travelers. In this travel guide, we will provide you with all the essential information you need to plan your trip to Nepal, tailored specifically to Indian tourists.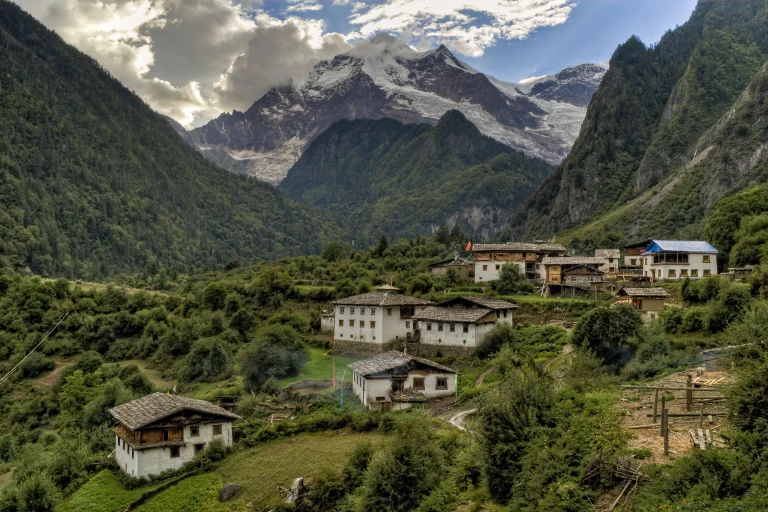 Can I Travel to Nepal from India?
Visa Requirements for Indian Travelers to Nepal
Visiting Nepal as an Indian tourist is relatively hassle-free when it comes to visa requirements. Indian citizens enjoy special privileges, and the process for obtaining a visa is straightforward. Here's a detailed breakdown of the documents required for an Indian traveler to obtain a visa for Nepal:
Passport: Ensure that your passport has a minimum validity of six months from your intended date of entry into Nepal. It should also have at least one blank page for visa stamps.

Visa Application Form: You can obtain a visa application form on arrival at the Tribhuvan International Airport in Kathmandu or at other entry points. Alternatively, you can fill out the form online in advance through the official website of the Department of Immigration, Nepal.

Passport-sized Photographs: Carry a few recent passport-sized photographs (2 inches by 2 inches) with a white background. You will need these for your visa application.

Visa Fee: Be prepared to pay the visa fee in the currency specified at the immigration counter. The visa fee varies depending on the duration of your stay in Nepal.

Proof of Onward Travel: It's a good practice to have a copy of your return flight ticket or an itinerary that shows your intention to leave Nepal within the stipulated visa duration.

Proof of Accommodation: Although not always enforced, it's advisable to have hotel reservations or a contact address in Nepal to mention on your visa application.

Address in Nepal: You will need to provide an address in Nepal, which could be the hotel you plan to stay at or the address of a friend or relative if you are staying with someone.

Supporting Documents: In some cases, you might be asked to provide additional supporting documents, such as a bank statement or proof of sufficient funds to cover your stay in Nepal.

Minors: If you are traveling with minors, you may need to provide additional documents such as birth certificates and a letter of consent from both parents if one parent is not accompanying the child.
Remember that visa requirements and regulations can change, so it's essential to double-check the latest visa requirements for Indian travelers to Nepal on the official website of Nepal's Department of Immigration or with the nearest Nepali embassy or consulate before your trip. Additionally, consider carrying multiple photocopies of your documents in case they are requested during the visa application process.
Covid Info & Vaccination Requirements for Nepal
Which Flights go to Nepal from India
International Airports in Nepal:
Tribhuvan International Airport in Kathmandu (TIA)

Gautam Buddha International Airport in Lumbini

Pokhara Airport
Airlines Operating Direct Flights from India to Nepal:
Air India: Direct flights from Delhi and Varanasi to Kathmandu.

IndiGo: Direct flights from Delhi to Kathmandu.

SpiceJet: Direct flights from Delhi to Kathmandu.

Buddha Air: Direct flights from Varanasi to Kathmandu.
Common Airline Options with 1 Connection:
Qatar Airways: Via Doha

Etihad Airways: Via Abu Dhabi

Thai Airways: Via Bangkok
What is the Best Time to Visit Nepal?
Understanding the weather and seasonal variations in Nepal is crucial for planning a successful and enjoyable trip. Nepal's climate varies significantly due to its diverse geography, ranging from the tropical Terai plains to the high Himalayan mountains. Here's an elaboration on the peak season, shoulder season, and off-season in Nepal:
Peak Season (Autumn and Spring):
1. Autumn (September to November):
Weather: This is considered the best time to visit Nepal. The weather is mild and stable, with clear skies and comfortable temperatures.

Temperature: Daytime temperatures in the Kathmandu Valley and lower regions range from 20°C to 30°C (68°F to 86°F), making it perfect for outdoor activities and trekking.

Festivals: The popular Dashain and Tihar festivals usually fall during this season, providing a unique cultural experience.
2. Spring (March to May):
Weather: Spring is another excellent time to visit Nepal. The weather is warm, and the countryside comes alive with blooming rhododendrons and other flowers.

Temperature: Daytime temperatures range from 20°C to 30°C (68°F to 86°F) in the lower regions, making it comfortable for trekking and sightseeing.

Festivals: Holi, the festival of colors, is celebrated during this season, adding vibrant and festive colors to the streets.
Shoulder Season (Summer):
Summer (June to August):
Weather: The summer season in Nepal brings monsoon rains, particularly in the Terai region and the southern slopes of the Himalayas. The higher regions, such as the Annapurna and Everest regions, also experience rain.

Temperature: The temperature varies depending on altitude, with higher regions being cooler. In the Terai, temperatures can reach 35°C (95°F), while in the mountains, daytime temperatures range from 10°C to 20°C (50°F to 68°F).

Trekking: Trekking in some areas can be challenging due to slippery trails and leeches. However, the landscapes are lush and green during this season.
Off Season (Winter):
Winter (December to February):
Weather: Winter in Nepal brings cold and dry conditions, especially in the high-altitude regions. The Terai experiences milder temperatures.

Temperature: In the Kathmandu Valley and lower elevations, daytime temperatures range from 10°C to 20°C (50°F to 68°F). In the mountains, temperatures can drop well below freezing.

Trekking: High-altitude trekking routes, such as the Everest Base Camp and Annapurna Circuit, can be challenging due to snow and freezing temperatures. However, some lower-altitude treks, like the Ghorepani Poon Hill trek, are still accessible and offer beautiful winter vistas.

Clear Skies: Despite the cold, the winter months often provide clear skies and stunning mountain views, making it an attractive time for photographers and those interested in mountain panoramas.
Currency Information of Nepal
The official currency of Nepal is the Nepalese Rupee (NPR). Credit cards are widely accepted in major cities, but it's advisable to carry some cash for rural areas.
Stay Options
In Nepal, you can choose from a variety of accommodations, including:
Getting Around in Nepal
Airport Transfers: Taxis and pre-paid airport transfers are readily available at major airports.

Trains: Nepal has a limited train network, so most travel within the country is done by road.

Cabs: Taxis and ride-sharing services like Uber and Pathao operate in cities.

Buses: Local buses and tourist buses connect major cities and towns.
Comparison with India: Compared to India, Nepal's transportation system is more compact and relies heavily on road travel due to its mountainous terrain.
Tourist Attractions in Nepal
Kathmandu Valley
Kathmandu Durbar Square: A UNESCO World Heritage Site, this square is a living museum of ancient temples and palaces.

Swayambhunath Stupa (Monkey Temple): An iconic hilltop stupa with panoramic views of the valley.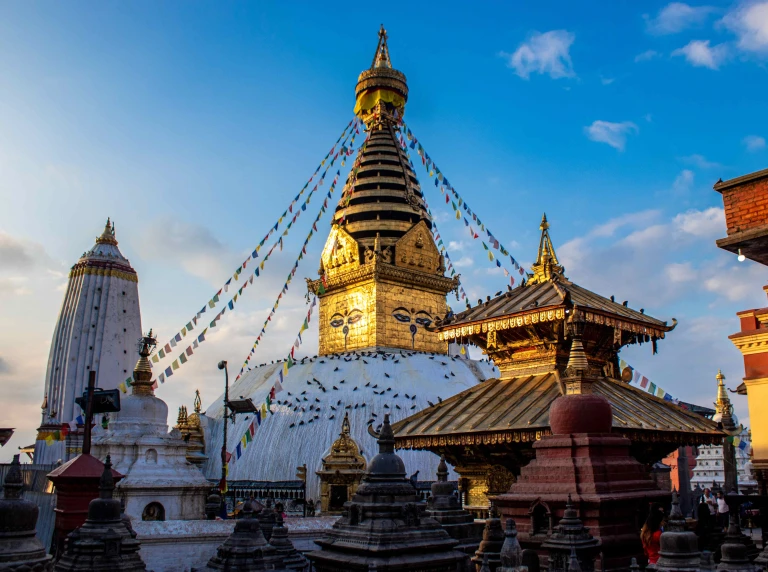 Must Eat in Nepal
Momos: Nepali dumplings stuffed with meat or vegetables, often served with a spicy sauce.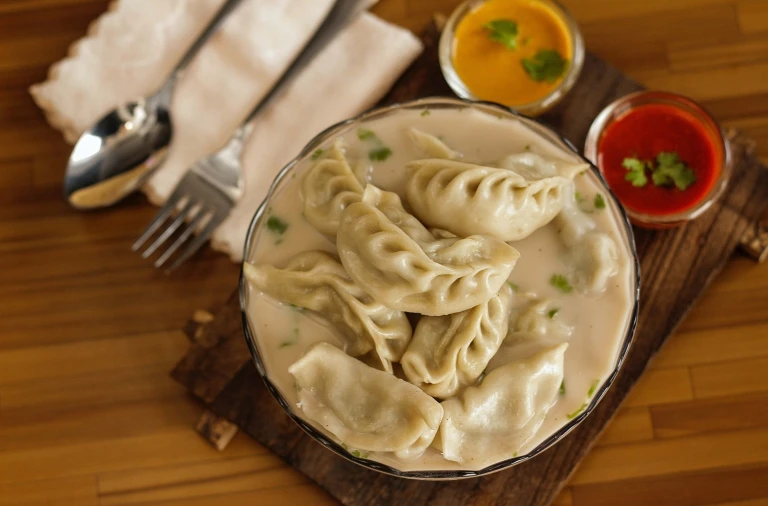 Dal Bhat: A traditional meal consisting of lentil soup (dal) and rice (bhat), usually accompanied by vegetables, pickles, and sometimes meat.

Newari Cuisine: Try local Newari dishes like Yomari, Bara, and Sel Roti.
Nepal's rich culture, breathtaking landscapes, and warm hospitality make it an ideal destination for Indian travelers. So pack your bags and embark on an unforgettable journey to this enchanting land.