India, with its diverse landscapes and breathtaking natural beauty, is a paradise for trekking enthusiasts. From the towering peaks of the Himalayas to the lush Western Ghats and the arid deserts of Rajasthan, this incredible country offers a wide range of trekking experiences for adventurers of all levels. Whether you're a seasoned trekker or a novice looking to embark on your first trekking adventure, this beginner's guide to trekking in India will provide you with essential insights, packing tips, and recommendations to make your journey a memorable and safe one.
Choosing Your Trekking Destination
Before diving into the nitty-gritty of packing, it's crucial to choose the right trekking destination in India. The country offers a plethora of options, each with its unique charm and challenges. Here are a few popular trekking destinations for beginners:
1. Manali, Himachal Pradesh
Nestled in the lap of the Himalayas, Manali is a great starting point for beginner trekkers. The Solang Valley and Hampta Pass treks are excellent choices, providing relatively easy terrains and captivating vistas.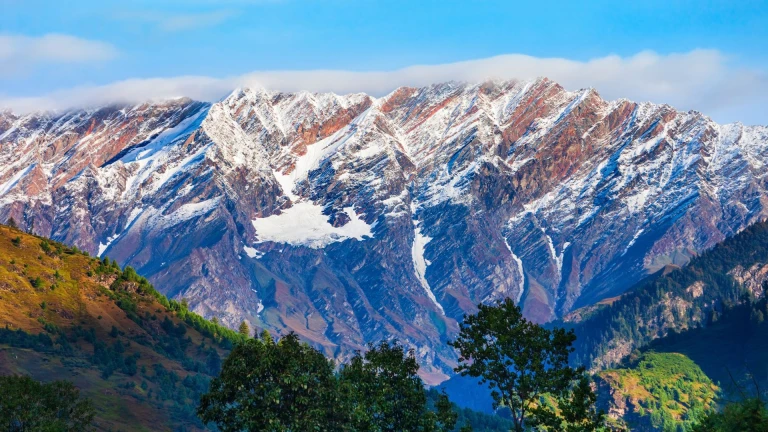 2. McLeod Ganj, Himachal Pradesh
Home to the Dalai Lama, McLeod Ganj is another picturesque location. The Triund trek is perfect for beginners, with moderate difficulty and breathtaking views of the Dhauladhar Range.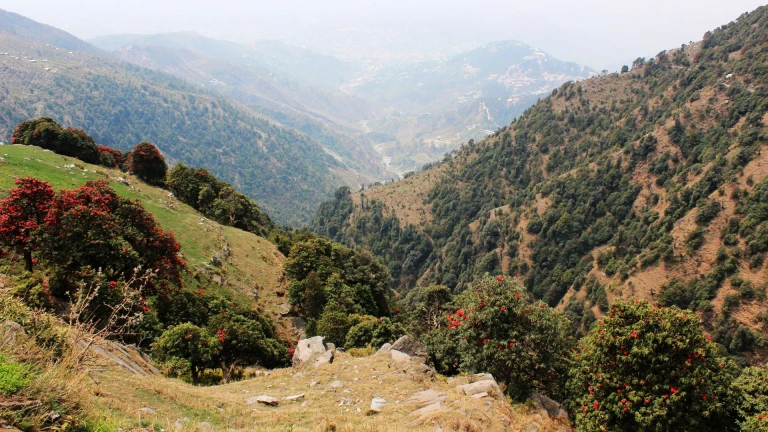 3. Rishikesh, Uttarakhand
Known as the Yoga Capital of the World, Rishikesh is a hub for adventure enthusiasts. The Kuari Pass and Valley of Flowers treks are excellent options for novice trekkers.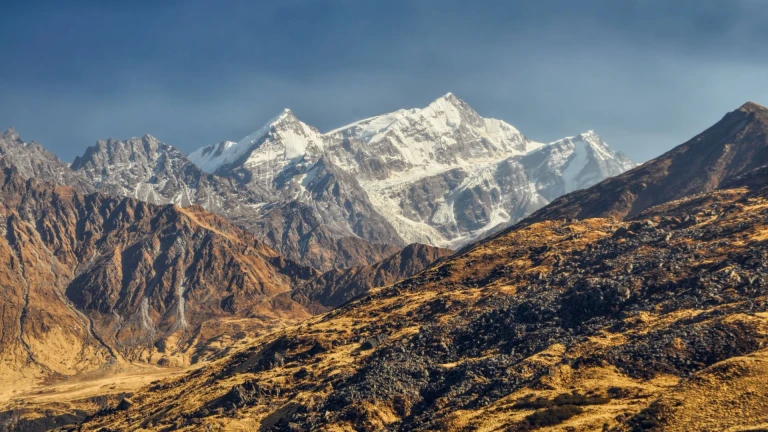 4. Kodaikanal, Tamil Nadu
In the southern part of India, Kodaikanal offers a different trekking experience. The Perumal Peak trek is relatively easy and provides a lush, green landscape.
5. Western Ghats, Maharashtra and Kerala
The Western Ghats are a treasure trove of trekking opportunities. Places like Munnar in Kerala and Lonavala in Maharashtra offer a variety of treks suitable for beginners.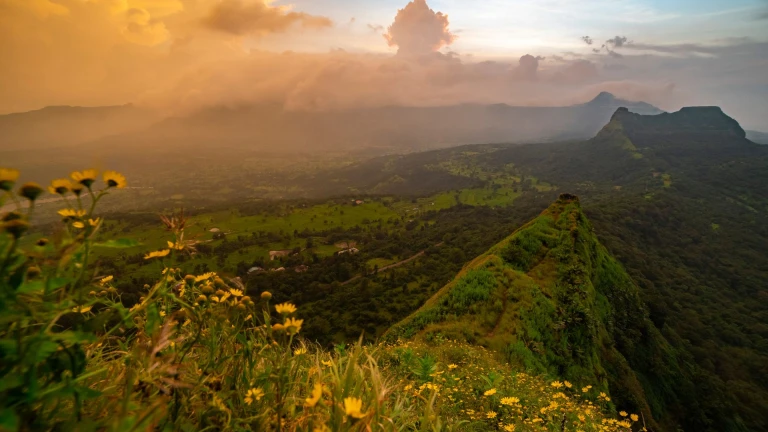 Research and Preparation
Once you've chosen your destination, thorough research and preparation are key to a successful trek. Here are some crucial steps:
1. Know the Trekking Route
Research the trekking route, its level of difficulty, and the expected weather conditions during your visit. This information will help you prepare your backpack and ensure you're adequately equipped.
2. Physical Fitness
Trekking can be physically demanding, so it's essential to assess your fitness level and prepare accordingly. Regular exercise and cardio workouts can help build your stamina.
3. Acclimatization
If you're heading to high-altitude trekking destinations, it's crucial to acclimatize yourself to the altitude to prevent altitude sickness. Spend a day or two in a nearby location at a lower altitude before starting the trek.
Packing Your Backpack
Packing your backpack efficiently is a critical aspect of a successful trek. Here's a comprehensive list of trekking essentials and tips for packing your backpack:
Clothing
Moisture-Wicking Base Layers: Pack moisture-wicking, breathable base layers to keep your body dry and comfortable.

Insulating Layers: Depending on the season, include fleece or down jackets to stay warm at higher altitudes.

Waterproof Jacket and Pants: Be prepared for unexpected rain or snowfall.

Trekking Pants: Opt for lightweight, quick-drying pants with zip-off legs for versatility.

Socks: Pack a few pairs of moisture-wicking and warm socks to keep your feet comfortable.

Gloves and Hat: Cold-weather essentials to protect your extremities.

Buff/Neck Gaiter: It's a versatile accessory that can be used as a headband, neck warmer, or face mask.
Footwear
Hiking Boots: Invest in a good pair of waterproof, ankle-supporting hiking boots with a sturdy sole.

Trekking Socks: Wool or synthetic blend socks are ideal for moisture management.

Gaiters: These help keep debris out of your boots and provide added protection.
Backpack
Backpack Size: Choose a backpack with a capacity of 40-60 liters to carry your essentials.

Rain Cover: Ensure your backpack has a rain cover to protect your gear from unexpected weather changes.

Daypack: A smaller, lightweight daypack is handy for short excursions from the base camp.
Camping Gear
Tent: If you're planning multi-day treks, consider carrying a lightweight, easy-to-pitch tent.

Sleeping Bag and Pad: Invest in a good sleeping bag rated for the expected temperatures. A sleeping pad provides insulation and comfort.

Cooking Equipment: If your trek requires cooking your meals, bring a compact stove, cookware, and utensils.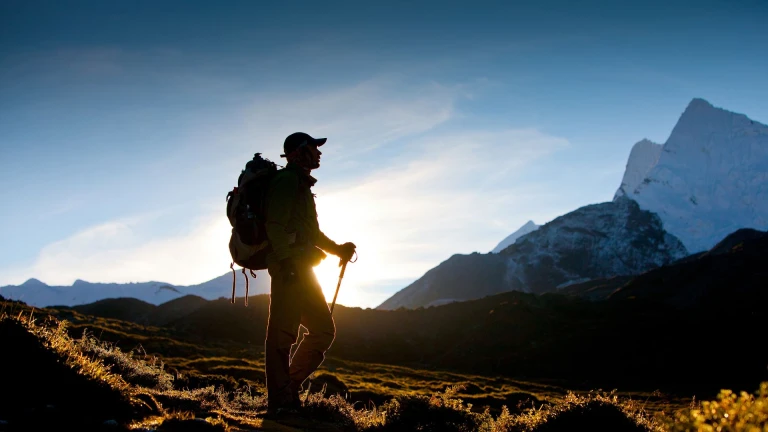 Navigation and Safety
Map and Compass/GPS: Have a detailed map of the trekking route and a reliable navigation tool.

First Aid Kit: Include basic medical supplies, blister treatment, pain relievers, and any personal medications.

Headlamp/Flashlight: A reliable light source is essential for night trekking and emergencies.

Multi-tool/Knife: These are handy for various tasks, including gear repair.

Emergency Whistle: An essential safety tool to signal for help.
Also Read: 10 Best Trekking Destinations in India for October and November
Personal Items
Toiletries: Travel-sized toiletries, a towel, and biodegradable soap.

Sunscreen and Lip Balm: Protect your skin from harsh sun exposure at higher altitudes.

Sunglasses: Quality sunglasses with UV protection are a must.

Trekking Poles: These can help with balance and reduce strain on your knees.

Identification and Documents: Carry identification, trekking permits, and emergency contact information.
Optional Gear
Camera: If you're a photography enthusiast, don't forget your camera gear.

Journal and Pen: Capture your thoughts and experiences along the way.

Entertainment: A book or music player for relaxation during downtime.

Packing Tips
Prioritize Essentials: Pack the essentials first, like clothing, food, and safety gear.

Use Packing Cubes: Packing cubes help organize your clothes and gear, making them easily accessible.

Distribute Weight: Balance your backpack by distributing weight evenly and keeping heavy items closer to your back.

Compression Sacks: Use compression sacks to reduce the volume of bulky items like sleeping bags and clothing.

Layer Your Gear: Place items you'll need quickly, like a rain jacket, at the top of your backpack.

Waterproof Everything: Use waterproof bags or zip-lock bags to protect your electronics, documents, and any other moisture-sensitive items.

Secure Loose Straps: Ensure that all straps and loose ends are secured to avoid entanglement.

Keep Hydration Handy: Attach a water bottle or hydration bladder to your backpack's side pocket for easy access.

Emergency Kit Access: Keep your first aid kit and emergency items in an easily accessible exterior pocket.

Test Load: Before starting your trek, wear your loaded backpack to test the weight distribution and comfort. Adjust straps as needed.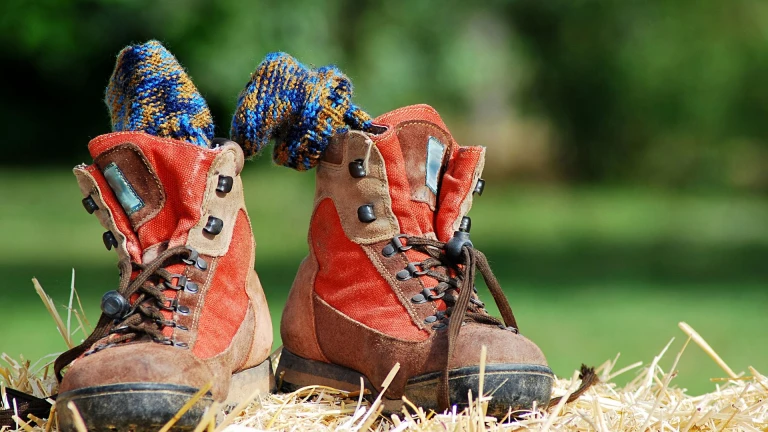 Trekking Etiquette
Respecting the environment and local communities is paramount while trekking. Here are some etiquette guidelines to follow:
Leave No Trace: Pack out all your trash and dispose of it properly. Follow the "Leave No Trace" principles.

Respect Wildlife: Observe animals from a safe distance and don't disturb them.

Cultural Respect: Be respectful of local customs and traditions. Ask for permission before taking photographs of people.

Quiet Trekking: Keep noise levels to a minimum to preserve the tranquility of natural surroundings.

Group Size: Limit the size of your trekking group to minimize the impact on the environment.
Safety Considerations
Your safety should always be a top priority while trekking in India. Here are some safety considerations to keep in mind:
Weather Awareness: Stay updated on weather conditions, especially in mountainous areas, where conditions can change rapidly.

Altitude Sickness: Be aware of the symptoms of altitude sickness and know how to respond if it occurs. Descend if symptoms worsen.

Emergency Communication: Carry a satellite phone or a personal locator beacon (PLB) for emergency communication.

Travel Insurance: Ensure you have appropriate travel insurance that covers trekking activities and medical emergencies.

Local Knowledge: Seek guidance from local trekking experts and guides who are familiar with the area.

Group Trekking: Whenever possible, trek with a group for added safety and support.

Emergency Contacts: Share your trekking itinerary and emergency contact information with a reliable person back home.
Trekking Resources and Agencies
While many trekkers prefer independent exploration, some may choose to go through trekking agencies for added convenience and support. Here are a few reputable trekking agencies and resources in India:
Indiahikes: A well-known organization offering a wide range of trekking options and support services.

Trek The Himalayas: Specializes in Himalayan treks and offers a variety of options for different skill levels.

WildBoots Adventure: Offers customized trekking experiences in various regions of India.

Trekking Clubs: Join local or online trekking clubs and forums to connect with fellow trekkers, share experiences, and gather valuable insights.
Also Read: Top 10 Must-Experience Train Route Journeys in India 2023
Also Read: 15 Beautiful Cultural Heritage Sites in South India
Trekking in India is an adventure of a lifetime, offering an opportunity to connect with nature, experience diverse cultures, and challenge yourself physically and mentally. By choosing the right destination, conducting thorough research, and packing thoughtfully, you can make your trekking experience safe and unforgettable. Remember to respect the environment, follow safety guidelines, and immerse yourself in the incredible beauty of India's diverse landscapes. So, gear up, lace your boots, and embark on your journey to discover the mesmerizing world of trekking in India.
Now that you've been equipped with essential trekking knowledge and packing tips, you're ready to embrace the trails and create your own adventure. Whether you're gazing at the snow-capped peaks of the Himalayas or wandering through the lush forests of the Western Ghats, the trekking experiences in India await your discovery. Happy trekking!