Indians should visit the Maldives for an idyllic tropical getaway just a short flight away. This paradise offers stunning white-sand beaches, crystal-clear waters teeming with marine life, and luxurious overwater bungalows. It's an ideal destination for honeymooners, families, and adventure seekers. The Maldives also provides a glimpse into a unique island culture and cuisine. With visa-free entry and a range of accommodation options, it's the perfect escape for those seeking tranquility and natural beauty.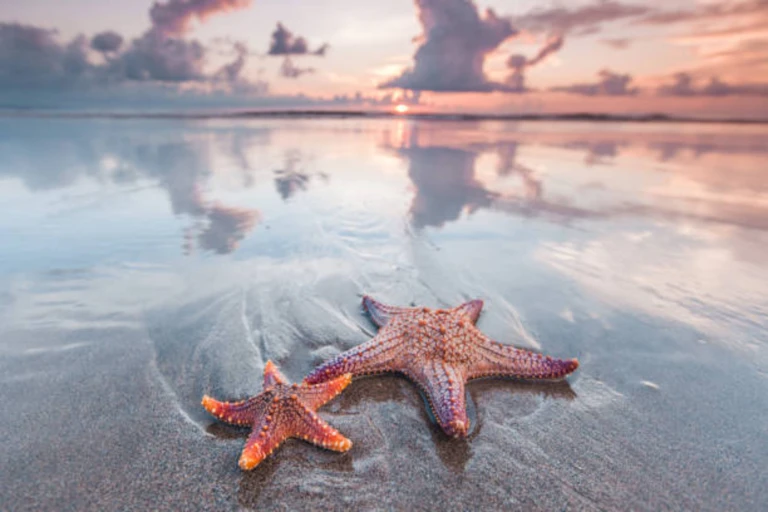 Is a COVID test mandatory for Indians visiting Maldives?
Maldives is fully open for Indian travellers. Pre-arrival PCR (Covid-19) test is not required for all passengers arriving Maldives. Travel-related quarantine is no longer required.
How to get to Maldives from India?
By Sea : Cruises from India to Maldives
Traveling directly from Bangalore to the Maldives by sea isn't feasible as Bangalore is an inland city without access to the sea and Delhi is Landlocked. To reach the Maldives by sea, you would need to travel to a coastal city in India, such as Cochin or Mumbai, and from there, you can board a cruise or ferry to the Maldives.
The cruise journey typically takes several days and offers a unique travel experience, but it's important to plan and book in advance, considering the logistics and duration of the sea voyage. Most travellers to the Maldives opt for the convenience of air travel, which is faster and more readily available. the minimum cost for a cruise trip to maldives from india starts from Rs 31,000/ person. It can go up to as high as Rs 3, 00,000/ person.

Mumbai
Cruises to the Maldives offer an exquisite vacation experience. Departing from Mumbai, Costa Victoria's 7-night luxury cruise features 654 cabins, 5 restaurants, 10 bars, and numerous amenities for all ages. Le Laperouse Ponant Cruises, known for its French elegance, presents a 9-day voyage with balcony staterooms, fine dining, and unique features like an underwater lounge.

Cochin
Costa Victoria's 3-night cruise boasts theaters, casinos, and pools. Amet Cruises offers a 4-night escape with premium cabins. Le Laperouse Ponant Cruises provides a 9-day adventure through Maldives' stunning islands, featuring snorkeling and more.
The best time for a Maldives cruise is during the winter season from November to March. This period offers delightful weather with minimal rainfall and comfortable temperatures ranging from 20-30°C, perfect for outdoor activities and water sports. A recommended cruise duration is 4-6 days, particularly during the summer months from November to April, allowing travelers to fully enjoy the enchanting Maldives.
By Air : Best Flights from India to Maldives
Certainly, here's the information about flights from India to the Maldives divided into categories:
Direct Flights from India to Maldives: Delhi, Mumbai, Bangalore, Chennai, Kolkata, Hyderabad, Goa, Pune, Cochin, Trivandrum, and more.
Cities in India with Flights to the Maldives: Major cities such as Delhi, Mumbai, Bangalore, Chennai, Kolkata, Hyderabad, Goa, Pune, Cochin, Trivandrum, and more offer flights to the Maldives.
Airports in the Maldives Receiving International Flights:
- Velana International Airport (MLE) in Malé, Maldives, is the primary international gateway for flights from India.
Cheapest Flights:
Cheapest Flight Deals from Maldives to India:
Kochi: Starting at ₹ 9,221 per passenger. Departure on Thu, 21 Sep, with a one-way direct flight via IndiGo from Velana International to Kochi.

Mumbai: Priced from ₹ 10,129 per passenger. Departure on Wed, 27 Sep, featuring a one-way indirect flight with Emirates from Velana International to Mumbai.

Bengaluru: Starting at ₹ 10,282 per passenger. Departure on Thu, 21 Sep, with a one-way direct flight via IndiGo from Velana International to Bengaluru.

Chennai: Priced from ₹ 10,773 per passenger. Departure on Thu, 21 Sep, with a one-way indirect flight via IndiGo from Velana International to Chennai.
The cheapest time to fly from Maldives to India is usually in November.
Indigo Known for relatively quick direct flights, like the one from Kochi to Malé, which takes approximately 1.5 hours.
Airlines Recommended for Flights from India to Maldives:
- Indigo: Known for competitive rates.
- Emirates: Offers premium services with layovers.
- Air India: Provides options for flights from major Indian cities.
- SpiceJet: Known for its budget-friendly options.
Please note that flight rates can vary depending on factors like the time of booking, seat class, and the season of travel. It's advisable to compare prices across various airlines and booking platforms for the most suitable option.
Average flight time - 2 hrs, 23 mins
List of Documents required for Madives Visa
Indian citizens traveling to the Maldives do not need a prior visa. They can obtain a free visa on arrival, which is initially valid for 30 days, extendable up to 90 days, provided they meet entry requirements at immigration upon arrival.

List of Required Documents for a Maldives Visa:
1. A valid original passport with more than 6 months of validity beyond your travel date and a minimum of 3 blank pages. Ensure you also bring any previous passports, if applicable.
2. Two recent coloured passport-size photographs measuring 35mm in width and 44mm in length, with a clear view of your face.
3. Proof of accommodation, such as hotel bookings or details of your chosen lodging.
4. Confirmed return or onward flight ticket from the Maldives.
5. Adequate funds to cover your expenses during your intended stay in the Maldives, approximately USD 50 per day.
6. A completed traveller health declaration, submitted within 72 hours of your flight departure.
Procedure for Obtaining a Maldives Visa for Indian Travelers:
A Maldives tourist visa for Indian citizens is granted upon arrival at the airport by immigration authorities, and the process is straightforward.
1. You will receive a Maldives Tourist Form to complete with accurate information. Airlines often provide this form, allowing you to fill it out before landing to save time.
2. After completing the form, you'll need to submit the required documents as specified by the government.
3. Following document submission, there will be a brief interview with an Immigration officer who may ask you some questions.
Visa Fees for the Maldives:
A tourist visa granted on arrival for a duration of 30 days is free of charge. However, if you wish to extend your visa for 90 days, a fee of INR 3350 (or MVR 750) is applicable.
Please note that visa regulations and fees can change, so it's advisable to verify the latest information with the Maldives embassy or consulate before your trip.
The visa on arrival process for the Maldives doesn't involve a specific processing time because it's granted upon arrival. However, the Department of Immigration and Emigration will verify your stay details and eligibility upon your arrival in the country.
Currency information
The currency in Maldives is the Maldivian Rufiyaa and is non-convertible, so it cannot be purchased in advance. The currency is available in denominations of 500, 100, 50, 20, 10 and 5 Rufiyaa notes. You can carry the US Dollar and can be used within Maldives. You can also exchange currency at the airport at the Bank of Maldives Foreign Exchange counter, which is the only dedicated foreign exchange counter.
List of Documentaries required for travelling to Maldives
As of September 2023 , Indian citizens visiting the Maldives usually need the following documents:
1. Passport: Ensure it's valid for six months beyond your departure date.
2. Visa: A free visa on arrival, usually valid for 30 days (extendable to 90 days).
3. Photos: Two recent passport-sized photos.
4. Accommodation Proof: Hotel reservations or an invitation letter.
5. Funds Proof: Demonstrate financial means (around USD 50/day).
6. Health Declaration: Submit within 72 hours of departure.
Commute : How to get around in Maldives
Getting around in the Maldives, especially for Indian travellers, primarily involves:
1. Speedboats: Speedboats are a common and convenient mode of transportation between islands and resorts. Indian travellers can easily access these for island transfers and excursions. They provide a scenic way to explore the archipelago.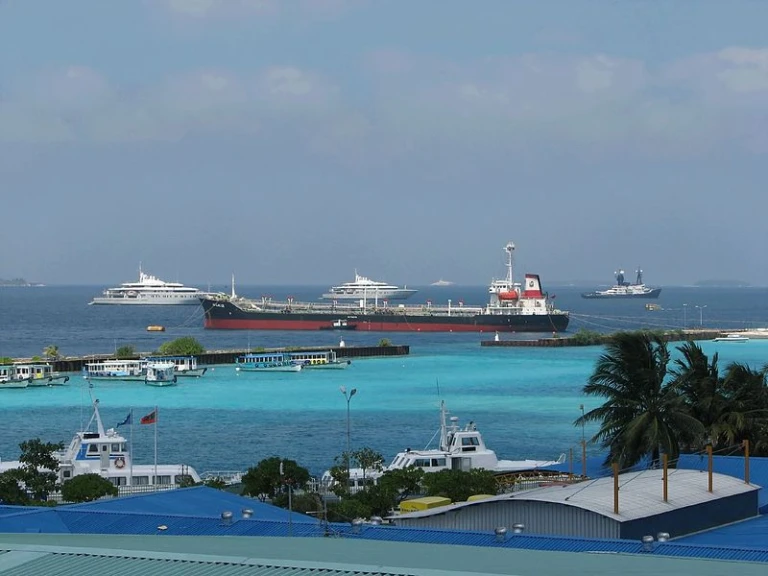 2. Domestic Flights: For traveling between distant atolls, domestic flights are efficient. They often connect with international flights at Male International Airport, making it accessible for Indian travellers.
3. Public Ferries: Public ferries are an affordable option for island hopping. However, schedules can be less frequent, so check timings in advance.
4. Seaplanes: While pricier, seaplanes offer stunning aerial views and efficient transport to remote islands and resorts.
5. Taxis and Buses: In Male, the capital, taxis and buses are common. Taxis don't have meters, so negotiate fares. Buses are an affordable option for exploring Male.
6. Walking and Cycling: On smaller islands and in Male, walking and cycling are eco-friendly ways to get around.
7. Renting Bicycles: Many resorts offer bicycles, allowing travellers to explore islands at their own pace.
8. Private Yachts and Cruises: For a luxurious experience, consider chartering a yacht or booking a cruise, both of which are popular among Indian tourists.
Keep in mind that transportation options may vary from one island to another, so check with your accommodation for the best local recommendations.
What to do in Maldives for Indian Travellers?
The Maldives offers a plethora of stunning places to visit, especially for Indian travellers seeking a tropical paradise. Some must-visit places include:
1. Male: The capital city is a bustling hub with markets, historical sites like Hukuru Miskiy, and cultural experiences.
2. Ari Atoll: Famous for its marine life and snorkeling spots like Maaya Thila, this atoll offers a serene escape.
3. Baa Atoll: Known for its UNESCO Biosphere Reserve, it's a haven for divers and nature enthusiasts.
4. Hulhumale Island: Located near Male, this reclaimed island features beautiful beaches and water sports.
5. Addu Atoll: The southernmost atoll offers a unique cultural experience and the British Loyalty Shipwreck for divers.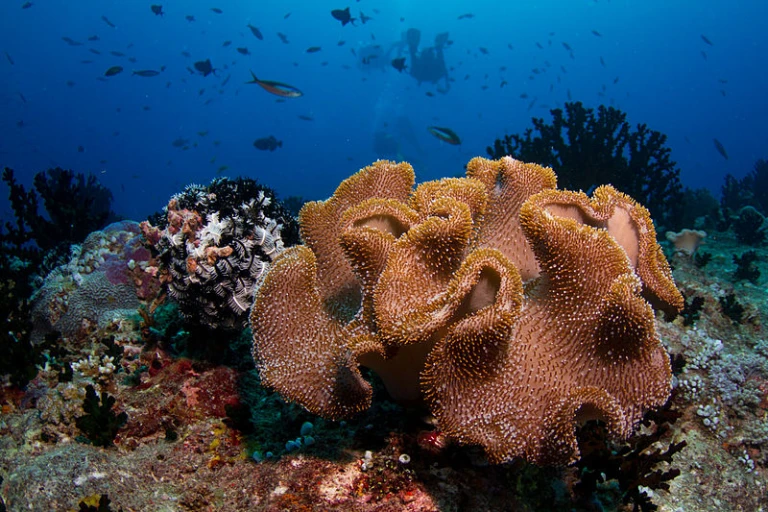 6. Maafushi: A budget-friendly destination with white-sand beaches, water sports, and proximity to Male.
7. Hanifaru Bay: Famous for manta ray and whale shark sightings, it's a must-visit for divers.
8. Fihalhohi Island: A tranquil retreat with pristine beaches and lush greenery.
9. Kuramathi Island: Ideal for honeymooners, it offers romantic overwater bungalows and vibrant marine life.
10. Miriyandhoo Island: Home to luxurious resorts and a house reef for snorkeling.
These are just a few of the many enchanting places in the Maldives. Whether you seek adventure, relaxation, or a romantic getaway, the Maldives has something to offer every traveller.
Food and accommodation
Must try Places and Dishes worth trying
Certainly, the Maldives offers a diverse culinary experience for various types of travellers. Here are some must-try places to eat and dishes to savor based on your travel preferences: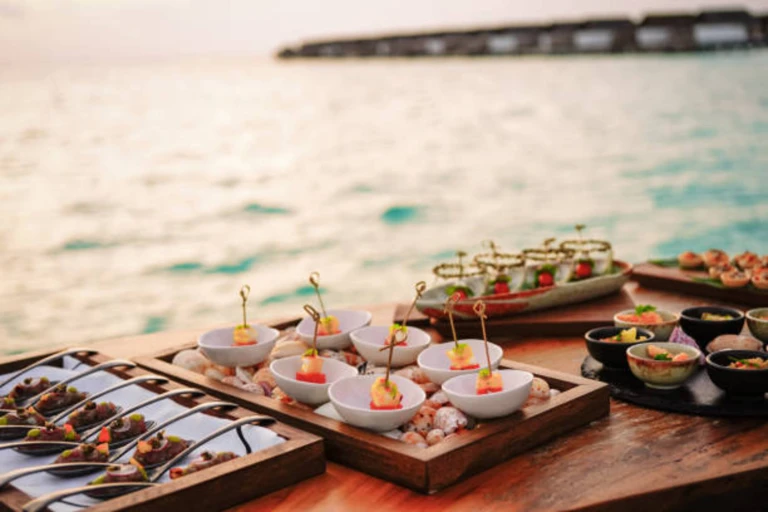 For Solo Travelers (Budget):
- Local Cafés: Head to local cafés and eateries on inhabited islands for authentic Maldivian dishes like mas huni (tuna salad) and roshi (flatbread). It's budget-friendly and a great way to interact with locals.
- Malé Street Food: Explore the street food scene in Malé, the capital. Try bajiya (fish or vegetable pastries) and hedhikaa (short eats) from local stalls.
For Families:
- Buffet Dinners at Resorts: Many resorts offer lavish buffet dinners with international cuisines. Kids can enjoy a variety of options, and parents can savor fresh seafood and grilled dishes.
- Beachfront Dining: Opt for a beachfront dinner at a family-friendly resort. Enjoy seafood BBQ, pizzas, and pasta while listening to the waves.
For Couples:
- Underwater Restaurants: Experience romance at underwater restaurants like Ithaa at Conrad Maldives Rangali Island. Savor gourmet dishes while surrounded by vibrant marine life.
- Private Dining on the Beach: Many resorts offer private beach dinners with personalized menus. Enjoy a romantic evening under the stars.
Must-Try Dishes for Everyone:
- Maldivian Fish Curry: A flavorful coconut-based curry with local spices, often served with rice.
- Garudhiya: A traditional fish soup served with rice, lime, and chili.
- Lobster: Savor fresh lobster, a Maldivian seafood delicacy, at beachside restaurants.
- Curry Tuna: Tuna is a staple in Maldivian cuisine. Try it as a curry, grilled, or in sushi.
- Coconut and Palm Sap Treats: Sample sweet treats like huni hakuru folhi (coconut cakes) and roshi (coconut pancakes) made with palm sap.
Remember that dining in the Maldives can be expensive, especially at resorts. Be sure to check restaurant reviews and prices to suit your budget and preferences.
Places to Stay and Hotel recommendations
The Maldives offers a wide range of accommodations to suit different types of travellers. Here are some must-try places to stay and hotel recommendations for Indian travellers based on your travel preferences:
For Solo Travelers:
1. Hostels and Guesthouses: Consider budget-friendly hostels and guesthouses on local inhabited islands. These offer a chance to interact with locals and fellow travellers. Recommendations: Isle Beach Inn, Dhiffushi Inn.
2. Surf Camps: If you're a solo traveler seeking adventure, opt for a surf camp on a remote island. Recommendations: Raalhu Lodge, Cokes Surf Camp.
For Families:
1. Family-Friendly Resorts: Choose resorts that cater to families with kid-friendly amenities, such as water sports, kids' clubs, and family-sized villas. Recommendations: Kurumba Maldives, Centara Grand Island Resort & Spa.
2. Overwater Bungalows: Experience the luxury of staying in an overwater bungalow, where families can enjoy privacy and direct access to the ocean. Recommendations: Angsana Velavaru, Lily Beach Resort & Spa.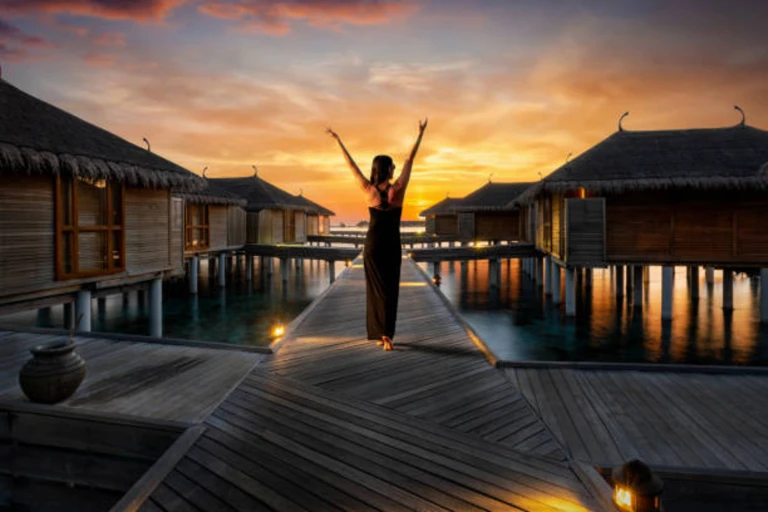 For Couples:
1. Private Villas: Enjoy romantic seclusion in a private villa with a pool and direct beach access. Recommendations: Gili Lankanfushi Maldives, Soneva Jani.
2. Adult-Only Resorts: Opt for adult-only resorts for a tranquil and intimate experience. Recommendations: Komandoo Maldives Island Resort, Hurawalhi Island Resort.
3. Underwater Villas: Take your romance to the next level with an underwater villa experience, surrounded by marine life. Recommendations: Conrad Maldives Rangali Island, The Muraka at Conrad Maldives.
Remember that the Maldives is known for luxury resorts, and prices can vary significantly. It's essential to research and book accommodations that align with your budget and preferences. Additionally, consider all-inclusive packages for convenience and value.
Best Time to visit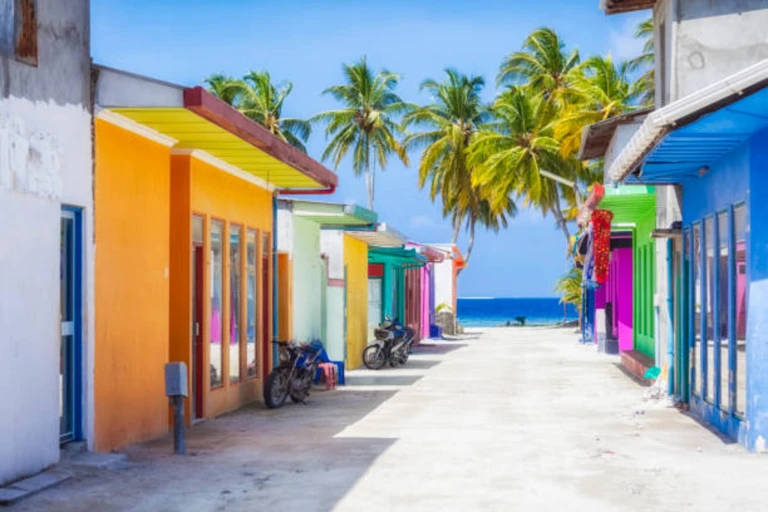 On-Season (Peak Season: November to March): This period is characterized by idyllic weather. The skies are clear, the sea is calm, and the visibility underwater is excellent, making it perfect for snorkeling, diving, and water sports. It's also the busiest time, so booking in advance is essential.

Shoulder Season (April to June): During these months, the weather remains pleasant, and there are fewer tourists, which means you can enjoy the beauty of the Maldives with more tranquility. Hotel rates may be more budget-friendly compared to the peak season, and you can still relish the sea and the sun.

Off-Season (Monsoon: July to October): This season is marked by lower prices for accommodations and tours. The lush green landscapes are stunning, and the Maldives' natural beauty truly shines. However, be prepared for occasional rain and storms, which can affect outdoor activities and water visibility. If you're on a budget and don't mind a little rain, this can be a great time to visit.
Culture of Maldives
The Maldives boasts a rich and unique culture influenced by its historical ties to South Asia, the Middle East, and Africa. The culture is characterized by vibrant music, traditional dance, intricate handcrafts, and delicious cuisine. The Maldivian way of life is closely connected to the sea, with fishing being a fundamental part of their identity. Visitors can explore local markets, witness traditional performances, and even partake in fishing excursions to immerse themselves in this captivating culture.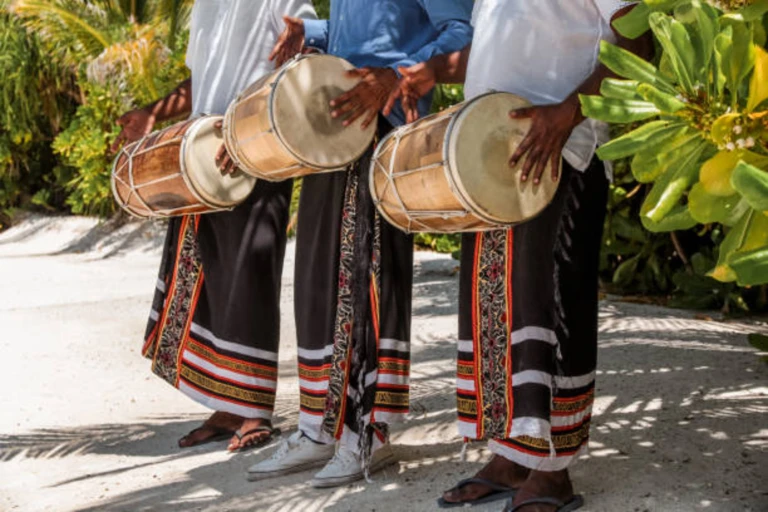 Travel Tips:
Respect local customs by dressing modestly on inhabited islands.

Use sunscreen and stay hydrated, as the sun can be intense.

Exchange currency at the airport or major banks on inhabited islands.
The Maldives in 2023 promises a slice of paradise like no other. Get ready to dive into azure waters, bask in the sun, and create lifelong memories in this tropical haven.