Travel Guide to Malaysia from India 2023
Nestled in the heart of Southeast Asia, Malaysia is a captivating nation renowned for its rich tapestry of culture, stunning natural landscapes, and a harmonious blend of tradition and modernity. This diverse and vibrant country, consisting of Peninsular Malaysia and the states of Sabah and Sarawak on the island of Borneo, offers a compelling story of unity in diversity.
Can I travel to Malaysia from India?
Yes, Malaysia is completely open to Indian travellers, both for tourists as well as business travel.
Malaysian Visa Requirements for Indian travellers
Indian citizens are required to obtain a visa before travelling to Malaysia. The process involves submitting your application along with necessary documents such as passport copies, photographs, and proof of accommodation and financial stability. You can see the list of required documents below. It is advisable to apply for your visa well in advance to avoid any last-minute hassles.
The Malaysian government offers different types of visas depending on the purpose of your visit. Whether you're going for tourism, business meetings, or visiting family and friends, there's a specific visa category for each purpose. Make sure you choose the correct one when applying.
You can apply for e-Visa online. The e-Visa is valid for 3 months and allows you to stay in Malaysia for up to 30 days.
Additionally, keep in mind that immigration officers may ask about your travel itinerary or accommodation details upon arrival in Malaysia.
Documents required for applying Malaysian e-Visa
Colored scanned copy of passport first and last page. Applicant's passport should be valid for at least six months from the date of entry into Malaysia with two blank pages

Colored scanned photograph with white background taken in last 3 months, 35 mm X 45 mm in size and 80% face coverage

Confirmed return flight tickets to origin country or any other countries

Proof of Stay - Hotel reservation or Invitation letter, Passport or Resident Permit copy of Inviter (If visiting family & friends)

Covering letter from Indian company, Invitation letter from host company (For Business Visa only)

Birth Certificate for minors (below 14 years)

Is there a visa on arrival in Malaysia for Indian citizens?
As an Indian citizen, you can apply for visa-on-arrival (VOA) if the specified eligibility criteria is met. You cannot directly get a visa on arrival, but if you are travelling from connected countries like Singapore, Thailand and Indonesia, then you will get your VOA.
The maximum stay duration for a visa on arrival is 15 days. You cannot extend this.
You can get your visa on arrival at certain airports, borders and ferry terminals. But It's recommended to apply for e-visa rather than trying for VOA.
Covid Info & Vaccination Requirements
You can enter Malaysia regardless of your COVID-19 vaccination status. No pre-departure or on-arrival COVID-19 test is required for travellers entering Malaysia. But it's better to have your certificate handy to have a zero restriction smooth experience.
How many international airports are there in Malaysia
There are 6 International airports in Malaysia:
Kuala Lumpur International Lumpur (KLIA)

Langkawi International Airport

Kuching International Airport

Penang International Airport

Kota Kinabalu International Airport

Senai International Airport

Which airlines operate direct flights(Non Stop), and from which India airports
These are few of the direct flight options from major cities to Malaysia:
Bengaluru
Delhi
Mumbai
Which other common airline options (1-stop flights)
AirAsia Berhad - Bengaluru to Penang International Airport / Langkawi International Airport

AirAsia X - Delhi to Langkawi International Airport / Penang International Airport

Srilankan Airlines - Mumbai to Langkawi International Airport / Penang International Airport / Kota Kinabalu International Airport
What to eat in Malaysia?
Mee Goreng Mamak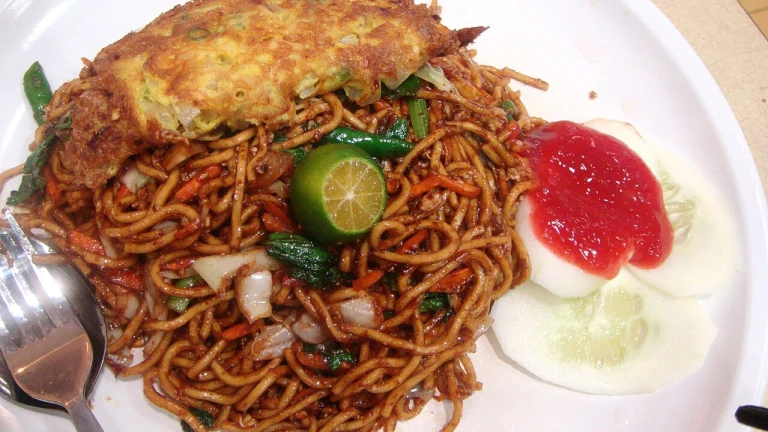 Mee Goreng Mamak - [Image credits - Vikas D. Nambiar
Mee Goreng Mamak, often simply referred to as Mee Goreng, is a popular Malaysian and Singaporean dish that originated from the Indian Muslim (Mamak) community. It is a type of fried noodles dish that's known for its rich and flavorful taste.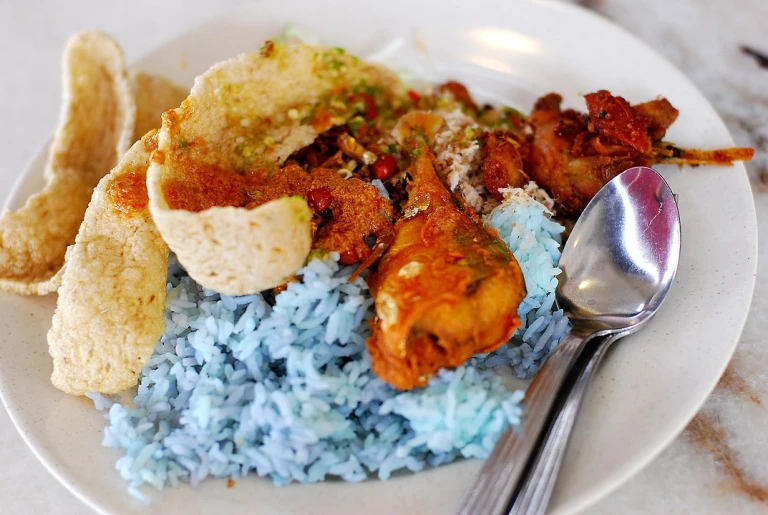 Nasi kerabu [Image credits amrufm from Shah Alam]
Best time to visit Malaysia
The best time to visit Malaysia depends on what you want to see and do.
The dry season (April to October) is the best to cover most of Malaysia, as it is the warmest and driest time of year.
The wet season (November to March) is the best time to visit the east coast of Malaysia, as it is the time of year when the beaches are at their best.
Overall, Malaysia has a tropical climate and the time between December and April is favourable. There will be a bit of rain here and there with the mix of sunny days. But always carry an umbrella. Another big reason to visit the nation during this period is for the festivals. The Chinese Dragon year and Thaipusam are celebrated during this time.
Currency Information of Malaysia
The Malaysian Ringgit (MYR) is the official currency of Malaysia. It is also known as the Malaysian dollar. The currency's abbreviation is RM and its currency code is MYR.
The ringgit circulates widely in denominations of one, five, 10, 20, 50, and 100. Coins are issued in denominations ranging from 5 to 50 sen.
What to do in Malaysia?
Start your journey in Kuala Lumpur, the capital city of Malaysia.
Explore the iconic Petronas Twin Towers and enjoy panoramic views from the observation deck.

Don't forget to visit Batu Caves, a Hindu shrine nestled within limestone caves – it's truly a sight to behold!
For nature lovers,
Head to Borneo Island where you can embark on thrilling wildlife encounters.

Visit Sepilok Orangutan Rehabilitation Centre and witness these amazing creatures up close.

Take a river cruise along Kinabatangan River and spot proboscis monkeys, pygmy elephants, and colourful birds.

If you're looking for some relaxation time,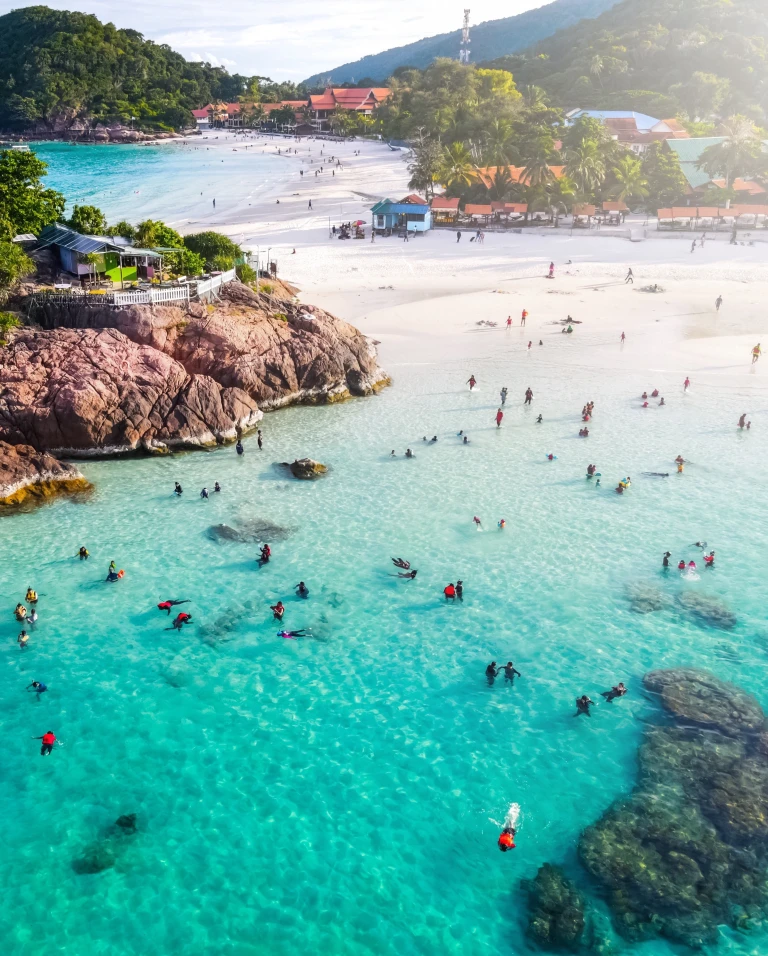 Food enthusiasts will be delighted by Malaysia's diverse cuisine influenced by Malay, Chinese, Indian, and Peranakan cultures. Indulge in mouthwatering dishes like nasi lemak (coconut rice), satay (grilled skewers), roti canai (flaky flatbread), and laksa (spicy noodle soup).
No trip to Malaysia is complete without experiencing its rich cultural heritage.
Visit Georgetown in Penang which boasts beautiful colonial architecture and vibrant street art scenes.

Immerse yourself in Malaysian culture at Central Market in Kuala Lumpur or explore traditional longhouses in Sarawak.
Mode of travel - Commuting in Malaysia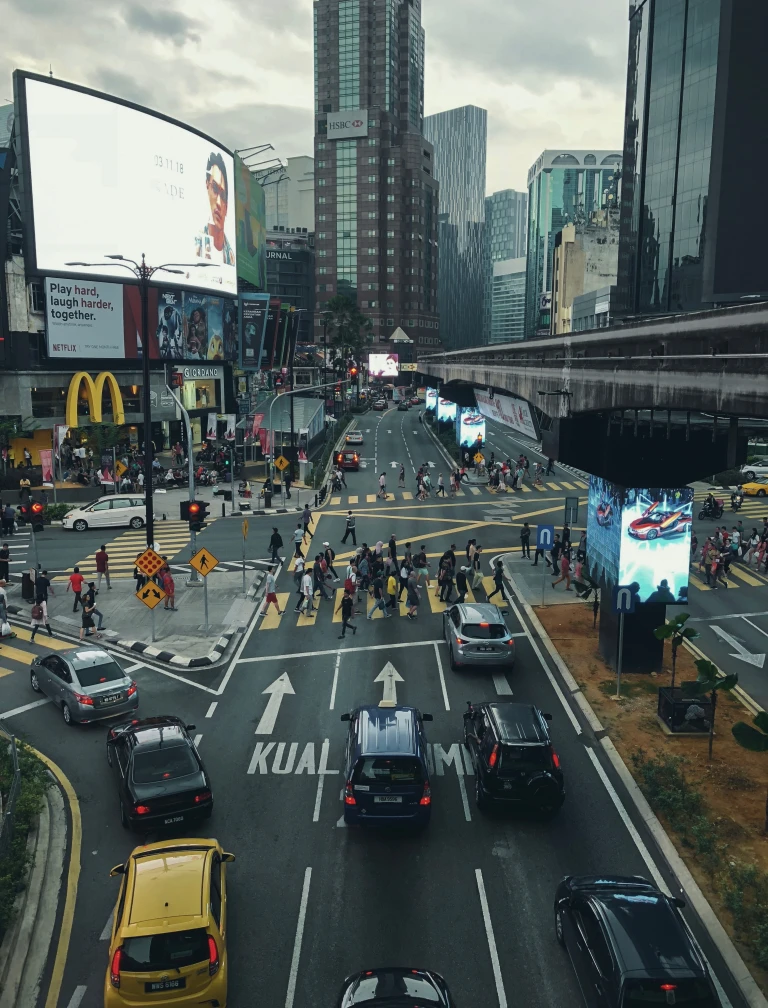 One of the most convenient ways to get around Malaysia is by using public transportation. The country has an extensive network of trains, buses, and taxis that cater to both locals and tourists alike.
The KL Monorail and LRT systems in Kuala Lumpur provide easy access to major attractions and shopping districts. For longer journeys between cities, you can opt for intercity buses or trains which offer comfortable seating and air-conditioning.
motorcycles or scooters are a popular choice among locals. You can easily rent one from various rental shops across the country. Just make sure to adhere to local traffic rules and wear appropriate safety gear.
If you're planning on visiting some of Malaysia's beautiful islands such as Langkawi or Perhentian Islands, ferry services are available from mainland ports.
Few differences between India and Malaysia
Malaysia is a multicultural country, with a mix of Malay, Chinese, Indian, and other cultures. Whereas India is a much more diverse country, with a wide variety of languages and cultures.

Malaysia has a tropical climate, while India has a more varied climate.