Kuala Lumpur is the capital of Malaysia and a popular tourist destination. We can witness a diverse range of cultures, unique spots and activities at this place. The best way one can experience all these like a local in Kuala Lumpur is through Airbnb. In this article we have compiled Top 6 Airbnb in Kuala Lumpur for your next trip to Malaysia.
Over 50,000 Airbnb listings are available in Kuala Lumpur alone. We are here to sort it out and make sure you get the best possible experience one can have by curating the ones that suit everyone.
Be it a budget-friendly or a luxurious stay you are looking for, we got you covered. We have something for everyone. So let's get this started.
This Tidy Apartment at the Prime location!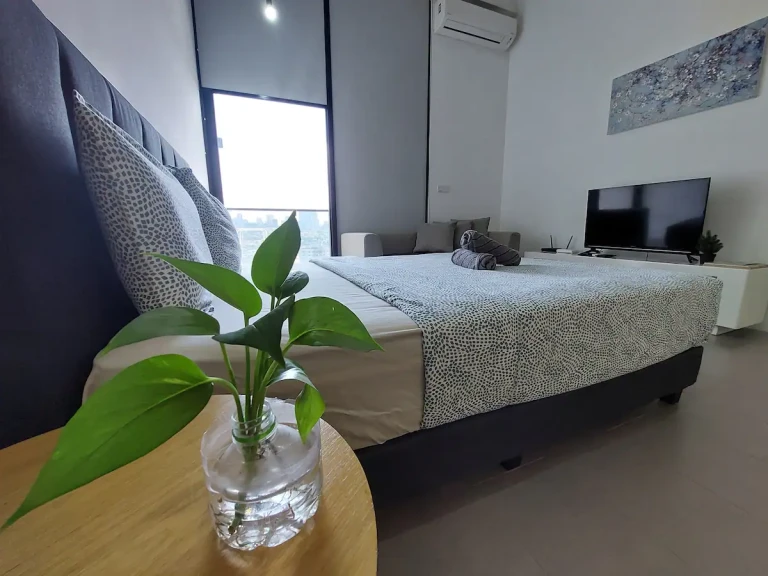 Listing name: Sanitized Loft, KL Sentral, EST#6 Bangsar
Listing type: Duplex apartment
Max. no. of guests: 4
No. of bedrooms: 1
A well-maintained and sanitized duplex apartment, prioritizing your safety! Conveniently situated in a prime location, just one LRT stop away from KL SENTRAL transit hub, with direct access to KLIA and other parts of the city. Additionally, it offers a covered link bridge to Bangsar LRT Station, ATM machines, and a Convenience Store. With its peaceful and central setting, it is only 5 minutes from KL Sentral, 10 minutes from Mid Valley Megamall, and 15 minutes from KLCC.
This Asian Tropical Living Experience Airbnb in Kuala Lumpur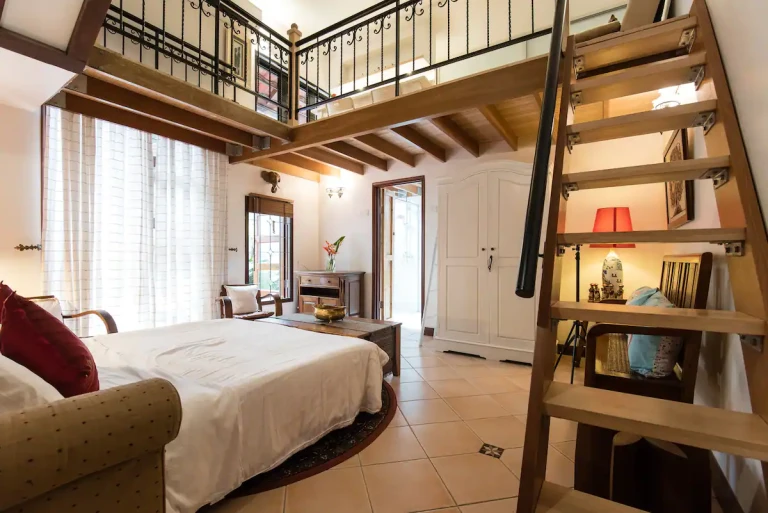 Listing name: Asian Tropical Living Experience
Listing type: Private studio apartment 
Max. no. of guests: 4
No. of bedrooms: 2
Experience the essence of nature in a Tropical studio located on a lush landed property. Enjoy the privacy of your own studio with a kitchenette, dining table, sofa set, queen-size bed, free WIFI, and cable TV. Shared common areas include an outdoor living room, water feature, and garden. Situated in a secure, gated community, the property is just a 10-minute drive from Ikea and the Curve shopping centers in Petaling Jaya, a suburb located 30 minutes away from downtown Kuala Lumpur.
This High-Floor Modern Apartment in Bukit Bintang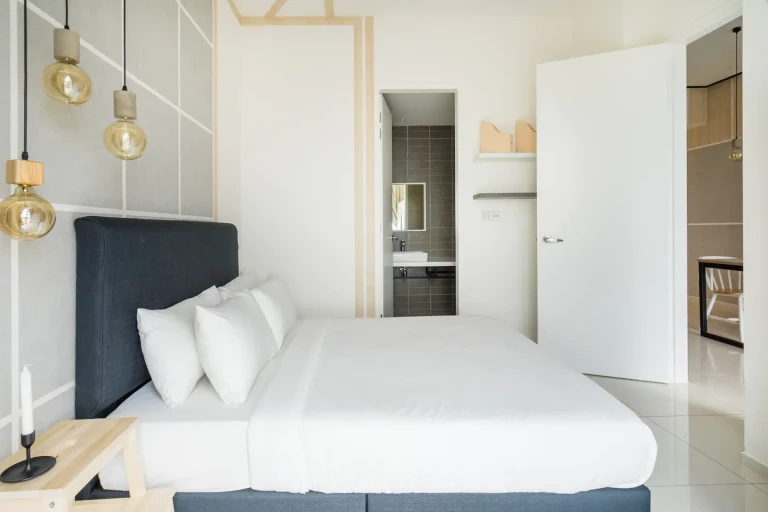 Listing name: High-Floor Modern Apartment with Incredible Views
Listing type: Suit
Max. no. of guests: 4
No. of bedrooms: 1
This centrally located condo is only a three-minute walk from Pudu Sentral Station and close to various local restaurants and nightlife. The Pavilion Shopping Centre is easily accessible with a 10-minute monorail ride, and there's also an LRT station within a 5-minute walk for convenient travel around town. Additionally, booking a GrabCar or Uber is a hassle-free option with affordable fixed fares within the city.
This Spacious Airbnb Apartment for your Family Vacation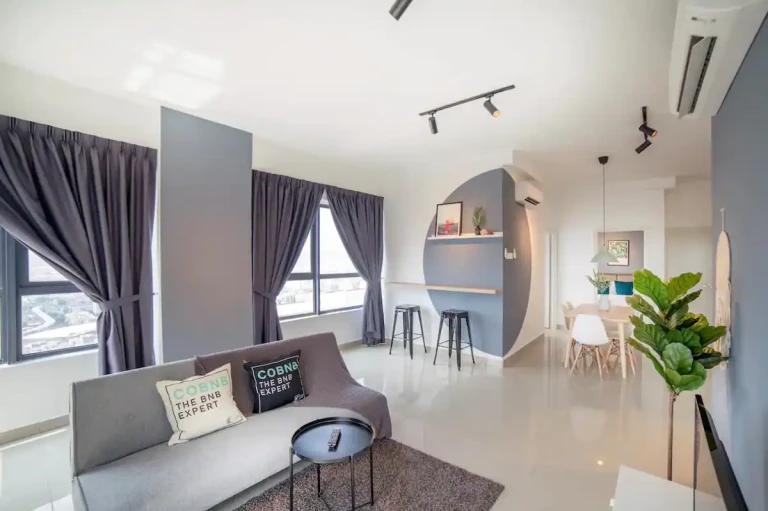 Listing name: 10min to KLCC Spacious Suites
Listing type: Entire apartment
Max. no. of guests: 8
No. of bedrooms: 3
Escape the noise and traffic of KL at this serene location, just 10 minutes away from the city center. Experience luxury in our 3-bedroom unit, fully equipped with high-speed internet and a Private Lift, offering everything you and your family need for an ideal getaway. Perfect choice for family and friends to get together and their time away from home. This suite is located at Arte Plus Ampang. 
This stylish apartment Airbnb in Kuala Lumpur City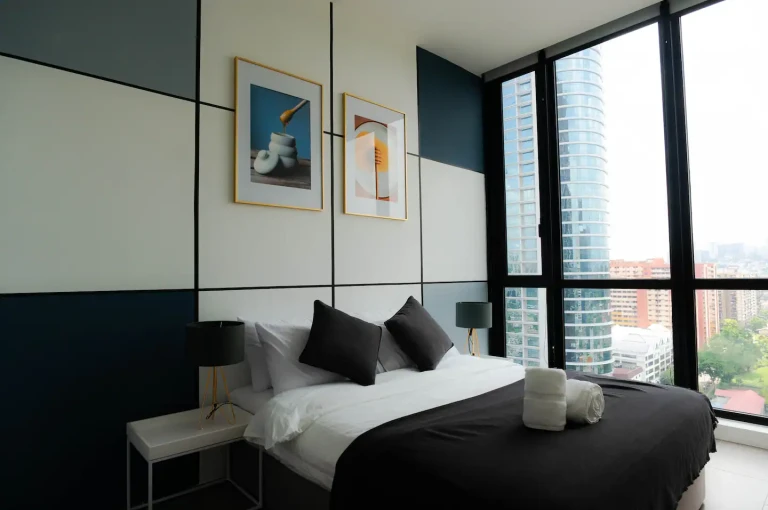 Listing name: Urban Hive @ est Bangsar
Listing type: Apartment
Max. no. of guests: 7
No. of bedrooms: 2
Urban Hive @ EST offers a stylish and modern yet inviting design, providing a delightful stay experience in KL city. Its direct link bridge to the Bangsar LRT station ensures seamless connectivity throughout Kuala Lumpur, making it a perfect choice for urban explorers. Ideal for large families or groups of friends traveling together.
This Stylishly Designed Loft with panaromic view of KLCC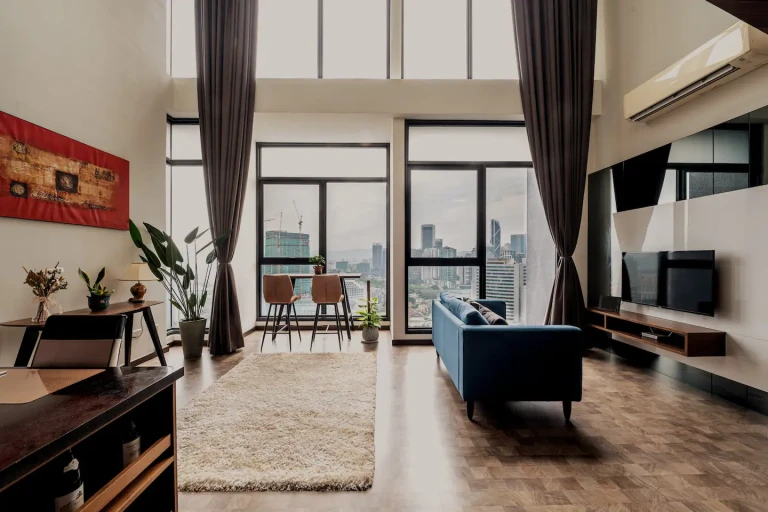 Listing name:  KLCC View Stylish Loft
Listing type: Entire Loft
Max. no. of guests: 6
No. of bedrooms: 3
This 2-storey Duplex Loft unit suite offers a breathtaking panoramic view of KLCC Twin Towers and the surrounding area. Enjoy unobstructed vistas of Kuala Lumpur from a high floor, unwind at the bar table with stunning night skyline views, and indulge in relaxation with a warm bathtub bath. The perfect place to soothe your soul and experience the beauty of the city.
These are a few of the top curated Airbnb in Kuala Lumpur we have come up with, so that you can have a smooth, safe and joyful experience with your loved ones. Have a great stay and enjoy your holiday!