Gokarna, a prominent tourist destination in Karnataka, is renowned for its beautiful beaches, breathtaking vistas, lush landscapes, challenging trekking paths, and ancient pilgrimage sites. It is an ideal vacation for singles, couples, and families with children, with a relaxed environment and limitless adventure choices. The relaxed environment offers a vacation from everyday life, while the adventure allows you to discover the hidden side of life. Gokarna offers a calm getaway from the rush and bustle of city life with its tranquil beaches and magnificent sunsets.
Furthermore, the historic pilgrimage sites provide an insight into the region's rich cultural legacy, providing a spiritual touch to the whole experience. Whether you're seeking solitude or seeking thrills, Gokarna has something for everyone, making it a truly remarkable destination to visit.
History of Gokarna
Ravana, the ruler of Lanka in Hindu mythology, sought immortality by acquiring Atmalinga from Lord Shiva. To appease Shiva, he did hard penance on Mount Kailash, and after getting the atmalinga, he was told not to retain it on Earth. Lord Vishu requested Lord Ganpati's assistance to find a solution and preserve the world from annihilation, fearing that Ravana would attain enormous power. A small kid, a form of Lord Ganesha, met Ravana as he neared Gokarna for his nighttime rites.
Ravana requested the kid to keep the atmalinga till he returned, on the condition that he call his name three times and leave it on the ground if Ravana failed. Lord Ganpati summoned Ravana several times, but he did not reply. As Ravana failed to reply, the child then vanished, leaving the atmalinga on the ground. When Ravana discovered what was going on, he tried to pull out the atmalinga out of the ground which came out in the form of a cow's ear.This is thought to be how Gokarna got its name, as Go means cow and Karna means ear.
Places to Visit in Gokarna
When you're in Gokarna, you can never fall short of places to explore during the day and at night as this destination is loaded with a plethora of tourist attractions that are worthy of your time. From a diverse range of sandy beaches to mesmerizing waterfalls, pilgrimage sites, and hundreds of action-packed recreational activities, you'll find here something of your interest for sure.
1. Gokarna Cliff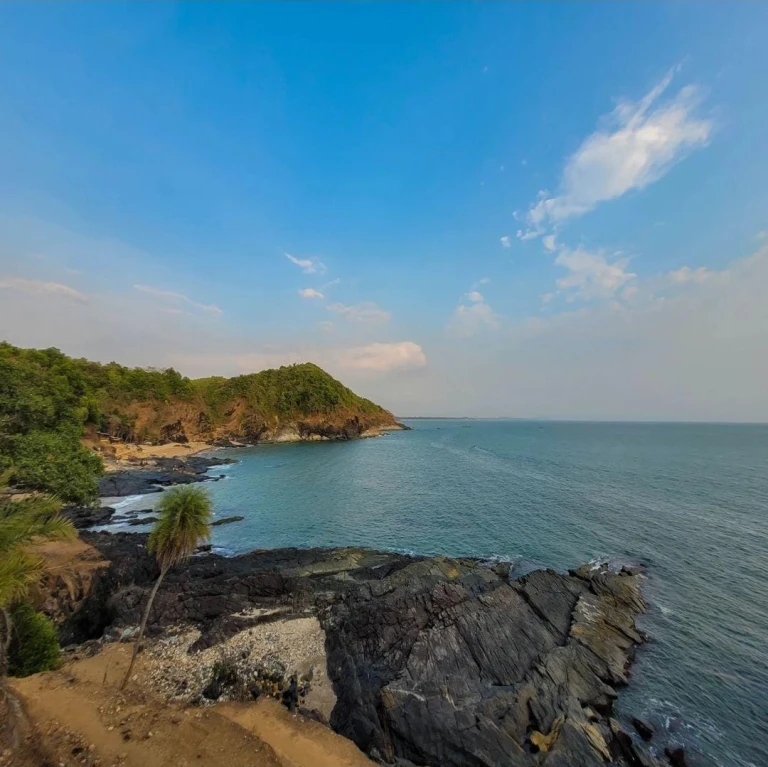 One of the most well-known tourist destinations in Gokarna is the Gokarna Cliff, which shouldn't be missed. It is the most desired site, and the breathtaking view there will leave you speechless. Even if scaling the cliff involves some effort, the knowledge gained is priceless. From the top of Gokarna Cliff, visitors may enjoy sweeping views of the lovely beaches and blue ocean below. The cliff's tranquil atmosphere makes it the perfect place to unwind and enjoy Gokarna's natural beauty.
Explore the exhilarating adventures offered for thrill-seekers at Gokarna Cliff, including rappelling down the cliff face or paragliding above it, to add an extra level of excitement to your trip.
2. Belekan Beach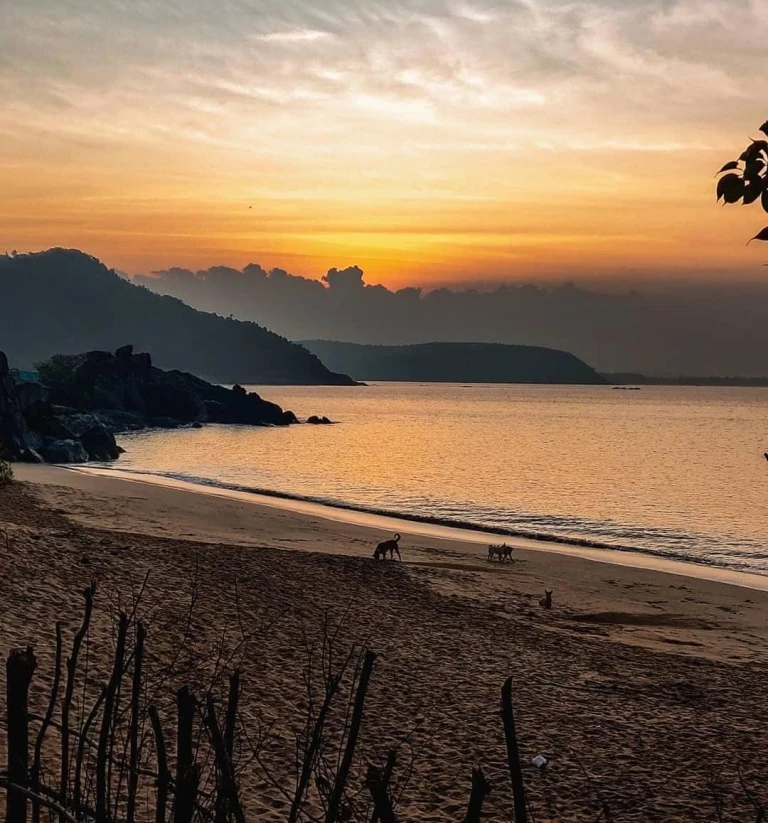 On the outskirts of Gokarna, there is a lovely beach. Belekan Beach, like every other beach in Gokarna, has a stunning vista and a peaceful atmosphere that will astound any tourist. Get swept up in the captivating sunset across the horizon from 5 to 7 o'clock in the evening. The clean, white, golden sands and rocky terrain of this beach draw visitors all year. Nothing is more peaceful than spending a few quiet minutes here with your loved ones because of the combination of stunning nature and a few adventurous activities.
A few shacks in the area offer a decent selection of culinary products. These shacks provide a perfect opportunity to indulge in some delicious local cuisine while enjoying the picturesque surroundings. Additionally, the beach is also a popular spot for water sports enthusiasts, with options like snorkelling and kayaking available for those seeking a bit of adventure.
3. Paradise Beach (Full Moon Beach)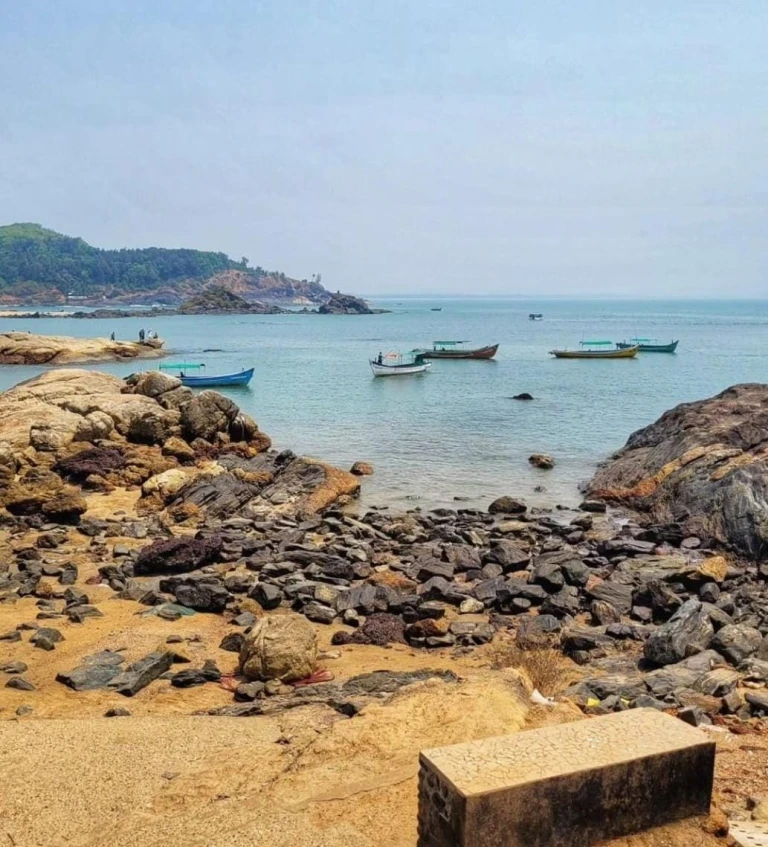 Paradise Beach, also known as 'Full Moon Beach', is 150 meters long and primarily covered in rocks, with the rest of the beach adorned with clean white sand. Although not much water sports are available, swimming in the calm waters is a great way to refresh the mind and body. The beach is not accessible by road and can only be reached via Half Moon Beach and Om Beach. Visitors can hire a motor boat or hike from Half Moon Beach, which takes less than 20 minutes. During the night, foreign travelers often stay and cook meals. The beach has a freshwater well, making it an ideal spot for camping and drinking. Swimming is enjoyable, but swimming far across the shore is risky due to strong currents. Visitors can also enjoy local cuisine in nearby localities.
4. Half Moon Beach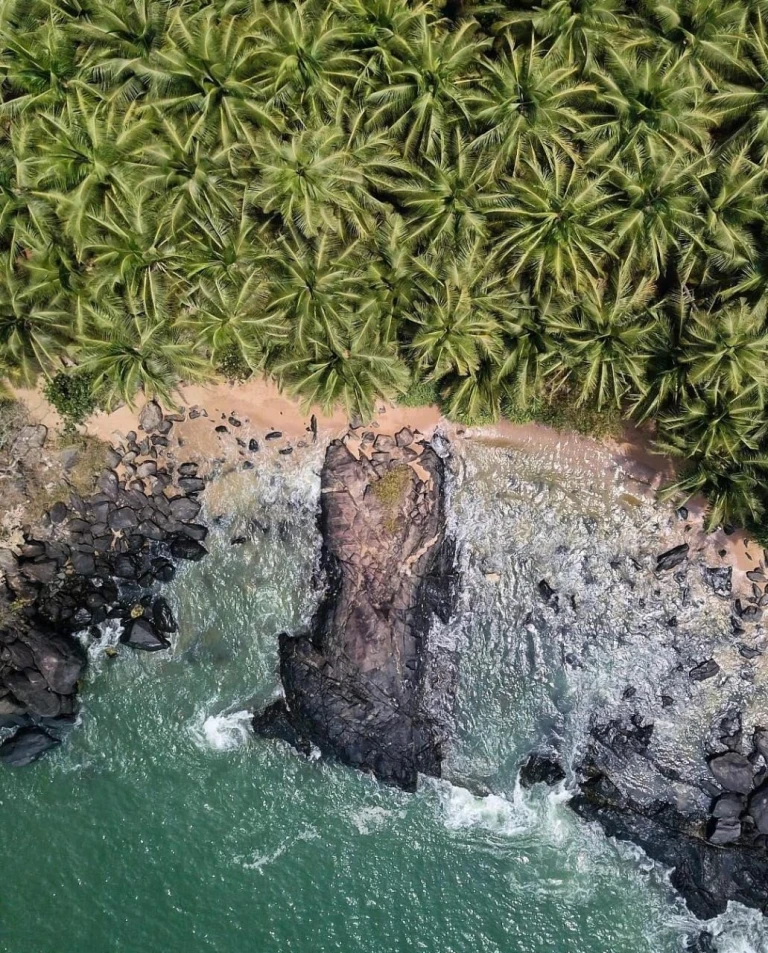 Half Moon Beach is in a beautiful setting. The beach receives its name from its half-moon shape. The waters and beaches of Half Moon Beach are known for their clarity. A great place to unwind is Half Moon Beach, which is largely frequented by foreign visitors and backpackers.
Walking to Half Moon Beach from Om Beach is a thrilling experience. Because it is distant from the crowd, this beach is a perfect area to enjoy some fun activities and some delicious food served at adjacent beach shacks. This beach is a great escape from the city's hustle and bustle or for enjoying classic beach activities like swimming and tanning. It is moreover a key component of the beach trek's appeal.
5. Om Beach

Om Beach in Gokarna, known for its spiritual significance, is a popular destination for both locals and tourists. The beach's contour matches the 'Om,' sign, making it a fortunate place for the locals. The beach features a merging of two semi-crescent ground fragments, giving it its name.
The beach is a photographer's dream, offering stunning rock formations and a variety of activities to enjoy. The sands are thin and fragile, and the changing landscape stages are spectacular. Visitors are encouraged to bring their cameras to capture memories.
6. Mahabaleshwar Temple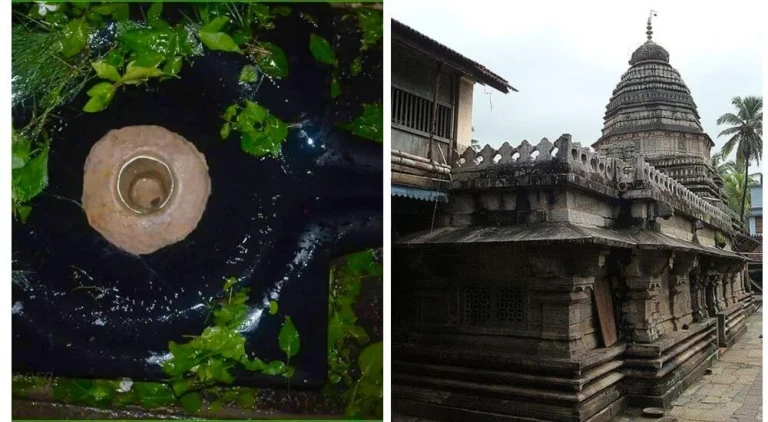 The Atmalinga, a 6-foot-tall Shiva Linga, is worshipped here at the temple. It is a typical example of Dravidian architecture, constructed of white granite. The most prominent deity is a 1500-year-old carved stone Lord Shiva statue in the standing position. The temple is featured in Hindu mythology such as the Mahabharata and Ramayana, and it is claimed to be as important as Kashi, earning it the moniker Dakshin (South) Kashi.
The summit of the Atmalinga is the only section of the Linga that devotees can see. However, the Atmalinga is displayed to worshippers at the Ashta Bandana Kumbhahishekam, a festival held every 40 years. Devotees must first take a dip in the Karwar Beach, which faces the temple, then visit the Maha Ganapathi Temple, which is direct across the street, and finally the Mahabaleshwar Temple.
7. Koti Tirtha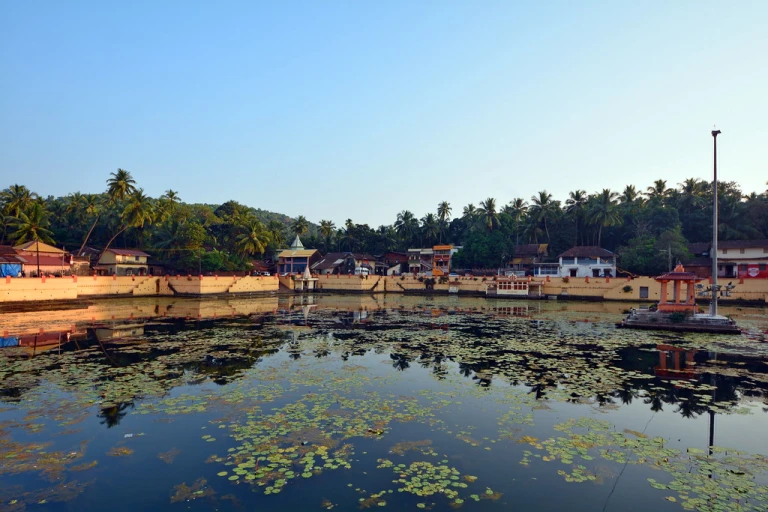 A man-made pond called Koti Tirtha is about 1.5 kilometers from the main city of Gokarna and has significant religious importance. This stunning holy tank is spread out across 6 acres and receives a lot of visitors all year. Many worshippers flock here to soak their feet in the holy water since it is close to the Mahabaleshwar temple in Gokarna.
Priests and monks can be seen praying and reciting mantras while sitting by the pond. On three sides, vibrantly colored temples and monasteries and tall coconut trees elegantly round the area. The water of the pond is tinted green by the shadow cast by the foliage of these sky-touching trees. Take in the reflecting beauty of the stunning structures and trees that gives inner peace.
8. Mirjan Fort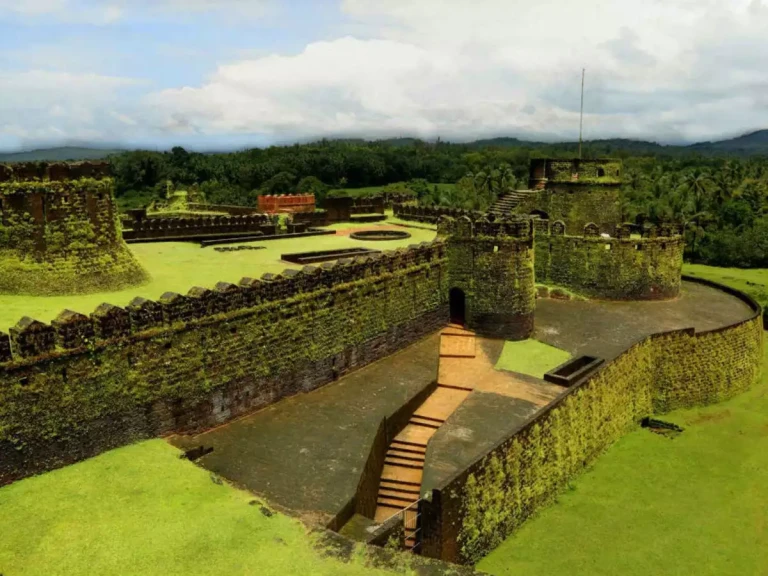 Buried deep in the heart of nature on the coast of Gokarna, the Mirjan Fort is a terrific getaway destination. On the banks of the Aghanashini River, Mirjan Fort serves as a magnificent memorial to our glorious history. This 4.1-acre (16th-century) fort, which is around 22 kilometres from Gokarna, is full of historical and cultural treasures. There are many stories about the fort's modest (or not-so-modest) beginnings, though.
The fort, which was in operation until 1785, is said to have seen several previous fights in the 16th century. Later, the British took control of this fort and used it as a frontal defense. It is guarded by antiquated elements like streams, moats, secret tunnels, and other typical characteristics of forts worldwide. The grand fort seems like a castle from a fairy tale since it is covered in grass and vegetation. Doesn't that make you want to go there now?
Frequently Asked Questions about Gokarna
Is it safe in Gokarna at night?
Yes, Gokarna is safe at night. You can even enjoy a night trek and stay in beach shacks or tents. However, it's essential to be well-prepared to handle any unexpected situations.
Is Gokarna Beach Trek difficult?
No, The Gokarna Beach Trek is suitable for those with basic fitness.
Which is the nearest Airport to Gokarna?
Goa International Airport is the nearest International airport to Gokarna. For domestic travel, Hubli Airport is the nearest.
What is the dress code for Mahabaleshwar Temple?
The dress code for men includes a shirt with trousers, dhoti with an upper cloth, or pajamas with an upper cloth. For women, it's preferred to wear a saree or half-saree with a blouse or chudidhar with pajamas and an upper cloth.
Conclusion
Gokarna, nestled in Karnataka, stands as a treasure trove of natural beauty and cultural heritage. Its serene beaches, awe-inspiring cliffs, and lush landscapes offer a perfect escape from the rigors of everyday life. Whether you seek relaxation or adventure, Gokarna caters to all, making it an exceptional destination for solo travelers, couples, and families alike.
In every corner of Gokarna, there's an invitation to explore, to absorb, and to be enchanted. Whether you're a seeker of tranquility or an adventurer at heart, Gokarna unfolds a tapestry of experiences that leave an indelible mark on the soul. This coastal haven, with its blend of natural wonders and cultural heritage, is a testament to the richness and diversity that India has to offer. Gokarna, undoubtedly, is a jewel in Karnataka's crown, beckoning travelers to witness its unparalleled beauty and embrace its timeless stories.