Whether you're interested in exploring ancient history, enjoying stunning natural scenery, or savoring diverse cuisines, Israel has something for every traveler. This guide will provide you with essential information, tips, and recommendations to make your trip unforgettable and stress-free.
Before You Go
Visa and Entry Requirements
Indian citizens must obtain a visa to enter Israel. You can apply for a tourist visa at the Israeli Embassy or Consulate in India. Ensure your passport is valid for at least six months beyond your intended departure date.
To apply for an Indian tourist visa to Israel, you will need to prepare a set of required documents and fulfill specific requirements.
Please note that visa requirements may change over time, so it's essential to check with the nearest Israeli Embassy or Consulate in India or visit the official website for the most up-to-date information.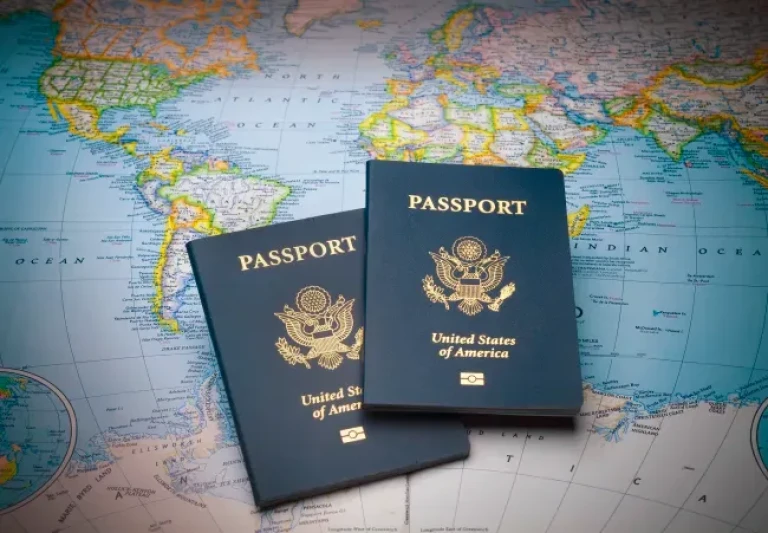 Here are the typical documents and requirements for an Indian tourist visa to Israel:
Visa Application Form: You will need to complete a visa application form. This form can typically be downloaded from the website of the Israeli Embassy or Consulate in India or obtained in person at the embassy/consulate.

Valid Passport: Your passport must be valid for at least six months beyond your intended departure date from Israel and should have at least two blank visa pages for stamping.

Passport Photos: Generally, you will need two recent passport-sized photographs with a white background. Ensure that the photos meet the specific requirements outlined by the consulate.

Visa Fee: You will be required to pay a non-refundable visa fee. The fee amount and payment methods may vary, so verify this with the consulate.

Proof of Travel Itinerary: Provide a copy of your confirmed round-trip flight itinerary, indicating your entry and exit from Israel.

Proof of Accommodation: You may need to provide hotel reservations or an invitation letter from your host in Israel, specifying your intended place(s) of stay.

Travel Insurance: While not always mandatory, having travel insurance that covers medical emergencies and trip cancellations is highly recommended.

Financial Proof: You might need to demonstrate your ability to financially support yourself during your stay in Israel. Bank statements or a letter from your employer indicating your financial stability can serve as proof.

Purpose of Visit: Write a letter explaining the purpose of your visit to Israel, including your intended travel dates, places you plan to visit, and any other relevant information.

No Objection Certificate (NOC): If you are employed, you may need to provide an NOC from your employer, granting you permission to travel to Israel.

Proof of Ties to India: To establish your intention to return to India after your visit, you can provide documents such as property papers, proof of employment, or evidence of family ties in India.

Additional Documents: Depending on your specific circumstances, the embassy or consulate may request additional documents.
Once you have gathered all the necessary documents, schedule an appointment with the Israeli Embassy or Consulate in India to submit your visa application. The processing time and fees may vary, so it's essential to check these details ahead of time.
Currency Exchange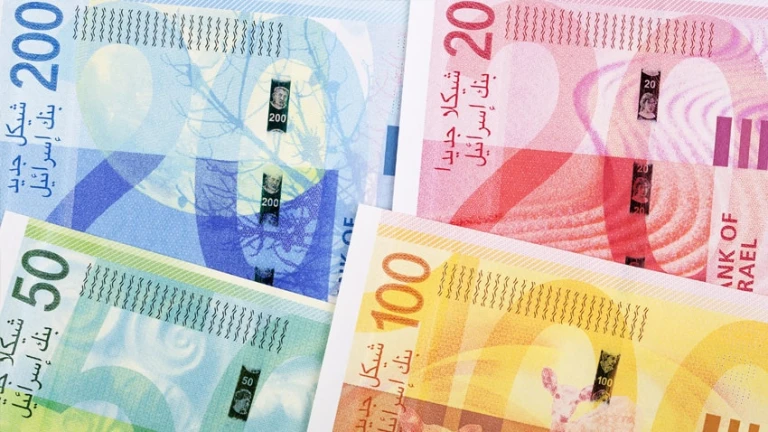 The currency used in Israel is the Israeli New Shekel (ILS). Currency exchange is readily available at banks, exchange offices, and ATMs. Credit cards are widely accepted.
Getting There
Flights from India to Israel
Major Indian cities like Mumbai and Delhi offer flights to Ben Gurion Airport near Tel Aviv. Various airlines, including Middle Eastern carriers, operate this route.
Flights from India to Israel

New Delhi

(One-way)

LOT

Ethiopia

Mumbai

(One-way)

AirAsia

IndiGo

flydubai

Bengaluru

(One-way)

IndiGo

Etihad

Emirates

Hyderabad

(One-way)

flydubai

IndiGo

Etihad

Chennai

(One-way)

flydubai

Etihad

Emirates
Arrival at Ben Gurion Airport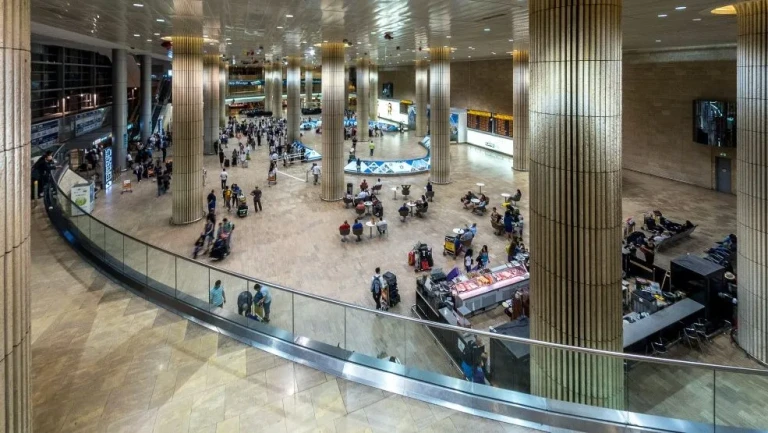 Upon arrival, you'll go through customs and immigration. Ben Gurion Airport offers efficient transportation options to major cities in Israel.
Local Transportation
Israel has an excellent transportation network, including buses and trains. Renting a car is an option, but consider the convenience of public transportation.
Buses:

Buses are the primary mode of public transportation in Israel. They connect cities, towns, and even remote areas. In major cities like Tel Aviv and Jerusalem, there are also local bus services that can take you around the city.

Light Rail:

Both Tel Aviv and Jerusalem have modern light rail systems that provide a convenient way to travel within the cities. The Tel Aviv Light Rail (known as the "Red Line") connects various neighborhoods, including the central bus station, the Carmel Market, and Jaffa.

Taxis:

Taxis are readily available in Israeli cities. You can hail a taxi on the street or find them at taxi stands. Shared taxis, known as "sherut," operate on specific routes and can be a cost-effective way to travel between cities.

Bicycles and Scooters:

Many cities in Israel, including Tel Aviv and Jerusalem, have bike-sharing and electric scooter-sharing programs. You can rent bicycles and e-scooters for short trips within the city.

Boats and Ferries:

In coastal cities like Haifa, you can find boat tours and ferries that offer scenic rides along the coastline.
Accommodations
Israel offers a range of accommodations, from luxury hotels to boutique hostels. Some recommended options include the Dan Tel Aviv Hotel and the Carlton Hotel in Tel Aviv, the King David Hotel in Jerusalem, and the Queen of Sheba Eilat Hotel in Eilat.
Exploring Israel
Top Tourist Destinations
Tel Aviv: Modern Metropolis:

Explore the vibrant city life, beautiful beaches, and Bauhaus architecture.

Jerusalem: Holy City:

Discover the historic Old City, including the Western Wall, Church of the Holy Sepulchre, and Dome of the Rock.

Eilat: Red Sea Resort:

Relax on stunning beaches, go snorkeling or diving in the Red Sea, and visit the Underwater Observatory.

Dead Sea: Natural Wonder:

Float effortlessly in the hypersaline waters of the Dead Sea, and indulge in mineral-rich mud treatments.
Outdoor Adventures
Hiking in the Negev Desert:

Explore unique desert landscapes and hike to the top of Mount Ramon for panoramic views.

Exploring Masada:

Visit the ancient fortress of Masada and learn about its history and significance.

Beaches and Water Sports:

Enjoy a wide range of water sports and relaxation on Israel's Mediterranean and Red Sea coasts.
Best time to visit Israel
The best time to visit Israel largely depends on your preferences and the type of experience you're seeking, as Israel experiences distinct seasons throughout the year. Here's a breakdown of the different seasons and when they might be the most suitable for your visit:
Spring (March to May):

Spring is one of the most popular times to visit Israel. The weather is mild and pleasant, with temperatures ranging from 15°C to 25°C (59°F to 77°F).

This season offers beautiful wildflower blooms, particularly in the northern and southern regions.

Spring is an excellent time for outdoor activities, exploring historic sites, and enjoying nature.

Summer (June to August):

Summer in Israel is hot and dry, with temperatures often exceeding 30°C (86°F) in most parts of the country.

It's an ideal time for beachgoers, as the Mediterranean Sea is warm and inviting.

While summer can be quite hot, it's also a vibrant time with many festivals and events taking place.

Autumn (September to November):

Autumn is another great time to visit Israel. The weather remains pleasant, with temperatures ranging from 20°C to 30°C (68°F to 86°F).

It's harvest season, making it an excellent time for wine tasting and enjoying fresh produce.

Autumn is also a popular season for religious pilgrimages and holidays.

Winter (December to February):

Winter in Israel is mild along the coast, but it can be cold and rainy in some parts, especially in the northern and central regions.

It's the best time to visit for those interested in experiencing Israel's cultural and historical sites without the crowds.

The southern region, including Eilat, remains relatively warm during the winter and is a great destination for those seeking milder weather.
Local Cuisine and Dining Etiquette
Sample local dishes like falafel, shawarma, and hummus. Israeli meals are often communal, and it's customary to offer a polite greeting before eating.
Must-Try Israeli Dishes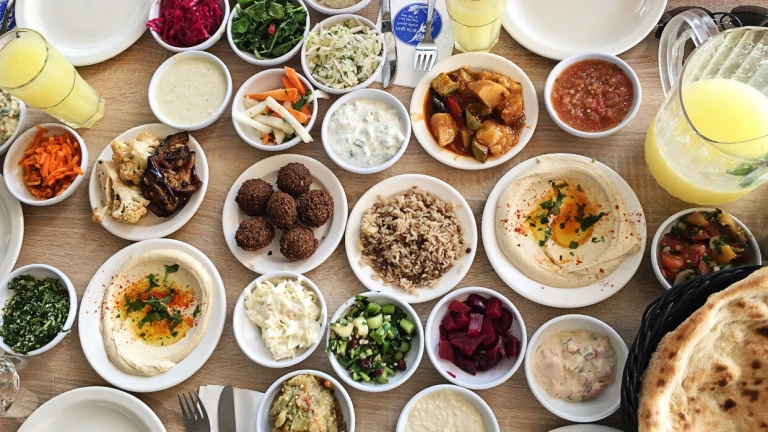 Don't miss falafel, shakshuka, and Israeli salad. Savor a cup of traditional Middle Eastern coffee or herbal tea after your meal.
Arts and Music
Israel has a thriving arts and music scene that reflects the country's rich cultural diversity and heritage. Here's an overview of the arts and music culture in Israel:
Arts in Israel:
Contemporary Art: Israel has a burgeoning contemporary art scene, particularly in cities like Tel Aviv. The Tel Aviv Museum of Art is a prominent institution that showcases contemporary and modern art, including works by Israeli artists.

Galleries and Studios: Throughout Israel, you'll find numerous art galleries and studios featuring the works of both local and international artists. These spaces often host exhibitions, allowing visitors to explore a wide range of artistic styles and mediums.

Street Art: Street art is a growing phenomenon in Israel, with many cities showcasing colorful and thought-provoking murals and graffiti. Tel Aviv's Florentin neighborhood is known for its vibrant street art scene.

Theater: Israel has a vibrant theater scene, with numerous theaters offering a diverse range of performances, including drama, comedy, and experimental theater. The Habima National Theater in Tel Aviv is one of the country's most prestigious venues.

Cinema: Israel has gained international recognition for its film industry. The Jerusalem Film Festival and Tel Aviv International LGBT Film Festival are among the country's notable film events.
Music in Israel:
Traditional Music: Israel is home to a rich tapestry of musical traditions, including Jewish, Arab, and Bedouin influences. Traditional instruments like the oud, qanun, and darbuka are commonly used in various genres.

Israeli Pop and Rock: Israeli pop and rock music have a strong presence in the country. Many Israeli artists have achieved international recognition. Popular genres include Hebrew pop and indie rock.

Electronic Music: Tel Aviv, in particular, has a thriving electronic music scene with world-class DJs and electronic music festivals. The city is known for its vibrant nightlife.

Classical Music: Israel has a robust classical music scene, with numerous orchestras, chamber music ensembles, and classical music festivals. The Israel Philharmonic Orchestra is internationally renowned.

Festivals: Israel hosts a variety of music festivals throughout the year, catering to different tastes. Examples include the Red Sea Jazz Festival, the InDnegev Indie Music Festival, and the Jerusalem Sacred Music Festival.

World Music: Israel's diverse population contributes to a rich world music scene. You can experience music from various cultural backgrounds, including Yemenite, Ethiopian, and Persian influences.

Eurovision: Israel has a strong presence in the Eurovision Song Contest and won the competition multiple times. The event is widely watched in Israel, and the selection process generates significant excitement.

Music Education: Israel has numerous music schools and conservatories that nurture young talent and provide a comprehensive music education.
Travel Tips
Safety and Security: Israel is generally safe for tourists. Stay informed about local conditions and follow any travel advisories. Be respectful of security measures in sensitive areas.

Respect for Local Customs: Respect religious customs when visiting holy sites in Jerusalem. Dress modestly and behave respectfully.

Bargaining at Markets: Haggling is common in Israeli markets, so be prepared to negotiate prices, especially at souks.

Tipping Practices: Tipping is customary in restaurants, and a service charge may be added. Leave a small tip for taxi drivers and hotel staff.

Packing Essentials: Pack clothing suitable for the season, comfortable walking shoes, and any necessary medications. Bring an electrical adapter for your devices.
Useful Phrases
Hello: Shalom

Thank you: Toda

Yes: Ken

No: Lo
Conclusion
Israel's blend of history, culture, and natural beauty awaits you. Immerse yourself in its rich heritage, savor its diverse cuisine, and explore its captivating landscapes. With careful planning and an open mind, your journey from India to Israel is sure to be a memorable adventure. Enjoy your trip!