Santorini has long been a firm favourite on everyone's bucket list. Even though the very essence of "The Greek Islands" does look stunning in travel magazines and social media, is it really an accurate depiction? The quintessential landscape of whitewashed buildings against cerulean blue seas makes for a typical Santorini postcard… but many fail to realize that this image was most likely airbrushed to perfection.
Let's face it, when we travel overseas, our expectations usually differ from reality due to the false representation of places that we so hungrily consume. There is no denying the fact that Santorini's beauty is enthralling but this does not mean that the island is absolutely flawless. So, it's time to look beyond those Instagram filters and see Santorini for how its rugged natural beauty truly is!
Expectation: A glorious sunset in full view for you to revel in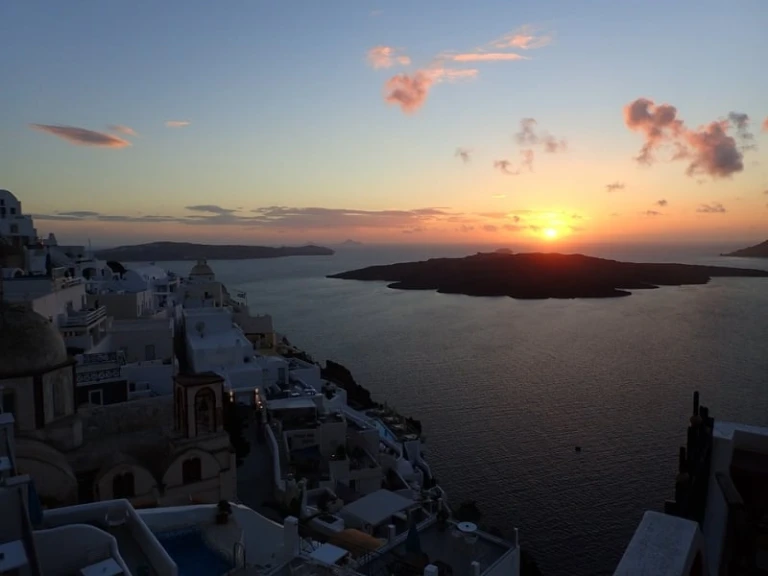 Who likes their photos being partially blocked by someone's head or selfie stick right?
Reality: You might have to jostle around throngs of tourists just for a glimpse of that view!

Image credit: Di_Chap
The reality is such especially during the peak seasons between late May until the end of August. Everyone who is on summer vacation in Santorini would line the alleys of Oia (read: suffocating crowds) trying to snap that to-die-for sunset selfie. Some would have their tripods parked from the early afternoon onwards in wait. Willing to do the same?
Expectation: The buildings are whitewashed and mostly have blue domes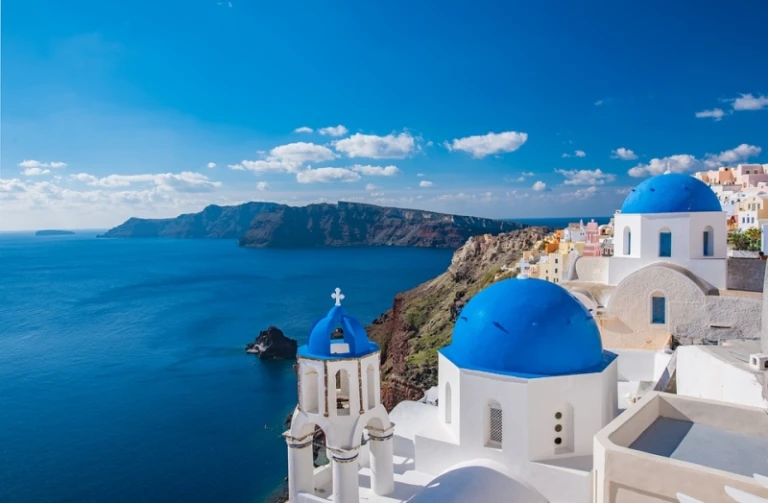 Santorini is synonymous with this surreal vision, a rather picture-perfect one indeed.
Reality: Santorini is a patchwork of dull, weathered white buildings that could use a fresh coat of paint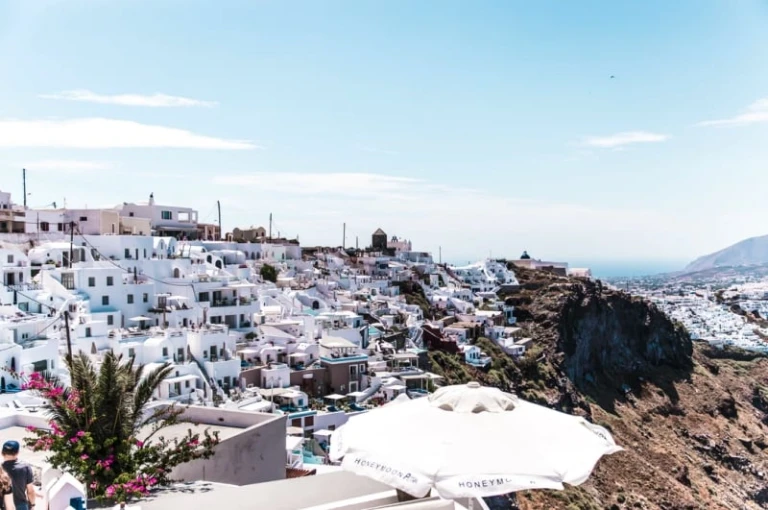 Let's just say that the buildings could do with maintenance works to restore structural damages and the effects of time. The colours do not do justice to the stunning views and natural landscapes and could use some sprucing up for sure.
Expectation: Swoon-worthy infinity pools promising utmost privacy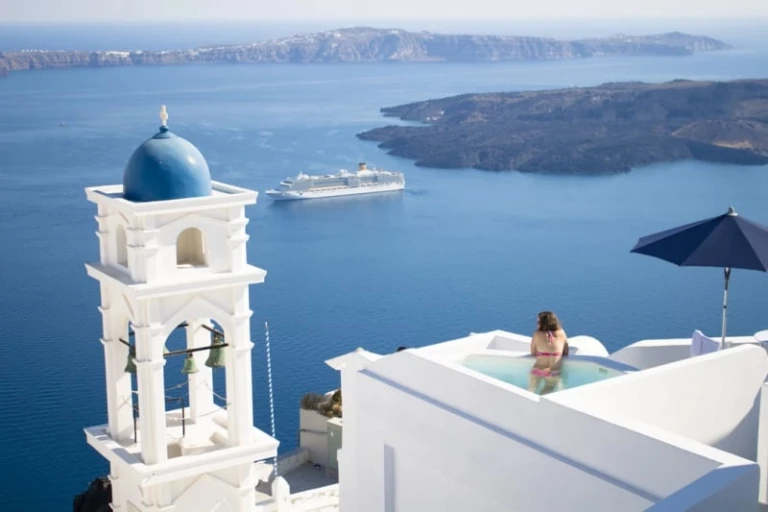 Honeymooners will usually paint this postcard-worthy vision in their minds before arriving in Santorini – having an infinity pool with a spellbinding view ALL to yourself. Even though most hotels and villas do their best to ensure privacy for their guests, your neighbours will determine the amount of privacy you get, especially if your pools are just next to each other.
Reality: Your pool is literally right beside your neighbour's!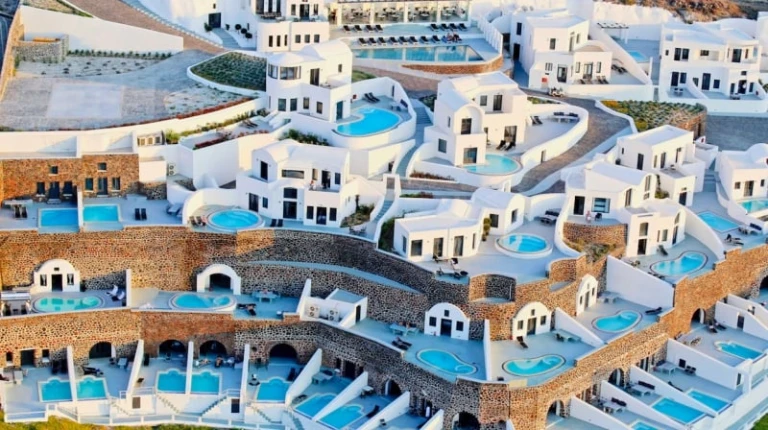 Image credit: Ambassador Hotel Santorini
Yes, this could highly likely be the case. If you happen to stay in a hotel that has infinity pools overlooking each other or separated by just a hollow wall, you may not necessarily get the privacy expected. Be sure to check the location of the hotel's infinity pool and read some reviews before finalising any bookings!
Expectation: Soft pearly white shores that are perfect for sunshine fanatics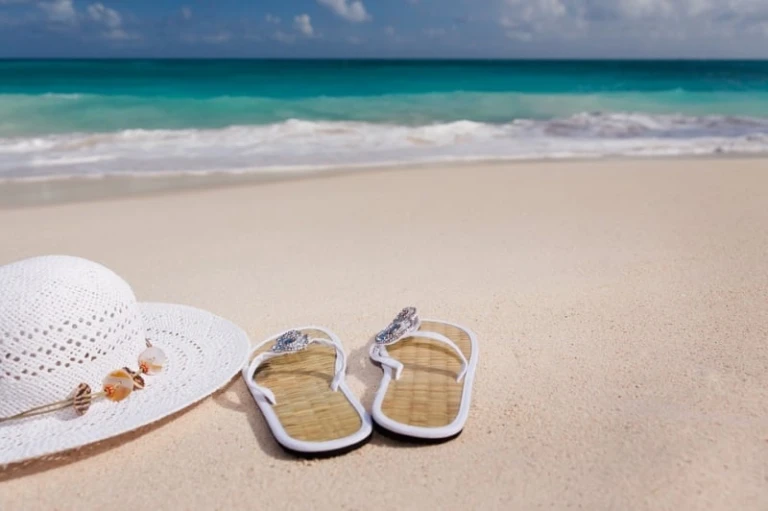 Hoping for beaches with fine sandy shores that are soft as icing sugar and lovely to lay on? Santorini is a tad unique and the shores are not what you would normally envision.
Reality: Sharp volcanic shale lines the dark shores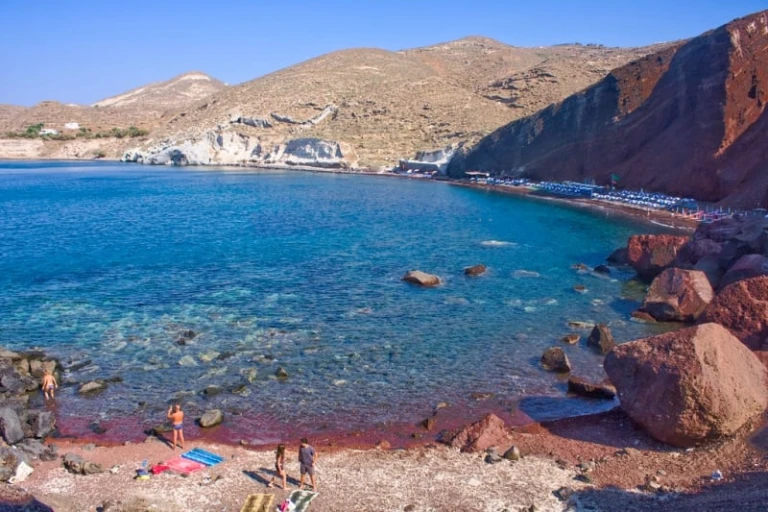 Image credit: Xavier
Santorini's volcanic history and location has resulted in the accumulation of coarse volcanic shale over time. Formed some 3,500 years ago from a volcanic eruption, Santorini is essentially the remnants of an ancient volcanic crater. Don't get me wrong, the beaches are still beautiful but you must take extra caution walking on the volcanic sand and pebbles. The best way tip would be to don appropriate footwear so that you can also escape the scorching hot ground in the sun!
Expectation: Cobblestone streets perfect for wandering around leisurely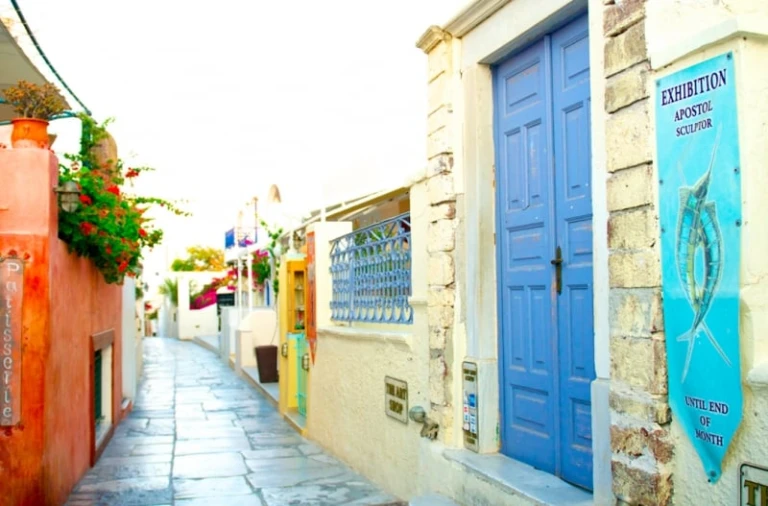 Image credit: ohhenry415
This visually appealing scene is what you might have envisioned while exploring Santorini. The cobblestone paths are flat and easy to navigate, even for someone that is wheelchair-bound. You will see this mostly in the main town squares and popular shopping districts. Now you might be wondering what most of Santorini really looks like…
Reality: Steep slopes everywhere that call for trusty shoes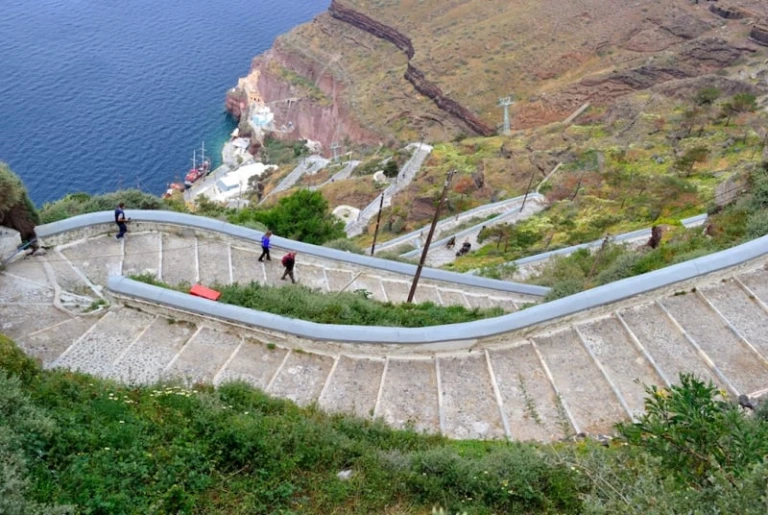 Image credit: Terry
This is a more accurate depiction as Santorini features steep elevations. Yes, that means slopes, stairs and zero escalators to help you out! You will definitely be working those leg muscles on a daily basis! For those who are wheelchair-bound or require mobility assistance, it may be difficult to explore areas away from the main town.
Expectation: Spectacular views along the volcano trek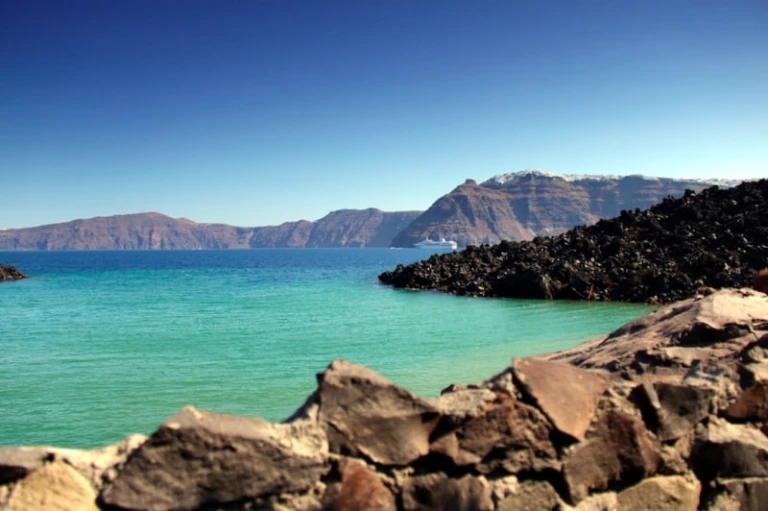 Image credit: Carolyn Sugg
You would expect the views from the caldera to be absolutely incredible based on this picture. The contrast between the crystalline waters and the reddish-brown jagged contours of the rocks are captivating. This vantage point gives you a panoramic perspective of natural Greek beauty.
Reality: Most rough terrain loaded with rocks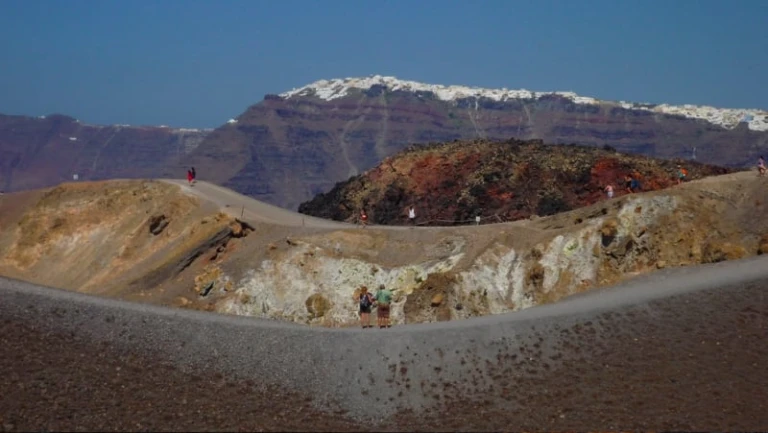 Image credit: Peter
This is what you will see during 99% of your trek, mostly rocks and more rocks and everything else in fifty shades of grey.
Santorini is beautiful with reference to its natural elements and scenic landscapes, but it is often misrepresented with heavily edited photographs of a select few pretty spots. However, Santorini's charms also go beyond its whitewashed facade and blue domes.
There is more to unravel behind this popular island destination if you go off the beaten track and don your adventure boots. Ditch those rose-tinted glasses and let this be a little eye-opener before you discover Santorini for yourself.