Dreaming of an exotic escape from the hustle and bustle of India? Look no further than the stunning islands of Fiji, where lush green landscapes, pristine beaches, and warm hospitality await you.
Fiji is a tropical paradise that beckons travelers from around the world, and in this travel guide, we'll help you plan your unforgettable journey from India to Fiji in 2023.
1. Before You Go
Visa and Entry Requirements:
Indian citizens planning to visit Fiji for tourism or business purposes typically require a visa to enter Fiji. However, visa policies can change, and it's essential to verify the latest visa requirements and procedures before planning your trip.
You can do this by contacting the nearest Fiji High Commission or Embassy in India or checking the official website of the Fiji Immigration Department.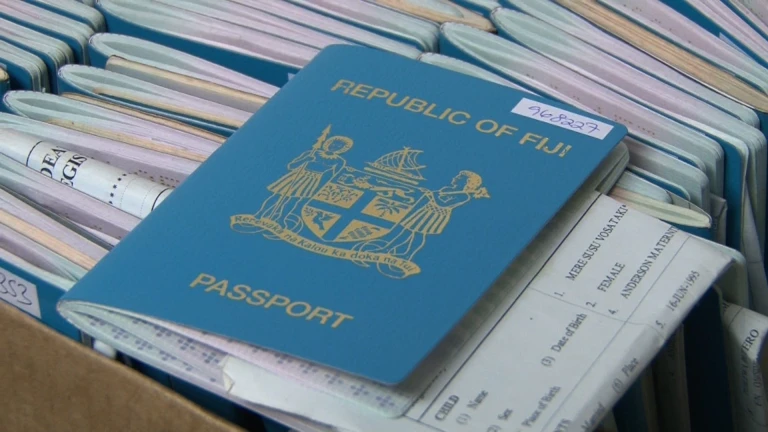 Fiji Passport
Here are some general guidelines regarding Fiji's visa requirements:
Tourist Visa: If you intend to visit Fiji for tourism, you will likely need to apply for a tourist visa. Tourist visas are typically issued for short stays, usually up to 90 days, but the exact duration may vary based on your nationality and the specific visa granted.

Business Visa: If you plan to visit Fiji for business purposes, such as attending meetings, conferences, or exploring business opportunities, you may need to apply for a business visa. Business visas are also typically issued for short stays and have specific requirements.

Transit Visa: If you are transiting through Fiji on your way to another destination and you will not be leaving the airport, you may not require a visa. However, it's essential to confirm this with the airline and immigration authorities.

Visa Extensions: If you wish to extend your stay in Fiji beyond the initially granted period, you should contact the Fiji Immigration Department well in advance of your visa's expiration date to inquire about the possibility of an extension.

Visa Application Process: Visa applications for Fiji are typically submitted at the nearest Fiji High Commission, Embassy, or Consulate. The exact requirements, processing times, and fees can vary, so it's advisable to check with the relevant diplomatic mission for the most up-to-date information.

Documents Required: Visa application requirements may include a completed application form, a valid passport with at least six months of validity beyond your intended departure from Fiji, a recent passport-sized photograph, proof of sufficient funds for your stay, a return or onward ticket, and a letter of invitation (if applicable).

Visa Fees: Fiji usually charges visa fees for processing applications. The fees can vary based on the type of visa and the duration of your stay.
Currency Exchange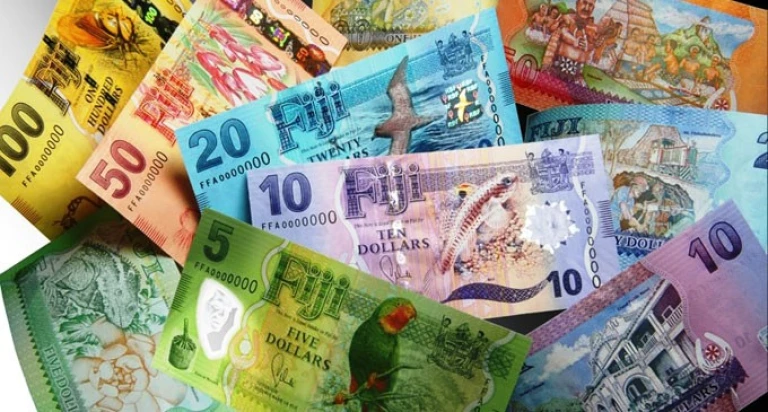 Fijian dollar
The Indian Rupee (INR) is not widely accepted in Fiji, so it's advisable for Indian travelers to exchange their INR for the Fijian Dollar (FJD) upon arrival in Fiji.
Most major credit and debit cards are also accepted at hotels, restaurants, and larger businesses in Fiji. However, for smaller purchases and in more remote areas, it's recommended to carry some Fijian Dollars in cash.
When exchanging currency, it's essential to compare exchange rates and fees to get the best value for your money, and it's often more convenient to exchange currency in Fiji due to the limited availability of Fijian Dollars in India.
2. Getting There
Flights to Fiji:
The main international gateway to Fiji from India is Nadi International Airport (NAN). Several airlines offer flights from major Indian cities, such as Delhi and Mumbai, to Nadi via connecting flights in cities like Sydney, Melbourne, or Singapore. Be sure to book your flights well in advance to secure the best deals.
Flights

New Delhi (Round trip)

Cathay Pacific, Fiji Airways

Mumbai (Round trip)

Cathay Pacific, Fiji Airways

Emirates, Fiji Airways

IndiGo, Qantas, Fiji Airways

Pune (Round trip)

Air India, Cathay Pacific, Fiji Airways
3. Local Transportation
Local transportation in Fiji offers various options to explore the islands and move around cities and towns. Here are some of the common modes of transportation you can use in Fiji:
Taxis: Taxis are readily available in urban areas like Nadi, Suva, and other towns. They are a convenient way to get around, and most taxis have meters, but it's a good practice to confirm the fare with the driver before starting your journey. Taxis are generally safe and reliable.

Rental Cars: If you want more freedom and flexibility in your travels, you can rent a car. Rental agencies are present at major airports and in urban areas. Remember that Fijians drive on the left side of the road, and road conditions may vary, so exercise caution.

Public Buses: Fiji has an extensive network of public buses that serve both urban and rural areas. Buses are an affordable way to travel between towns and cities. However, schedules can be somewhat flexible, and buses may not be as punctual as in some other countries.

Shared Vans: Shared vans, often referred to as "carrier vans" or "minibusses," operate on popular routes, especially in rural areas. These are often more affordable than taxis and can be an interesting way to meet locals. Be prepared for a less formal transportation experience.

Water Taxis: Given Fiji's many islands, water taxis are a common means of transportation between islands and to remote coastal areas. They offer a scenic and efficient way to explore the stunning coastline.

Domestic Flights: If you plan to visit different islands in Fiji, domestic flights are available between major airports, making island-hopping accessible. Airlines like Fiji Airways, Fiji Link, and Northern Air operate domestic routes.

Ferries: Ferries connect the major islands, such as Viti Levu, Vanua Levu, and Ovalau, offering an affordable way to travel between them. Some ferry services also provide transportation to the Yasawa and Mamanuca Islands.

Bicycles: In some towns and tourist areas, you can rent bicycles to explore at your own pace. This eco-friendly option is ideal for short trips and sightseeing.

Walking: Many towns and tourist areas are compact and walkable. Walking is a great way to explore local neighborhoods, markets, and attractions.
4. Where to stay in Fiji
Fiji offers a diverse range of accommodation options to suit every traveler's preferences and budget. Whether you're looking for luxurious resorts, charming boutique hotels, beachfront villas, eco-friendly lodges, or budget-friendly hostels, Fiji has it all. Here are some popular accommodation choices in Fiji:
Luxury Resorts:

Likuliku Lagoon Resort

Fiji is renowned for its world-class luxury resorts, many of which are located on private islands. These resorts offer luxurious amenities, overwater bungalows, gourmet dining, and spa facilities. Some well-known luxury resorts include Likuliku Lagoon Resort, Nanuku Auberge Resort, and Kokomo Private Island Fiji.

Boutique Hotels: For a more intimate and personalized experience, consider staying in boutique hotels and resorts. These properties often have unique designs, smaller guest capacities, and a focus on personalized service. Qamea Resort and Spa and Tropica Island Resort are excellent choices.

Beachfront Villas: Fiji offers private beachfront villas and vacation homes, ideal for families or groups looking for more space and privacy. These accommodations come with fully-equipped kitchens and often have direct beach access.

Budget-Friendly Options:

Yasawa Island Resort & Spa, Fiji

If you're traveling on a budget, Fiji has backpacker hostels, budget hotels, and guesthouses that offer comfortable and affordable stays. Popular budget-friendly areas include Nadi and the Yasawa Islands.

Eco-Lodges: For eco-conscious travelers, Fiji has eco-friendly lodges and resorts that focus on sustainability and responsible tourism. These accommodations provide a unique opportunity to connect with nature while minimizing your environmental impact.

Liveaboard Cruises:

Liveaboard Cruises

Explore Fiji's marine wonders by staying on a liveaboard cruise. These floating accommodations take you to remote dive sites and offer a unique way to experience the islands.

Homestays and Village Stays: For an authentic cultural experience, consider staying with local Fijian families in homestays or village stays. This allows you to immerse yourself in Fijian culture and traditions.

Glamping: Experience luxury camping, or "glamping," in Fiji. You can enjoy the outdoors while still having access to comfortable amenities like queen-sized beds and private bathrooms.
5. Best Time To Visit Fiji:
The best time to visit Fiji largely depends on your preferences for weather and what activities you plan to do. Fiji enjoys a tropical climate, but there are distinct wet and dry seasons. Here are the details of the seasons to help you decide when to visit:
Dry Season (May to October):

FIJI - Beqa Lagoon

This is generally considered the best time to visit Fiji.

Weather: Expect pleasant temperatures, lower humidity, and minimal rainfall during this period.

Activities: It's an excellent time for outdoor activities such as snorkeling, scuba diving, hiking, and exploring the islands. The waters are clear, making it ideal for underwater adventures.

Events: Fiji Day is celebrated on October 10th, marking Fiji's independence, and various cultural events and festivals take place during this season.

Wet Season (November to April):

Figi surfing

While the wet season has more rain and higher humidity, it's still a viable time to visit Fiji, and you can often find lower prices.

Weather: There's a higher chance of rain, especially in the afternoons, but it's still warm and tropical. Cyclones can occur, mainly between December and April, so keep an eye on weather forecasts if traveling during this time.

Activities: The lush landscapes are at their most vibrant during this season, and waterfalls are flowing at their peak. It's also a great time for surfing with consistent waves.

Events: Christmas and New Year's celebrations in Fiji are lively and unique.

Shoulder Seasons (April and November):

April and November are transitional months between the wet and dry seasons.

Weather: These months offer a balance between lower rainfall and comfortable temperatures. It's a good compromise if you want to avoid the peak tourist season while still enjoying decent weather.
6. Exploring Fiji
Beach Paradise: Fiji boasts some of the most stunning beaches in the world. Spend your days soaking up the sun, swimming in crystal-clear waters, and enjoying water sports like snorkeling and scuba diving.

Cultural Experiences:

Traditional Fijian feast lovo

Immerse yourself in Fijian culture by visiting local villages, participating in traditional ceremonies, and enjoying a traditional Fijian feast, known as a "lovo."

Adventure Activities: Fiji offers a wide range of adventure activities, including zip-lining through the rainforest, hiking to waterfalls, and even shark diving for the adrenaline junkies.

Island Hopping: Explore Fiji's beautiful islands by going on island-hopping tours. Each island has its unique charm, from the lush landscapes of Taveuni to the vibrant marine life of the Yasawa Islands.

Relaxation and Spa: Unwind and rejuvenate at Fiji's world-class spas. Many resorts offer spa treatments amidst breathtaking natural settings.

Coral Reefs:

Coral Reefs, Fiji

Don't miss the opportunity to explore the incredible coral reefs that surround Fiji. You can go snorkeling or diving to witness the vibrant underwater world.

Sigatoka Sand Dunes:

Sigatoka Sand Dunes

Visit these impressive sand dunes on Viti Levu's Coral Coast for a unique natural landscape experience.
Food and Cuisine: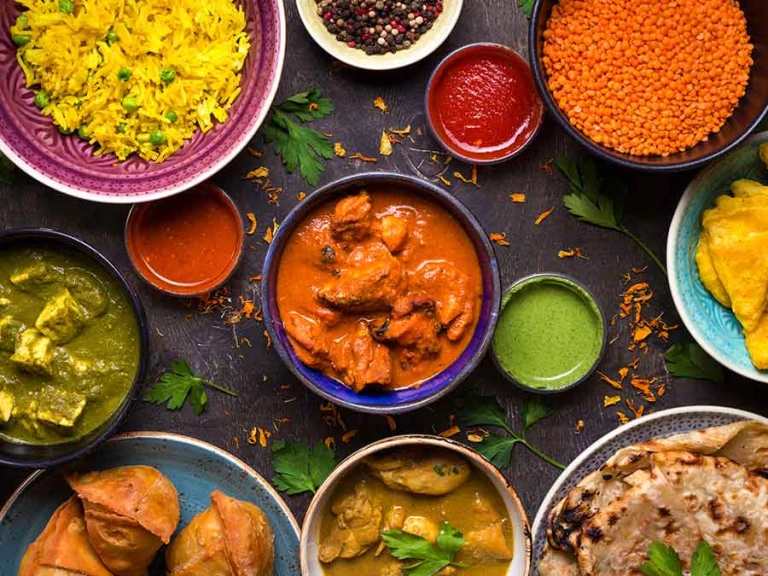 Food and Cuisine
Fijian cuisine offers a diverse range of flavors influenced by Indian, Chinese, Polynesian, and European culinary traditions. When you visit Fiji, you'll have the opportunity to savor a variety of delicious dishes and ingredients. Here are some popular foods and dishes you should try while in Fiji:
Kokoda:

Kokoda

Kokoda is a traditional Fijian dish made from raw fish (usually mahi-mahi or tuna) marinated in coconut milk and lime juice. It's often served with vegetables and is similar to ceviche.

Rourou:

Taro Leaves

Rourou is a traditional Fijian dish made from taro leaves cooked in coconut milk. It's a staple side dish in many Fijian meals.

Lovo Baked Bread: Some bakeries in Fiji prepare bread using the lovo (earth oven) method, giving it a unique and smoky flavor.