In 2023, Cambodia should be on every Indian traveller's radar for a multitude of reasons. Firstly, it offers a fantastic blend of history, culture, and natural beauty that promises a unique adventure. From the awe-inspiring Angkor Wat to the serene beaches of Sihanoukville, there's something for every type of traveller.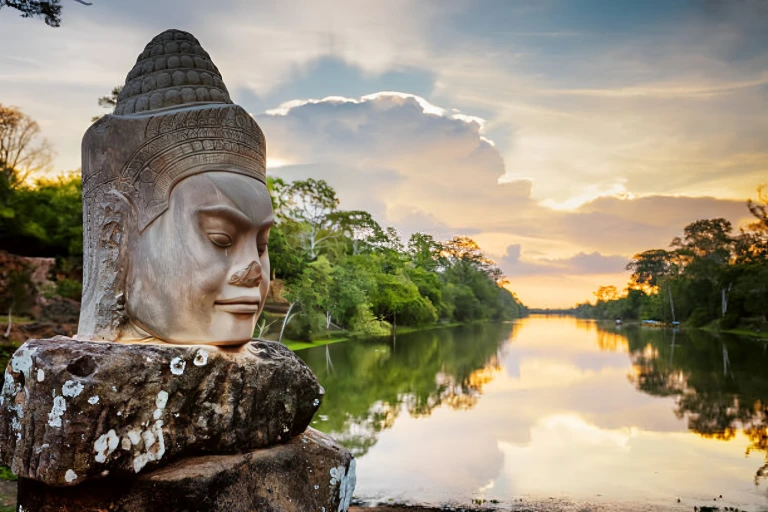 Moreover, Cambodia is incredibly affordable, making it a budget-friendly destination that doesn't compromise on experiences. With its warm and welcoming locals, diverse cuisine, and rich cultural heritage, it's a country that will leave you with unforgettable memories.
So, whether you're a history buff, a nature lover, or just seeking a new adventure, Cambodia in 2023 is the place to be.
Is a COVID test mandatory for entry into Cambodia?
No, travelers from India do not need to show a negative COVID-19 PCR or antigen test result when arriving in Cambodia.
How to get to Cambodia?
Cambodia has three major international airports: Phnom Penh International Airport (PNH), Siem Reap International Airport (REP), and Sihanoukville International Airport (KOS). Among these, Phnom Penh and Siem Reap are the most commonly used by international travellers. Phnom Penh is often considered the cheapest city to fly into when traveling to Cambodia. The airport in Phnom Penh is well-connected to other parts of the country.
Direct Flights
Cambodia Angkor Air's direct flights from India usually connect cities like Delhi and Kolkata to Cambodia's capital, Phnom Penh, and the popular tourist destination, Siem Reap.
Connecting Flights
Passengers can also choose connecting flights to Cambodia via major international airports like Bangkok, Singapore, Kuala Lumpur, and others. Airlines like Bangkok Airways, Qatar Airways, China Eastern, Thai Airways, China Southern, ANA, Singapore Airlines, Thai AirAsia, Thai Smile, SilkAir, Dragonair, Hong Kong Airlines, AirAsia, Asiana Airlines, China Airlines, Malaysia Airlines, and Korean Air provide such options. Amritsar has been known to offer some of the cheapest flight options to Cambodia starting from approximately 10,000 INR
The average flight time between India and Phnom Penh, Cambodia's capital, is approximately 4 hours and 30 minutes. However, the total travel time may vary depending on the layover duration for connecting flights and can take upto 20 hours or more.
Cambodian Visa for Indians
Do Indians need Visa to travel to Cambodia ?
Yes, Indians need a Cambodia visa. There is no Visa on arrival for Indians.
The Cambodia tourist visa for Indians, referred to as the Cambodia e-Visa, is an electronic authorization permitting Indian travellers to visit Cambodia for tourism and leisure, enabling a limited stay to engage in vacation activities.

How do I apply for eVisa for Cambodia from India?
Indians can apply for a visa online from the official government website of Cambodia or through a reputable visa agency.
Click here to apply for Cambodian Visa
As of September 2023 , The visa cost for Indians is approximately ₹3,000 or USD 36, Verify the current fee before applying. Obtaining a Cambodia visit visa for Indians usually takes 3 to 4 Cambodian business days, excluding weekends.
The Cambodia visa for Indians, known as Visa T, is valid for 90 days from the issue date. Indian travellers can stay in Cambodia for a maximum of 30 days using this e-visa. Importantly, it's a single-entry visa, permitting one-time use per journey.
Upon Arrival in Cambodia, you'll typically land at one of three airports. After disembarking, you'll proceed through customs, where officials will review your documents and possibly inquire about your trip, an immigration officer will stamp your passport with the entry date, granting you entry into the country.
Documents needed for Indians to visit Cambodia
Indian travellers visiting Cambodia typically need these documents: a valid passport, visa (available on arrival, e-Visa, or from the Cambodian embassy), return tickets, accommodation proof, financial means, itinerary, photos, and visa fees. Keep updated with requirements.
Currency Information
The official currency of Cambodia is the Cambodian Riel.
1 INR= 50.07 Cambodian Riel. However, now the US Dollar is only widely used in the country.
Indian travellers are encouraged to utilize US Dollars (USD) when visiting Cambodia due to various advantages. USD enjoys widespread acceptance across Cambodia, making transactions seamless, especially in urban centres and tourist hubs. The US Dollar's reputation for stability ensures travellers need not fret about currency fluctuations. Numerous ATMs in Cambodia dispense USD, simplifying cash withdrawals. Lastly, tourists may find favourable pricing when paying in USD, making it a practical choice.
However, carrying a mix of currencies is recommended for smaller transactions and rural areas where USD may not be as commonly used, along with periodic checks of exchange rates and fees for optimal financial planning.

Where can I exchange my indian money for Cambodian Riel/ USD?
Indian travelers in Cambodia have multiple options for currency exchange. Airports like Siem Reap International and Phnom Penh International offer exchange services. Major banks such as ACLEDA Bank and Canadia Bank have branches and exchange counters. ATMs are widespread, allowing withdrawals in Cambodian Riel (KHR) or US Dollars (USD), though be mindful of fees. Currency exchange bureaus in tourist areas provide competitive rates. Some hotels and resorts offer this service as well, albeit with potentially less favorable rates. While unlicensed money changers may be tempting, authorized locations are safer.
Commute : How to get around in Cambodia
Roads are going to be your best chosen option while commuting around Cambodia. Major cities and towns are well connected. It is also a convenient way to travel. Public transport in the form of buses is only available in Phnom Penh city. Tickets only cost about 0.40 USD for each ride.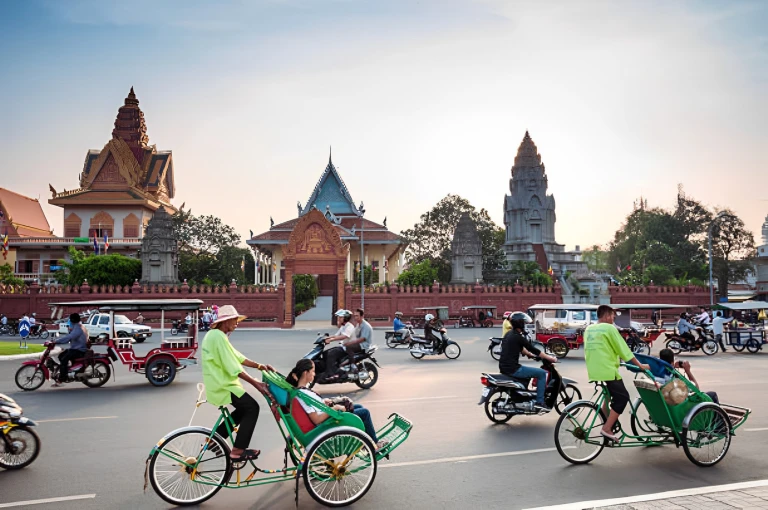 Taxis and share-taxis: Taxis are moderately placed on the cost of transportation around. Tourists are quoted double and triple prices and you will have to haggle your way down to a price you are willing to give. If you are travelling solo, you can also opt for shared taxis. Ask your hotel staff for estimated prices to not get mugged.
Rental Cars: It's not advisable to consider renting cars to self-drive. Instead, hire a driver for about $15-$20 a day. Even tuk-tuks can take you around the big cities. Make sure to negotiate a price in advance.
Buses and minibuses: Owing to the surge of backpackers, the bus network in Cambodia has improved. Buses depart regularly from and to Phnom Penh, Siem Reap, and Sihanoukville.
Trains: It is the least dependable mode of transport in Cambodia as the country has only one rail route. Even there the schedule is not fixed.
Boats: The major cities and nearby islands are also well connected by boat rides. Apart from being cost-effective, they are also quite scenic and enjoyable. Ferry rides will cost you about $15-$25.
Flights: If you are super tight on time then only you should opt for flying within Cambodia. Again only major cities have flight connectivity and they can be as expensive as $140 for 1 hour flights.
So according to your budget and time, you can decide which transportation mode you want to choose for getting around Cambodia.
What to do in Cambodia for Indian Travellers
For Indian travellers visiting Cambodia, there are several exciting activities and experiences to enjoy:
Explore Angkor Wat: Discover the awe-inspiring temples of Angkor Wat in Siem Reap, a UNESCO World Heritage site. This ancient complex is a must-visit, and you can hire a local guide for insights into its history.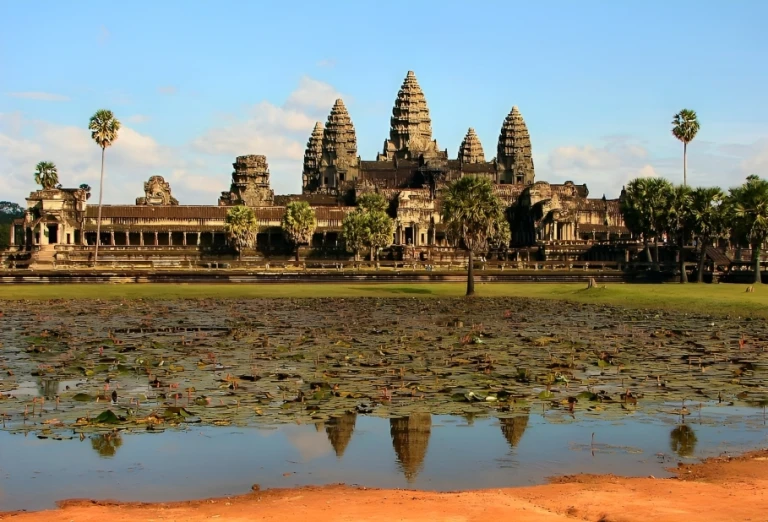 (image source : wikipedia)
Visit Phnom Penh: Cambodia's capital city, Phnom Penh, offers a glimpse into the country's rich history. Explore the Royal Palace, Silver Pagoda, and the harrowing Tuol Sleng Genocide Museum.
Cruise the Mekong River: Take a scenic cruise along the Mekong River, where you can witness local life along the riverbanks and visit floating villages.
Sample Khmer Cuisine: Don't miss trying traditional Khmer dishes like Amok (curry), Lok Lak (stir-fried beef), and the famous Khmer red curry. Indian travelers can find vegetarian options easily.
Shop at Local Markets: Explore bustling local markets like Phsar Thmei (Central Market) and Phsar Tuol Tom Pong (Russian Market) to shop for souvenirs, clothing, and handicrafts.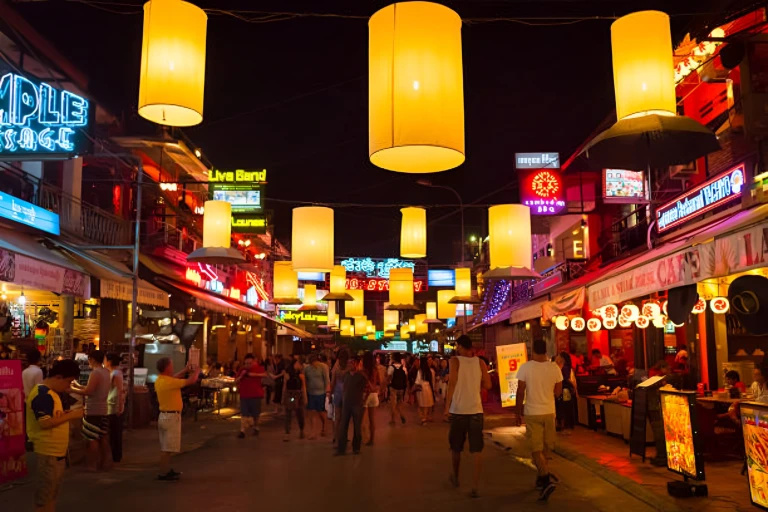 Visit Sihanoukville Beaches: Relax on the beautiful beaches of Sihanoukville, swim in the clear waters, and enjoy water sports.
Discover the Killing Caves: Explore the Killing Caves near Battambang, which hold a dark history from the Khmer Rouge era. Visit the Bat Cave and witness the nightly exodus of bats.
Attend a Traditional Apsara Dance Show: Experience Cambodia's cultural heritage by attending a traditional Apsara dance performance. These shows often include a dinner with Khmer cuisine.
Engage with Locals: Interact with friendly Cambodians to understand their culture and way of life.
Visit Local Temples: Explore lesser-known temples and pagodas, experiencing the tranquility of these sacred places..
Remember to respect local customs and traditions while exploring Cambodia, and it's advisable to check for any travel advisories or entry requirements before your trip.
Food and accommodation in Cambodia


(image source : wikipedia)
Food
Cambodia offers a delightful culinary journey for Indian travelers. Must-try dishes include Bai Sach Chrouk, featuring marinated sweet pork served with rice and pickled veggies; Amok Trei, Cambodia's national dish, featuring buttery fish with local herbs; Lap Khmer, seared beef slices marinated in zesty lime juice; Nom Banh Chok, rice noodles with green curry sauce; and Khmer Red Curry, a creamy coconut milk-based curry with meat chunks and spices, often served with bread or rice. These dishes showcase Cambodia's rich flavors and are readily available at street stalls and local vendors.

Accommodation
Cambodia offers diverse accommodation options for Indian travelers. In cities like Siem Reap and Phnom Penh, you'll find luxury hotels, boutique guesthouses, and budget-friendly hostels. For unique experiences, stay in traditional Khmer-style accommodations or riverside resorts. In tourist areas, you can easily find comfortable and affordable lodging that suits your preferences and budget.
Recommended places for all kinds of Indian Travellers
For Solo Travelers:
Places to Eat:
1. Friends the Restaurant (Phnom Penh): A social enterprise supporting underprivileged youth, offering delicious Khmer and Western dishes.
2. Sisters Srey Café (Siem Reap): A cozy café with a social mission, serving excellent coffee and a variety of breakfast options.
3. Peace Café (Siem Reap): A tranquil spot offering vegetarian and vegan cuisine, perfect for health-conscious solo travelers.
Places to Stay:
1. Mad Monkey Hostel (Multiple Locations): Known for its vibrant atmosphere, Mad Monkey offers dormitory-style accommodations ideal for meeting fellow travelers.
2. Onederz Cambodia (Multiple Locations): A hostel chain offering comfortable private rooms and dorms with a sociable ambiance.
For Families:
Places to Eat:
1. Viroth's Restaurant (Siem Reap): Offers a family-friendly setting with a diverse menu catering to different tastes.
2. The Red Piano (Siem Reap): Known for its pizza and child-friendly atmosphere, it's a favorite among families.
3. Sandan (Siem Reap): A restaurant run by a vocational training NGO, offering Cambodian and Western dishes.
Places to Stay:
1. Victoria Angkor Resort & Spa (Siem Reap): A luxury family-friendly hotel with a pool and spacious rooms.
2. The Kabiki (Phnom Penh): Offers family suites and a child-friendly pool in a tranquil setting.
For Couples:
Places to Eat:
1. Malis Restaurant (Phnom Penh and Siem Reap): A romantic setting offering refined Cambodian cuisine.
2. Romdeng (Phnom Penh): Dine in a garden setting while enjoying Khmer delicacies.
Places to Stay: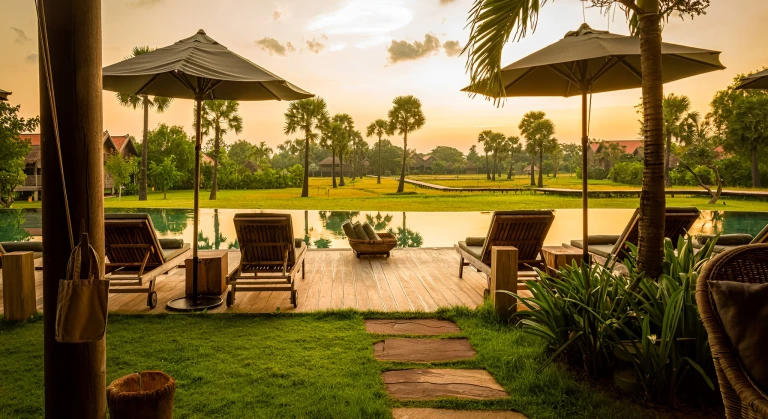 (Phum baitang,Cambodia)
1. Phum Baitang (Siem Reap): A luxurious resort with private villas set amidst rice paddies, providing privacy for couples.
2. Raffles Hotel Le Royal (Phnom Penh): A historic hotel offering a blend of luxury and colonial charm.
These recommendations offer a variety of experiences for solo travelers, families, and couples to make the most of their visit to Cambodia.
Best time to visit Cambodia for Indians
1. Cool and Dry Season (November to February): This is the peak tourist season in Cambodia. The weather is relatively cool, and the days are sunny, making it perfect for visiting temples like Angkor Wat and exploring other outdoor attractions. However, this is also the busiest time, so expect larger crowds and higher prices.
2. Hot Season (March to April): While March and April can be hot and dry, they are still suitable for travel. The days are sunny, and it's an excellent time for beach destinations like Sihanoukville. Just be prepared for higher temperatures.
3. Wet Season (May to October): The wet season, or monsoon season, brings heavy rains and high humidity to Cambodia. While this period can be challenging for outdoor activities, it's the best time for budget travelers, as prices for accommodation and tours are lower. If you don't mind occasional rain showers, you can still visit during this season.
The cool and dry season from November to February is the best time for Indian travellers to explore Cambodia comfortably. However, if you're on a budget and don't mind occasional rain, the wet season can offer cost-saving opportunities.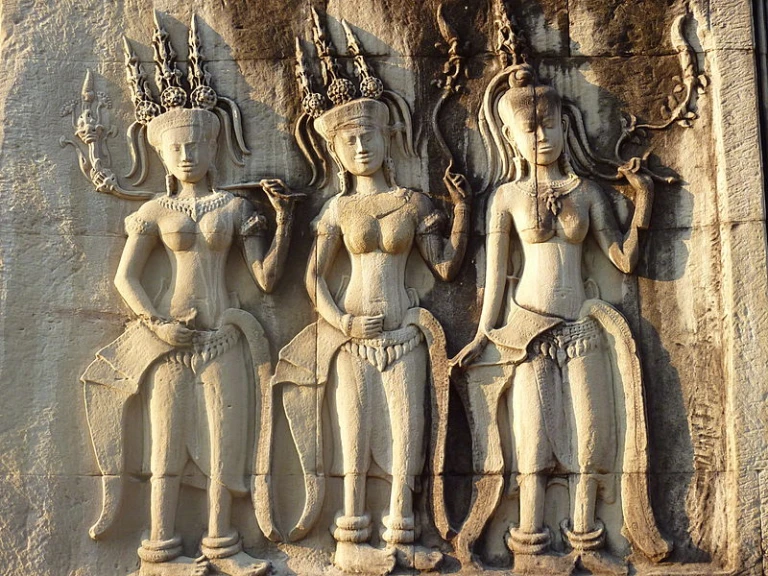 (image source : wikipedia)
Indians would find Cambodia enchanting due to its blend of history, culture, and natural splendor. The ancient temples of Angkor Wat, a UNESCO World Heritage Site, are a testament to Cambodia's rich past. Its vibrant markets, such as Phsar Thmei in Phnom Penh, offer a lively cultural experience. Cambodia's pristine beaches along the Gulf of Thailand, like Sihanoukville, provide serene escapes. The lush jungles of Mondulkiri and the tranquil landscapes of the Mekong River make Cambodia a captivating destination for Indian travelers seeking diverse experiences.