Cambodia is a land of wonders, where you can experience the rich culture, history, and nature of this Southeast Asian country. Whether you want to explore the ancient temples of Angkor, enjoy the vibrant nightlife of Phnom Penh, or relax on the pristine beaches of Sihanoukville, you'll need a place to stay that suits your needs and preferences. That's why you should choose Airbnbs in Cambodia. Airbnbs are accommodation options offered by local hosts who share their homes with travelers. You can find anything from cozy houses, modern apartments, luxurious villas, and more on Airbnbs.
Experience the Wonders of Siem Reap from a Cozy Villa with a Private Pool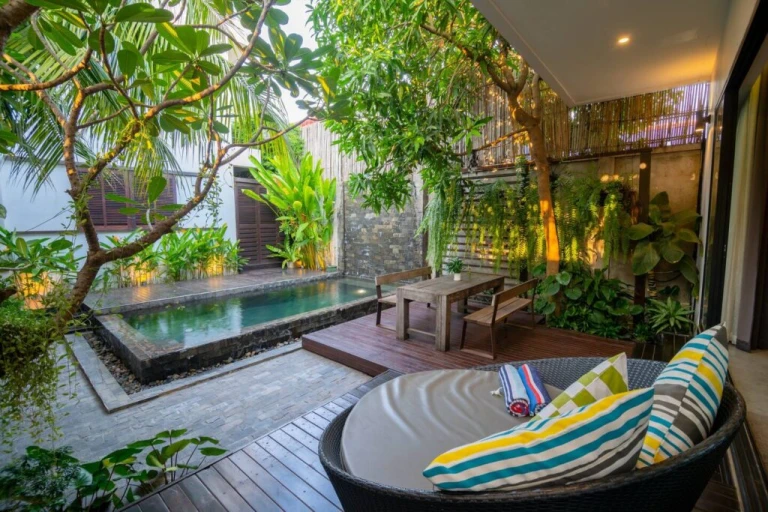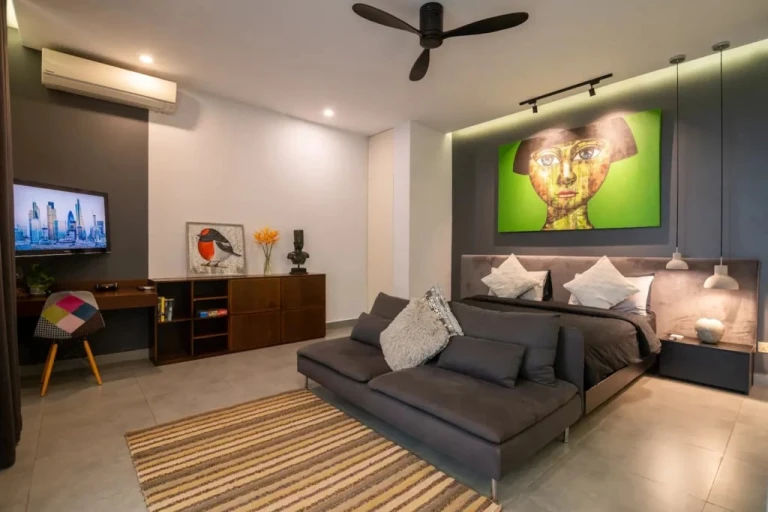 What could be more relaxing and enjoyable than staying in a central villa with a private pool and a cozy courtyard in Siem Reap? This is the kind of accommodation that travelers can find at this beautifully designed Airbnb villa. It offers a spacious and comfortable suite, featuring a king-sized hotel-quality bed, an en-suite bathroom with a rain shower, and a kitchenette with basic ingredients. It is the perfect place to unwind and recharge after exploring the city.
Siem Reap is a city full of wonders and surprises. It is home to the stunning Angkor Wat temple complex, one of the largest and most impressive religious monuments in the world. It also showcases the cultural Apsara dance shows, where visitors can witness the graceful movements and colorful costumes of the traditional Khmer art form. And all these attractions are conveniently located near the villa!
Listing name: The Studio Villa Siem Reap
Listing type: Entire Home
Max. no. of guests: 2 Guests 
No. of bedrooms: 1
This Tropical Garden Bungalow with a Salt Water Pool in Siem Reap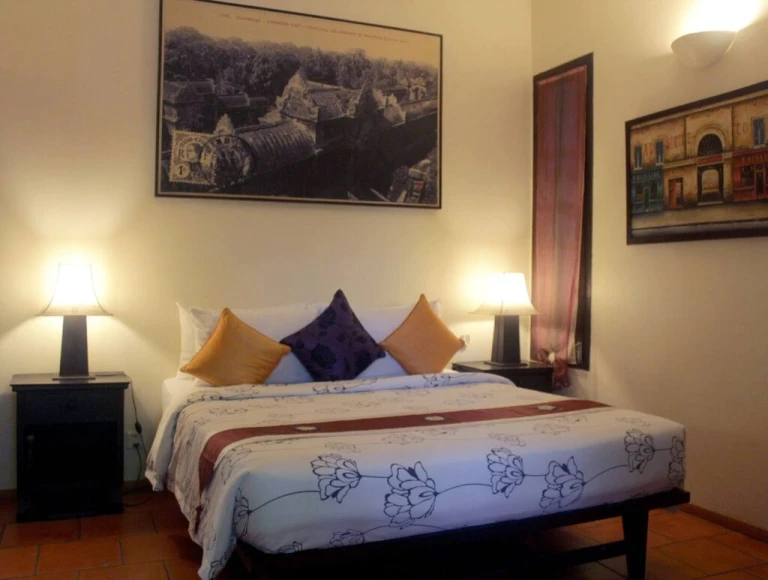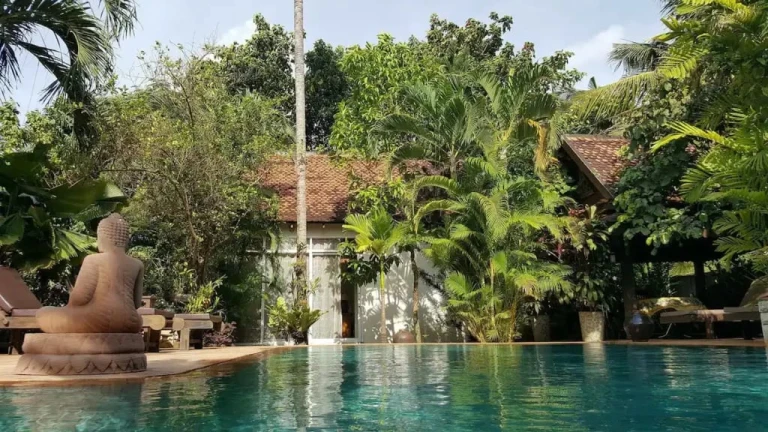 If you're looking for a private paradise in Siem Reap, look no further than this charming Airbnb stay. You'll have a cozy bungalow all to yourselves, with a sparkling salt water pool just steps away. The bungalow is nestled within a tropical garden, providing a stunning backdrop for your getaway. You'll also enjoy a delicious breakfast on the open-air patio, soaking in the serene ambiance.
The bungalow has an ensuite bathroom and modern comforts like cable TV, air conditioning, and free WiFi. Plus, you'll be close to the famous Angkor temples, offering you the chance to explore with ease. Experience the warmth of Cambodian hospitality as you bask in this cozy home away from home. Couples, this one's for you – the perfect romantic escape.
Listing name: Private bungalow with pool in villa
Listing type: Entire Bungalow
Max. no. of guests: 5 Guests 
No. of bedrooms: 2
Experience the Beauty of Khmer Architecture at a Natural Khmer Style Villa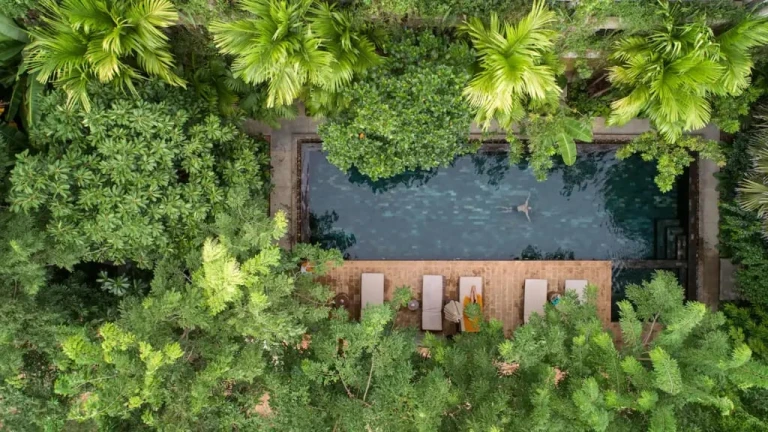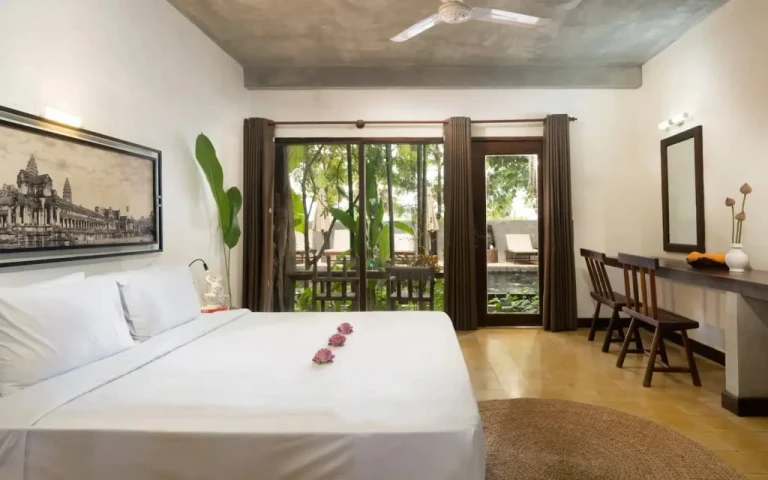 Discover the enchanting Natural Khmer Style Villa, where the essence of Cambodia comes to life. With 12 thoughtfully designed units nestled amidst a lush garden, you'll find yourself immersed in the beauty of Khmer architecture. Picture yourself starting your day with a rejuvenating swim in the inviting pool, followed by your choice of indoor or outdoor dining areas for delicious meals. Positioned in a peaceful location, just 2.5 Kilometers away from the bustling town center, Pub Street, and the vibrant night market, tranquility is guaranteed. 
Thrill seekers will love our proximity to the circus, horse riding farm, and quad bike activities. Your spacious 34 sqm room, complete with a private sitting area and pool view, boasts a comfortable king-size bed and a convenient en-suite bathroom. Get ready to create cherished memories at this Khmer oasis!
Listing name: Romantic Break+Free Pick Up+Daily Afternoon Tea
Listing type: Nature Lodge
Max. no. of guests: 2 Guests 
No. of bedrooms: 1
Also Read: 8 Amazing Airbnbs in Bhutan
This Stylish Studio in the Heart of Kandal Village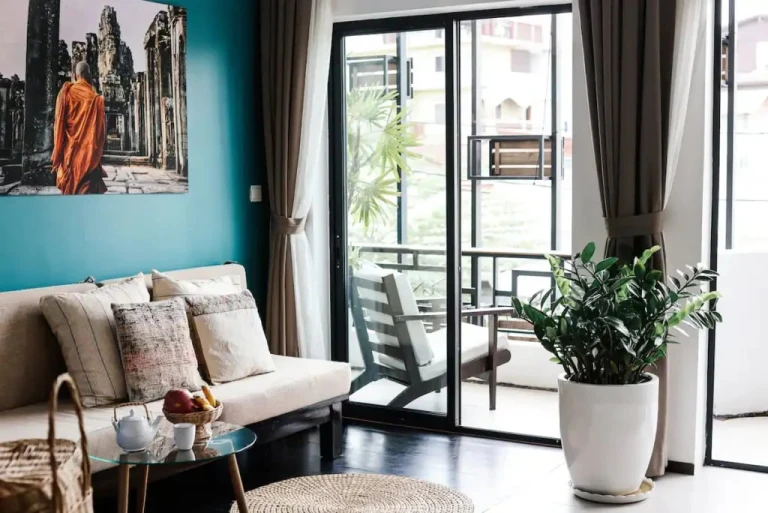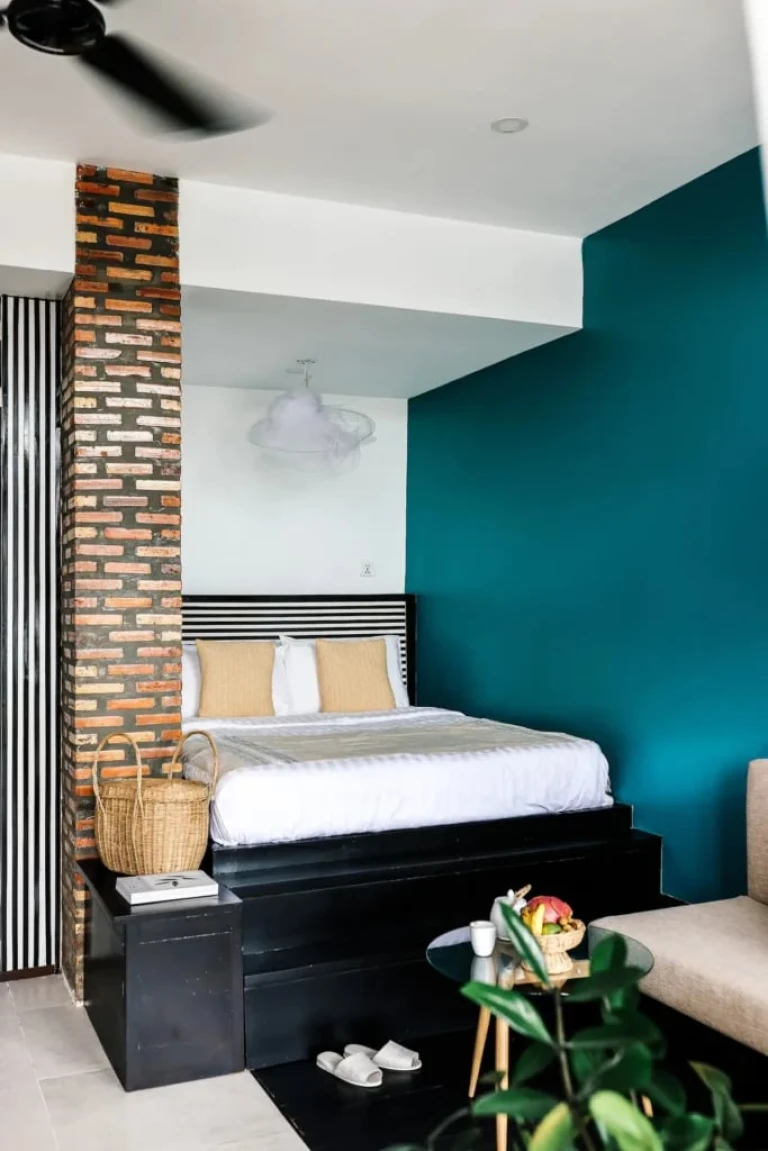 If you are looking for a unique airbnb stay that combines conscious traveling, local aesthetics, and modern comfort, look no further than this stylish studio in Kandal Village. This refurbished property is surrounded by a lively neighborhood, where you can find Little Red Fox Espresso, Mamma Shop, and other local shops and cafes. You can also walk for five minutes to reach the downtown area, where you can explore the cultural and historical attractions of Siem Reap. This 25 sqm studio offers ample natural light, modern furnishings, and a cozy kitchenette. 
You can easily get to the famous Pub Street in just three minutes. The friendly and helpful host will make sure you have everything you need during your stay. This studio has received rave reviews from previous guests who loved the location, design, and hospitality of this airbnb stay.
Listing name: 01 – Cozy Apartment with Balcony @ Kandal Village
Listing type: Entire rental unit
Max. no. of guests: 2 Guests 
No. of bedrooms: 2
This Tropical Villa with a Sea View and a Shared Pool in Kep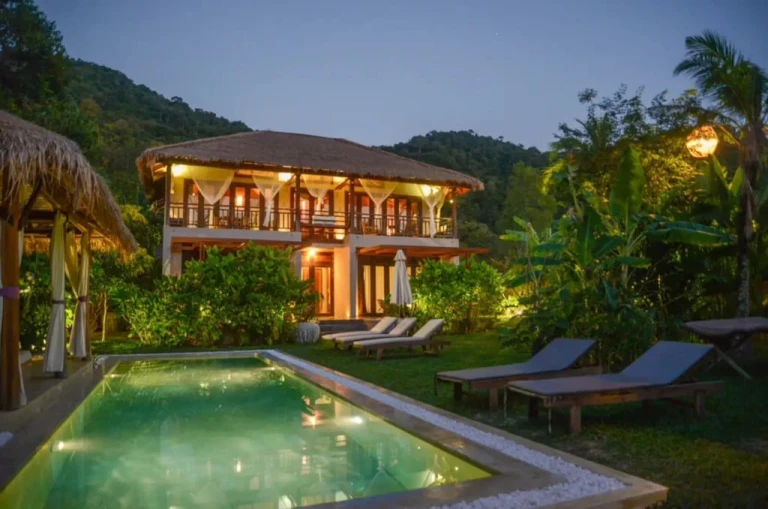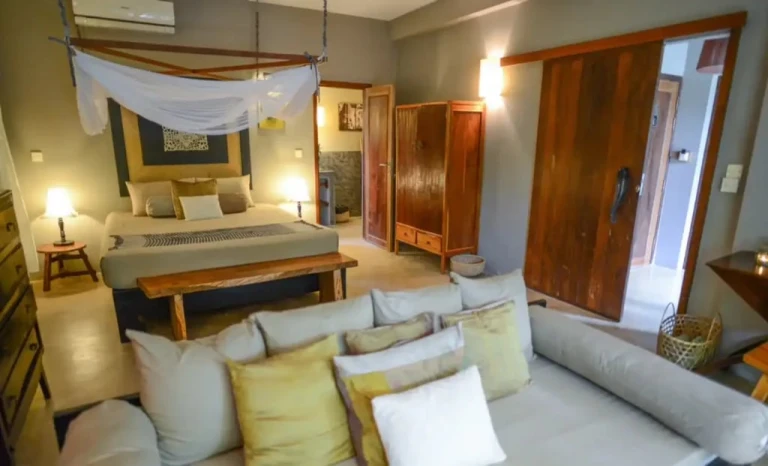 Indulge in the enchanting allure of this Asian-inspired tropical villa that seamlessly blends modern comforts with authentic charm. Tucked within a lush, tropical garden, this elegant retreat features a shared private pool with a smaller villa. Delight in the breathtaking sea view from this newly built hillside getaway in Kep. The villa's clever design allows for versatility, with two bedrooms boasting ensuite bathrooms, and an additional bedroom that can be created by adjusting a specially designed space. 
For your convenience, each bedroom is equipped with air conditioning and a private bathroom. Discover a slice of paradise where you can share the garden and pool area with a neighboring villa while exploring the vibrant surroundings of Kep from your own haven of relaxation.
Listing name: Oriental style Villa & shared pool
Listing type: Entire villa
Max. no. of guests: 8 Guests 
No. of bedrooms: 3
Also Read: 8 Amazing Airbnbs in Bhutan
This Rustic Homestay with Authentic Cambodian Culture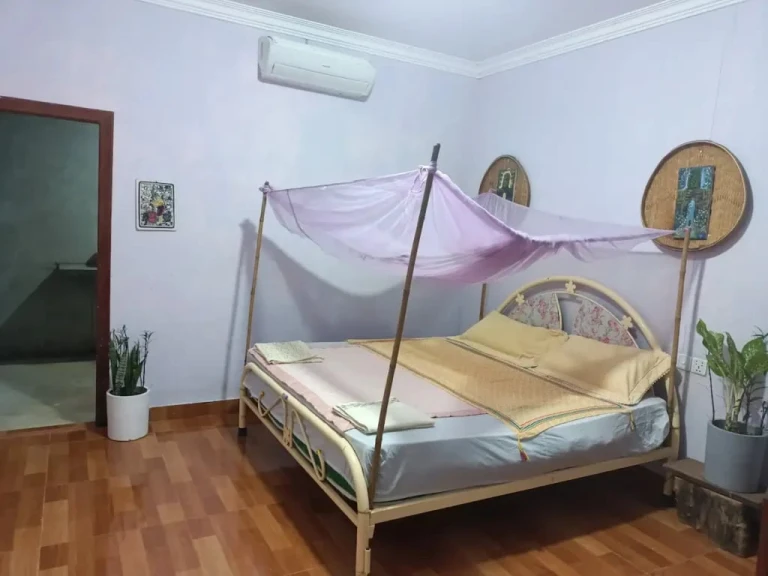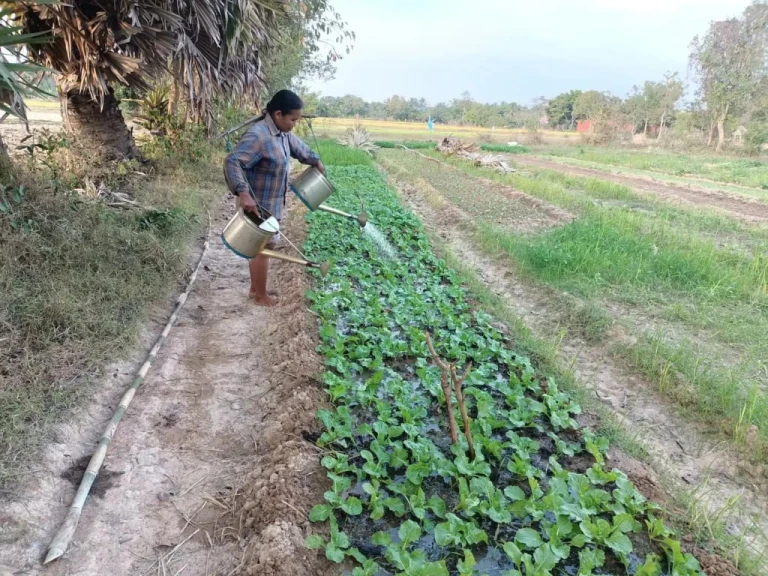 Discover a captivating journey with a rustic Cambodian homestay! Live in a cozy rural haven immersed in Cambodian culture, only seventeen kilometers away from the mesmerizing Angkor Wat.
Uncover tranquility in the garden oasis, decorated with lush plants, inviting hammocks, and comfy seating – great for relishing meals, sharing stories, and drinking together. Moreover, visit nearby local gems, such as the family rice farm and garden, and learn from their insights into the community's hidden wonders. Experience Cambodia like never before – it's beyond a stay; it's an adventure in friendship and culture!
Listing name: Happy Homestay – local vibes
Listing type: Homestay
Max. no. of guests: 8 Guests
No. of bedrooms: 4 Bedrooms
This Rustic Villa with a Modern Twist on Koh Dach Island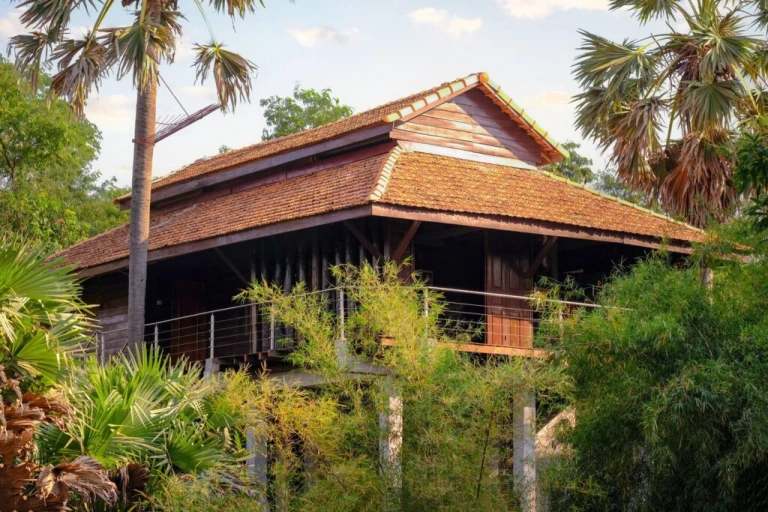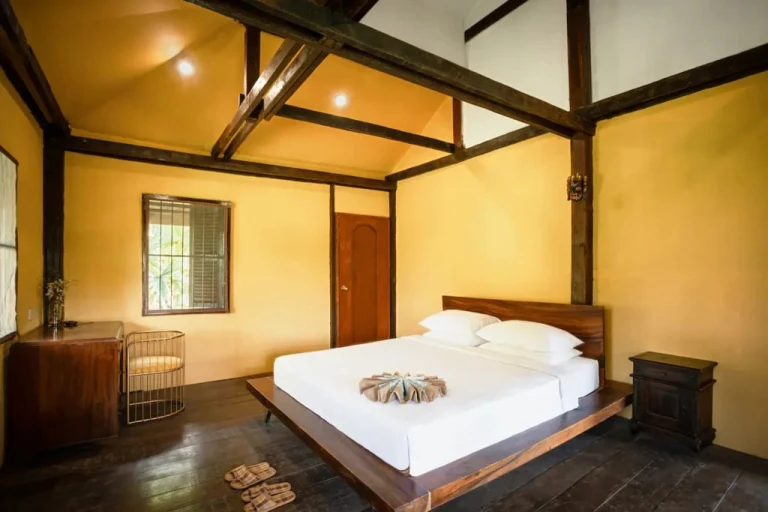 Experience the charm of Arboris: a rustic villa on Koh Dach Island. This two-story abode, nestled on the idyllic Mekong island, seamlessly blends modernity and tradition. The ground floor showcases contemporary concrete work, while the upper level features reclaimed wood in homage to Khmer wood architecture.
With two bedrooms, bathrooms, a well-appointed kitchen/living area, and a spacious study with traditional shutters and expansive glass, Arboris harmoniously marries old-world aesthetics with modern comforts. 
Listing name: Arboris Entire Wooden Villa +1500m² Private Garden
Listing type: Entire Cabin
Max. no. of guests: 7 Guests
No. of bedrooms: 2 bedrooms
This Guesthouse near Bokor Mountain with Scenic Beauty and Modern Comfort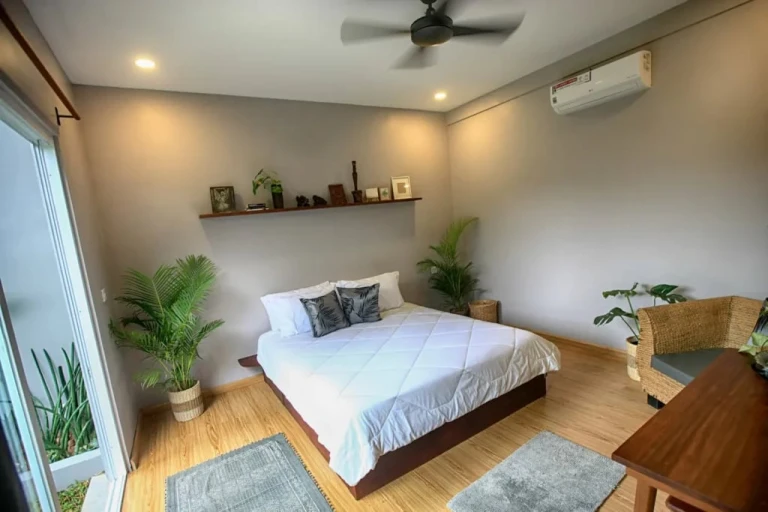 Discover a truly unique Airbnb stay conveniently located just 5 kilometers from downtown Kampot, nestled at the base of Bokor Mountain. This thoughtfully designed modern guesthouse offers a tranquil retreat, blending scenic beauty with modern comfort. The open air living space provides breathtaking views of stunning sunrises, sunsets, and starry nights, all enjoyed from your private courtyard.
Inside, air-conditioned bedrooms boast cozy beds, smart TVs, and en suite bathrooms with hot water. In addition, complete guesthouse access, along with a neighboring salt water swimming pool and poolside bar/restaurant, ensure a relaxing getaway whether you're traveling for business or leisure.
Listing name: Beautiful Modern Garden Home
Listing type: Entire Home
Max. no. of guests: 4 Guests
No. of bedrooms: 2 bedrooms
We hope you enjoyed this article about Airbnbs in Cambodia, and that it inspired you to plan your next trip to this amazing country. So, what are you waiting for? Book your Airbnbs in Cambodia today and get ready for an unforgettable adventure! Thank you for reading and happy travels!