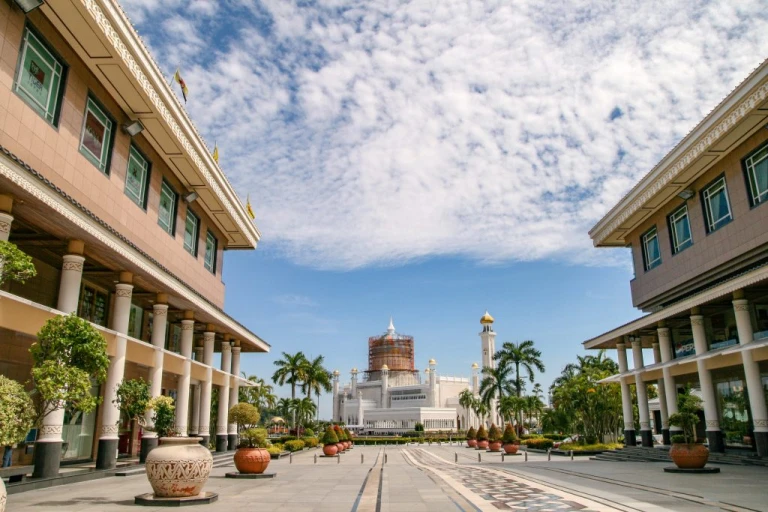 Brunei Darussalam, popularly known as the Abode of Peace, is a peaceful country on Borneo's northern shore. Visitors may visit the country's majestic mosques, such as Jame'Asr Hassanil Bolkiah Mosque and Sultan Omar Ali Saifuddin Mosque, as well as cultural sites such as Kampong Ayer and the Royal Regalia Museum. The country is also noted for its natural beauty, which includes lush rainforests, clean beaches, and a broad range of species. Visitors may go on forest excursions, visit quiet beaches, and go on river safaris to see proboscis monkeys and crocodiles. The Brunei Museum teaches about the country's history and ethnography. Visitors may explore the Bukit Shahbandar Recreational Park, Temburong area, Jerudong Beach, and Muara Beach outside of the capital.
In addition to these points of interest, Brunei boasts a large number of shopping centres and local marketplaces where tourists may purchase souvenirs and regional handicrafts. Brunei has also drawn many Indians looking for jobs.There are around 14,000 or so Indians residing in Brunei. More than half of Indian expats work as semi-skilled or unskilled labourers in industries like construction and retail. In Brunei, a sizable portion of the medical professionals originate from India. Engineers, IT specialists, teachers, and other professionals are examples. A sizable portion of Brunei's textile market is made up of Indian businesses.
Can I travel to Brunei from India?
Advisory
There are a number of advisories available for employment, medical studies, passports/visas, and telephone calls by the High Commission of India. For information, click here.
Visa Requirements for Indian Travelers to Brunei
The documents required for a Brunei visa application are:
The application for a visa to Brunei.

Your passport and a duplicate that is still valid for at least another six months.

Two color current passport-size photos with a white background.

Your return ticket copy

A hotel reservation or the address where you will stay if you are staying with family or friends, it will serve as proof of your lodging in Brunei.

Evidence that you can sustain yourself financially in Brunei

Your contact information
If traveling for business:
COVID Information and Vaccination Requirements for Brunei
There are no longer quarantine and COVID-19 test requirements for all incoming passengers, including those who are unvaccinated.

It is advisable to have a digital certificate available.
Flying Options to Brunei from India
Brunei International Airport, the country's primary airport, with excellent connections to significant cities all over the world.
Common airlines at Brunei
Brunei Airlines is the region's leading airline, with convenient flight connections to 13 domestic and international destinations.

Royal Brunei Airlines serves 32 international destinations.
Option for common airline from India to Brunei (1 connection)
Currently, there are no airlines that fly direct to Brunei.
Airlines
Singapore Airlines

Air Asia

Royal Brunei

Malaysian Airlines

Emirates

Air India
Departure from the following states in India
New Delhi

Chennai

Kochi

Bengaluru

Mumbai
Average layover time
Seasonal Guide to Brunei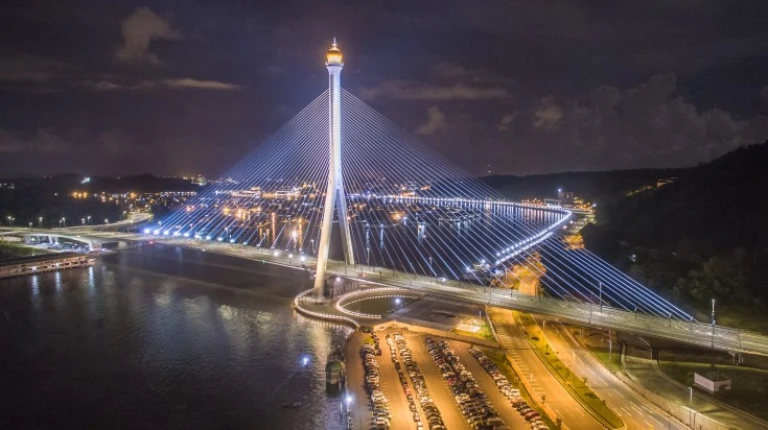 Throughout the year, Brunei has a humid and hot climate.
Flying to Brunei is best from February to October when the weather is dry, comfortable, and great for seeing the nation. During this season, you may participate in several events such as National Day, the Sultan's Birthday, Isra Dan Mi 'raj (Night Journey Taken by the Prophet Muhammad), Prophet Mohammad's Birthday, the Anniversary of the Royal Brunei Armed Forces, and so on.
These festivals provide a one-of-a-kind chance to learn about Brunei's rich cultural history and to observe traditional rites and performances. Furthermore, the favourable weather during this season allows for outdoor activities such as hiking in the jungles or visiting Brunei's lovely beaches.
Currency Information of Brunei
Brunei's official currency is the Brunei Dollar (BND). The symbol used for the Dollar is $; to distinguish it from other Dollar currencies, the symbol B$ is used.
Getting around in Brunei
Airport transfers
Local Transportation
Public buses: Brunei has a public bus system, which is mostly centered on the capital city of Bandar Seri Begawan. Buses are an inexpensive mode of transportation, but their routes and schedules can be irregular and difficult for travelers to understand. While buses are a reasonable alternative for short metropolitan excursions, they are less ideal for longer journeys or reaching more rural areas.

Taxis: Taxis may be hailed on the street or ordered through hotels in metropolitan areas. Taxis are a more handy and pleasant method of transportation than buses, but they are much more expensive. Because not all taxis are metered, it is critical to negotiate the fare ahead of time.

Ride-hailing apps: Ride-hailing services like Dart have been more and more well-liked in Brunei over the past several years. These apps make it possible for you to reserve trips using your smartphone, offering a practical and dependable substitute for traditional taxis. Prices on the apps are often less expensive than regular taxi rates, and they provide a simple method to calculate expenditures and follow your route.

Car rental: Travelers who enjoy the independence and flexibility of self-driving can consider renting a car as a wonderful choice. Both at the airport and in significant urban areas are car rental companies. The left side of the road is used for driving in Brunei, and certain tourists may need an international driving permit.

Water taxis: These are the best means of transportation for visiting Pulau Selirong or neighboring sights like Kampong Ayer, the well-known water hamlet in Bandar Seri Begawan. At authorized locations along the Brunei River, passengers can hail these tiny, powered boats. Fares should be discussed before boarding.

Cycling: For those who prefer a more active form of transportation, Brunei's towns and countryside may be enjoyed by cyclists. other metropolitan areas provide bike rentals, while other places, like Taman Mahkota Jubli Emas in Bandar Seri Begawan, have dedicated bicycle lanes.
Comparisons between India and Brunei: Unlike India Rail travel is exclusive and not available to the public, so to commute, Bruneians and tourists rely on buses.
WHERE TO STAY IN BRUNEI
Depending on your tastes and price range, there are a variety of places to stay when visiting Brunei for the first time. Here are some ideas to think about:
Bandar Seri Begawan
This is the capital city of Brunei and a great option for those who want to be close to the main attractions, such as the Sultan Omar Ali Saifuddien Mosque and the Royal Regalia Museum. There are a wide range of accommodations available here, from budget-friendly guesthouses to luxury hotels.
Jerudong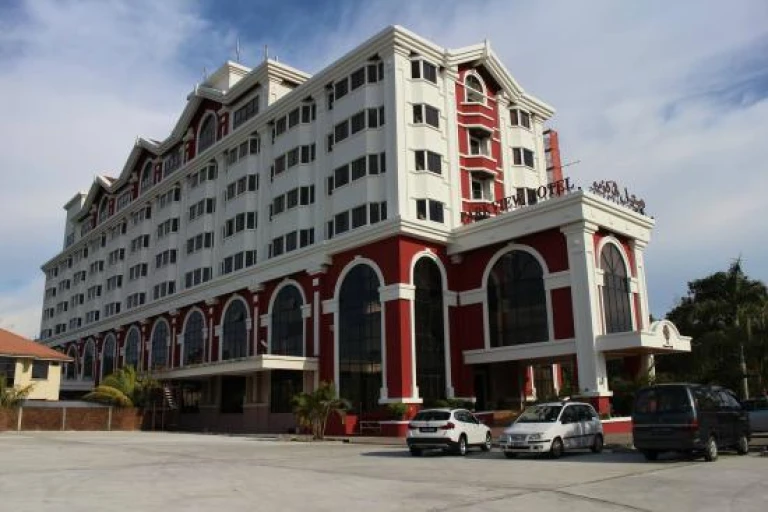 This is a small town located just outside of Bandar Seri Begawan and is known for its luxury resorts and golf courses. It's a great option for those who want a more relaxing and peaceful stay.
Muara Town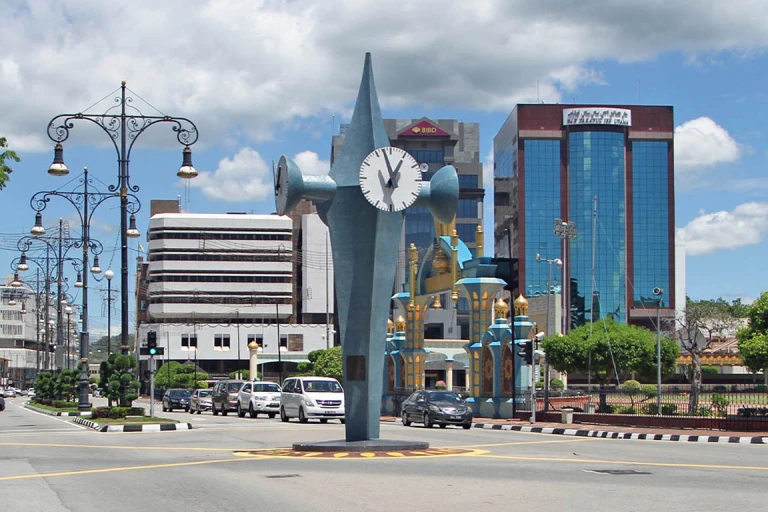 This is a coastal town located about 30 minutes from Bandar Seri Begawan and offers a variety of accommodations, including budget-friendly guesthouses and resorts. Muara Town is a great option for those who want to explore the beach and do some water activities.
Temburong District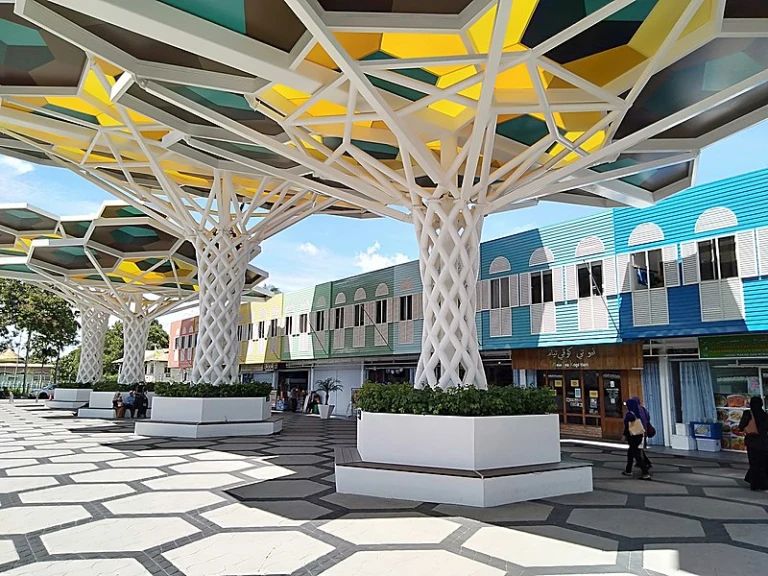 This is a rural district located in the eastern part of the country and is known for its rainforests and national parks.
It's a great option for those who want to explore the great outdoors and experience a more authentic side of Brunei.
Kampong Ayer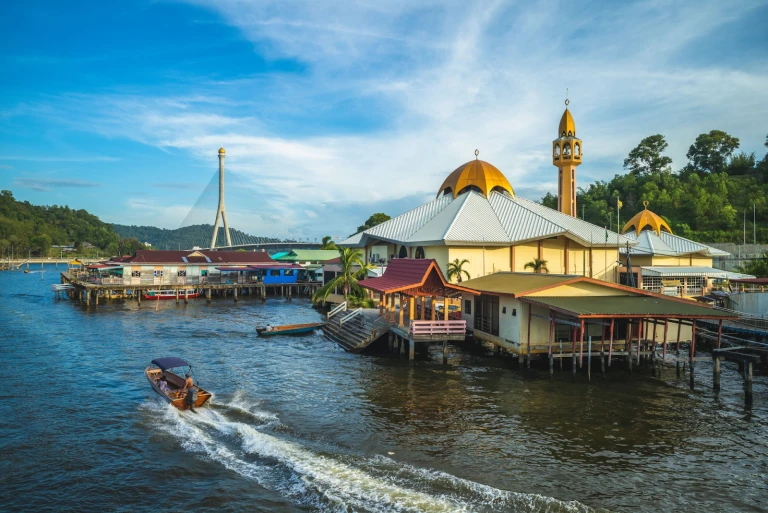 This is a village located on stilts over the Brunei River and is known as the "Venice of the East." It's a great option for those who want to experience the traditional way of life in Brunei and get a glimpse into the country's history and culture.
In the end, your own tastes and the reason for your travel will determine where to stay. Make sure to do your homework on the various neighborhoods and lodging options to pick the ideal choice for you.
Must-see places
Sultan Omar Ali Saifuddin Mosque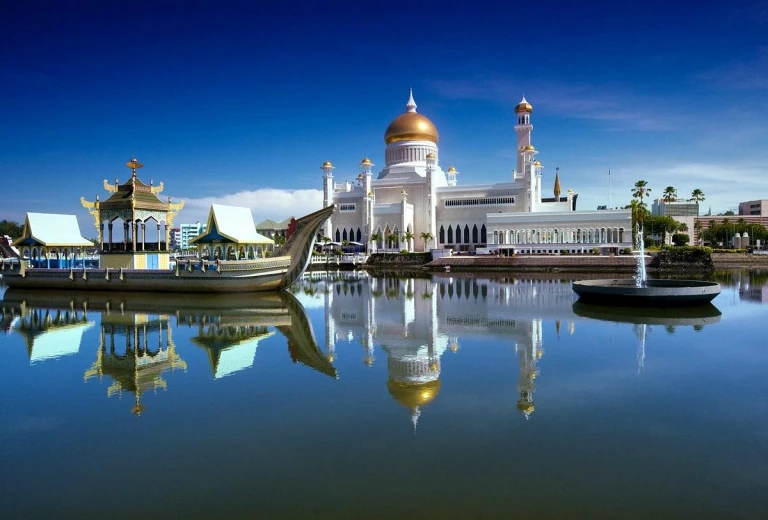 Sultan Omar Ali Saifuddin Mosque, located in Bandar Seri Begawan, Brunei, is one of the most iconic landmarks in Southeast Asia.
Its stunning architecture combines traditional Islamic design elements with modern features, making it a must-visit for tourists and a place of worship for locals.
Beaches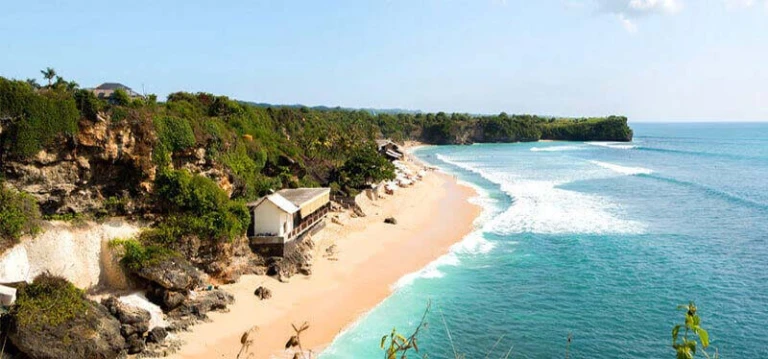 Discover Brunei's sandy beaches, such as Muara Beach, Pantai Seri Kenangan Beach, Meragang Beach, and Serasa Beach.
Water sports including kayaking, windsurfing, water skiing, powerboat racing, regatta sailing, and jet skiing are quite popular at Serasa Beach. With its stunning vistas and pristine seas, Pantai Seri Kenangan Beach offers a peaceful haven that is ideal for sunbathing and leisurely strolls along the coast.
Meragang Beach is renowned for its breathtaking sunsets, which make it the perfect location for picnics or solitary strolls. A hidden gem, Lumut Beach offers a serene setting with possibilities for diving and snorkeling to discover the abundant marine life. Last but not least, Muara Beach is a must-see for nature lovers,
Rainforest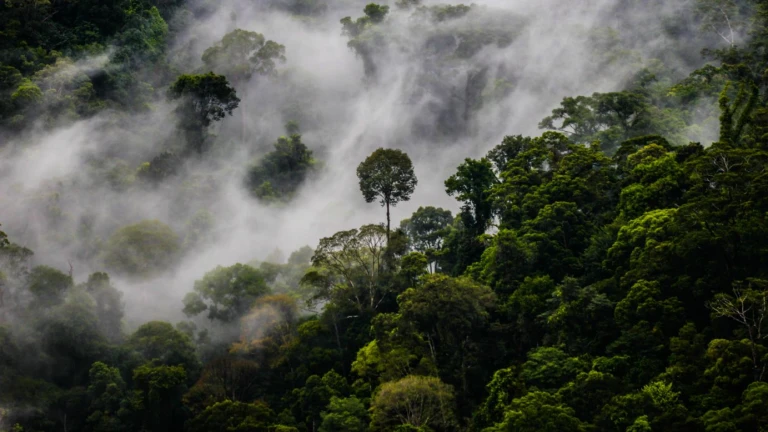 Brunei's tropical rainforests are among the world's oldest. These lush-green rainforests have been kept out of human grasp for as long as they have existed, making Brunei a secret paradise for nature lovers everywhere.
From jungle hikes and picnics in the park to longboat trips into the heart of our pristine rainforests, there are just so many opportunities to enjoy a walk on the wild side in Brunei.
Exotic creatures like proboscis monkeys and hornbills can be spotted, or you can immerse yourself in the rich biodiversity by exploring the different flora and fauna.
Whether you are an avid nature enthusiast or simply seeking a peaceful retreat, Brunei's rainforests offer an unparalleled opportunity to connect with nature in its purest form.
Cuisine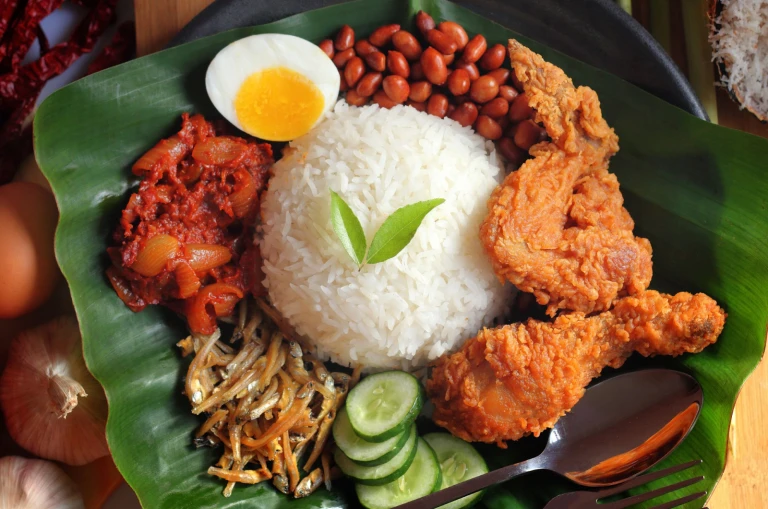 The nearby nations of Indonesia, Malaysia, and Singapore, as well as India, Thailand, Japan, and China, have a significant effect on Bruneian cuisine.
Brunei's basic foods are rice and fish, although the country forbids the consumption of alcohol and pig. Ayam Penyet (smashed fried chicken), Ambuyat (made from the sago palm tree), Nasi Katok (rice with curried chicken or beef), roti (flatbread), Ketupat (a delectable rice dumpling), and teh tarik (sweet milk tea) are some of Brunei's most well-known meals.
These meals showcase the many tastes and culinary customs of Brunei's surrounding nations. In Bruneian cuisine, fragrant elements like lemongrass and ginger are frequently used to give the meals more flavor and complexity.
Conclusion
For those considering a journey to Brunei Darussalam, the period between February and October emerges as the prime window to immerse in its wonders. This span, characterized by dry and comfortable weather, unveils Brunei at its finest.
It aligns perfectly with a vibrant tapestry of cultural celebrations, inviting visitors to engage in the nation's lively traditions and witness captivating ceremonial performances. Moreover, this favorable climate invites exploration of the great outdoors, from invigorating jungle treks to leisurely days on Brunei's picturesque beaches.
In essence, Brunei stands as a testament to the harmonious coexistence of cultural opulence, natural splendor, and gracious hospitality. From the resplendent mosques to the serene coastal retreats and the verdant rainforests, each facet of Brunei's allure imparts an indelible impression upon every fortunate visitor.