Smiles and greetings of congratulations aside, weddings are actually pretty stressful occasions – for the bride and groom at least. For the couple, the wedding is of utmost importance as it symbolises the start of their life together and an official celebration of their love, commitment and matrimony. It's no surprise then, that the wedding venue has to be perfect.
Well couples, whether you are fantasizing of a dreamy ceremony on a brilliant white-sand beach or at a gorgeous resort that's stylishly decked in ribbon and floral wreaths, these wedding venues around the paradisiacal island of Bali will surely ensure a fairytale wedding come true!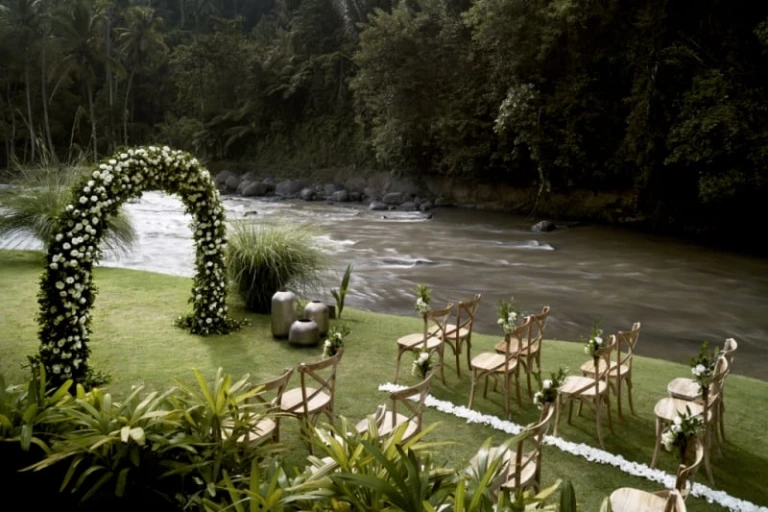 Image credit: Mandapa Reserve
If you are dreaming of an outdoor wedding ceremony framed by lush paddy fields and rolling hills in the backdrop, Mandapa Reserve is just the place. With six different ceremony venues and three restaurants to choose for the wedding reception, you'll certainly be spoilt for choice.

Wedding venue options offered by the resort allow you to have your ceremony by the gushing Ayung river (Ayung Riverside Wedding), by emerald green rice terrace fields (Wedding at Rice Terrace Deck) or at even their cliff edge venue – Sky Wedding at Wantilan!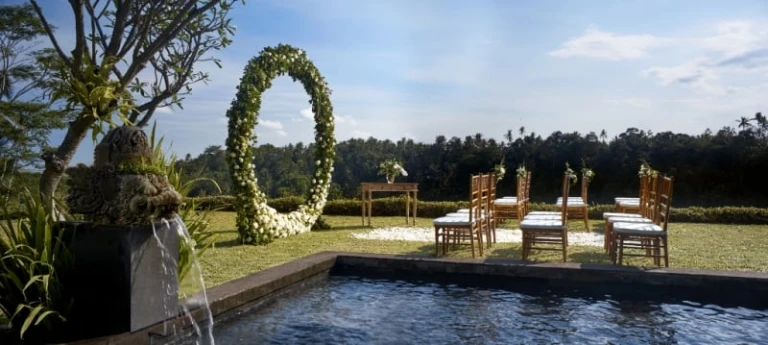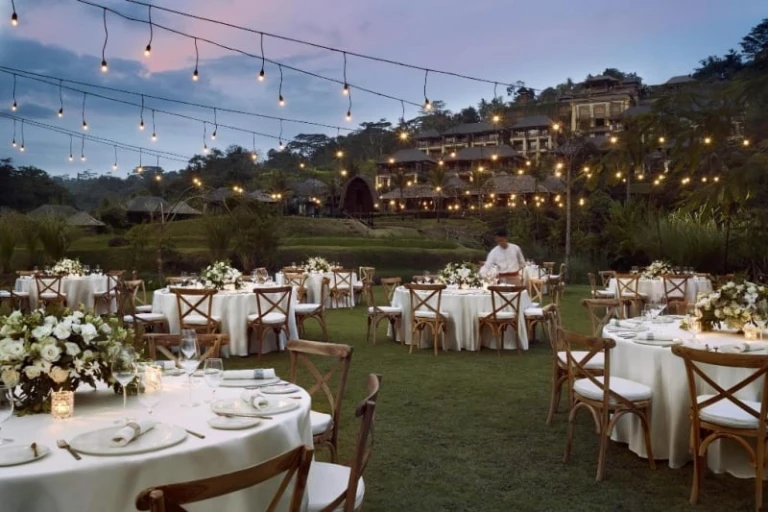 Image credit: Mandapa Reserve
Have an intimate outdoor wedding reception at an elegantly decorated dining area within the hotel after the ceremony. Bask in the romantic ambience of the dim glow of twinkling lights and flickering candles while you indulge in dinner under the stars… it'll truly be a night that you and your guests will never forget. Want to find out more? Mandapa's wedding package details can be found here.
Image credit: The Legian
Located along the beaches of Seminyak is The Legian Bali, the perfect wedding venue if you're looking for some place that's at the heart of all the action, yet still boasts tranquil, private spaces for an intimate wedding ceremony.

The Legian Bali offers a Platinum Sunset wedding package at The Beach House which features an over-water stage on the villa infinity pool. The best part? The whole set-up faces the golden sandy beaches and sparkling, turquoise sea! Just imagine saying your vows under a floral arc to a view like this. How precious does that sound?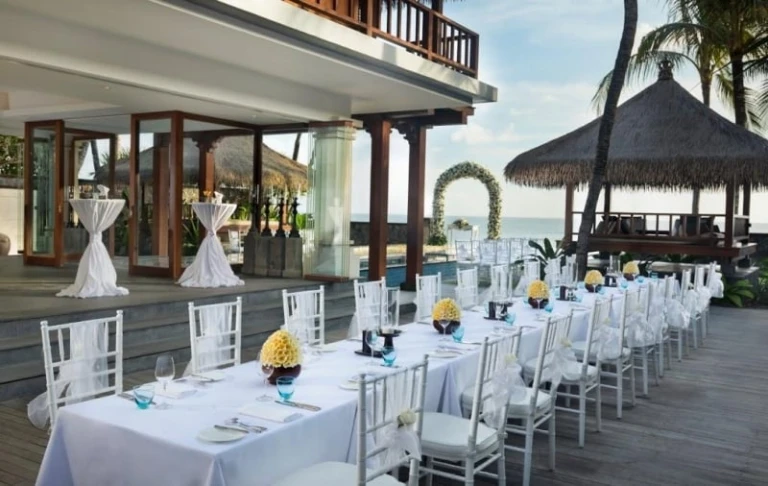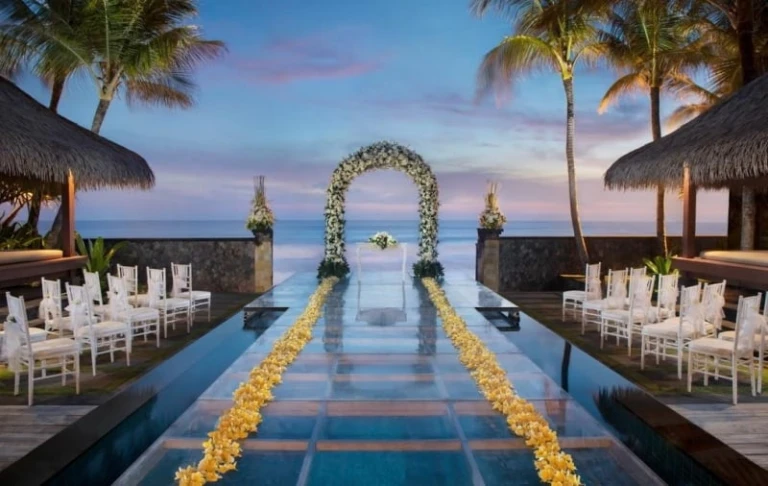 Image credit: The Legian
With a two nights accommodation for the happy couple and their family included (maximum of 6 pax) as well as a 60-minute massage for the bride and groom, this wedding package also luxuriates and pampers you plus your spouse too. If that doesn't sound like a dream come true, we don't know what does.
The Legian also offers a Sunset Garden Wedding Package with a "stairs to heaven" outdoor stairway instead. Instead of accommodation, this package includes a 90-minute spa for the couple and 60-minute manicure and pedicure for the bride. No matter which package you decide to pick, this five-star hotel will definitely not disappoint!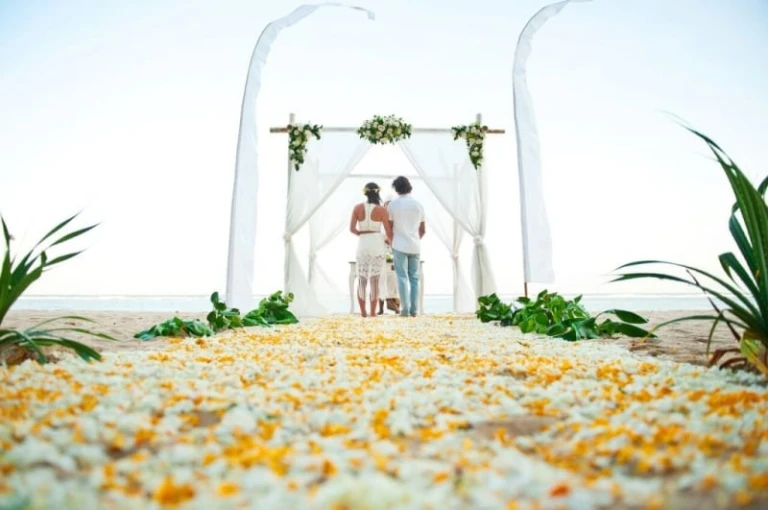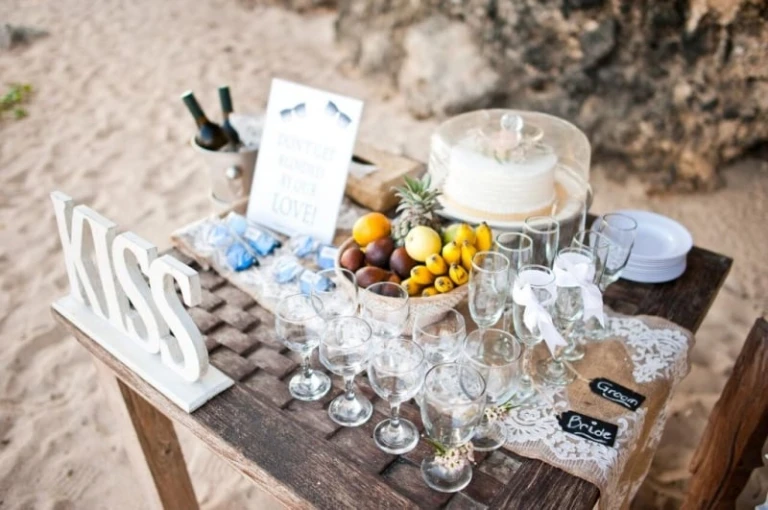 Image credit: Samabe Bali Suites & Villas
If you've been pining for a wedding ceremony that has a touch of fun and playful, why not go ahead and have a beach wedding? Samabe Bali Suites & Villas offers six types of wedding packages, including Bali Beach Wedding and Dream Wedding by the Beach Cave which allows the couple and their guests to celebrate by the beach.

Known as "Island of the Gods", Bali is famed for its glorious beaches that meet cerulean-blue waters, so we definitely think taking your wedding ceremony to its immaculate, pristine shores will be a decision that you won't regret.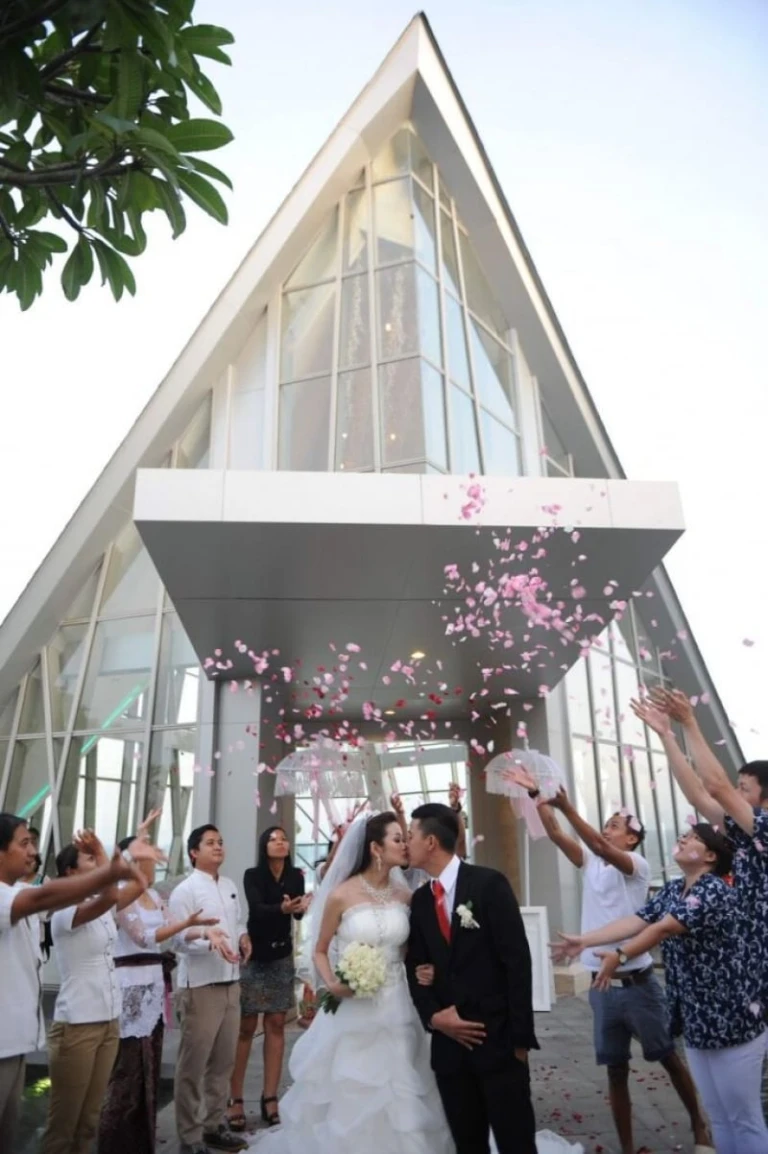 Image credit: Samabe Bali Suites & Villas
If you can't decide between getting married in a chapel or by the beach, Samabe presents the best of both worlds with its Pearl Chapel Wedding Package. Samabe Bali's very own majestic Pearl Chapel has glass windows that give you an 180-degree view of the surrounding beach and Indian Ocean. The chapel is also fully equipped with an illuminated bridal walkway, so you can walk down the aisle in style.
With a one-night stay included in the wedding package as well, Samabe may just be your dream fairytale wedding fantasy come true! Check out their packages here.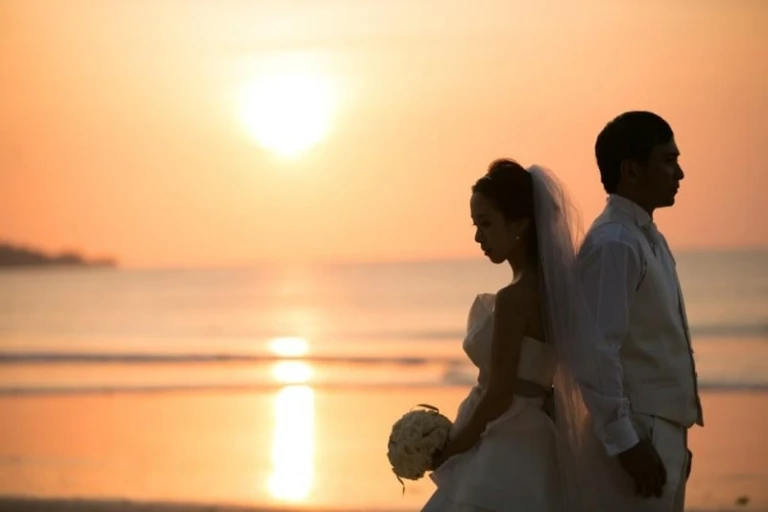 Image credit: Intercontinental Bali
Intercontinental Bali keeps it simple with three different themed wedding packages – the Tresna Sunset Wedding, Wiwaha Exotic Wedding or Kamita Villa Wedding – just take your pick! The Tresna Sunset Wedding package promises a wedding ceremony held by the beach, splashed with the colours of sunset. Enjoy an incredibly tender moment with your lover as you admire the spectacular sunset view…and have some gorgeous wedding shots of course! This is one beach wedding dream come true indeed!

For couples who prefer a quieter and more private setting, you can also opt for a more intimate wedding ceremony at one of the resort's tastefully-finished villas as well.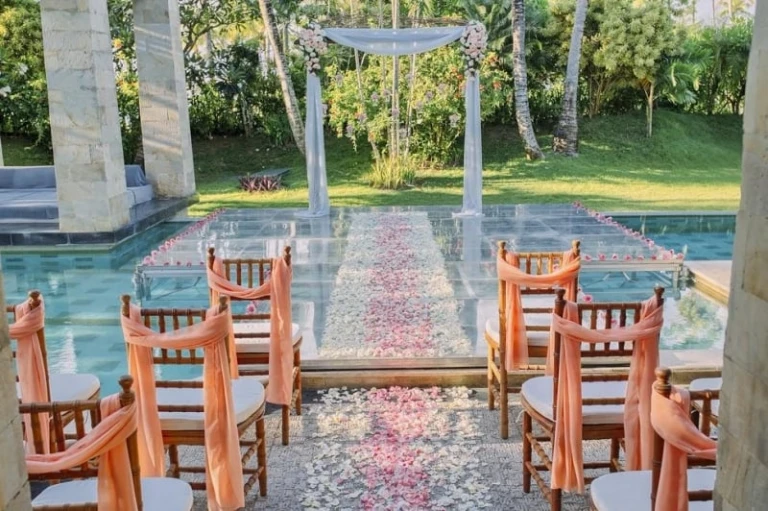 Image credit: Intercontinental Bali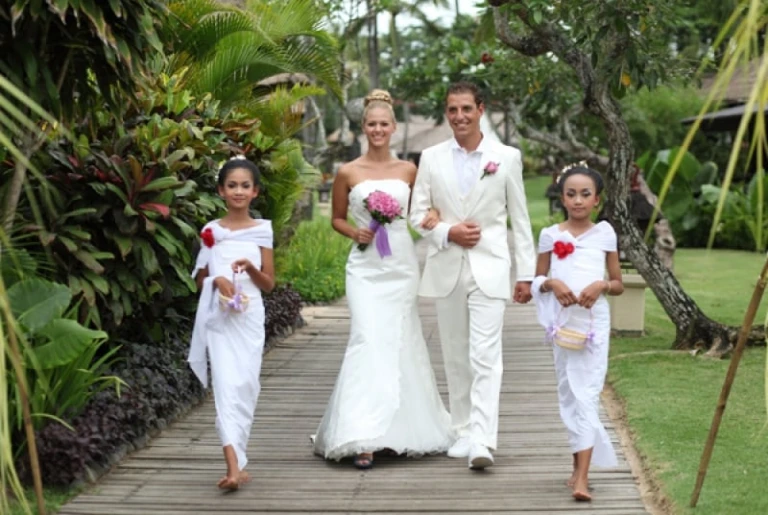 Image credit: Intercontinental Bali
The Wiwaha Exotic and Kamita Villa Wedding packages include professional photography services and extra treats such as romantic dinners, spas and massages, as well as accommodation with private Club benefits – depending on your package of choice. Get ready to be spoiled silly on your special day. A wedding is supposed to celebrate the both of you after all! You can find out more, or request for a proposal here.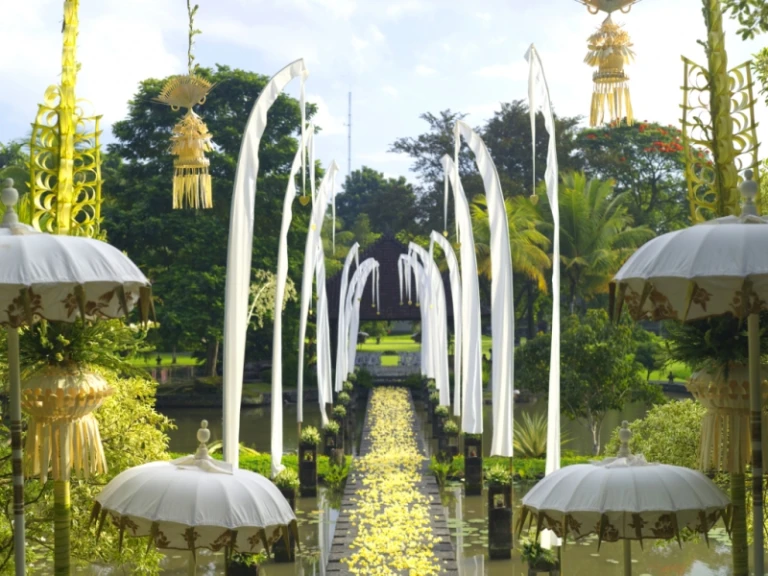 Image credit: The Chedi Club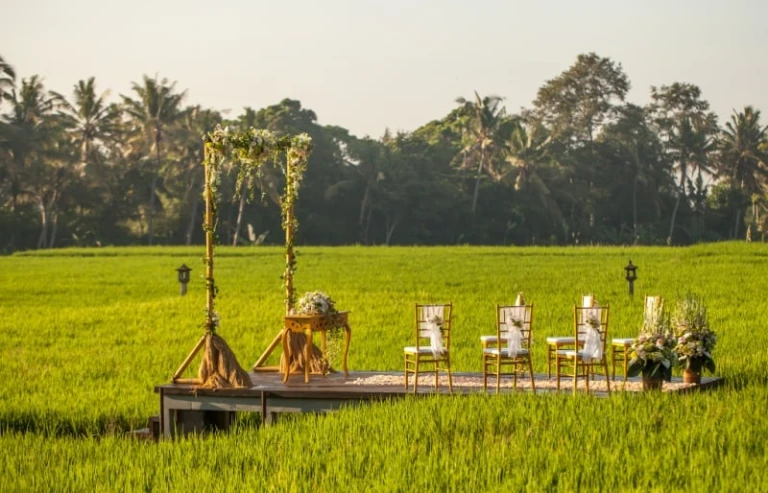 Image credit: The Chedi Club
For a wedding ceremony tinged with the rustic charms of Bali's pastoral, rural landscapes, The Chedi Club Tanah Gajah is certainly a luxury hotel that will deliver. Set out in the verdant paddy fields in Ubud, the cultural heart of Bali, it's difficult to to not fall in love with this hotel at all. The Chedi Club offers three wedding packages with five different wedding venues to choose from.

For a cosy and more exclusive wedding ceremony, opt to have the ceremony at The Bale Dedari, where you can enjoy gorgeous views of Mount Agung in the distance and some afternoon tea after the ceremony. For those who have more guests, the hotel's outdoor Amphitheatre can hold up to 100 pax, and the Restaurant can hold up to about 70-100 pax depending on a buffet or cocktail reception. Find out more about the packages and venues here!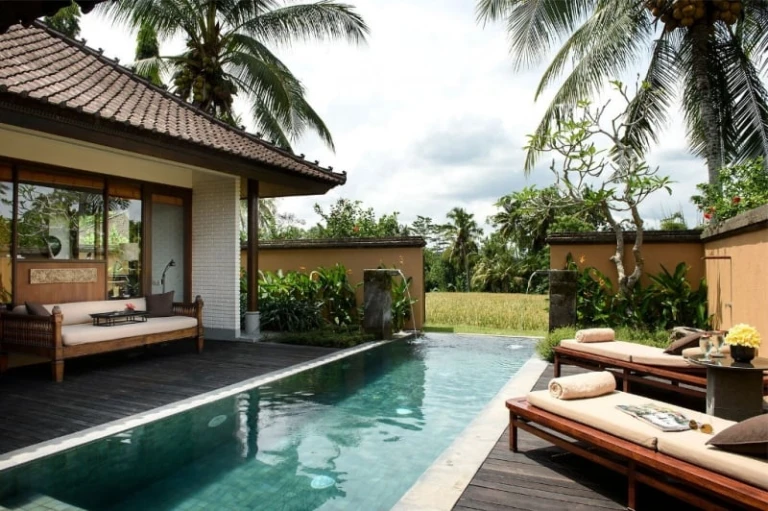 Image credit: The Chedi Club
After your wedding ceremony, choose to relax and unwind at the hotel's One Bedroom Pool Villa, which makes for the ultimate honeymoon cocoon. Fitted with all the trimmings (think: luxuriously comfortable queen size bed, outdoor soaking tub and your very own deluxe eight-metre private pool within the villa itself), you'll never, ever want to leave!
6. Ayana Resort & Spa Bali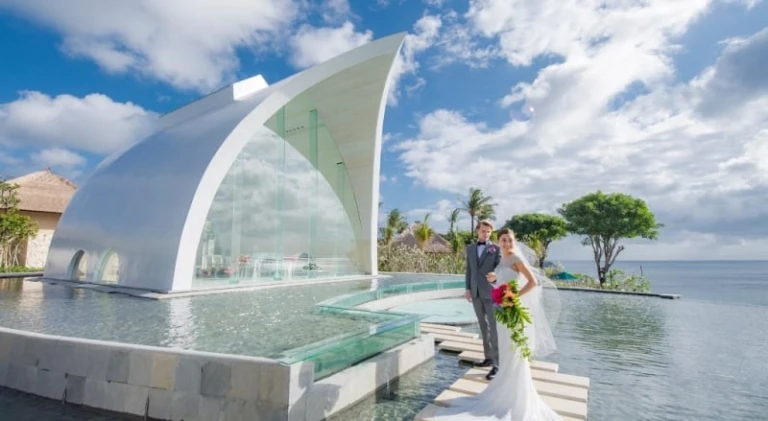 Image credit: Ayana Resort & Spa Bali
If you're looking for a wedding venue that's both spectacular and glamourous, Ayana Resort & Spa Bali might be the place you're looking for. The hotel's Tresna wedding chapel is almost iconic; this shimmering gem-like architecture is fitted with see-through glass aisles and a flowing, stone-lined river underneath leads to the glass altar! It is also fully air-conditioned so you get to walk down the aisle and say I do without breaking a sweat. Now, how wonderful does that sound?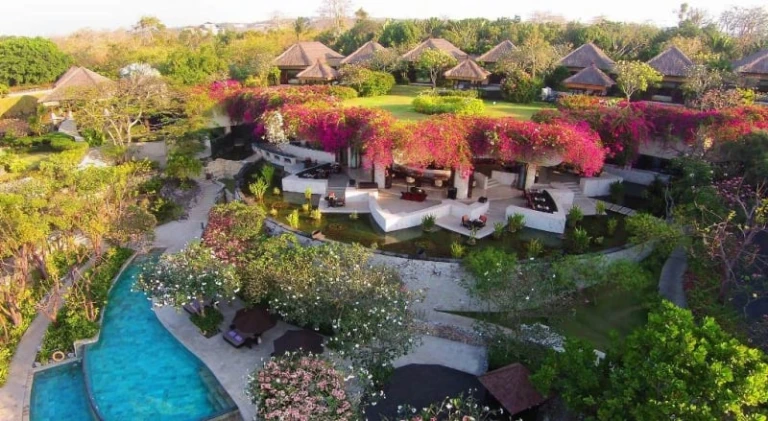 Dava | Image credit: Ayana Resort & Spa Bali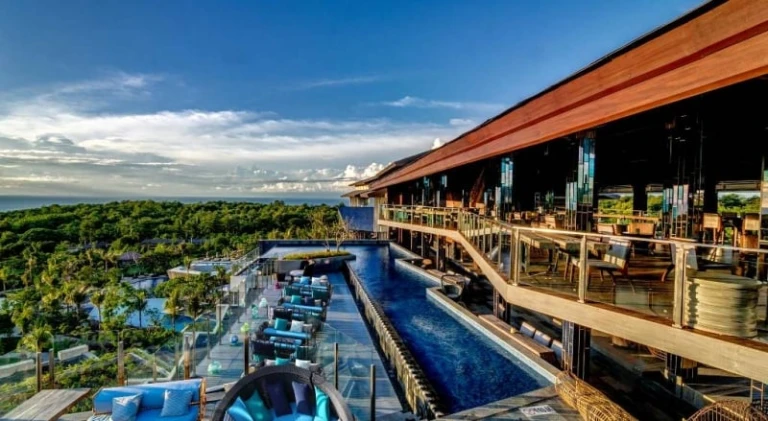 Unique | Image credit: Ayana Resort & Spa Bali
If getting married at the Tresna Chapel does not sound like your cup of tea, fret not. You'll probably find something that suits your tastes in the other ceremony and reception venues available. This stunning resort offers 20 over venues to host your special day so trust us when we say that there really is something for everyone.

From Dava, Ayana's grill-concept restaurant tucked away in its vibrant gardens to Unique, the resort's very own rooftop bar and infinity pool, each venue caters to different needs. Sprawling lawns, private villa spaces or spacious ballrooms, you name it – Ayana Resort most probably has it. Read up more here!
7. Villa Latitude Bali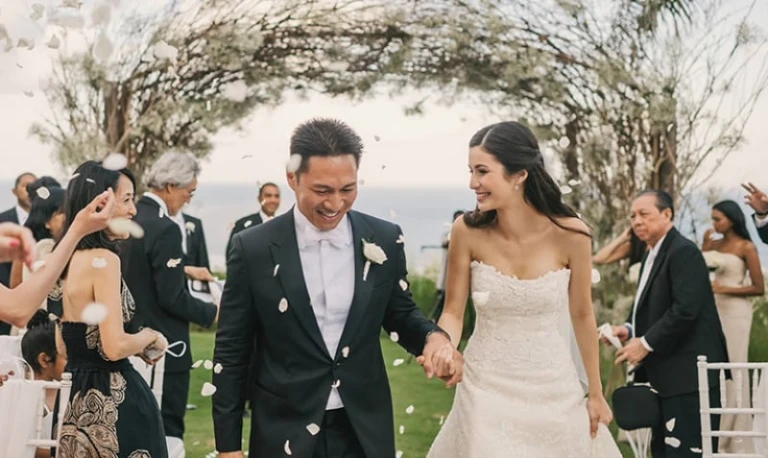 Image credit: Villa Latitude Bali
How about having your wedding ceremony at a clifftop that overlooks the azure ocean? Sounds perfect? Then the clifftop villa at Villa Latitude Bali has got to be the ideal wedding venue for you! With panoramic views all around and the surrounding terraces and decks decorated with flowers and the like, the clifftop villa venue surely makes for a gorgeous setup for you to exchange vows and celebrate!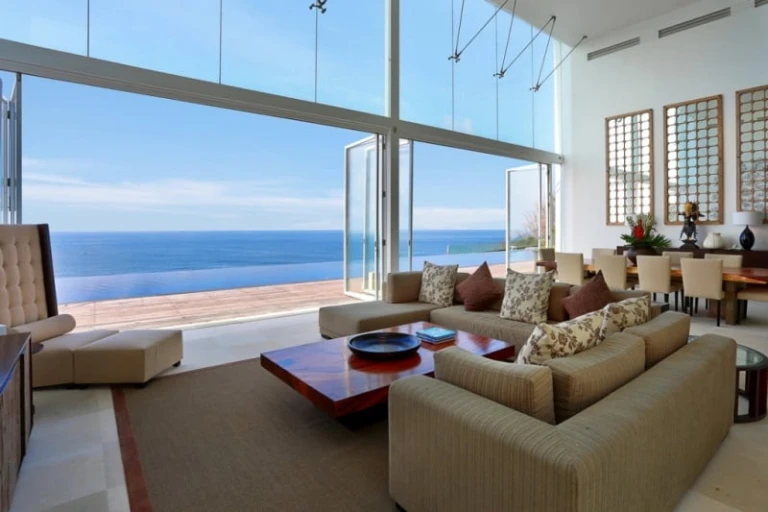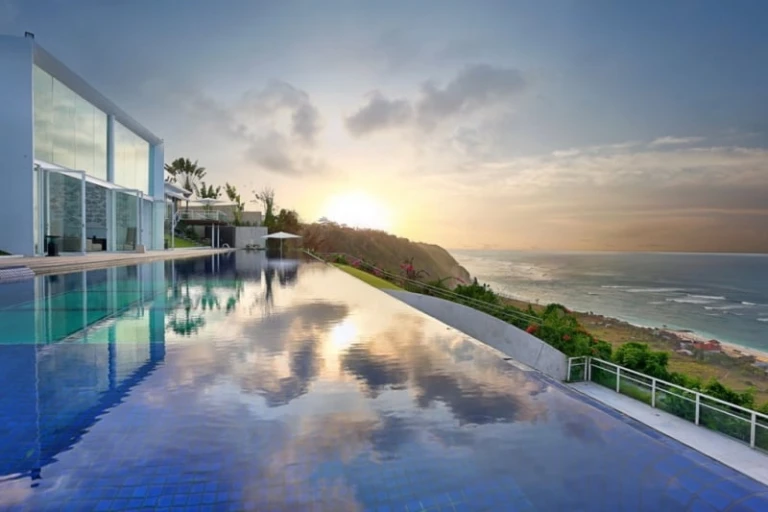 Image credit: Villa Latitude Bali
Villa Latitude Bali is famed for its iconic pool villas – and it's not difficult to see whyl Their luxuriously spacious suites boast tasteful design and architecture and a stay here will truly give you a taste of paradise indeed!

Just imagine waking up to the view of your 36-metre long private infinity pool blending seamlessly into the azure blue horizon of the sea beyond…it would be a sight that will undeniably take your breath away.
8. Bulgari Hotel & Resort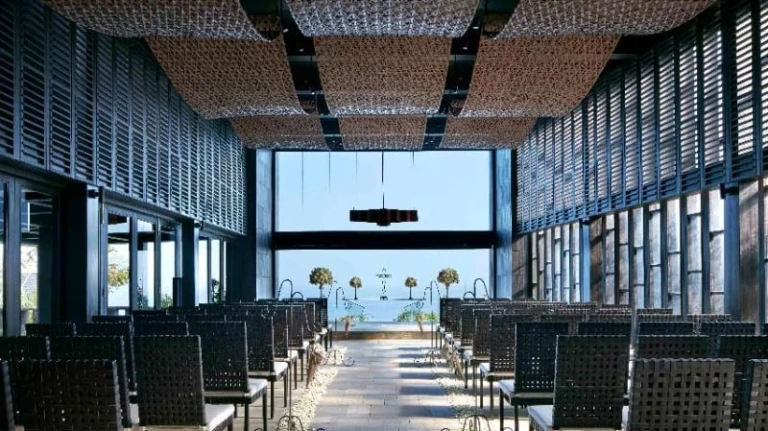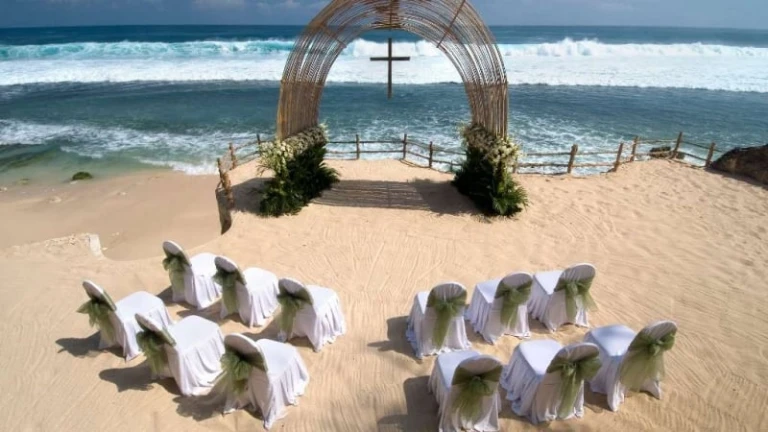 Image credit: Bulgari Hotel & Resort
Take an unspoiled beach resort in Bali, blend it together with a touch of Italian contemporary design and you'll get Bulgari Hotel & Resort – a lavish, expansive slice of paradise perfect for hosting your dream fairytale wedding. Choose from a Water Wedding, Bulgari Chapel Wedding, The Bulgari Villa Wedding or a Beach Wedding package – with each package as exciting and enticing as the last.

Whether it's exchanging your vows by the seaside or at the exquisitely tasteful hotel chapel, Bulgari Resort is for the couple who oozes class and isn't afraid to splurge a little for their big day! Look at the different wedding venues available here!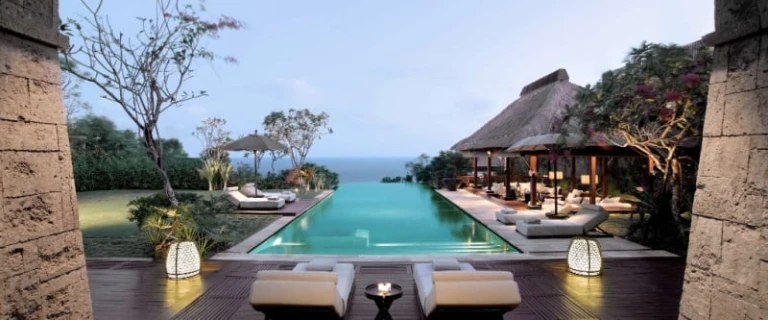 Image credit: Bulgari Hotel & Resort
With ostentatiously luxurious accommodations like private pool villas and mansions with up to five rooms, Bulgari Resort offers nothing but the best to pamper their guests. Some rooms even have their own private cinema and spa treatment room in addition to private pools and sun decks! Now, that is the epitome of luxury, isn't it?
9. Eco Paradise Bambu Indah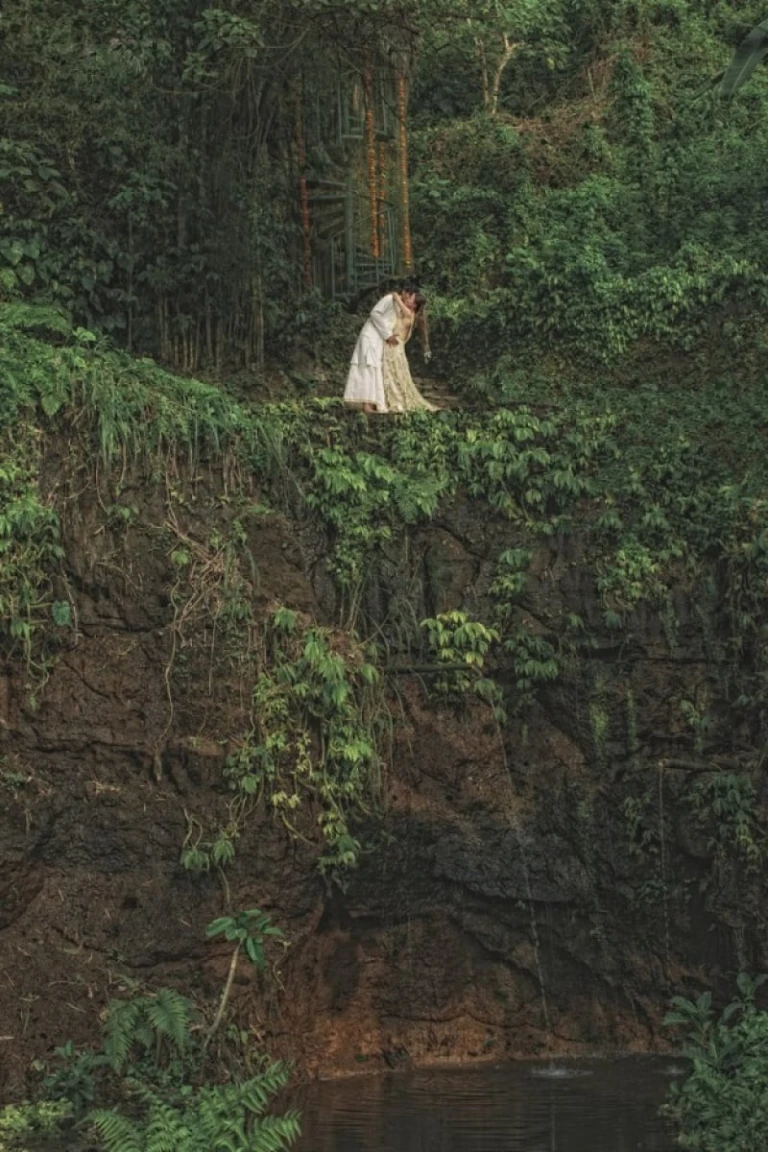 Image credit: Eco Paradise Bambu Indah
For nature-loving couples who prefer to have the lush, tropical forests in Bali as a wedding venue instead of the usual beach weddings, Eco Paradise Bambu Indah will not disappoint. Eco Paradise Bambu Indah is Ubud's eco-lifestyle boutique hotel which practices responsible living without compromising on luxuriating its guests.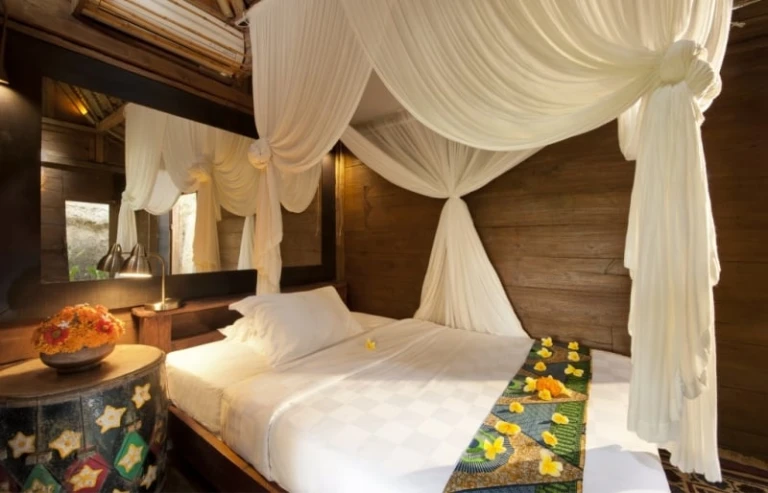 Image credit: Eco Paradise Bambu Indah
Have a private wedding ceremony overlooking evergreen rice fields and terraces and the Ayung River before proceeding for a photoshoot in the forested surroundings. Eco Paradise Bambu Indah not only grants the perfect private eco getaway for a quiet wedding ceremony and reception but also provides comfortable, unique spaces with their assortment of room options.
From the Kuda or Biru House to the larger Afrika House and The Pagoda, each eco-friendly boutique space will make sure that you and your partner will enjoy a memorable and romantic stay.
10. The Edge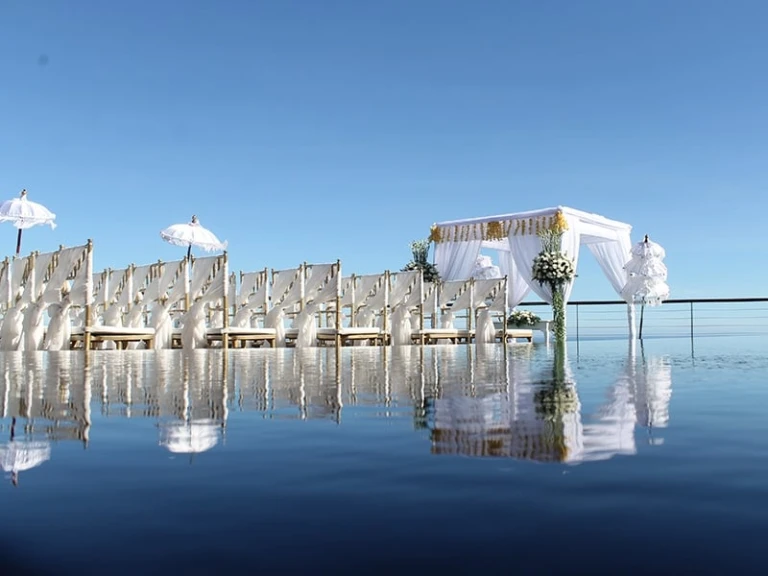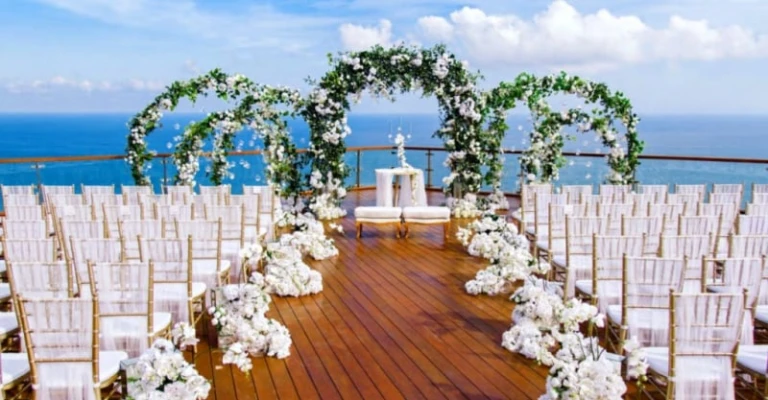 Image credit: The Edge
Perched on lofty Uluwatu clifftops is The Edge Bali, where couples can get married to the picturesque sights (and sounds) of the Indian Ocean crashing below. With different wedding packages that cater to different needs, there's bound to be a package that will win your heart over.
Choose from an intimate ceremony for 10 guests to The Horizon or The Edge wedding package that can host up to 200 guests and enjoy other awesome treats included such as a pampering stay or refreshing spa session. Package and set menu details can be found here.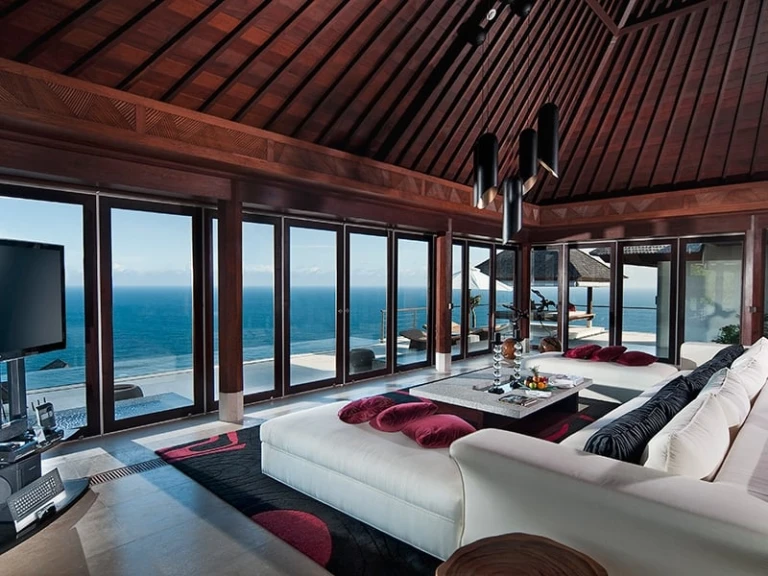 Image credit: The Edge
With names like The One, The View, The Breeze and The Exclusive – the villas here exude nothing but class with their carefully-curated designs and facilities according to theme.
For instance, The One features large living spaces and a private infinity pool while The Exclusive takes it up a notch and includes four villas and facilities like the spa, bar and gym all for your use during the period of your stay! Want to indulge yourself during your once-in-a-lifetime event? Now you know where to look.
Ready to say "I do" to these fairytale wedding venues in Bali?