Assam's Kaziranga National Park and Tiger Reserve (KNPTR), one of India's most popular wildlife destinations, is all set to reopen for tourists from October 15, 2023. The park remains closed during the monsoon season from May to October to protect the wildlife from flooding.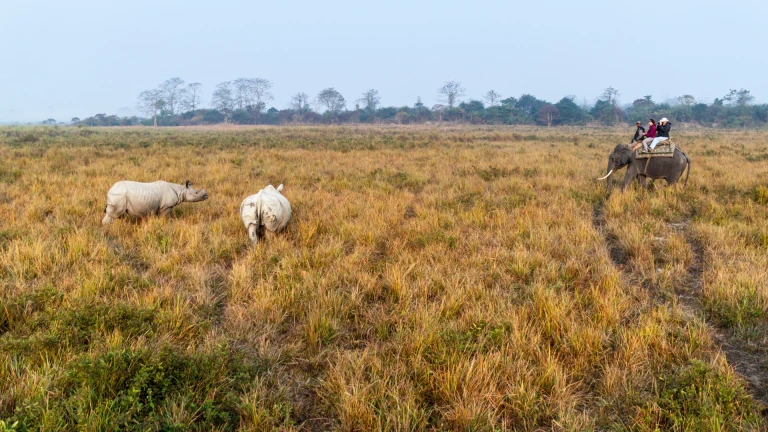 Tourists can expect to see a variety of wildlife at Kaziranga, including the world's largest population of one-horned rhinoceroses, as well as tigers, elephants, leopards, water buffaloes, and a variety of other animals. The park is also a UNESCO World Heritage Site, and its lush green landscapes and diverse wildlife make it a must-visit for any nature lover.
The reopening of KNPTR is good news for wildlife enthusiasts and the tourism industry in Assam. The park is expected to attract a large number of visitors from India and abroad during the upcoming tourist season.
Here are some additional things to keep in mind when planning your trip to Kaziranga National Park and Tiger Reserve:
How to get there: KNPTR is located in the Golaghat, Nagaon, and Sonitpur districts of Assam. The nearest airport is Jorhat Airport (JRH), which is about 97 km from the park. The nearest railway station is Guwahati Railway Station (GHY), which is about 217 km from the park. You can hire a taxi or take a bus from either airport or railway station to reach the park.

Where to stay: There are a number of tourist lodges and resorts located near KNPTR. You can book your accommodation in advance through the official website of the Assam Forest Department or through online travel agencies.

What to do: The main activity in KNPTR is going on wildlife safaris. You can book jeep safaris, elephant safaris, and boat safaris through the official website of the Assam Forest Department. Other activities that you can enjoy in the park include visiting the Kaziranga Orchid Park, the Kaziranga Elephant Museum, and the Kaziranga Bird Sanctuary.

What to pack: When packing for your trip to KNPTR, be sure to bring comfortable clothing, shoes, and a hat. You should also bring sunscreen, insect repellent, and a water bottle. It is also a good idea to bring a camera and binoculars to capture the amazing wildlife sightings.
Overall, the reopening of Kaziranga National Park and Tiger Reserve is a positive development for both the park and for the local community. It is a sign that the country is returning to normalcy and that people are once again able to enjoy the beauty of nature.
We hope that tourists will be responsible and respectful of the park and its wildlife. Be sure to follow the rules of the park, and do not litter or disturb the animals. We also encourage you to support the local community by staying at local guesthouses and eating at local restaurants.