The Philippines is a sun-soaked archipelago with more than 7,000 islands. That said, there's definitely never a shortage of interesting places to see and experience. Its unique culture, stunning sights, and one-of-a-kind hospitality will surely make you want to come back for more. But did you know that there are several tourist spots in the Philippines that actually look like other foreign destinations?
Indeed, it's like you can travel around the world (sort of), even if you're just in one country. And sometimes, you just need to take a good photo at a particular angle! (*Wink*) Don't believe us? Well then, let these foreign-looking Philippine destinations show you. We've placed them side by side with their international counterparts, too — so you can see what we really mean!
Collage order: Philippines (left); foreign destination (right)
1. Calauit Safari Park, Palawan  = Africa's safaris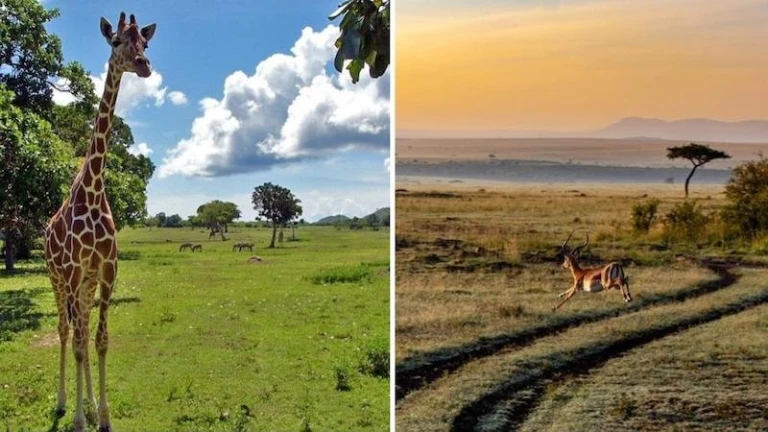 Image credit (left): Mike Ocampo
The Calauit Safari Park is a wildlife sanctuary in Busuanga, Palawan. Situated on Calauit Island, it's home to a substantial population of African animals like zebras, giraffes, and antelopes. This explains its moniker: Little Africa! Though, this tourist spot in the Philippines also features endemic species: the Calamian deer, Palawan peacock-pheasant, and the Palawan bearcat, to name a few!
And while you're at it, how about taking your safari OOTD up a notch? One peg would be Taylor Swift in her music video for Wildest Dreams! Clearly, we're talking about the one with khaki pants and boots, not the dress. Unless, of course, romping around in a flowy frock is your thing…
2. Fortune Island, Batangas = Athens, Greece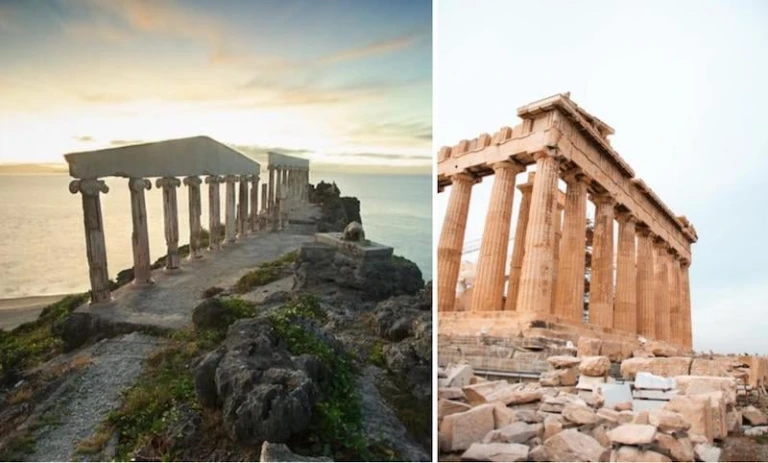 Image credit (left): thefool0803
Walking around Fortune Island in Batangas is like taking a trip to Ancient Greece — minus the Euro visa. You'll find here several Parthenon-inspired pillars and sculptures of Greek deities and mythical creatures. Yep, this tourist spot in the Philippines is what Greek myth dreams are made of (hello, Percy Jackson fans)! Feel free to go all out and don a Greek toga paired with gladiator sandals and a laurel headdress.
Meanwhile, on the shore, there's a replica of the Spanish galleon, San Diego, which sunk off the island centuries ago. After sight-seeing, you can also go snorkelling and cliff-diving.  Just make sure to change out of your Greek-inspired OOTD, should you choose to wear one!
3. Coron Island, Palawan = Halong Bay, Vietnam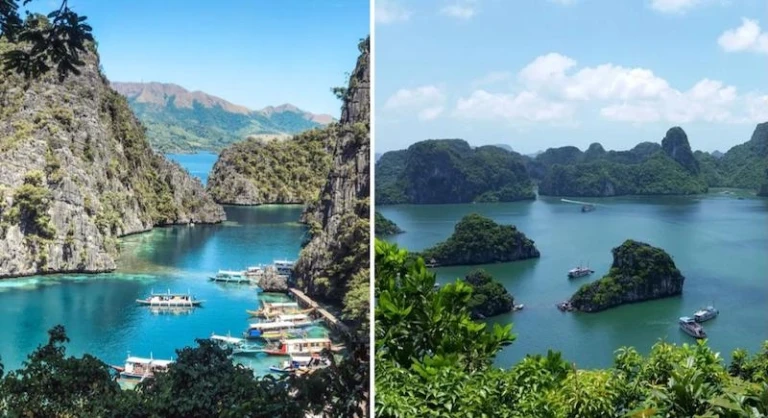 Image credit (left): Carla Cervantes
Up for a life aquatic with a little bit of history? Coron Bay is the way to go! It's a favourite among diving enthusiasts, thanks to its underwater shipwrecks and colourful marine life. You'll find massive wreckages of Japanese gunboats, aircraft carriers, tanks, and ammo from World War II. Whether you're an experienced or beginner diver, you can explore some of these diving sites; some are as shallow as 10 to 20 feet, while some go as deep as 140 feet!
The island of Coron also features spectacular sights above the water! There's Kayangan Lake: a semi-freshwater lake nestled between gigantic karst cliffs. Its postcard-worthy scenery makes it such a hit, especially among those looking for a cool Instagram travel pic! Also, this tourist spot in the Philippines will remind you of Vietnam's Halong Bay.
4. Batanes = New Zealand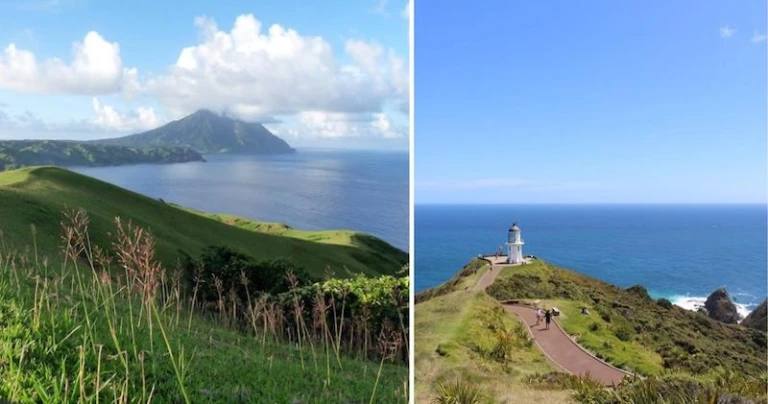 Image credit (left): Allan Ascaño
For most Filipinos, going to Batanes is almost like travelling to Oceania. With Batanes' verdant rolling hills overlooking ocean waves crashing against the cliffs, it's almost like you're in a scene from Lord of the Rings! (And we all know that the trilogy was shot around New Zealand.) Batanes is also the northernmost province of the country, which explains its cold, breezy climate.
5. Camp John Hay, Baguio = North America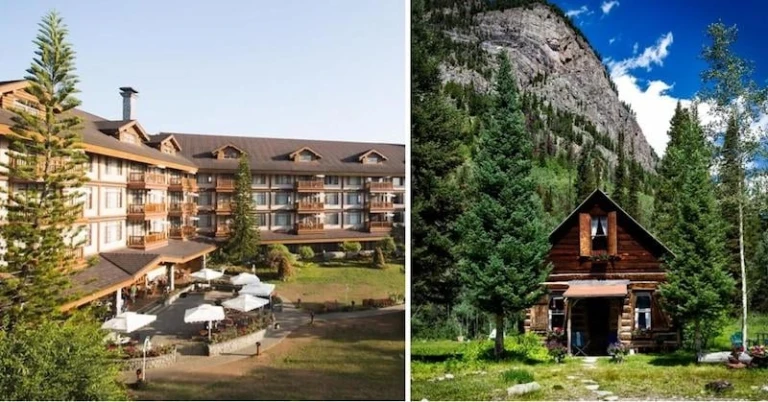 Image credit (left): EJ Sanchez
Dreaming of staying in a cosy log cabin at a mountain resort? Look no further than Baguio City, A.K.A. the Summer Capital of the Philippines! With its lush pine trees and chilly climate, it's easy to see why it was the go-to among foreign soldiers and officials during the American Occupation.
Make your way to Camp John Hay, a former military base turned leisure compound. There, you can do all sorts of activities: from golfing and enjoying native hot cocoa to hiking around forest trails! You'll also find hotels and cottages for rent that are quite like those country homes in the United States and Canada.
6. La Paz Sand Dunes, Ilocos Norte = Namib Desert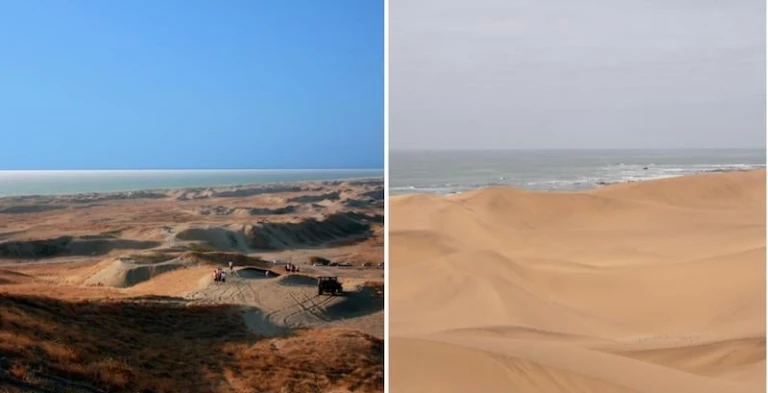 Image credit (L-R): ricky artigas; Jean & Natalie
Fancy a desert excursion? Well, guess what — you don't have to go all the way to Africa or the Middle East! Instead, you can visit the La Paz Sand Dunes in Laoag, Ilocos Norte. This famous tourist spot in the Philippines is also called Bantay Bimmaboy by the locals.
Explore the 85-square-kilometre area of protected coastal desert with an ATV. In between, you can sandboard along the steep dunes, too. (Just don't expect any camels!)
7. Hinatuan Enchanted River, Surigao del Norte = Mexico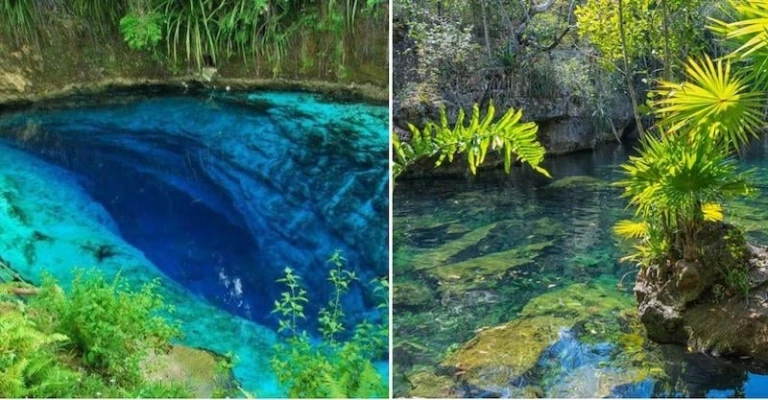 Image credit (left): 2il org
A trip to the Hinatuan Enchanted River will probably remind you of the cenotes in Mexico's Yucatán Peninsula. No one knows where exactly its crystalline saltwater comes from, though there are theories that involve an underground cave system. Although, local legends say that fairies are responsible for those mesmerising shades of sapphire and jade.
Adding to its mystical allure is the Hymn of Hinatuan. Every day at noon, the long-time caretaker plays the tune while feeding an enormous school of fish. You see, this practice is said to help appease the river spirits. Oh, and like the water itself, no one knows where these fishes come from either!
8. Cadapdapan Rice Terraces, Bohol = Sapa Valley, Vietnam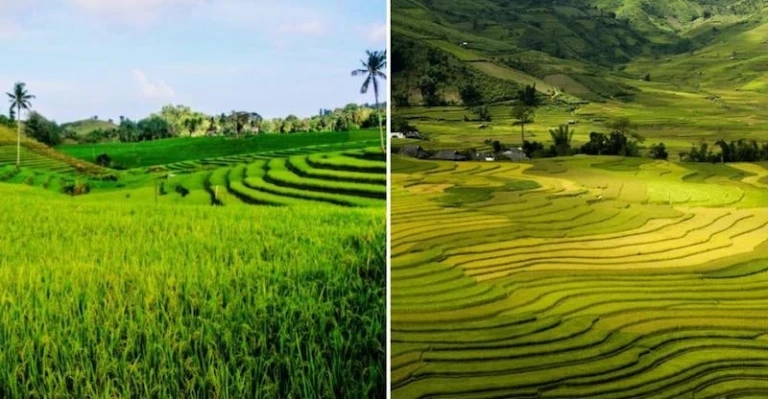 Image credit: Bohol Tourism Official Website
You'll find the Cadapdapan Rice Terraces in Candijay, Bohol. Sure, it's not as popular and gigantic as the ones in the Cordillera region. Nonetheless, this tourist spot in the Philippines has its own unique charm. Notice how the breathtaking scenery is reminiscent of Sapa Valley in Vietnam!
9. Boracay = The Bahamas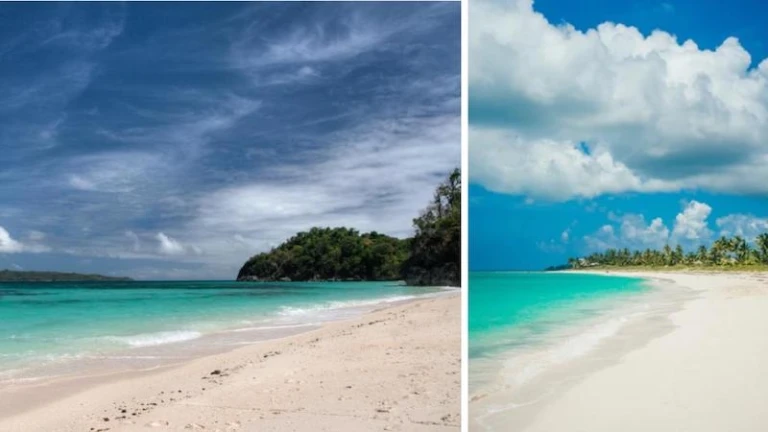 Image credit (left): Tuderna
The Philippine archipelago is dotted with amazing islands. But perhaps the most famous of them all is Boracay! This successfully rehabilitated island boasts pristine, powder-like shores and turquoise waters that can rival those in the Bahamas. It has constantly been named as one of the best beaches in the world, after all!
10. Sirao Flower Garden, Cebu = Netherlands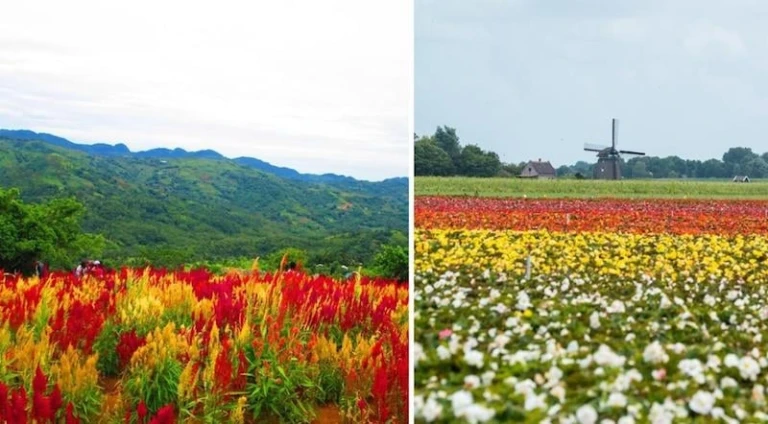 Image credit (left): Jam Bing
In Sirao Flower Garden, you'll find floral wonders planted by the local community. These started to become popular after someone took a lovely shot of the red and yellow celosia blooms, which then made its way to the Internet. Since then, it has become a popular tourist spot in the Philippines. The fact that it resembles flower fields in Holland (complete with Dutch windmills) is probably a plus!
Oh, and two fun facts: One, celosia is actually not a native to the Philippines! The ones in Sirao Flower Garden were brought home by Cebu locals who went to the Netherlands in 1991. This explains why the place is also called Little Amsterdam! Two, its name is translated to 'burning' in Greek, which perfectly describes its flame-like blossoms.
11. Amanpulo and Huma Island, Palawan = Maldives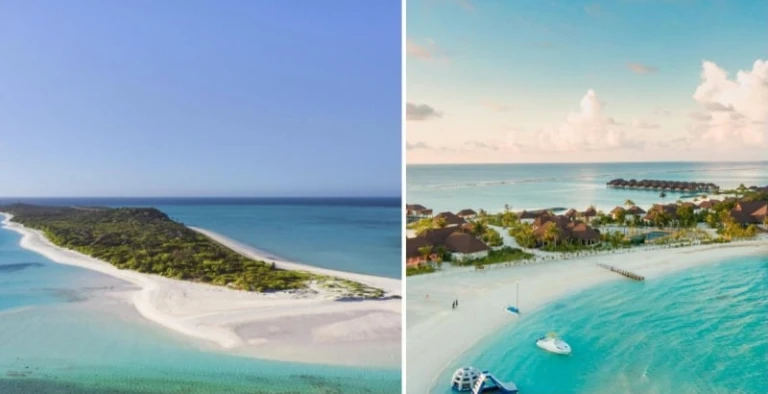 Image credit (left): Amanpulo Official Website
For a luxurious and private getaway, head over to the islands of Amanpulo and Huma in Palawan. Both are a favourite among the jet-set crowd, with their remote location and gorgeous amenities that are quite like the Maldives. It's a posh equivalent for when you don't want to venture beyond Southeast Asia!
12. Vigan, Ilocos Sur = Spain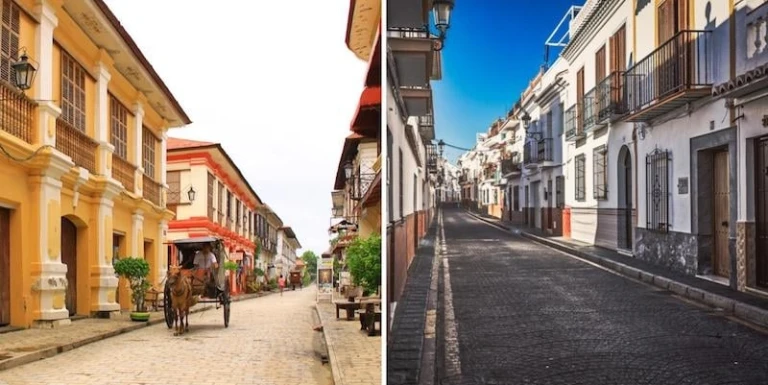 Image credit (left): Obra19
The Vigan Heritage Village is perhaps the most famous heritage site in the Philippines. A trip here is like travelling back in time, specifically when the country was still a Spanish colony. With its cobblestone streets, horse-drawn carriages, and distinct Spanish Colonial architecture, you might as well be in an old European town. Except the tropical heat and locals speaking in Ilocano will probably remind you that nope, you definitely aren't!
That said, make sure to walk around Vigan in the evening, too! We recommend Calle Crisologo: its warm streetlights and friendly atmosphere make for a dreamy, old-world vibe. Oh, and did we mention that it's also a UNESCO World Heritage Site?
13. Bilar Man-made Forest, Bohol = Kyoto, Japan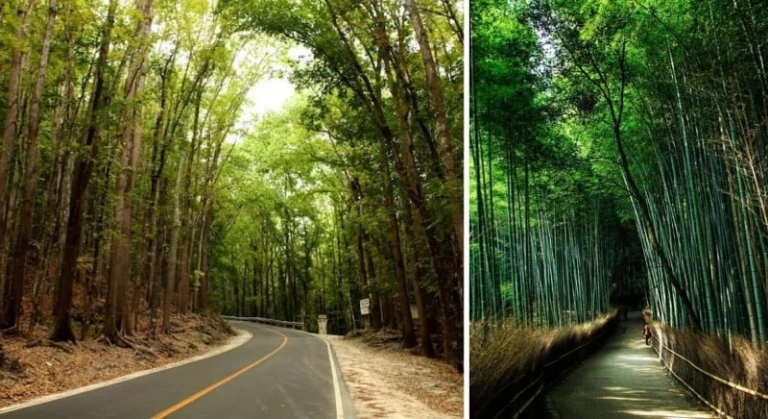 Image credit (left): R924
In Bilar, Bohol, there's a man-made mahogany forest that stretches two kilometres. Its uniformity constantly inspires Filipino filmmakers to use it as a shooting location. That, and perhaps its mild resemblance to the Sagano Bamboo Forest in Kyoto, Japan! In fact, if you take a photo in the middle of the road, you just might give the illusion that you're in Kyoto, not Bohol. But if you've been to both, you'll know that both spots are equally gorgeous in their own ways!
14. Magpupungko Rock Pools, Siargao = Thassos, Greece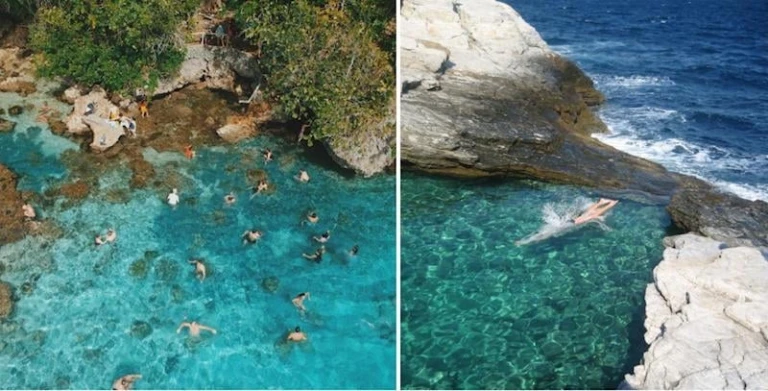 Image credit (left): Dale De Vera
Beyond the surf spots of Siargao lies the otherworldly Magpupungko Rock Pools, which only appear during low tide. It's a must-visit especially for beach bums who prefer swimming over surfing. Feeling extra adventurous? Ask the locals for particular spots here where you can do some cliff-diving.
Wondering what this tourist spot in the Philippines reminds you of? Most likely the Giola Lagoon on the Greek island of Thassos! Isn't it just as marvellous? We think, yes!
15. Venice Piazza Grand Canal Mall, Taguig = Macau (and Venice, obviously!)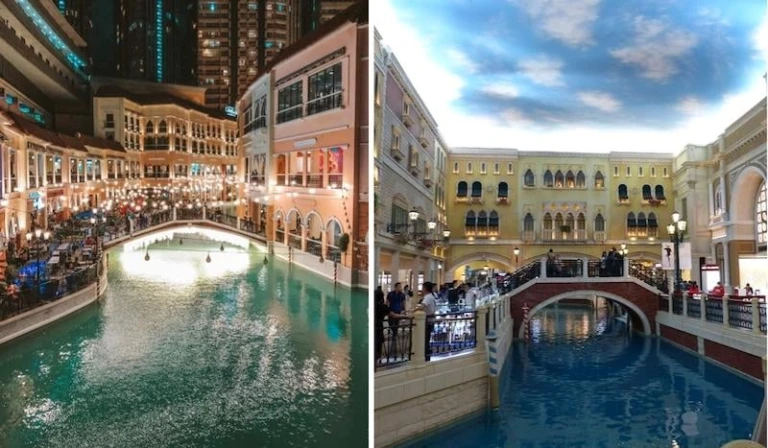 Image credit (left): Therese Sta. Maria
Yep, you can actually ride on a gondola in the Philippines! Head over to the Venice Piazza Grand Canal Mall in Taguig City. And just like the one in Macau, it features a picturesque canal with singing gondoliers rowing about.
16. Sitangkai, Tawi-Tawi = Floating Market in Bangkok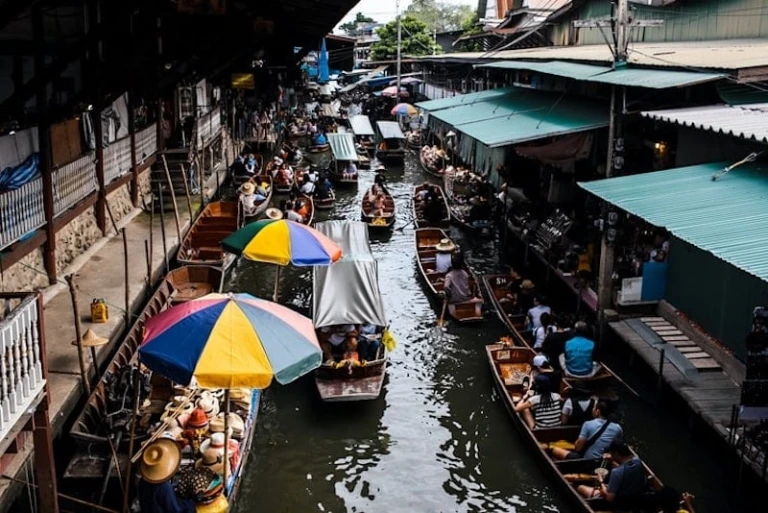 Image credit: Frida Aguilar Estrada
If Taguig has its own Venice-inspired gimmick, there's another one in Mindanao: the sword-shaped island of Sitangkai in Tawi-Tawi! Otherwise known as the 'Venice of the South,' it got its nickname because of the wide canal that serves as a main gateway to the municipality. As you cruise along, you'll see footbridges that connect communities from both sides of the canal — mostly the Tausug and Sama-Bajau ethnic groups.
Rather than Venice, though, this tourist spot in the Philippines will remind you of the floating markets in Bangkok! Its advantage lies in the fact that it has fewer crowds, so that should be a plus.
17. Kaparkan Falls, Abra = Pamukkale Thermal Pools, Turkey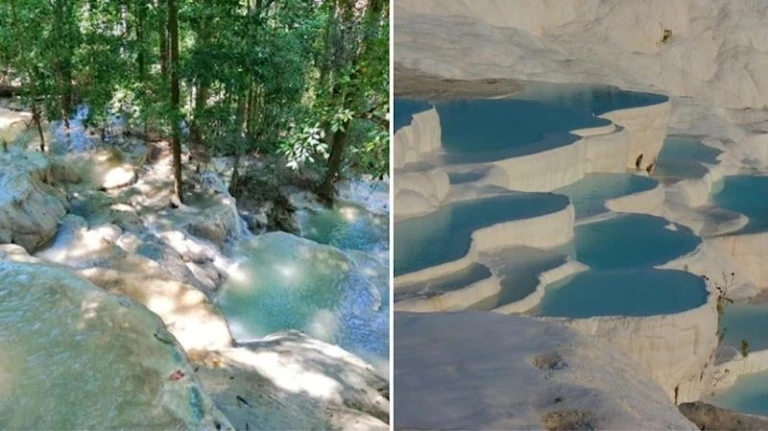 Image credit (left): Miguel
Ever wanted to see natural water cascading down multi-tiered pools like the famous ones in Turkey? Way up north in the town of Tineg in Abra, there's the equally mesmerising Kaparkan Falls. Otherwise known as 'Mulawin Falls,' it features white limestone terraces that stretch all the way to the Tineg River below. During the rainy season, the basins are drenched in stunning shades of emerald and azure. That said, the best times to visit this would be during the months of June to August.
18. Pinto Art Museum, Antipolo = Southern California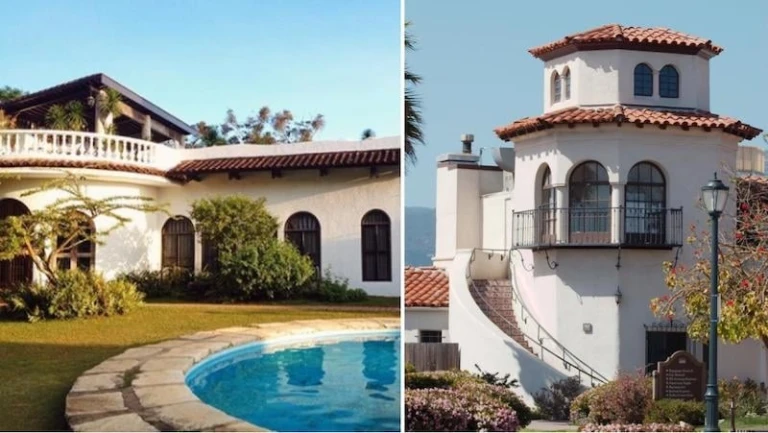 Image credit (L-R): Marcy Miniano; Dori
In Southern California, particularly in affluent areas like Beverly Hills and Santa Barbara, you'll notice an abundance of structures with Mission Revival architecture. Well, you can find a similar tourist spot in the Philippines that's only about a one-hour drive from Metro Manila: the famous Pinto Art Museum in Antipolo. There, you'll find a vast collection of indigenous, traditional, and contemporary local art, each offering insight on Philippine culture. Its seven galleries are scattered across whitewashed open-air villas, with sprawling gardens in between.
There you have it, 18 tourist spots in the Philippines that look like they're from other countries. Though, we're not saying that these places are exact imitations of the foreign countries mentioned.  But rather, they're here to show you that the Philippines has its own beauty and charm. So, which of these are you looking forward to visiting once it's safe to travel again?
Facebook image credit (rightmost): Pinto Art Museum Official Website