J.K Rowling might have concluded the chronicles of everybody's favourite wizard Harry Potter, but the magic we basked in, breathed in and grew up with continues to live on. It's hard to leave behind a world that has shaped many fans' existence since its conception.
Fortunately, there is no lack of real-life Harry Potter-inspired places that we Potterheads can apparate to relive the golden years. Whether you're hoping for a trek around the Forbidden Forest, a peek into one of the iconic Hogwarts' four-poster dormitory beds or an opportunity to expand your stash of memorabilia, we've got you covered.
The best part – you don't even have to drag yourself all the way out to ole' Britain to get your fix! Get ready to swish your wands and chant Accio plane tickets, for your next adventure of witchcraft and wizardry is just waiting to be discovered.
1. Tour The Wizarding World of Harry Potter (WWHP), Osaka

WWHP, Osaka | Image credit: Laura Tomàs Avellana (left, right)
You can't miss this major attraction if you're going to pay Universal Studios Japan a visit. Leave the Muggle world behind as you roam around the corridors of Hogwarts Castle and gawk at the interactive portraits on the walls. Be sure to also attempt the titillating Flight of the Hippogriff roller-coaster and marvel at Hagrid's Hut as well as the Great Lake.
Feeling parched? Head over for a refreshing Butterbeer at the Three Broomsticks Tavern (more popular amongst visitors) or the Hog's Head. When you're recharged, head back towards the castle for more fun with rides such as Harry Potter and the Forbidden Journey. Alternatively, go on a photo-hunt and seek out iconic landmarks and objects from the films such as the Hogwarts Express, Honeydukes, Sirius Black's poster or even live owls.
When you're ready to bid goodbye, be sure to stop by the Village of Hogsmeade and get your hands on nostalgic Harry-Potter themed souvenirs. These include Chocolate Frogs, wands and Bertie Bott's Every Flavoured Beans – if you like taking risks!
2. Feast on Harry Potter highlights, Singapore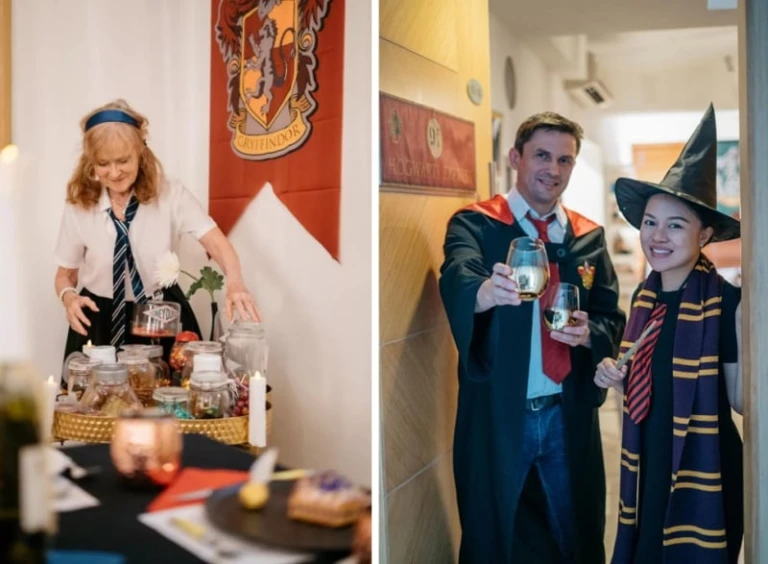 Magical Dinner for Harry Potter Fans, Singapore | Image credit: Jeratch
Let's face it – any dining scene in the Great Hall gets our tummies rumbling louder than a Mandrake trying to scream from inside its pot. Ever wondered what pastries from the Hogwarts' Express Trolley Witch tastes like or the daily staples of a Hogwarts dinner? It's high time you try Jeratch's magical dining experience.
Book the experience online via Airbnb and meet up for your 3.5-hour session at The Worthington, situated in the Katong neighbourhood of Singapore. You'll be led up to the intimately-decorated Harry Potter private penthouse apartment, with a witch and wizard straight 'outta Hogwarts ready to welcome you!
Sip on a delicious potion brew before treating your taste buds to a tantalising spread starring Mrs Weasley's famous roast turkey, stoat roast beef, lamb rack, pumpkin pasties and more. After the dinner, get ready to be sorted into one of the four Hogwarts houses and compete amongst them in a Harry Potter quiz game. Have all your trivia ready, there are special prizes at stake!
3. Down the Goblet of Fire at Platform 1094, Singapore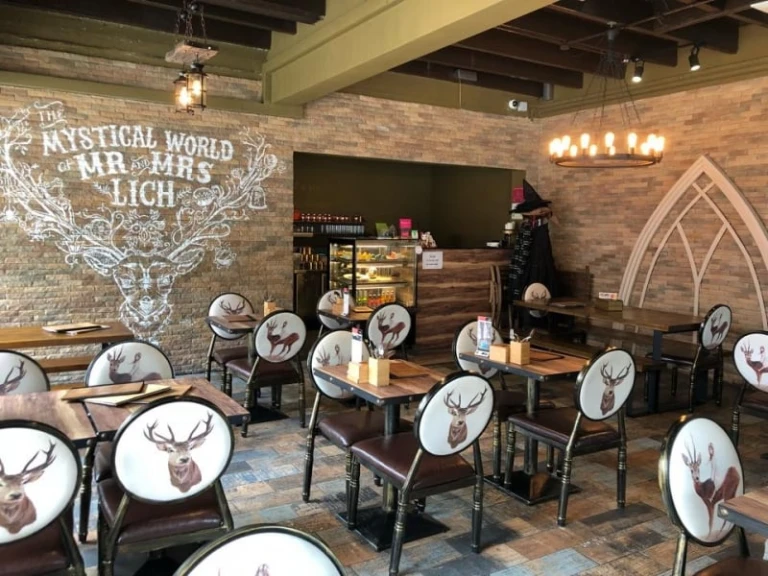 Platform 1094, Singapore | Image credit: Platform 1094 Facebook
Unable to book a dining experience with Jerath? Platform 1094 is a wonderful alternative, as long as you don't expect sprawling Hogwarts-styled tables. With homely lighting, this corner of 1094 Serangoon Road serves up banging Singaporean-Western fusion dishes. Replete with warm lighting, wood-panelled walls and table-top candles (even a ceiling candelabra!) to complete the look, Harry Potter vibes are guaranteed here.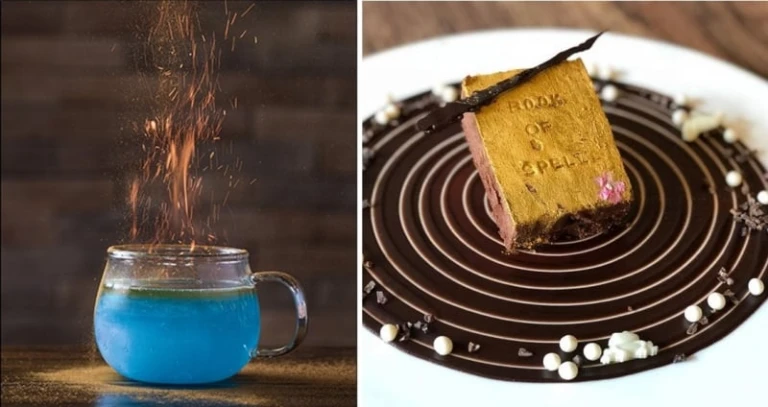 Platform 1094, Singapore | Image credit: FFL Elements Pte Ltd
Just glancing at the names on the menu already has us drooling; who wouldn't want to try an Amnesia Blend, Fairy's Garden or the mysterious Arendelle? The star of the show is their homemade concoction of the Goblet of Fire. Bacardi is lowered into blue Curacao liqueur and then ignited with a blowtorch! Watch the flames swirl before shaking in some cinnamon powder and taking a sip. If you prefer something non-alcoholic, why not gulp down their version of the Elixir of Life, without the risk of being cursed to live a half-life?
4. Pick out a treasure or two at Museum CONTEXT, Hong Kong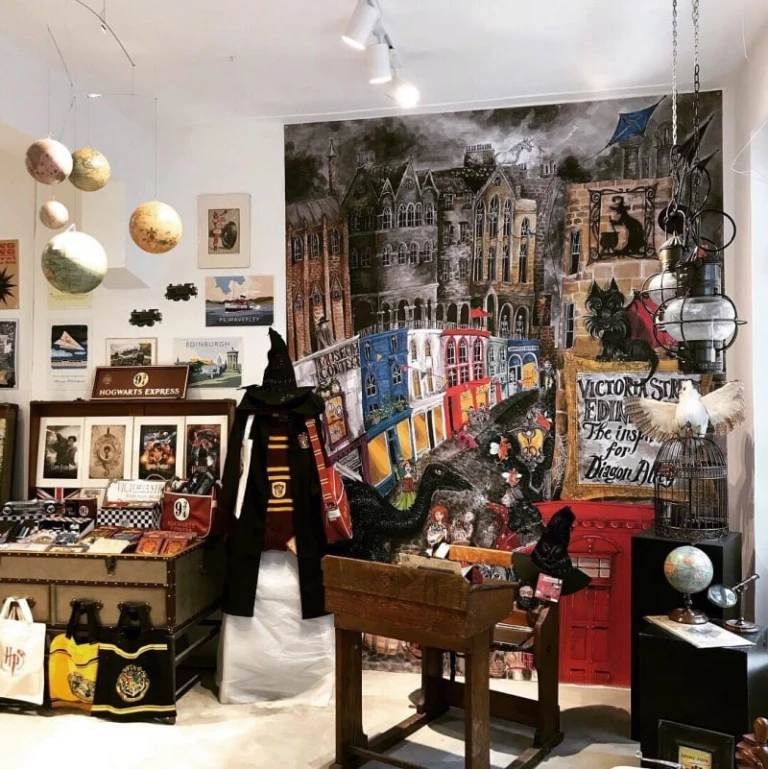 Museum CONTEXT, Hong Kong | Image credit: Museum CONTEXT Facebook
It's a combination of mystery and adventure when you discover a pop-up museum that's designed to look like an old curio shop. Museum CONTEXT is the brainchild of Andrew McRae, the owner of two Harry Potter-themed emporiums in Edinburgh. Step into modern-day Borgin and Burkes and discover a whole new world.
It's almost as if you're transported into Hogwarts, stroking at the surface of an old writing desk that looks right at home in Professor Flitwick's classroom in the middle of a seemingly-nondescript shop in Hong Kong. Run your fingers across ornate wands that lie in velvet-lined boxes, peep into old trunks filled to the brim with potion bottles, and choose from a variety of Hogwarts house scarves, badges, puzzles, chest sets and unique birthday candles.
5. Treat yourself at 9 ¾ Cafe, Hong Kong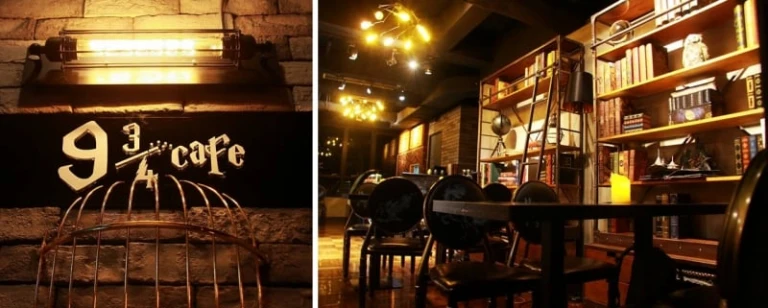 9 ¾ Cafe, Hong Kong | Image credit: 9 ¾ Cafe Facebook (left, right)
Enter the soft warm glow of 9 ¾ cafe, where space is decorated with wall-mounted wands and broomsticks, portraits of witches and wizards and make-believe electric candlelight. You'll find more than just Butterbeer here; you can get new-but-old favourites like polyjuice potion, take a swig of Amortentia Love Potion, charm the rest of the day with some Felix Felicis or have a heart-to-heart over some Veritaserum.
If you're hungry, treat yourself to some of their delightful Western mains, such as soft-shell Aragog salad or the Romanian Longhorn pumpkin pasta. Be warned that the menu only reads in Mandarin, so you might have to enlist the help of the staff to get the right orders.
6. Spot Hedwig at the Owl Art & Craft Museum, Seoul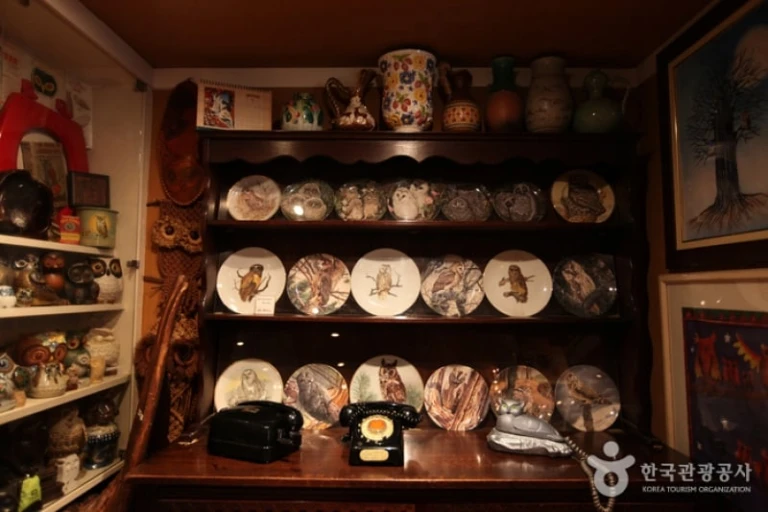 Owl Art & Craft Museum, Seoul | Image credit: Korea Tourism Organization
Have the likes of Hedwig, Errol and Pigwidgeon spread the owl fever to you yet? If you find yourself wanting to get your hands on every plushie or notebook adorned with these beautiful creatures, you'd want to check out the Owl & Art Museum in Seoul!
Originally a private residence, this museum was remodelled and made into a museum. It now houses over 2,000 pieces of owl objects from over 70 different countries, including China, the United States, Poland and the Czech Republic. Animal enthusiasts will be pleased to find that there are no stuffed owls here – instead, run your eyes over the stamps, ornaments, clocks and postcards artfully placed in the quaint space. For only 5,000 won (~S$5), you get a tour of this charming museum and a tasty cup of tea to accompany your excursion.
7. Choose your owl at Akiba Fukurou, Tokyo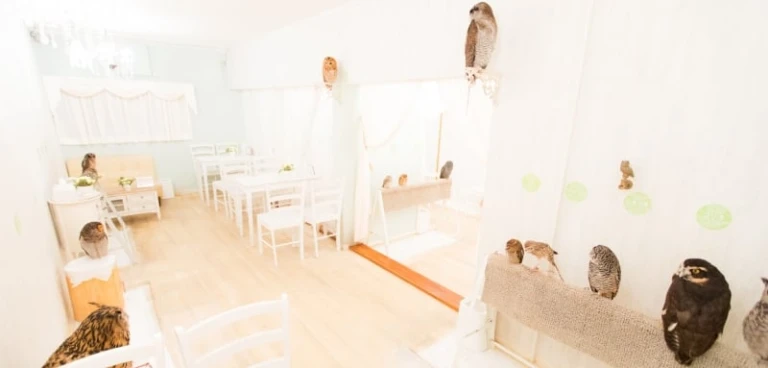 Akiba Fukurou, Tokyo | Image credit: Akiba Fukurou
Akiba Fukurou might not be Harry Potter-themed, but it is still an enthralling experience to have if you're travelling in Tokyo. You have to make a reservation online for your turn with the owls. Feel free to immerse yourself in the quiescence of the cafe and spend some time with these beautiful critters.
You'll get to choose two from a whole range of owls to interact with and take your own photos. At the end of your visit, the attentive staff will take one with their own camera and give it to you as a postcard on the way out. What a lovely memento!
8. Have a pillow fight in the four-poster beds of Expected Inn, Fukuoka

Expected Inn, Fukuoka | Image credit: Vance
Ever wondered what it's like living in a Hogwarts dormitory? If you're in Fukuoka with a full squad (or just a large family in tow), try to book a stay at the Expected Inn. See beyond the painting of the Fat Lady and venture into the owners' interpretation of the dorms and halls of Hogwarts, complete with brick and marble-like walls, chandeliers and old paintings.
With two bedrooms, a living room, a dining and kitchen area, this massive three-storey apartment can accommodate up to a whopping 16 people. Imagine the pillow fights you could have! The Expected Inn is just 10 minutes away from the Hakata JR Station, the major railway station in Fukuoka. Since this apartment tends to get snapped up quickly, make your bookings early in order to secure a stay in the Harry Potter-esque quarters.
9. Keep McGonagall company at Always Cafe, Hanoi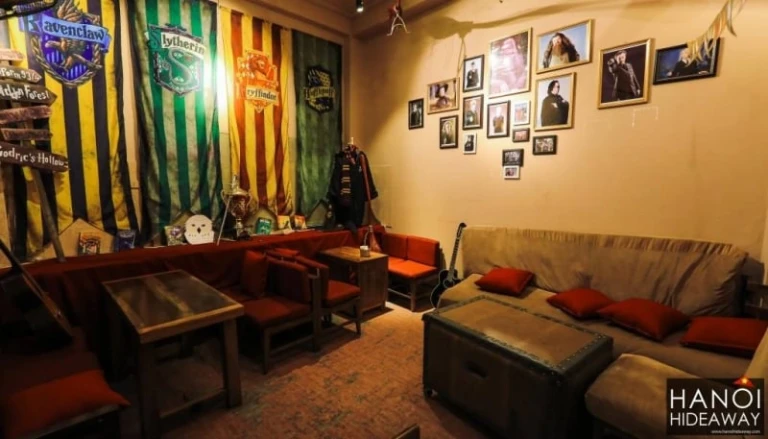 Always Cafe, Hanoi | Image credit: Always Cafe Facebook
Right in the middle of Hanoi sits Always Cafe, a cosy tribute to the Potter fandom with portraits of wizarding professors, Hogwarts house banners and Gryffindor robes on display. Place the sorting hat on your head as you dine to your heart's content in this little cafe. You can also play with the cafe's resident cat. It's no Professor McGonagall so you don't have to worry about being on the receiving end of that disdainful look!
Oh, and try out the Butterbeer and Polyjuice potions, we hear they're absolutely delicious and are popular customer choices to counter the afternoon sun.
10. Spook yourselves at the Magic Castle, Vietnam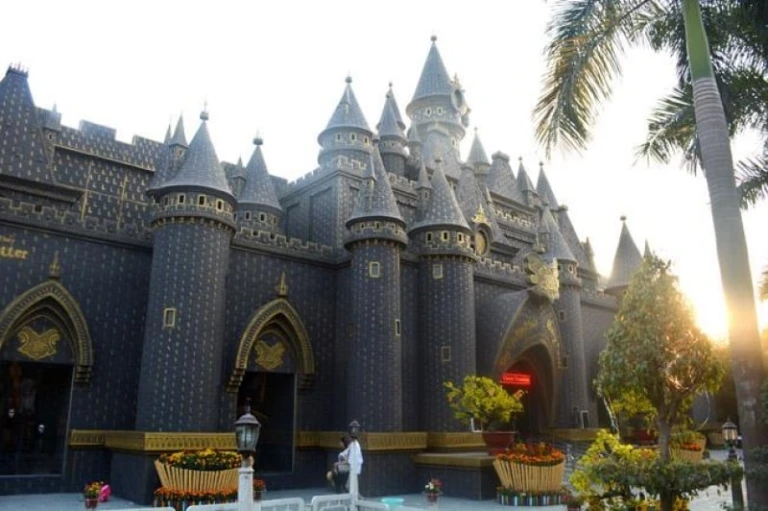 Suoi Tien Theme Park, Vietnam | Image credit: Suoitien
Suoi Tien Theme Park is probably one of the places where you would least expect to find Harry Potter-themed attractions – and for good reason, too. This quasi-religious park is a curious blend of superficial fun and deep cultural heritage, designed by the Vietnamese for the Vietnamese. Its massive Buddhist sculptures, amusement park and water parks are extremely popular with the locals, but for Potterheads, the Magic Castle is probably the highlight of their trip.
Although there is not much attention to detail (names such as Dumbledore and Quidditch are randomly dropped around the Castle, but that's as far as the connection goes) beyond the castle's exterior, the haunted house still makes for a satisfyingly creepy experience. If you're looking for an opportunity to poke fun at inaccurate Harry Potter references but still experience a little-known side of Vietnam, Suoi Tien Theme Park is the destination for you.
11. Set your inner nerd free at Hedley Books & Cafe, Kota Bahru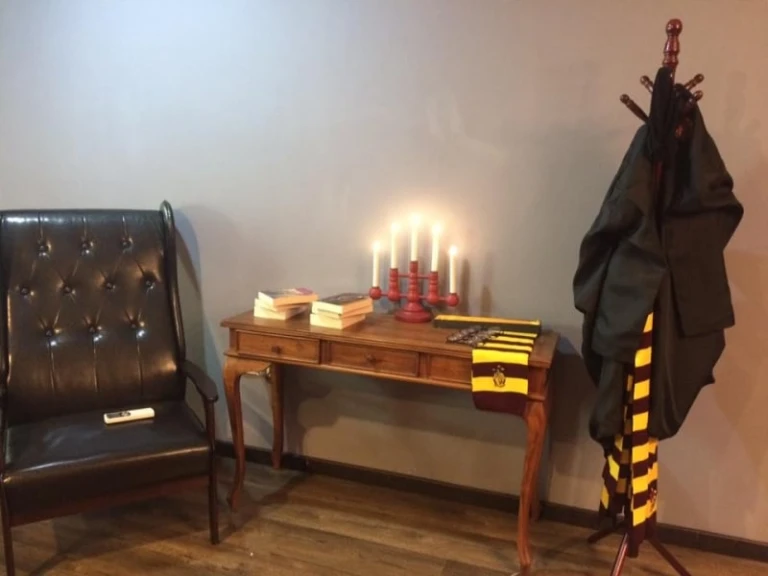 Hedley Books & Cafe, Kota Bahru, Malaysia | Image credit: Hedley Books & Cafe Facebook
Step inside this quirky book-rental-cum-cafe number and dress up in robes, scarves and wands so you know what it's like to be a true-blue Hogwarts student. In addition to a wide selection of books (yes, there are worlds beyond J. K. Rowling's!) available for rental at unbelievably affordable prices, get ready to spend your afternoon taking photos, playing Potter-themed board games and slurping on appetizing food and drinks.
And there you have it – a whole list of places to visit for you to check off that bucket list as you travel! You don't have to travel out to the UK in order to indulge in your Harry Potter fantasies when there are so many other attractions available in Asia that are sure to delight any Potterhead.