The Philippines has more to offer than just its ever-bustling capital, Manila. Comprising of more than 7,000 islands, choosing a single destination to explore is no mean feat. Moreover, Muslim travellers might have added faith-based concerns attributed to the lack of prayer spaces, mosques, and proper Halal food (not lacklustre vegetarian options!).

Fortunately, with food becoming such an important welcoming factor, the Philippines is seeing a rise in Halal-certified establishments and Muslim-friendly hotels that cater perfectly to Halal-conscious travellers.

Visiting the Philippines for the first time? Kickstart your tropical adventures in Cebu! Whether you're a history buff, culture vulture, nature enthusiast or a foodie, this province is chock-full of fun activities.

Day 1: Welcome to Cebu — Fort San Pedro, Colon Street, Taboan Market!

From Mactan International Airport, head to downtown Cebu City where your true tropical Cebuano getaway awaits! Start off by getting acquainted with some history at the iconic Fort San Pedro — the oldest fort in the Philippines! This former military defence structure has even served as a prison camp and city zoo! Thereafter, head to Colon Street, which happens to be the oldest surviving street in the country. Lined with old-school movie houses, restaurants, and department stores, Colon never really lost its position as a bargain hunter's paradise. This is THE primary place for shoppers who are in search of all sorts of low-priced and economical goods.

Muslim-Friendly Tip: Just a 10-minute drive away, Al-Khairiah Mosque is a good pit-stop for you to fulfil your prayers.

When it comes to Cebu delicacies, Taboan Market is the answer. Continue on a five-minute drive to reach this unassuming public market, where you can find all sorts of danggit (dried fish). You can also expect to score delectable dried mangos and otap, a puff pastry cookie made from flour, coconut, and sugar. These make for such Halal-friendly pasalubong (read: souvenirs) for your loved ones back home but do haggle till the price is right.

Tour Tip: Remember to bring an extra top. The overpowering smell of dried fish will stick to your clothing (and hair) and that might not be the best way to continue the rest of your day.

To round up the day, embark on the Sky Experience Adventure atop the Philippines' highest hotel tower. This "height-defying theme park on a rooftop" attraction is sure to get your hearts racing while you marvel at magnificent panoramas.
Day 2: Shopping & Sightseeing in Cebu City

Tuck into a hearty breakfast at one of the newest shopping malls in the Philippines: Robinsons Galleria Cebu! This mall houses different boutiques and shops with a good mix of renowned international brands and local stores.

Muslim-Friendly Tip: Head to Green Mosque in the afternoon for your prayers before continuing the rest of the day's itinerary.

From Green Mosque, a 30-minute drive will take you to Terrazas de Flores Botanical Garden, Cebu's vibrant floral nirvana. Get your photoshoot mode on and bask in stunning views of the lush flora dotting the manicured flower terraces. This is definitely a good place to escape all the hustle and bustle of the city before heading to the day's final stop: Tops Lookout.

The best time to arrive is no doubt during sunset when you will be able to witness spellbinding vistas from an extraordinary mountain viewpoint. Just a short ten-minute drive away, Tops Lookout is perfect for a casual picnic where you can spot the coast of Bohol over the horizon and see the communes of Mandaue and Mactan Island. Revel in surreal views from the summit of Mount Busay and watch how Cebu City glimmers once dusk sets.
Day 3: Drive to Badian: Osmeña Peak & Kawasan Falls

Rise early, check out from your Cebu City accommodation, and head straight to Badian. A three-and-a-half hour drive will take you to Osmeña Peak. This landmark is the highest point of the island of Cebu!

Tour Tip: It can get very foggy and misty at Osmeña Peak in the mornings. To get a clearer view, ensure you visit in the afternoon. You do not need to be a seasoned hiker to reach the summit as the level of difficulty is relatively easy.

After your hike (and sweating it out), enjoy a one-hour scenic drive to Kawasan Falls where you can dip in the refreshing emerald-hued waters. Cool off in this hidden natural gem!

Tour Tip: After a long day of trekking, it is better to spend a night in Badian before heading back to Cebu City. For utmost comfort and convenience, book a stay at Matutinao Beach Resort and opt for their over-water cosy cottages. This beachfront abode is just a ten-minute drive from the cascading Kawasan Falls.
Day 4: Moalboal Beach & Pescador Island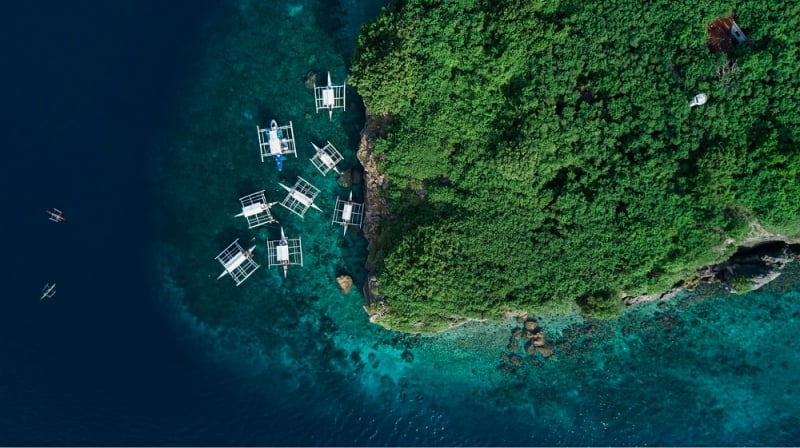 Continue your escape from the city area by spending time at some of Moalboal's most pristine beaches. A 40-minute drive from the Kawasan Falls area will take you to white-sand beaches where you can revel in pearly-white shores and crystalline waters. Beaches in Moalboal do have a distinctly rustic charm.
Head to Basdaku White Beach where you can go scuba diving, snorkelling, kayaking, surf fishing, and kite surfing! Alternatively, you can also spend time at Panagsama White Beach where numerous restaurants and eateries surround. Avid divers, do check out the dive resorts that dominate the main waterfront area on Panagsama White Beach, where you can embark on fascinating ocean descents.
Later, visit the nearby Pescador Island where you can snorkel in translucent waters and marvel at the kaleidoscopic marine diversity right beneath you.

Tour Tip: If you're a dive enthusiast, you might want to spend more time at Pescador Island since it is a world-class dive site due to the protected corals and marine species. You might also be able to swim with the turtles and experience the sardine run near Panagsama beach.
After a long day of frolicking around in the seas, make your way back to Cebu City.
Halal Food Options in Cebu: Persian Palate in Mango Square, Persian Kebab Tandoori in Parkmall, 888 Asian Gourmet Food & Restaurant Lounge in Guadalupe, Shawarma Gourmet in Escario Street
Day 5: Free & Easy in Mactan Island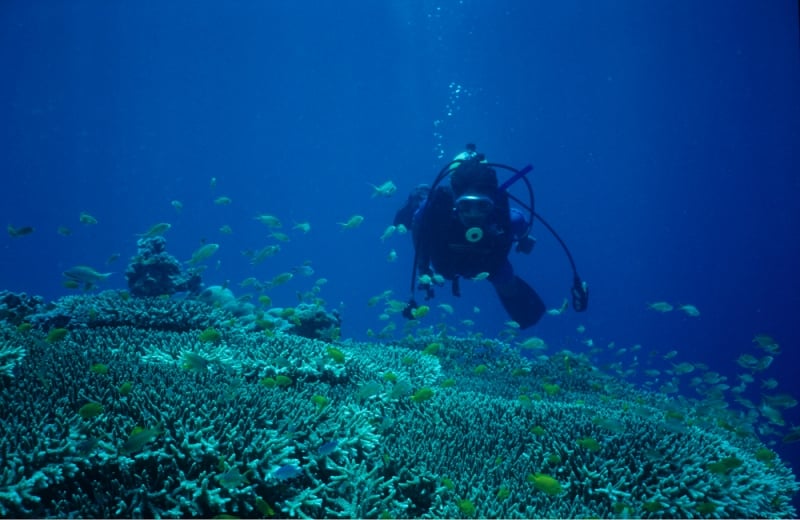 It's the final day of your Cebu adventure! What better way to spend your final hours here than by lazing on the powdery-white shores and soaking in the pristine waters? Considered as the diving mecca of the south, Mactan has been a fan favourite of both locals and foreigners alike. You will find dozens of beach resorts replete with diving facilities that you can enjoy!

Mactan is also historically renowned for numerous battles that took place in the past. Take time to visit the Lapu-Lapu Shrine — a 20-metre bronze statue erected to honour Cebuano hero Rajah Lapu-Lapu, who defeated Ferdinand Magellan. Feeling peckish after walking around? Tuck into a hearty seafood spread at SuTuKil (also an acronym for a unique kind of cooking method!). The restaurants in this area offer different types of fresh seafood such as fish, shrimps, clams, crabs, scallops, squid and even lobsters and is a great stopover for first-timers to Cebu!

Now that you have the ultimate itinerary to conquer Cebu, all you have to do is pack your travel essentials and prepare to have a whopping good time! From fuss-free flights to a Muslim-friendly itinerary, it's high time you embrace what the Philippines has to offer without having to worry about your faith-based needs.
The amicable locals, picturesque islands, and stunning natural landscapes will leave you with beautiful memories that will last a lifetime, we promise.