Since childhood, I've always been fascinated with Indian mythological stories. One story involving Ram Setu (floating stones) is my favourite in particular, which involves a bridge connecting Rameshwaram, India to Sri Lanka.
Rameshwaram is located in Tamil Nadu, on the Pamban island separated from the mainland India and is connected by the Pamban Bridge. Together with Varanasi, Rameshwaram is considered to be one of the holiest places in India to Hindus, and part of the Char Dham pilgrimage. So let's begin on how you can plan your own journey and what you can expect to see and do in Rameshwaram.
My four friends and I decided to explore Chennai first before heading to Rameshwaram. We booked an evening train to Rameshwaram so that we would arrive fresh and ready to explore the next morning.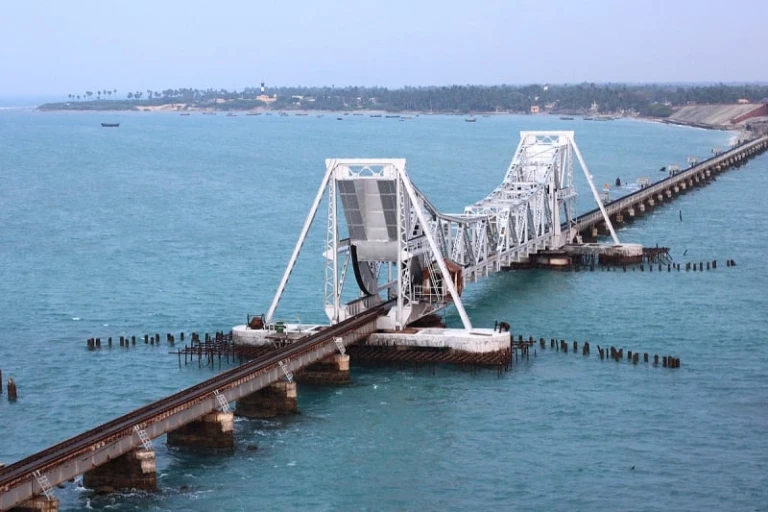 Image credit: Arun Vijayan
We made sure to wake up at 7am the next morning as the train would be passing through the Pamban Sea Bridge. Pamban Bridge is a railway bridge which connects the town of Rameshwaram on Pamban Island to mainland India. It was India's first sea bridge and was the longest sea bridge in India until the opening of the Bandra-Worli Sea Link in 2010. It's also a conventional bridge which can be raised to let ships and barges pass through the double-leaf bascule section midway. Later in 1988, a road bridge was also constructed parallel to the rail bridge. This road bridge is also known as Annai Indira Gandhi Road Bridge. It stands on the Palk Strait and between the shores of Mandapam (Place on the Indian Mainland) and Pamban (One of the fishermen towns in Rameshwaram island).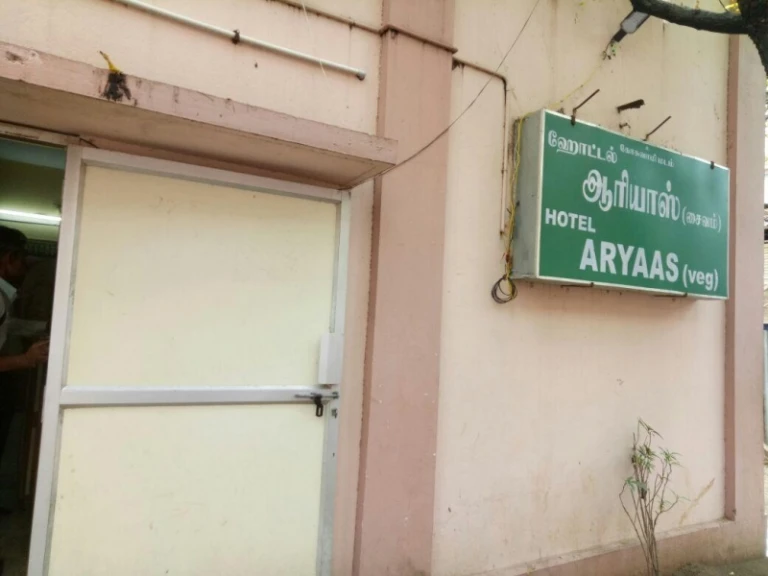 Upon our arrival, we hopped onto an auto (local taxi) and asked the driver to take us to a good place for breakfast. He brought us to Hotel Aryaas where we had Dosas (buckwheat pancake), Meduwada (doughnut-shaped fritter), Idli (savoury rice cake), Pongal (rice boiled with milk and jaggery), and Upma (semolina porridge), and to our delight, everything turned out to be so delicious! So, now you know where to go for breakfast. But keep in mind, that you have to be specific when you order something as they charge by pieces and not per plate.
After our tummies were full, we made our way to the first attraction, Dhanushkodi, which is 30 kilometres away from Rameshwaram railway station. Dhanushkodi is an abandoned town at the south-eastern tip of Pamban Island.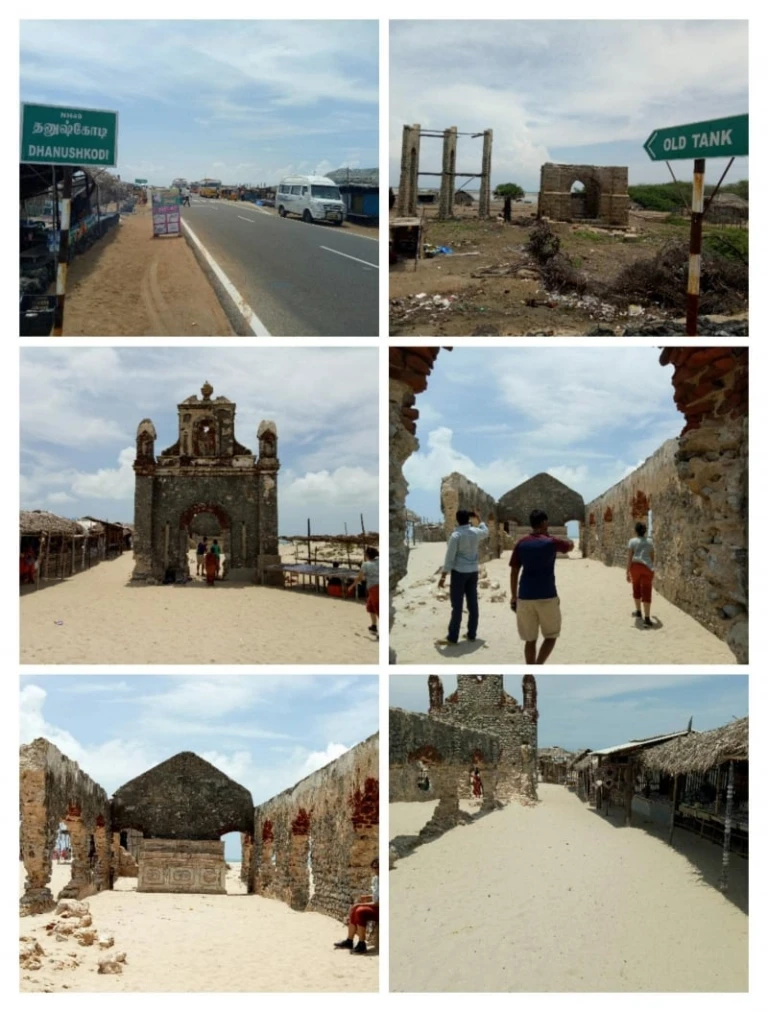 The town was destroyed during the 1964 Rameshwaram cyclone and an estimated 1,800 people died in the cyclonic storm resulting in the entire town being marooned and therefore declared unfit for living till today. Until 2016, Dhanushkodi was reachable either on foot along the seashore or in jeeps. But a road through it was constructed in 2016, making it more accessible for those who wish to explore it.
You can walk all the way to the end towards the beach where you'll be able to see the clear blue waters of the Indian Ocean.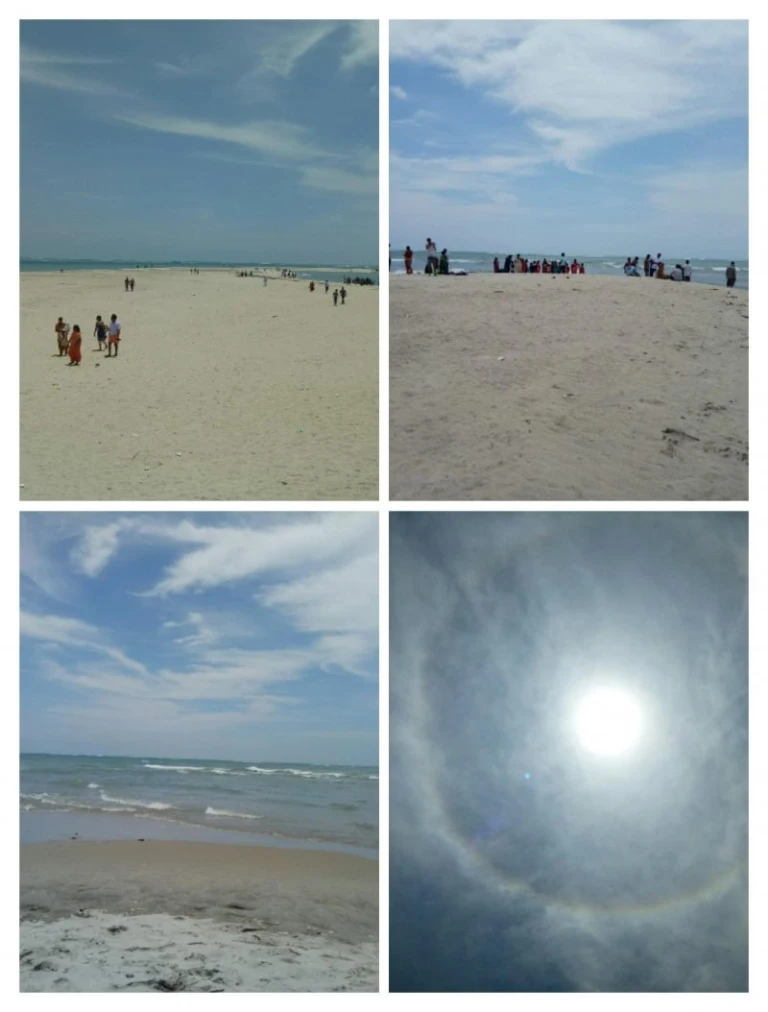 After taking some pictures, we headed to our next point, the Vibhishan Temple. It is on the way back to Rameshwaram from Dhanushkodi. This temple is dedicated to Vibhishan (Ravan's brother and devotee of Lord Ram) as he was crowned King of Lanka by Lord Ram at this place. There is also a shivling in the start of the ocean here which Vibhishan worshipped (front side of the temple).
One interesting experience I had at this place was meeting a guy who charged people INR20 for a look through his binoculars in order to get better views around the island. I happened to speak to this guy and he then disclosed that Ram Setu (floating stones) is submerged in the sea now and covered with sand on the top, so you cannot see the floating stones anymore.

A panoramic view: Standing at the Vibhishan temple, Jyotirlinga Main temple will be on your left from where Ram went to Lanka (Left to right) and Dhanuskodi will be on your right
But for all mythology fans and who really want to know from where Lord Ram went to Lanka, it was from this place! According to legend, Lord Ram made a shivling and worshipped at the beach before getting help from Nal and Neel in his army to write 'RAM' on every stone. This allowed the stones to float on the sea and eventually, how they built the bridge.

Our next stop was the Kalam House. Yes, this is the same place where Dr. A.P.J. Abdul Kalam was born and raised. In 2011, the first floor was modified and turned into a small museum. His elder brother still stays in the same house on the ground floor.
We then moved on to Paanch Mukhi Hanuman Temple. There was a sign outside that said "floating stones this way". We excitedly made our way into the temple and saw a Pandit who had a small caged pond. He was also using a stick to push a stone inside the water and I guess that was to show us that the stone was the actual floating stone. To my surprise, none of the tourists are allowed touch the stone, and I didn't seem to see 'RAM' written anywhere on the stone like as we heard from the Ramayana stories. Hence, I find it hard to believe that it's the same stone. It's still an interesting experience that's worth checking out, though!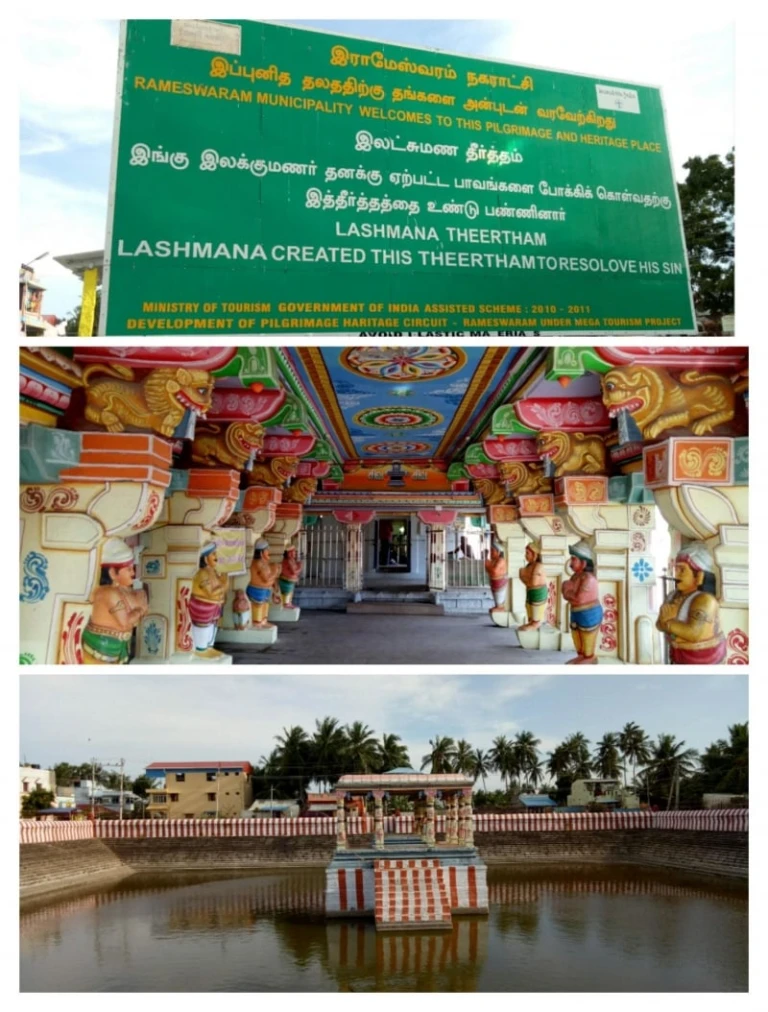 Our next point? Laxman temple and Laxman Kund as well as Ram Kund and Sita Kund. A kund is a water tank or reservoir in India.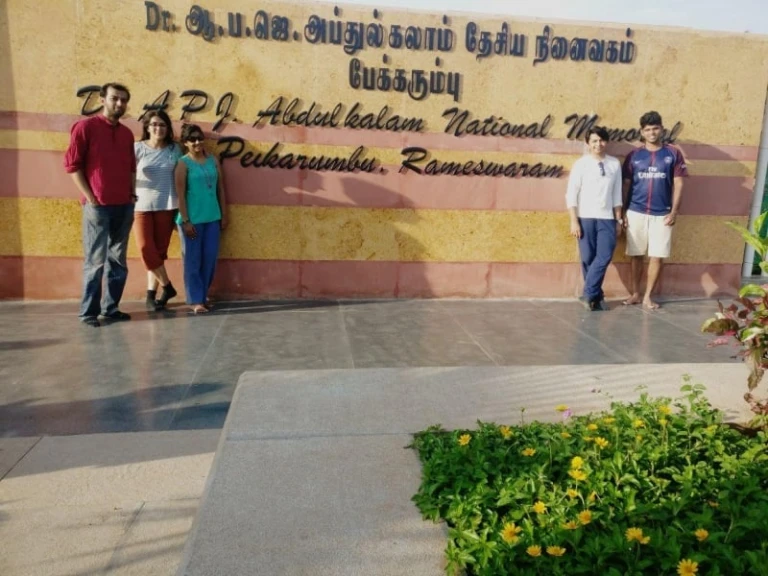 After this, we moved on to the Dr. A.P.J. Abdul Kalam National Memorial. This place closes at 5pm so our autowala asked us to rush and enter the premises. We took a picture outside because you are not allowed to have your phones inside the memorial. This memorial is beautifully built and covers every achievement of India's beloved 11th President. You will surely feel emotional as you walk through the exhibits which depict his life journey.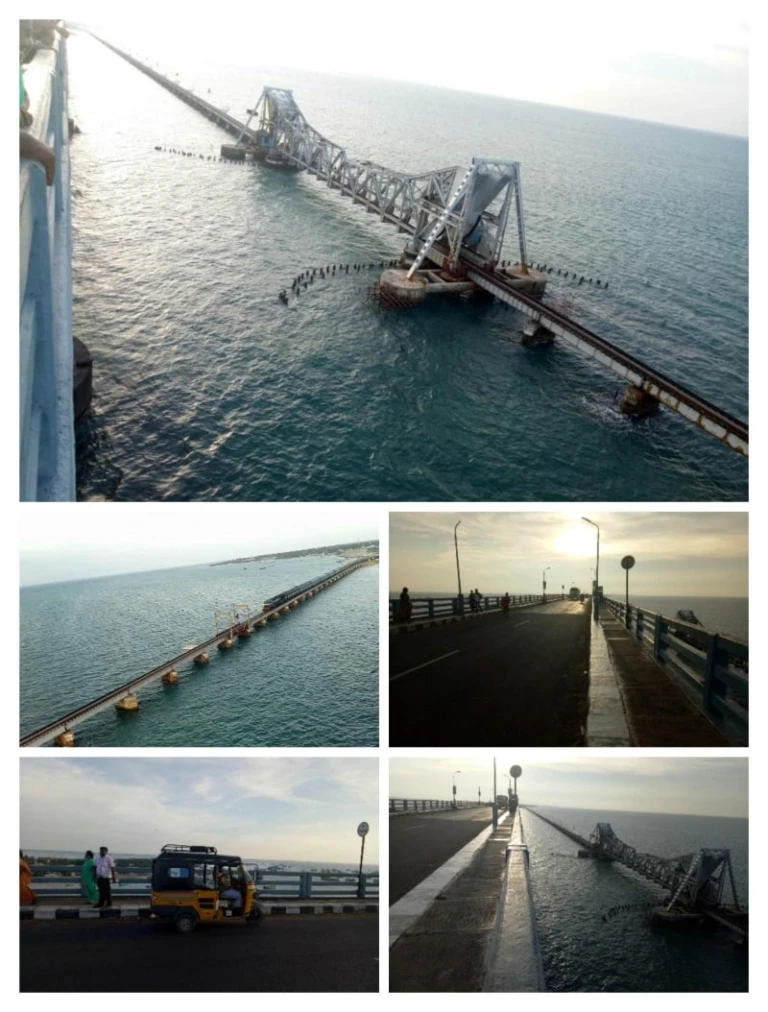 Next, we went back to Pamban Bridge to take more photos before heading to our final stop of the day – the main Rameshwaram main temple. You have to leave your bags, footwear and mobile phones in the cloakroom opposite the temple before you're allowed to enter. Don't worry they will be safe as you can rent lockers.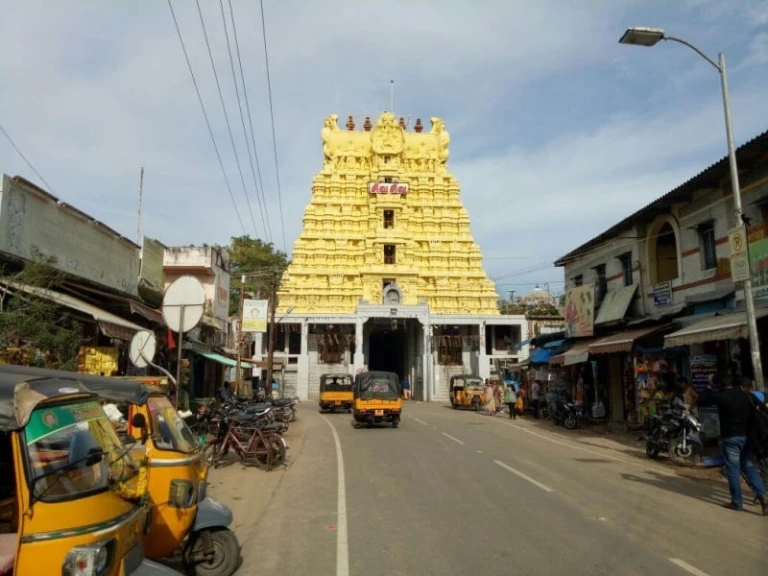 The moment we entered the main door, we saw an elephant who took currency notes in exchange for blessings. I took out an INR10 note and gave it to the elephant, which took the note from my hand with its tusk, touched my forehead and gave me blessings. We then joined the main queues to go inside and within 20 minutes we were face to face with Shiva Jyotirlinga. We bowed and offered a quick prayer before leaving. This temple is really beautiful, and there are smaller temples within the compound that are worth exploring if you have the time.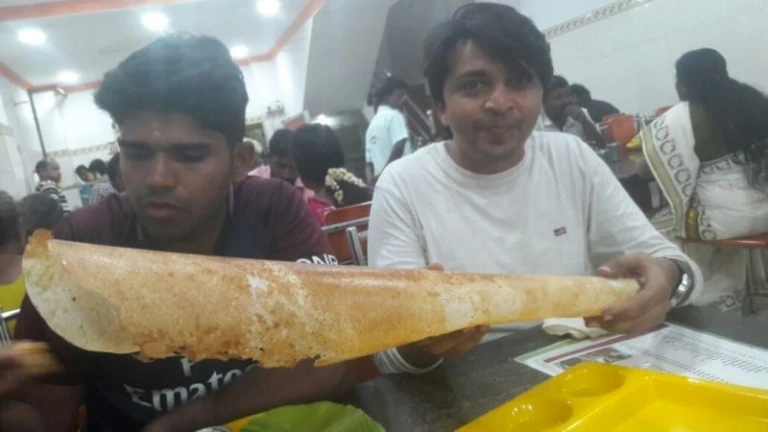 Grab some dinner before you hop on your train back to the city! We stopped for a quick meal at a nearby hotel and managed to reach the station on time. I realised that there aren't any hawkers selling food onboard the train itself so make sure to eat before boarding.
Overall, my friends and I felt that Rameshwaram was totally worth a visit. Filled with rich history and culture, you'll never get bored while exploring the city. Please make sure to keep this on your list and visit once, you won't regret it!